ARGENTINA: Patagonia's Pumas, Birds and Landscapes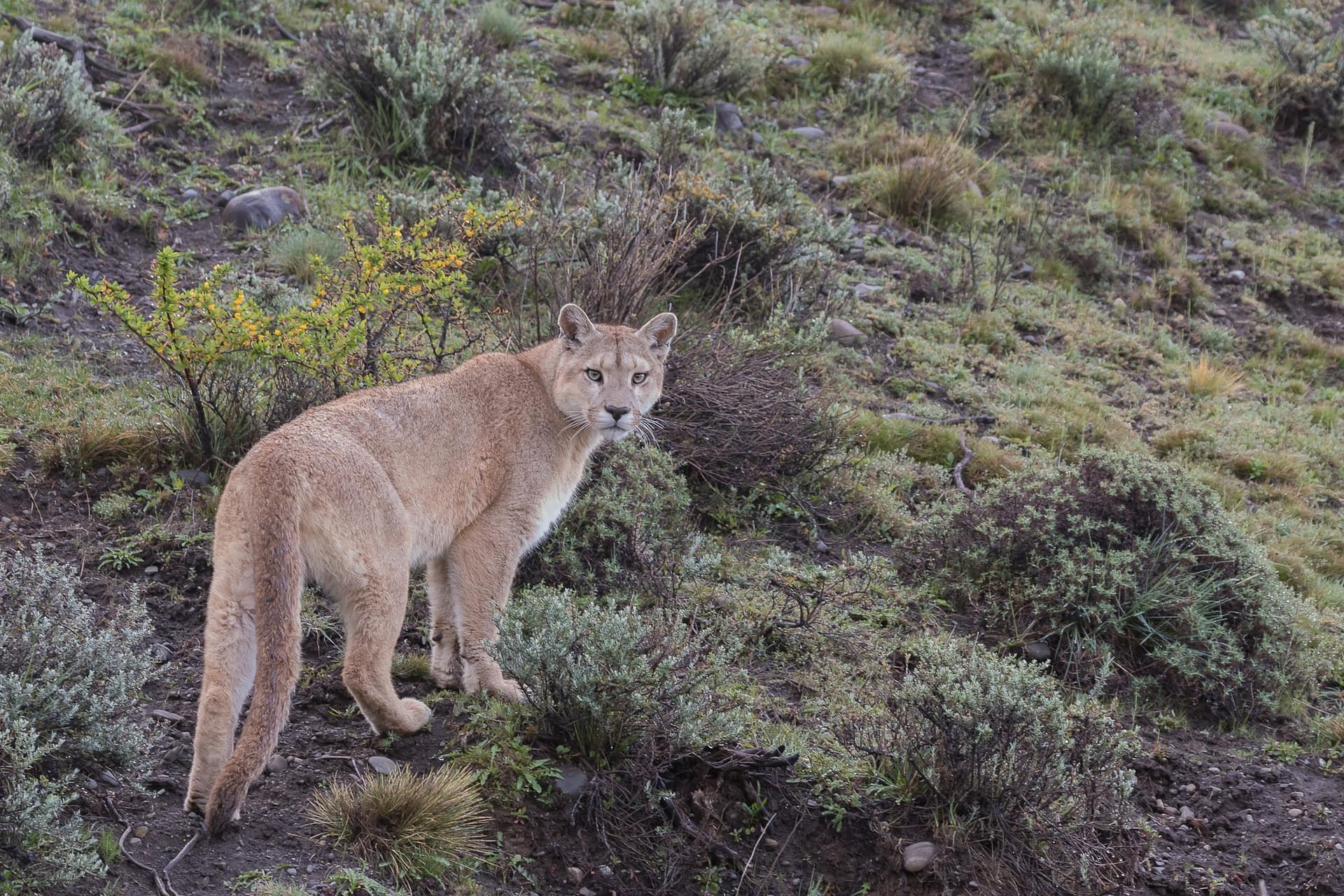 TOUR COST
From: $6,000 (See details)
Cost is per person, double occupancy from Ushuaia, Argentina (USH)
GROUP SIZE
4 - 8 Participants
AVAILABILITY
8 spaces available
PRIVATE TOUR OPTION
This tour is available as a private trip for any size group. The tour cost will vary with the number of people and any custom requests.
If you have been on this tour, please be the first to leave a review!
Highlights of ARGENTINA: Patagonia's Pumas, Birds and Landscapes
Stunning, rugged landscapes of mountains, glaciers and waterfalls
Lots of birds and wildlife
Pumas… some with cubs!
Description of ARGENTINA: Patagonia's Pumas, Birds and Landscapes
The rugged landscape of Patagonia will offer incredible photo opportunities. In Argentina, the granitic Mount Fitz Roy near El Chalten and the Perito Moreno Glacier a few miles from El Calafate will provide a great variety of views and chances for pictures. In Chile, Torres del Paine will propose breathtaking perspectives with lots of excellent photo ops. Wildlife is also immensely present through the region where Guanacos, Andean Condors, Lesser Rheas and good chances for Pumas will complete our experience.
Combine this trip with our ANTARCTICA Adventure!
Length of Tour
12-days/11-nights

Day 1 – Ushuaia – El Calafate – El Chalten
Esteban will welcome us at Ushuaia's harbor, according to flight schedule we might do some photography in town prior to transfer to the airport to get our plane to El Calafate. Once arrived we will meet our private vehicle and drive to El Chaltén, a small and picturesque village in the foothills of Fitz Roy & Cerro Torre Mountains.
The three-hour drive (125 miles) will provide many stops on the way for landscape pictures; we are likely to see Guanacos and Lesser Rhea on the way.  As we approach, weather permitting, we will have stunning views of the Andes Range and its magnificent granite mountains.
Day 2 –  El Chalten – Chorrillo del Salto and Laguna del Desierto Área
During the next three days in the area we will be photographing the Fitz Roy, Cerro Torre and other massive mountains. Sunrise photography sessions are great at this time of year. Near town, Chorrillo del Salto waterfall is at an accessible distance from the road, we will spend time exploring different the views of water and a beautiful forest around this place.
Later in the day, we will explore Río de la Vueltas towards Laguna del Desierto area near the border with Chile to enjoy and photograph unspoiled forests and streams. Views of the Fitz Roy are also possible today.
Day 3 –  El Chalten – Mirador Los Condores – Cerro Torre Trail
Early morning drive out of town in order to get the best light to shoot the granite mountains. After breakfast we'll walk a section of Cerro Torre trail, reaching the first viewpoint of the valley, from where the Cerro Torre group and valley is entirely visible. Cerro Fitz Roy is also visible and a beautiful waterfall called Margarita. The trail travels through a glacial valley. It is a three-hour round trip to the viewpoint.
Day 4 – El Chalten – Cañadon Río de la Vueltas
First light photography. After breakfast and check out we start our way to El Calafate. Just a few miles out of town there is an easy walk through the steppe to get great views of Cañadon Río de las Vueltas. Along the road there are great chances for more spectacular views of Mount Fitz Roy at the distance, lake Viedma and Rio La Leona. During the afternoon we will spend some time at Lake Argentino and Laguna Nimes for wildlife photography.
Day 5 – El Calafate – Glaciar Perito Moreno and Boat Cruice
We dedicate this day to one of the World's Natural Wonders: the "Moreno" glacier. This ice field-type glacier flows down from the Patagonian Icefield, it is big sheet of ice that covers 8500 square miles, is the third largest glacier area in the world, after Antarctica (5,4 M sq miles) and Greenland (380000 sq miles).
Because of its unique local conditions, this glacier is the only one in the world that shows a closure and rupture process between two lakes. The road leads to the very front of the glacier, which will be only meters away from you. A beautiful, short trail will lead us from the shores of the lake to the upper viewpoints. The roar of the chunks of ice moving inside the glacier or the frequent collapse of the front seracs into the turquoise water makes this day a very special.
After lunch we will take a 45-minute boat cruise up close to the Perito Moreno Glacier front. It is a great opportunity to watch and listen ice falling into the Argentino Lake. Today while we drive 100 miles round trip, we will have good chances to search for the King of the Andes the Condor.
Day 6 –  El Calafate – Torres del Paine
We leave early in the morning from El Calafate in our way to Torres del Paine National Park. The road is a typical Patagonian steppe road. There are many chances to see flamingos, Black-necked swans and other birds during the trip.
In about 4 hours we cross into Chile through the Cancha Carrera international border point. A couple of hours later we enter Torres del Paine National Park, which holds the UNESCO World Heritage status. During the last portion of our drive, the Paine Massif will be visible, weather permitting. We then follow the spectacular interior road of the National Park all the way to our hotel. We will make all the necessary stops for pictures of the mountains and fauna of the Park, arriving by late afternoon.
Day 7 – Torres del Paine – Grey Lake viewpoints
Early breakfast and departure to Grey lake. After one-hour drive, stopping for landscape photography we will reach the area of the Grey Lake, from where we begin our trek. We begin walking through a forest, for 5 minutes or so, until we reach the south shore of Lake Grey, where, during all seasons, we can see blue icebergs emerging from the water and floating south. They are pushed by the wind thus giving the characteristic grey note to the water of this lake.
Afterward we'll walk along the beach of Lake Grey for 45 minutes, until we reach the path that leads us onto a peninsula where we ascend to a natural viewpoint which offers great views of the park, the lake and the mountains.
Day 8 – Torres del Paine – Pehoe viewpoint
Another unforgettable day spent visiting the southern part of the park. We leave Rio Serrano area in our vehicle and drive towards the central part of the park, enjoying the stunning scenic beauty. We can stop to photograph at the best viewpoints. After some excellent photographic opportunities, we reach Pehoe Lake, the area of the Hosteria Pehoe, where we plan to do our next stop. Nearby we begin our trek to Pehoe viewpoint.
Day 9 – Torres del Paine – Salto Grande and Porteria Sarmiento Area
We will devote our morning exploring the Salto Grande; it is a huge waterfall with powerful waters provided by Lake Nordenskjol. Later, during the rest of the day, we will search of photographic opportunities for Guanaco, Lesser Rhea and other birds. Our hotel´s amazing location in the middle of Lake Pehoe´s turquoise waters, with the rugged Pain's Horns views makes it the perfect place to set base. We will shoot from excellent locations, with the best light.
Day 10 – Torres del Paine – Laguna Amarga – Cascada Paine
Today we have great options of sunrise photography just outside our Hostería. After breakfast we will drive towards the northern part of the Park, Cascada Rio Paine is a great location for water photography and a great viewpoint of Torres del Paine. After lunch we will reach the area of Laguna Amarga where we will spend the rest of the afternoon. These is a great area to explore in search of Puma.
Day 11 – Torres del Paine to El Calafate
Today we star early to add chances for Puma and to take pictures at sunrise. At mid-morning we return to El Calafate. Tonight, we will go out for our last dinner together to a nice restaurant were a steak dinner awaits.
Day 12 – El Calafate – El Calafate airport
After breakfast we transfer to El Calafate airport for our flights home.
Cost
Cost is $6,000 per person, based upon double occupancy, from Ushuaia, Argentina (Airport code USH.
This trip ends in El Calafate, Argentina (Airport code FTE).
Single Supplement
If a single hotel room is preferred, or we are unable to find a suitable roommate for you, a single supplement fee of $800 will be assessed.
NOTE: For boat-based tours, see pricing options for single cabins. Single cabin cost includes the single hotel cost above.
Minimum Number
If fewer than the minimum number of required participants are registered, we may still be able to run the trip by adding a small-group supplement fee, per person, determined by the number of participants registered.
Deposit Requirements
A $1,000 deposit per person is required to hold each space on this tour. Deposit may be made online by clicking the "Book Your Trip Now" button and using any credit card. If you prefer, you may call us at 888-875-9453 to pay by phone. You may also mail us a check, however, remember that all space is held on a first come-first served basis as deposits are received.
How to Book
In order to hold your space, click the "Book Your Trip Now" button above and complete the deposit process, including payment of the deposit through our Paypal portal using ANY CREDIT CARD. Upon completion of deposit, please visit our secure, online CLIENT INFORMATION FORM to complete your registration.
Final Payment
For all land-based tours: full payment by check is due 120 days prior to the departure date.
For all boat-based adventure cruises of 7-days or longer: full payment by check is required 180 days prior to departure.
NOTE: If you prefer to use credit card for final payment, a 3% fee may be added to cover the credit card merchant fees we incur.
This trip includes good quality hotels near our birding and photo location.
Activity Level Rating: 3 (Note: 1 is easy and 5 is difficult)
Although most walks will be short, there will be a few longer ones of a couple miles. We will also spend a fair amount of time at higher elevations.
Gear for Birding & Wildlife Viewing
Good quality binoculars
Spotting scopes are not typically needed as we will be photographing much of the time, unless you plan to do some digiscoping.
Photography Gear Recommendations
The best camera is the one you have with you! That said, we will help you get great photos no matter what camera you use.
This photo tour is geared toward those using DSLR or Mirrorless cameras with interchangeable lenses, here is what we recommend that you bring:
Bring at least 2 camera bodies – to reduce changing lenses and just in case of accidental damage to one
Recommended Lenses for Birds & Wildlife
100-400mm (or equivalent) for birds in flight
500mm lens or longer for birds and wildlife
Recommended Lenses for Landscape Opportunities
24-105mm (or equivalent) for landscape and general purpose
In addition you may also want to have an ultra-wide lens equivalent to about 16-35mm which may be used for fun landscapes and night sky photography.
Recommended Lenses for Macro (Bugs, Frogs, etc.)
100mm Macro is fine for general purpose macro photography
150mm Macro is best for small, quick moving subjects like frogs
Filters (Mainly for Landscape Photography)
Polarizing Filter for removing reflections (screw in for wide-angle lenses)
Filter Holder for 4×6″ (or similar) filters
2-stop Neutral Density Filter
8-stop (or more) Neutral Density Filter
2-stop Hard and/or Soft Graduated Neutral Density Filter
Other Accessories
Tripod for long exposures, big lenses and steady video
Flash for low light, fill light and stop action
Better Beamer or MagMod flash extender
Rain cover for camera
Weather resistant Camera Bag (Backpack style is best)
Batteries and chargers
Lots of memory cards!
Laptop or other downloading device
Purchasing Flights
Do not purchase your flights until the trip has been confirmed to go.
Detailed Trip Information
Upon notification that final payment is due (120 days prior to departure for land based tours / 180 days for boat based tours), you will receive a trip package of detailed information for your tour.
Any additional information about the trip, including lodgings, contacts, participants, meeting locations, etc., will sent about 2 weeks prior to the trip departure, or after final payment is received for late registrants.
Travel Insurance
As with all tours, we recommend purchasing Travel Insurance to help cover your investment, for covered reasons. Please see our section on Travel Insurance.
Passport & Visa
US Citizens may require a visa to enter certain foreign countries. See above for any required visa information.
Participants arriving to the USA from a foreign country may need to get a travel visa to enter the United States. Be sure to check the requirements for your country of origin.
Itinerary Changes
The trip itinerary is developed many months ahead of time. Occasionally, despite our best planning, changes may occur during the trip, or we may be forced to alter our plans. Changes may occur because of weather, road conditions, safety concerns or other circumstances. In these situations, it is the leader(s) responsibility to carefully consider and implement appropriate alternatives. Any additional costs incurred because of changes will be the responsibility of each individual participant. Refunds will not be issued as a result of itinerary changes.