ARIZONA: Wild Horses of Arizona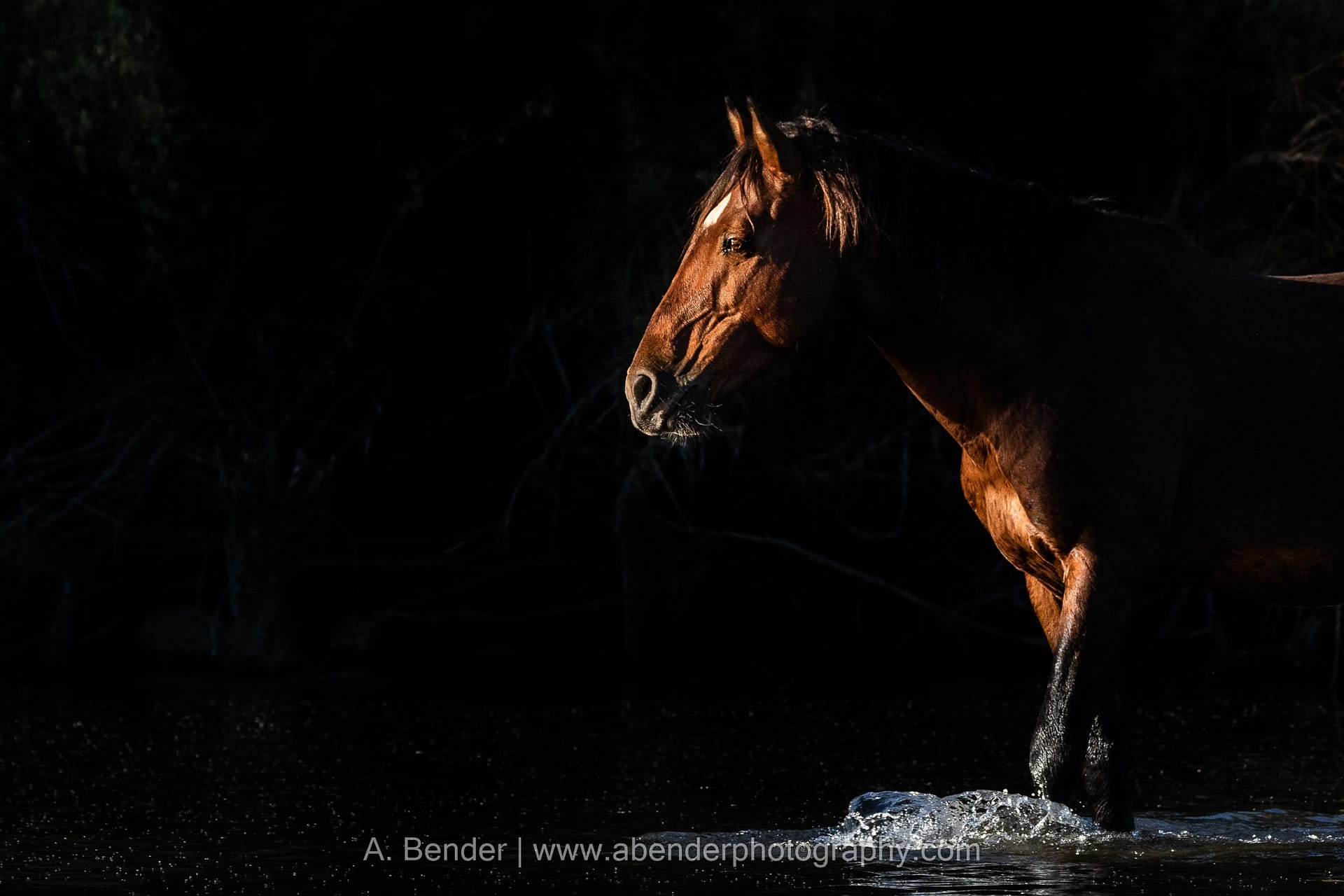 TOUR COST
From: $2,675 (See details)
Cost is per person, double occupancy from Phoenix, Arizona (PHX)
GROUP SIZE
3-5 Participants
PRIVATE TOUR OPTION
This tour is available as a private trip for any size group. The tour cost will vary with the number of people and any custom requests.
If you have been on this tour, please be the first to leave a review!
Highlights of ARIZONA: Wild Horses of Arizona
Hands-on photo instruction for wildlife and landscape photography with Tamron Ambassador, Alyce Bender.
Explore desert riparian areas while following bands of wild mustangs.
Learn and observe wild horse behavior in order to help anticipate action shots.
Timed to coincide with autumn colors, this is an ideal time to work on environmental wildlife images as well as portraits.
This tour is a new offering in the Wildside Weekender Series featuring shorter trips and focused subjects.
Description of ARIZONA: Wild Horses of Arizona
Wild mustangs are the living legends of the West. Surrounded by the rugged landscapes of the American Southwest, we will delve into the Tonto National Forest to follow some of the herds that range through the Salt River Basin. This tour coincides with the expected arrival of fall colors in the area, adding layers to the landscape in which these horses live. Our focus will be to capture the daily lives and interactions of these bands, concentrating on early morning and late afternoon when the lighting is best and herds are most active. During the day, we will explore the other photographic possibilities, both in terms of wildlife and landscapes that the area has to offer.
Length of Tour
4-days/3-nights

Brief Itinerary
Day 1 – November 2nd Arrive in Phoenix (PHX), head to lodging
Day 2-3 – November 3rd – 04th Sunrise to Sunset we hike out along the Salt River in search of the wild mustangs and other wildlife that call this desert riparian area home.
Day 4 – November 05th We have one last sunrise session along the Salt River before driving back into Phoenix to return home. 
Detailed Itinerary
Day 1 – November 2nd Arrive in Phoenix, head to lodging
We will meet in Phoenix and have a meet and greet dinner before heading to the hotel. At dinner we will discuss what to expect, photography strategies, logistics, and wild horse photography protocol. 
Day 2-3 – November 3rd – 04th Sunrise to Sunset we hike out along the Salt River in search of the wild mustangs and other wildlife that call this desert riparian area home.
Starting at sunrise we will hike out into the mesquite forests that line the Salt River. Following paths carved out by horses and hikers alike, we look for bands of wild mustangs making their morning trek to the river's edge for water and aquatic grazing. If you have never sat and listened to wild horses snorkel for their brunch you are missing out! As the sun rises in the sky, we will make our way back into town for a sit-down lunch. Mid-afternoon we hit the trails again, watching for band interaction and appreciating the beautiful desert glow that occurs as the sun sets in this area of the world. Note: Daily hiking may be up to 4+ miles over relatively flat but uneven sandy and river rock ground. 
Day 4 – November 05th We have one last sunrise session along the Salt River before driving back into Phoenix to return home.
We will pack out early, catch one last sunrise down by the river with the horses before heading back to the airport for early afternoon flights home.
Cost
Cost is $2,675 per person, based upon double occupancy, from Phoenix, Arizona (Airport code PHX.
This trip ends in same as arrival city (Airport code ).
Cost Includes
Cost includes meals, airport transfers, all ground transportation, accommodations, entrance fees and services of your professional leader(s).
Cost does not Include
Flights to/from destination city, trip insurance, or anything that is not specifically mentioned in the itinerary.
Minimum Number
If fewer than the minimum number of participants registered the trip can still run with a small-group supplement fee per person determined by the number of participants.
Single Supplement
If a single hotel room is preferred, or we are unable to find a suitable roommate for you, a single supplement fee of $270 will be assessed.
NOTE: For boat-based tours, see pricing options for single cabins. Single cabin cost includes the single hotel cost above.
Minimum Number
If fewer than the minimum number of required participants are registered, we may still be able to run the trip by adding a small-group supplement fee, per person, determined by the number of participants registered.
Deposit Requirements
A $750 deposit per person is required to hold each space on this tour. Deposit may be made online by clicking the "Book Your Trip Now" button and using any credit card. If you prefer, you may call us at 888-875-9453 to pay by phone. You may also mail us a check, however, remember that all space is held on a first come-first served basis as deposits are received.
How to Book
In order to hold your space, click the "Book Your Trip Now" button above and complete the deposit process, including payment of the deposit through our Paypal portal using ANY CREDIT CARD. Upon completion of deposit, please visit our secure, online CLIENT INFORMATION FORM to complete your registration.
Final Payment
For all land-based tours: full payment by check is due 120 days prior to the departure date.
For all boat-based adventure cruises of 7-days or longer: full payment by check is required 180 days prior to departure.
NOTE: If you prefer to use credit card for final payment, a 3% fee may be added to cover the credit card merchant fees we incur.
This trip includes standard hotels.
Activity Level Rating: 2 (Note: 1 is easy and 5 is difficult)
Intermediate – several miles of walking over relatively level ground of sand, grass, and gravel. Some river walking may be included which would pose slippery and rocky footing in water no deeper than 12 inches.
Since this tour focuses on the wild horses, telephoto lenses are going to be key to achieving the best images that require little cropping. Feel free to bring wider lenses but understand the majority of photo opportunities will be in the 200-600mm. Here are my suggestions:
• Your longest telephoto for wild horses, other wildlife, and birds – I use the Tamron 150-600mm G2 and highly recommend it if you are looking for a lens in this range. Anything 500mm or longer is going to create the best results. 
• A shorter telephoto such as a 70-300mm or 100-400mm for wider environmental shots – I typically carry the Tamron 18-400mm or Tamron 100-400mm for covering this range.
• Monopod or tripod for extra support of long lenses during longer field sessions. Monopods will be easier to handle and lighter weight while trekking.
• Gear and trip insurance – because you never know what might happen. Working out in the elements, I always highly suggest having gear insurance as, should the worst come to pass, you want to know that at least you can replace what's been damaged when you return home.
We have the proper permits for Tonto National Forest.
Purchasing Flights
Do not purchase your flights until the trip has been confirmed to go.
Detailed Trip Information
Upon notification that final payment is due (120 days prior to departure for land based tours / 180 days for boat based tours), you will receive a trip package of detailed information for your tour.
Any additional information about the trip, including lodgings, contacts, participants, meeting locations, etc., will sent about 2 weeks prior to the trip departure, or after final payment is received for late registrants.
Travel Insurance
As with all tours, we recommend purchasing Travel Insurance to help cover your investment, for covered reasons. Please see our section on Travel Insurance.
Passport & Visa
US Citizens may require a visa to enter certain foreign countries. See above for any required visa information.
Participants arriving to the USA from a foreign country may need to get a travel visa to enter the United States. Be sure to check the requirements for your country of origin.
Itinerary Changes
The trip itinerary is developed many months ahead of time. Occasionally, despite our best planning, changes may occur during the trip, or we may be forced to alter our plans. Changes may occur because of weather, road conditions, safety concerns or other circumstances. In these situations, it is the leader(s) responsibility to carefully consider and implement appropriate alternatives. Any additional costs incurred because of changes will be the responsibility of each individual participant. Refunds will not be issued as a result of itinerary changes.