TEXAS Big Bend National Park: Summer Storms & Starry Skies Photography Workshop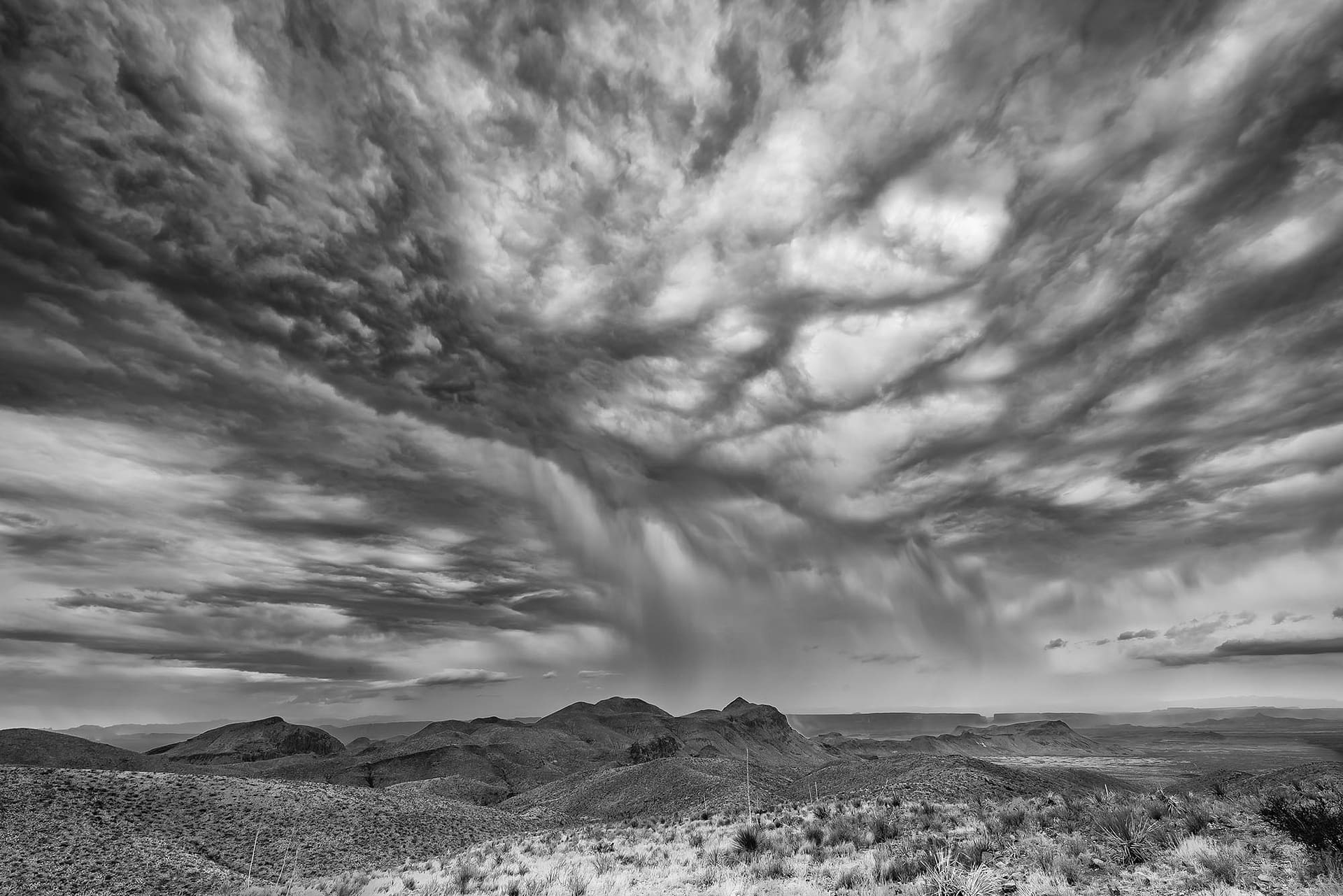 TOUR COST
From: $3,850 (See details)
Cost is per person, double occupancy from El Paso, TX (ELP)
GROUP SIZE
5-8 Participants
PRIVATE TOUR OPTION
This tour is available as a private trip for any size group. The tour cost will vary with the number of people and any custom requests.
If you have been on this tour, please be the first to leave a review!
Highlights of TEXAS Big Bend National Park: Summer Storms & Starry Skies Photography Workshop
Hands-on photo instruction for night sky and black-and-white photography
Designated an International Dark Sky Park, one of just 10 in the world!
Incredible Black-and-White Photography opportunities with Summer Storms
Lee has spent over 30 years exploring Big Bend National Park covering every trail and road in the park
Description of TEXAS Big Bend National Park: Summer Storms & Starry Skies Photography Workshop
Texas is big, but Big Bend is BIGGER! This photography workshop will focus on possible summer storms during the day and night sky photography during the night. Summer time is spectacular in Big Bend with mountains, desert, and more biological diversity than any other national park. If summer monsoons have hit, we could have wildflowers. Mexican Black Bears might be seen at any time in the Chisos Basin. Between the incredible scenery and the overwhelming stars at night, you will certainly have more photographic opportunities than you could have ever imagined.
This trip will have us pursuing summer storms in the afternoon and evenings and, if we are lucky for the skies to clear as they often do, some incredible night sky scenes. This trip is a bit strenuous and requires hiking/walking on rough, uneven ground in possibly warm temperatures. You should be fairly mobile to fully enjoy this workshop.
WILDSIDE NATURE TOURS IS AN AUTHORIZED PERMITTEE OF BIG BEND NATIONAL PARK
Length of Tour
7-Days/6-Nights

Brief Itinerary
Day 1 – Arrive in El Paso
Day 2 – Drive from El Paso, through Marfa and along River Road (FM 170) for some Black-and-White/Landscape Photography. Arrive in Big Bend National Park. Optional Night Photography
Day 3 through 6 – Follow any storms during the day, Night Photography Each Evening
Day 7 – Return Home from El Paso
Detailed Itinerary
Day 1 – Arrive in El Paso
We will meet this evening for dinner and a meet and greet. We will discuss the coming week, photography strategies, logistics, desert awareness, and expectations.
Day 2 – Drive from El Paso to Marfa
Our drive from El Paso to Marfa will take us along US 90, but before we get to Marfa, we will encounter the famous "Prada Store," a replica storefront… a permanently installed sculpture by artists Elmgreen and Dragset.
We will stop here for some fun photo opportunities before continuing down US 67 to the incredible River Road (FM 170) that traverses along the Rio Grande River through the rugged mountains of Big Bend Ranch State Park.
We will stop on the "Big Hill" for some Black-and-White photography opportunities before continuing along the road to Big Bend National Park.
Due to the long travel day, we will have an optional night sky photography excursion after dinner for those that desire.
Day 3 through 5 – Big Bend National Park
These days will remain flexible as we will chase any nearby storms that crop up or even anvil clouds whether they produce rain or not. Evenings will be spent getting to locations to photograph the night sky. Locations likely to be visited (but may vary based upon weather conditions) include Santa Elena Canyon, Sotol Vista Overlook, the Window in the Chisos Basin, and Dugout Wells or Sam Nail Ranch.
Day 6 – Return to El Paso
We will spend the morning photographing in and around the Chisos Basin and then begin our drive back to El Paso.
Day 7 – Depart El Paso for Home
Cost
Cost is $3,850 per person, based upon double occupancy, from El Paso, TX (Airport code ELP.
This trip ends in El Paso, TX (Airport code ELP).
Single Supplement
If a single hotel room is preferred, or we are unable to find a suitable roommate for you, a single supplement fee of $700 will be assessed.
NOTE: For boat-based tours, see pricing options for single cabins. Single cabin cost includes the single hotel cost above.
Minimum Number
If fewer than the minimum number of required participants are registered, we may still be able to run the trip by adding a small-group supplement fee, per person, determined by the number of participants registered.
Deposit Requirements
A $1,000 deposit per person is required to hold each space on this tour. Deposit may be made online by clicking the "Book Your Trip Now" button and using any credit card. If you prefer, you may call us at 888-875-9453 to pay by phone. You may also mail us a check, however, remember that all space is held on a first come-first served basis as deposits are received.
How to Book
In order to hold your space, click the "Book Your Trip Now" button above and complete the deposit process, including payment of the deposit through our Paypal portal using ANY CREDIT CARD. Upon completion of deposit, please visit our secure, online CLIENT INFORMATION FORM to complete your registration.
Final Payment
For all land-based tours: full payment by check is due 120 days prior to the departure date.
For all boat-based adventure cruises of 7-days or longer: full payment by check is required 180 days prior to departure.
NOTE: If you prefer to use credit card for final payment, a 3% fee may be added to cover the credit card merchant fees we incur.
We will be staying at the Chisos Mountains Lodge which is the only lodging in the entire park. It is centrally located and at 5,000' in elevation.
Activity Level Rating: 3 (Note: 1 is easy and 5 is difficult)
MODERATE: We will have some long days with little sleep.
Big Bend National Park allows the traveler to hike anywhere within the park; however, even with that permission, most of our photography locations will be within a short walk of the vehicle. Some parts of the park have loose sand, loose rocks and uneven footing. Participants should be prepared for warm, challenging scrambles or hikes to get to prime photography locations based on storms and night sky locations.
Gear for Birding & Wildlife Viewing
Binoculars are great to have as you never know what wildlife we may encounter
Photography Gear Recommendations
This workshop will require a camera body capable of capturing night sky images which is geared toward using a DSLR or mirrorless camera with interchangeable lenses, here is our recommended list:
Bring at least 2 camera bodies and the better that are performing at high ISO's the better – one as a backup
Recommended Lenses for Landscapes & Night Sky Photography
Night Sky Photography is generally done with a 10mm to 35mm lens that is at least f/2.8 or faster (i.e. 2.0, 1.8, 1.4, etc). 35mm is best for night sky panoramic images. If you have a crop factor camera, keep in mind that when considering your "functional" focal length.
You may also want something in the 35mm to 200mm for landscape. Big Bend lends itself to many telephoto images which is something not many people shoot.
Recommended Lenses for Wildlife Opportunities
While wildlife will not be the primary focus of our workshop, a lens in the 100mm to 400mm might be useful in certain situations.
Recommended Accessories
Tripod is an absolute must when it comes to night sky photography. There is no other way to really support your camera for such long exposures.
An external (wired/wireless) or an internal intervalometer is also a must as you will be using shutter speeds that are not standard and counting using bulb mode is not really very reliable.
Disposable hand warmers/rubber bands in case the night gets too cool (this is to prevent condensation on the lens)
Weather resistant camera bag
Plenty of batteries, chargers, and memory cards (there is NO location to purchase any such item once we depart El Paso)
Laptop with LR CC (or other processing software) and Nik Collection (optional: specifically, Silver Effex Pro 2 which is used for black-and-white processing)
Red flashlight or headlamp to preserve night vision while shooting night sky
Recommended Clothing/Supplies
Long pants and long sleeve shirts will keep the sun off your skin during the day and protect you from sunburn and reduce moisture loss.
Sturdy hiking boots (tennis shoes and cacti/thorns are not a good combination)
Hat for during the day and light jacket/hat for night if temperature gets cool
Water bottle to stay hydrated
Chapstick
Purchasing Flights
Do not purchase your flights until the trip has been confirmed to go.
Detailed Trip Information
Upon notification that final payment is due (120 days prior to departure for land based tours / 180 days for boat based tours), you will receive a trip package of detailed information for your tour.
Any additional information about the trip, including lodgings, contacts, participants, meeting locations, etc., will sent about 2 weeks prior to the trip departure, or after final payment is received for late registrants.
Travel Insurance
As with all tours, we recommend purchasing Travel Insurance to help cover your investment, for covered reasons. Please see our section on Travel Insurance.
Passport & Visa
US Citizens may require a visa to enter certain foreign countries. See above for any required visa information.
Participants arriving to the USA from a foreign country may need to get a travel visa to enter the United States. Be sure to check the requirements for your country of origin.
Itinerary Changes
The trip itinerary is developed many months ahead of time. Occasionally, despite our best planning, changes may occur during the trip, or we may be forced to alter our plans. Changes may occur because of weather, road conditions, safety concerns or other circumstances. In these situations, it is the leader(s) responsibility to carefully consider and implement appropriate alternatives. Any additional costs incurred because of changes will be the responsibility of each individual participant. Refunds will not be issued as a result of itinerary changes.