Greg Miller Big Year Series
COLORADO: The Chicken Odyssey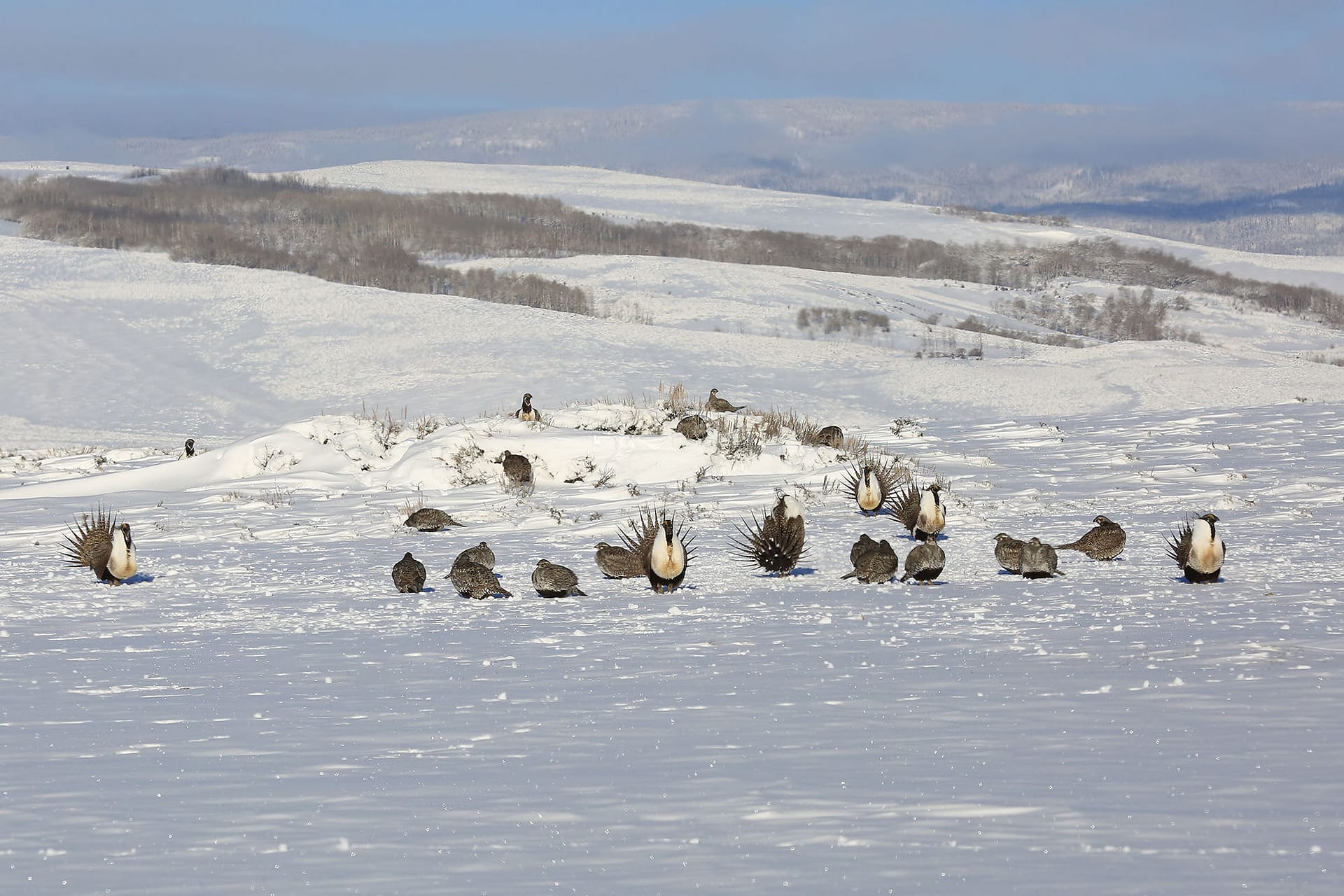 TOUR FOCUS

BIRDS & WILDLIFE
TOUR COST
From: $3,600 (See details)
Cost is per person, double occupancy from Denver (DEN)
GROUP SIZE
5 - 7 Participants
AVAILABILITY
2025: Itinerary and dates to be determined
PRIVATE TOUR OPTION
This tour is available as a private trip for any size group. The tour cost will vary with the number of people and any custom requests.
Highlights of COLORADO: The Chicken Odyssey
Extraordinary displays of prairie-chickens & sage-grouse on leks
White-tailed Ptarmigan, Dusky Grouse & Chukar
Rosy-finches, Mountain Plover & longspurs
Spectacular Great Plains & Rocky Mountain scenery
Description of COLORADO: The Chicken Odyssey
Our annual "chicken odyssey" in Colorado showcases the extraordinary spring mating rituals of grouse, among the most fascinating behavior in the bird world. Our visit is timed to witness courtship displays of Greater Prairie-Chicken, Lesser Prairie-Chicken, Greater Sage Grouse, Gunnison Sage Grouse and Sharp-tailed Grouse on their display grounds or "leks." With chests puffed enormously and long tail feathers spiked straight up, the proud Sage Grouse struts in remarkable display, going full-out to compete with rival males, and attract a female's attention.
This ultimate "chicken odyssey" also includes searching for Dusky Grouse, Scaled and Gambel's Quail, Northern Bobwhite and the introduced Chukar. Above the treeline, surrounded by snow-blown peaks, we'll look for the elusive White-tailed Ptarmigan; perfectly camouflaged against the white-blanketed terrain, it will require our best efforts to locate it.
The staggering beauty of Colorado serves as a steady backdrop as we travel around the state through plains, grasslands, canyons, wetlands and the majestic Rocky Mountains. These diverse habitats are home to a wide variety of bird species, and numerous mammals, including Pronghorn, Prairie Dogs, Moose and Bighorn Sheep. In the Pawnee National Grasslands, we'll admire McCown's Longspur, Chestnut-collared Longspur and Mountain Plovers in breeding plumage, as well as Ferruginous Hawks and Golden Eagles soaring overhead. All three Rosy-finches are possible as they flock to feeders in the foothills in search of an easy food source. Myriad waterfowl crowd the reservoirs, including Barrow's Goldeneye and Eared Grebe. We'll see species associated with the southwest such as Chihuahuan Raven, Canyon Towhee, Woodhouse's Scrub Jay and possibly even Greater Roadrunner and Vermilion Flycatcher.
Amazing birds, spectacular scenery, and impressive wildlife make this one of our most popular trips, year after year! Seeing these rare sage grouse and prairie-chickens displaying is at the top of any birder's bucket list. This will be an unforgettable experience!
Length of Tour
11-days/10-nights

Brief Itinerary
Day 1 – AM Arrival in Denver by noon; Front Range
Day 2 – Eastern Plains; into Kansas
Day 3 – Lesser Prairie-chicken; Eastern Plains
Day 4 – Greater Prairie-chicken; Pawnee Grasslands
Day 5 –  Genesee Park; Rosy-Finches
Day 6 – White-tailed Ptarmigan; Windy Gap; North Park
Day 7 – Greater Sage Grouse; Yampa Valley
Day 8 – Sharp-tailed Grouse; Grand Junction
Day 9 – Chukar; Dusky Grouse; Mesa Reservoir
Day 10 – Gunnison Sage Grouse; Arkansas River; Royal Gorge
Day 11 – Pueblo West; PM Departure from Denver
**Note: The exact itinerary is subject to change, based upon weather conditions, availability of blinds and group viewing permits. We expect to cover the above itinerary but not necessarily in that order.
Detailed Itinerary
Day 1 – Morning arrival in Denver; Front Range
You will need to arrive in Denver during the morning, no later than noon / 12.00pm.  After meeting everyone at the airport at noon we begin with a visit to Red Rocks. Famed for its amphitheater set in a stunning setting, we will see our first common birds such as Western Meadowlark, Black-billed Magpie, Spotted Towhee, Woodhouse's Scrub-Jay and look for Prairie Falcon.
Day 2 – Eastern Plains; into Kansas
We will spend today working our way eastwards through the Eastern Plains with endless agricultural fields, pastures and grasslands towards our next 'chicken,' Lesser Prairie-Chicken in Kansas. American Kestrels, Horned Larks and Western Meadowlarks will be evident, and stops along the way might yield Mountain Plover, Burrowing Owl, Long-billed Curlew, Lark Bunting, longspurs or sparrows. Any bodies of water might hold American Avocet, Black-necked Stilt or the possibility of a Baird's Sandpiper or Snowy Plover.
Day 3 – Lesser Prairie-Chicken; Eastern Plains
At dawn we visit the first of our lekking 'chickens', the Lesser Prairie-Chicken. Smaller and paler that the Greater, their dances are similar, but the booming notes are higher pitched and the Lesser fans its tail only at the beginning of the display sequence.
We then return back into Colorado keeping an eye out for raptors such as Ferruginous Hawk or Prairie Falcon, and make a stop to look for Long-eared Owl, before reaching the sand hills of Wray, where we will meet with a ranch owner and get an introductory program on the Greater Prairie-Chicken.
Day 4 – Greater Prairie-Chicken; Pawnee Grasslands
Another pre-dawn start, this time to witness Greater Prairie-Chickens on their dancing grounds. Here males inflate then deflate their bare orange sacs, creating a deep booming sound that can be heard a great distance away, all the while performing an intricate 'dance' as they take a few tiny steps, then rapidly stamp their feet.
By late morning we are headed west to exploring parts of the 775,000-acre Pawnee National Grassland where Golden Eagles, Ferruginous and Swainson Hawk's abound. We'll search the short Buffalo grass prairie for our target birds, McCown's and Chestnut-collared Longspurs and Mountain Plover, all in breeding plumage. Sparrows including Brewer's, Cassin's and Grasshopper along with Lark Bunting are possible along fence-lines, while Pronghorn, Coyote and White-tailed Jackrabbits are likely in these grasslands.
Day 5 – Genesee Mountain Park; Rosy-Finches
This morning we leave the Eastern Plains behind and head up the front range into the Rockies. At Genesee Mountain Park we'll search the Ponderosa Pines for Pygmy Nuthatch, Western Bluebird, Mountain Chickadee, Red Crossbill and Williamson's Sapsucker. If there are any local reports of Northern Pygmy-Owl we'll make an effort to locate this small raptor.
From there we look at upper elevation feeders for the 3 species of Rosy-finches as well as the 'Hepburn's' race of Gray-crowned, along with other montane species.
Day 6 – White-tailed Ptarmigan; Windy Gap Reservoir; North Park
We'll search the feeders in town before breakfast in the hope of coming up with any Rosy-finches, Evening Grosbeak and Cassin's Finch. In areas of subalpine fir and aspen we'll look for Gray and Stellar Jay, Clark's Nutcracker, Fox Sparrow, Red-naped Sapsucker and possibly American Three-toed Woodpecker, while American Dipper can be seen along mountain streams. Our next target will be White-tailed Ptarmigan, an alpine species that resides above the timberline. It will require patience and a lot of scanning to find this well camouflage 'chicken' in the snow!
We visit Windy Gap where there is usually a large concentration of Barrows Goldeneye, along with other waterfowl, and a few American White Pelican and California Gulls. Before reaching North Park we'll keep an eye out for such mountain species as Cassin's Finch, Pine Siskin, Evening Grosbeak, Stellar's Jay, Townsend Solitaire, Band-tailed Pigeon, Gray Jay as well as any Rosy-finches.  The area around Walden will provide a good variety of waterfowl including Redhead, Cinnamon Teal and Eared Grebe. Sage Thrashers will be singing from the tops of the sage, Golden Eagles will be hunting ground squirrels and we may even be lucky enough to see an American Badger or Moose.
Day 7 – Greater Sage Grouse; Yampa Valley
This morning we visit the lek site of the largest and most majestic of North America's Grouse, the Greater Sage Grouse. Here, sometimes in large groups, they strut with wings drooped, white chests puffed out, inflating two yellow-green air sacs, raise and spread their long spiky tail, then throw their heads back on their shoulders as the air sacs are deflated with a bubbling, popping sound. Other birds to look for in the area are Mountain Bluebirds and Rough-legged Hawks.
We leave the sagebrush flats and meadows of the North Park mountain valley behind, and continue through the snow-capped peaks of the Rockies and by the afternoon we will be in the northwestern part of the state in Steamboat Springs and along the scenic Yampa Valley. Here Bald Eagle patrol the river and pairs of Sandhill Cranes can be seen in the adjacent wet meadows.
Day 8 – Sharp-tailed Grouse; Grand Junction
Another pre-dawn start in order to witness the most amazing of North America's avian dance rituals, that of the Sharp-tail Grouse. It will soon become apparent where the origins of the Native American spring and fertility dances, known as 'chicken dances' came from. With wings bowed to the side and tails cocked; feet stomping, sounding like a drum roll; bent over and bowing, they perform their dance while rotating in circles.
We have a long drive south to  Grand Junction, were we finish the day searching for the localized Lewis's Woodpecker amongst stands of Cottonwoods, and the striking Gambel's Quail that inhabits this part of the state.
Day 9 – Chukar; Dusky Grouse; Mesa Reservoir
The day starts with a scenic walk in Coal Canyon, searching for Chukar, an introduced species that is well established in the west. The canyon is also good for Black-throated Sparrow, Gray Flycatcher, Lazuli Bunting, Black-throated Gray Warbler, Canyon Wren as well as Black-chinned and Broad-tailed Hummingbirds, though we may be a little early for some of these.
From here we head to the Black Canyon were we will listen for the low-booming call of the Dusky Grouse, which should lead us to good views. Further west we search the sagebrush for Sagebrush Sparrow and Sage Thrasher, and the banks the Blue Mesa Reservoir for any early arriving shorebirds and lingering waterfowl.
Day 10 – Gunnison's Sage Grouse; Arkansas River; Royal Gorge
This morning we visit the lek of the endangered Gunnison Sage Grouse. Smaller in size but just as stunning as the Sage Grouse, we'll notice the subtle differences in calls as well as plumage as they strut on their display grounds.
As we head over the snow-capped peaks of the Rockies one last time we keep an eye out for American Three-toed Woodpecker and Goshawk.  Dropping out of the mountains we follow the scenic Arkansas River where Bighorn Sheep are often seen on the hillsides, stopping in pinyon-juniper habitat to look for Pinyon Jay, Juniper Titmouse, Bushtit, and Mountain Bluebird. At Royal Gorge should yield Peregrine, Canyon Wren and White-throated Swifts. Local ponds often hold a nice variety of waterfowl, and a Black Phoebe can be found flitting about the edges as swallows hawking insects above.
Day 11 – Pueblo West to Denver Airport; PM Departure from Denver
We begin our last day in the central part of the state on the outskirts of sprawling suburbia, which should produce Yellow-headed Blackbird, Scaled Quail and Curved-billed Thrasher, before ending this wonderful trip in Denver. We aim to be back at the airport by 12 noon. You may depart at anytime after 1.30pm.
• Wildside Nature Tours is an equal opportunity service provider and an authorized permittee of the Pawnee National Grassland.
Cost
Cost is $3,600 per person, based upon double occupancy, from Denver (Airport code DEN).
This trip ends in same as arrival city (Airport code DEN).
Cost Includes
Included in the cost are all accommodations, transportation, entrance fees, permits, and services of your professional guide, from Denver, Colorado.
Not Included in the Cost
You will be responsible for purchasing all meals. Most of our motels offer a free continental breakfast.
Minimum Number
If fewer than the minimum number of participants are registered the trip can still run with a small-group supplement fee per person determined by the number of participants.
Single Supplement
If a single room is preferred, or we are unable to find a suitable roommate for you, a single supplement fee of $560 will be assessed.
Deposit Requirements
A $500 deposit per person is required to hold each space on this tour. Deposit may be made online by clicking the "Book Your Trip Now" button and using any credit card. If you prefer, you may call us at 888-875-9453 to pay by phone. You may also mail us a check, however, remember that all space is held on a first come-first served basis as deposits are received.
Minimum Number
If fewer than the minimum number of required participants are registered, we may still be able to run the trip by adding a small-group supplement fee, per person, determined by the number of participants registered.
How to Book
In order to hold your space, click the "Book Your Trip Now" button above and complete the deposit process, including payment of the deposit through our Paypal portal using ANY CREDIT CARD. Upon completion of deposit, please visit our secure, online CLIENT INFORMATION FORM to complete your registration.
Final Payment
For all land-based tours: full payment by check is due 120 days prior to the departure date.
For all boat-based adventure cruises of 7-days or longer: full payment by check is required 180 days prior to departure.
NOTE: If you prefer to use credit card for final payment, a 3% fee may be added to cover the credit card merchant fees we incur.
Due to the distances between most of the targets of this trip, we stay in a different motel each night, chosen for their proximity to viewing the grouse leks and wildlife. The accommodations are standard, ensuite and comfortable. Wherever possible, we support establishments that implement eco-friendly policies.
Note: If you wish to arrive a day early, we can make arrangements for you to stay at the airport hotel where we will be on the first night of our trip.
Activity Level Rating: 3 (Note: 1 is easy and 5 is difficult)
Physical Requirements (Walking, Pace of the Tour)
Walking will be minimal on this tour. However, we may hike several miles searching for Chukar, or walk up short, steep climbs following birds. Some walking areas are graded dirt roads, or gravel paths. There is probability of walking in snow and icy conditions, searching for White-tailed Ptarmigan at 12,000 feet.
The eastern plains are situated at approximately 4,500 ft elevation, and we will drive up to 12,000 ft. to search for White-tailed Ptarmigan. Participants should be aware of high altitudes, where altitude sickness may be a factor.
We will start very early on several mornings, to arrive at leks before daylight.
A reasonable degree of fitness is required.
Recommended Field Guides
National Geographic Field Guide to the Birds of North America
(6th Edition, 2011, National Geographic)
by Jon Dunn and Jonathan Alderfer
Sibley Birds is available as an  eGuide App
Non-smoking Tour
This trip is for non-smokers only. Smoking is not permitted at any time during our tour.
Arrival & Departure Times
Please arrange to arrive in Denver by noon/12.00pm on Day 1, as we will be birding in the afternoon. On the last day Day 11, we expect to return to Denver by late morning, so  departure flights should be scheduled for after 1.30pm.
Should you wish to arrive a day early we can make arrangements for you at the hotel near the airport which we will be spending the first night of the trip.
What to Expect
We cover a great deal of territory during this trip, staying in a different location nightly and traveling about 2500 miles, but as you will see it is well worth it. This really is the ultimate 'chicken odyssey!" Luck plays a great part in the overall success of this trip, as the weather conditions (and birds) will need to cooperate.
We will be visiting several different leks to view the grouse displaying. This means an early start on all 'lek days,' as we have to be there at least one hour before sunrise. We must view all leks from either a blind, or from inside our vehicles. In these cases, we will need to sit quietly in one spot, nearly-motionless, and exposed to the weather elements for several hours, so as to not disturb the birds. We are not allowed to leave the lek until the last 'chicken' has left the lek. This also means that toilets are not available for the period that we view the lek.
Climate / Weather
Temperatures and weather conditions vary widely during the trip, and even throughout a day. Overnight lows in the 20's (F) and daytime highs in the 50-60's (F) are average; 90-degrees on the eastern plains is not unheard of! Sitting nearly-motionless in a blind for several hours can be extremely cold. Higher elevations will be colder and precipitation at these altitudes is likely to be snow. Rain is certainly possible, and windy days are inevitable. Come prepared for all kinds of weather!
Purchasing Flights
Do not purchase your flights until the trip has been confirmed to go.
Detailed Trip Information
Upon notification that final payment is due (120 days prior to departure for land based tours / 180 days for boat based tours), you will receive a trip package of detailed information for your tour.
Any additional information about the trip, including lodgings, contacts, participants, meeting locations, etc., will sent about 2 weeks prior to the trip departure, or after final payment is received for late registrants.
Travel Insurance
As with all tours, we recommend purchasing Travel Insurance to help cover your investment, for covered reasons. Please see our section on Travel Insurance.
Passport & Visa
US Citizens may require a visa to enter certain foreign countries. See above for any required visa information.
Participants arriving to the USA from a foreign country may need to get a travel visa to enter the United States. Be sure to check the requirements for your country of origin.
Itinerary Changes
The trip itinerary is developed many months ahead of time. Occasionally, despite our best planning, changes may occur during the trip, or we may be forced to alter our plans. Changes may occur because of weather, road conditions, safety concerns or other circumstances. In these situations, it is the leader(s) responsibility to carefully consider and implement appropriate alternatives. Any additional costs incurred because of changes will be the responsibility of each individual participant. Refunds will not be issued as a result of itinerary changes.