TEXAS: Colors of Caddo Lake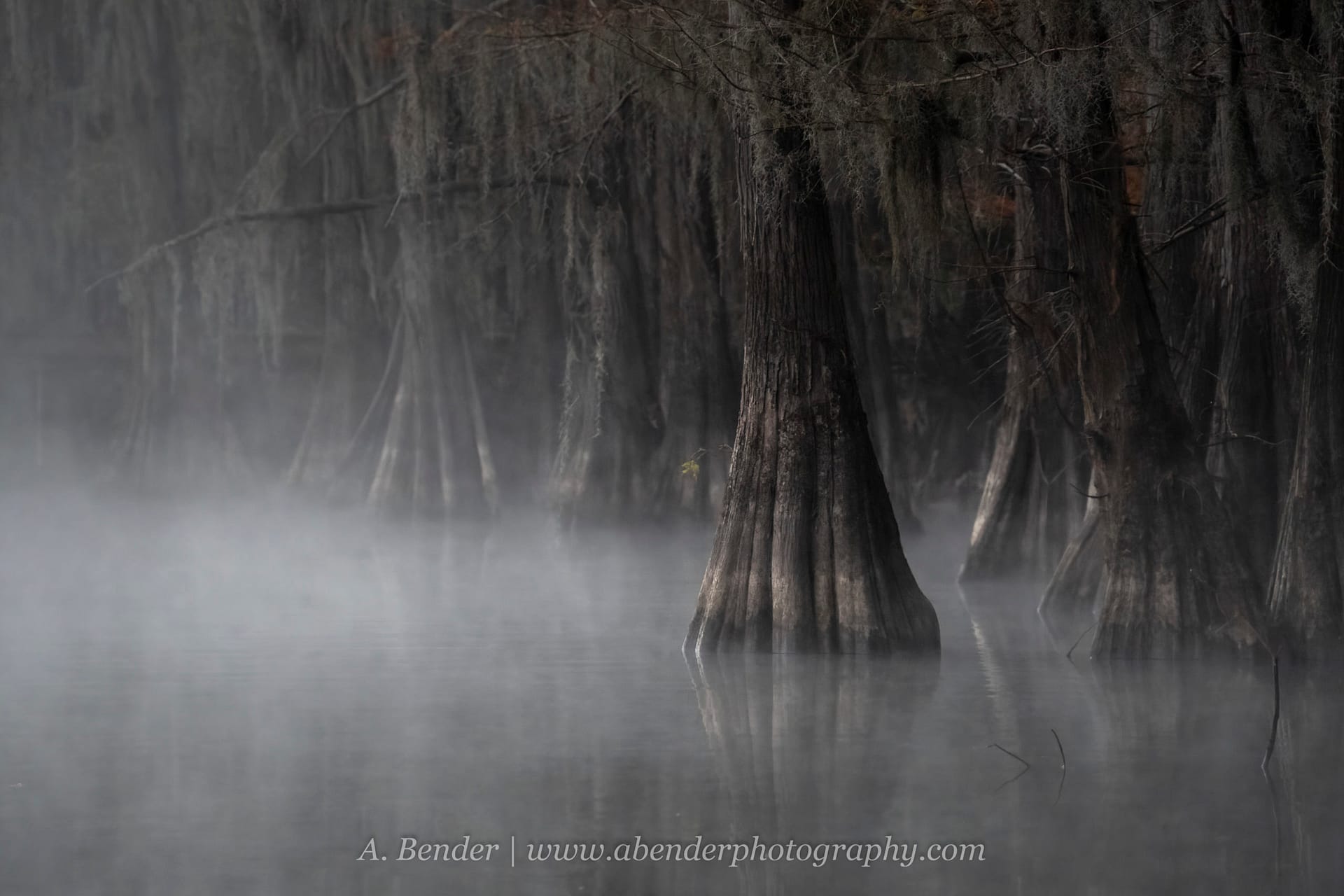 SCHEDULED TOURS
2023 :: November 9 - November 13
2024 :: November 7 - November 11

TOUR COST
From: $3,850 (See details)
Cost is per person, double occupancy from Shreveport, Louisiana (SHV)
GROUP SIZE
3 - 4 Participants
AVAILABILITY
2023: 1 spaces available
PRIVATE TOUR OPTION
This tour is available as a private trip for any size group. The tour cost will vary with the number of people and any custom requests.
If you have been on this tour, please be the first to leave a review!
Highlights of TEXAS: Colors of Caddo Lake
Hands-on photo instruction for landscape and bird photography with Tamron Ambassador, Alyce Bender
Photograph the only natural lake in Texas from boats and canoes with beautiful fall colors as the Bald Cypress trees turn.
Explore the world's largest Cypress forest as fall colors inundate the layers of branches and fog is most likely to occur.
Using both canoes and flat bottomed boats, we will be able to explore various corners of the forest, creating unique images each day.
Learn techniques that will allow you to handhold in low light situations
This tour is a new offering in the Wildside Weekender Series featuring shorter trips and focused subjects.
Description of TEXAS: Colors of Caddo Lake
Join me as we take our cameras into the world of the bald cypress! This adventure goes beyond the routine fall foliage tours as we embrace the watery channels to capture the tapestry of colors as they highlight the character of Caddo Lake, a unique ecosystem that seems to have been crafted for photographers. Using both chartered boats (three sessions) and canoes/kayak (2 sessions) under our own power, we choose our own adventures as we float through one of the largest flooded cypress forests in the U.S.! Working extensively at the shoulders of the day, we set out to capture a collection of moody, unique, and strikingly beautiful images of cypress trees as they are decked out in autumn colors and Spanish moss.
This lakeside cabin will allow us to have informal editing sessions, good conversations, and access to parts of the cypress swamp at all times of the day. Here, we can utilize midday shade to work on small scenes, creative techniques, and macro should time and interest allow.
*Although we will eat our meals as a group, meals costs are not included in this tour.
*Pricing for 2024 will be set after the 2023 tour concludes.
Length of Tour
6-Days/5-Nights

Brief Itinerary
Day 1 – Nov 09th Arrive in Shreveport, LA
Day 2 – Nov 10th Drive to Caddo Lake, get checked in, later afternoon session
Day 3 – Nov 11 Sunrise session, Sunset Session
Day 4 – Nov 12 Sunrise session, Sunset Session
Day 5 – Nov 13 Sunrise session, Return home via Shreveport 
Detailed Itinerary
Day 1 – Nov 09th Arrive in Shreveport, LA 
We will meet in Shreveport, LA. There we will have a meet and greet dinner where we will discuss what to expect, photography strategies, logistics, and swamp photography practices. 
Day 2 – Nov 10th We will have breakfast before making the hour drive to the Caddo Lake area. There we will start exploring the lake edges before checking into our accommodations in the early afternoon. That evening we will photograph evening light in the cypress swamp from land, getting a feel for the environment.
Day 3 – Nov 11th Up early, we head out onto water via chartered boat in time to watch the sunrise and, if we are lucky, see it burn through the mists that can cover the waters this time of year.  We return to our lodging for a warmup, download, and a bite to eat. Early afternoon will be spent exploring the lake edges looking for intimate landscapes or macro details. The evening returns us onto the water via boat for another evening capturing the beauty of this environment from a floating platform.
Day 4 – Nov 12th Up early, we return to the water via chartered boat. After a morning on the water, we return to our lodging for a warmup, download, and a bite to eat. After lunch, we change our shooting platforms and pair up to photograph from canoes and/or kayaks. This gets us even lower to the water and allows us to slow down, really work on compositions and how a slight change in position can change the entire scene.
Day 5 – Nov 13th We have one last session from land to catch sunrise in the swamp before packing up and heading back to the airport for afternoon flights home.
Cost
Cost is $3,850 per person, based upon double occupancy, from Shreveport, Louisiana (Airport code SHV.
This trip ends in same as arrival city (Airport code ).
The single supplement is ONLY available for the first night in Shreveport, the cabin at Caddo Lake is for the entire group.
Cost Includes
Cost includes airport transfers, all ground transportation, accommodations, boat/canoe/kayak rentals, entrance fees and services of your professional leader(s).
Cost does not Include
All meals, flights to/from destination city, trip insurance, or gratuities for boat captain, anything that is not specifically mentioned in the itinerary.
Minimum Number
If fewer than the minimum number of participants registered the trip can still run with a small-group supplement fee per person determined by the number of participants.
Single Supplement
If a single hotel room is preferred, or we are unable to find a suitable roommate for you, a single supplement fee of $175 will be assessed.
NOTE: For boat-based tours, see pricing options for single cabins. Single cabin cost includes the single hotel cost above.
Minimum Number
If fewer than the minimum number of required participants are registered, we may still be able to run the trip by adding a small-group supplement fee, per person, determined by the number of participants registered.
Deposit Requirements
A $750 deposit per person is required to hold each space on this tour. Deposit may be made online by clicking the "Book Your Trip Now" button and using any credit card. If you prefer, you may call us at 888-875-9453 to pay by phone. You may also mail us a check, however, remember that all space is held on a first come-first served basis as deposits are received.
How to Book
In order to hold your space, click the "Book Your Trip Now" button above and complete the deposit process, including payment of the deposit through our Paypal portal using ANY CREDIT CARD. Upon completion of deposit, please visit our secure, online CLIENT INFORMATION FORM to complete your registration.
Final Payment
For all land-based tours: full payment by check is due 120 days prior to the departure date.
For all boat-based adventure cruises of 7-days or longer: full payment by check is required 180 days prior to departure.
NOTE: If you prefer to use credit card for final payment, a 3% fee may be added to cover the credit card merchant fees we incur.
This trip includes standard hotels in Shreveport upon arrival, cabins near Caddo Lake or standard hotels in Marshall, Texas.
Activity Level Rating: 1 (Note: 1 is easy and 5 is difficult)
Easy – short gentle hiking over relatively flat surfaces of grass, rocks, gravel, and/or sand; paddling a canoe with partner or kayak solo; working while seated in a small boat.
Focusing on capturing the fall foliage of a cypress swamp from various water platforms, you will want a variety of lenses to take advantage of all the potential compositions. A variable telephoto such as a 100-400 is ideal. An ultra-variable such as the Tamron 18-400mm or 28-300mm is also very useful to limit the amount of lens switches needed while on the water. Other lenses that would be useful if you don't have an ultra-variable would include 24-105mm or equivalent. If you have a macro lens, I would bring it along as we can take time during midday to explore this aspect of the lake. 
Note: the 70-200mm may sound ideal, but due to the weight, it is not suggested unless you are sure handholding will not be an issue.
Filters – a polarizer can help cut glare on the water surface and foliage. Neutral density filters will help create long exposures for smoother waterscapes and creative foliage images.
Tripod for early morning/evening shots from land and potentially for use when kayaking/canoeing.
We have the proper permits for Caddo Lake State Park.
*Although we will eat our meals as a group, meals costs are not included in this tour.
Purchasing Flights
Do not purchase your flights until the trip has been confirmed to go.
Detailed Trip Information
Upon notification that final payment is due (120 days prior to departure for land based tours / 180 days for boat based tours), you will receive a trip package of detailed information for your tour.
Any additional information about the trip, including lodgings, contacts, participants, meeting locations, etc., will sent about 2 weeks prior to the trip departure, or after final payment is received for late registrants.
Travel Insurance
As with all tours, we recommend purchasing Travel Insurance to help cover your investment, for covered reasons. Please see our section on Travel Insurance.
Passport & Visa
US Citizens may require a visa to enter certain foreign countries. See above for any required visa information.
Participants arriving to the USA from a foreign country may need to get a travel visa to enter the United States. Be sure to check the requirements for your country of origin.
Itinerary Changes
The trip itinerary is developed many months ahead of time. Occasionally, despite our best planning, changes may occur during the trip, or we may be forced to alter our plans. Changes may occur because of weather, road conditions, safety concerns or other circumstances. In these situations, it is the leader(s) responsibility to carefully consider and implement appropriate alternatives. Any additional costs incurred because of changes will be the responsibility of each individual participant. Refunds will not be issued as a result of itinerary changes.