Greg Miller Big Year Series
FLORIDA: Sunshine Specialties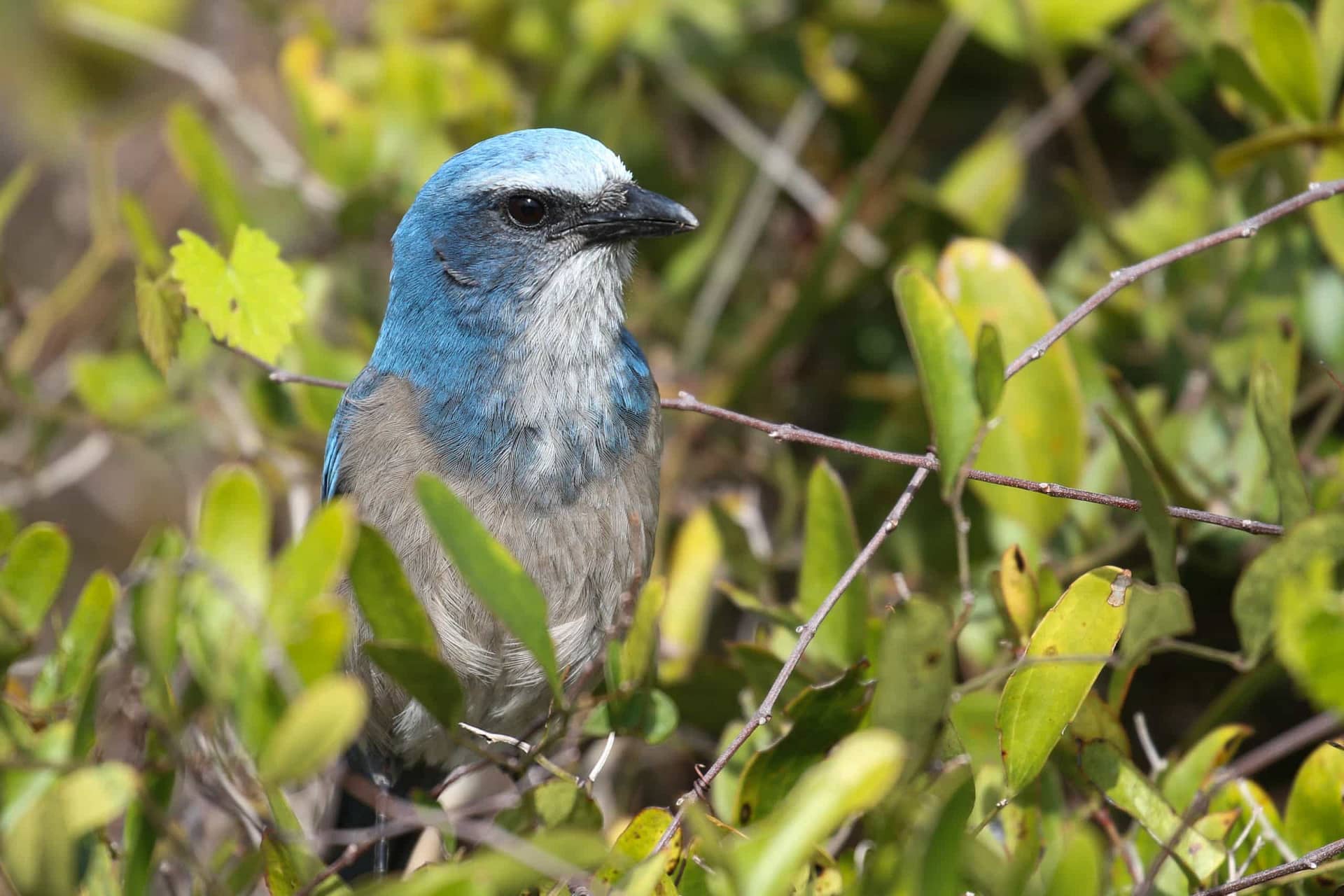 TOUR FOCUS

BIRDS & WILDLIFE
TOUR COST
From: $2,150 (See details)
Cost is per person, double occupancy from Orlando, FL (MCO)
GROUP SIZE
3 - 7 Participants
AVAILABILITY
Feb 2023 dates to be announced
PRIVATE TOUR OPTION
This tour is available as a private trip for any size group. The tour cost will vary with the number of people and any custom requests.
If you have been on this tour, please be the first to leave a review!
Highlights of FLORIDA: Sunshine Specialties
Central Florida specialties! 5 endemics bird species!
Snail Kite, Limpkin, Florida Scrub-Jay
A focus on the region's natural history and conservation
Bachman's Sparrow, Red-cockaded Woodpecker
Massive gull roosts on Daytona Beach
One week, one hotel – unpack and relax!
Description of FLORIDA: Sunshine Specialties
The 'Sunshine State' hosts a rich density of birdlife and boasts a long list of resident specialties! The mild temperatures and huge numbers of wintering birds make Florida a prime destination for any birder. We will spend the week enjoying a much more laid-back and immersive birding experience than you'd expect from our other 'Big Year Series' trips. We will take the time to observe and study more about the birds we encounter. Workshop-style teaching about gull, waterfowl, and shorebird ID from our expert guides will be a consistent thread during this tour. A special emphasis will also be placed on the stories behind the birds we see… Where are they coming from and where are they going? What are their habitat preferences and niches? What conservation efforts are underway to benefit these birds? What risks do they face?
Each day will highlight a different eco-region, its specialty birds, and relevant conservation implications. This tour is based out of one hotel for the entire week, with day-trips to explore the Atlantic coastline and the central pine-flatwoods region. Our primary target birds include 10 Florida specialties… Snail Kite, Limpkin, Red-cockaded Woodpecker, Bachman's Sparrow, Florida Scrub-Jay, Wood Stork, Gray-headed Swamphen, Purple Gallinule, Short-tailed Hawk, and Fulvous Whistling-Duck. These 10 birds are found mostly or entirely within the state of Florida, and each have fascinating natural histories which we will delve in to on this tour. Additional specialties we should encounter include Mottled Duck, Anhinga, Least Bittern, Reddish Egret, Roseate Spoonbill, Glossy Ibis, Bald Eagle, Crested Caracara, Whooping Crane, Sandhill Crane, Wilson's Plover, Red Knot, Wilson's Plover, Piping Plover, Lesser Black-backed Gull, Black Skimmer, Sedge Wren, Common Ground Dove, Painted Bunting, Brown-headed Nuthatch, Fish Crow, and Boat-tailed Grackle. Quite the list! It's sure to be a fun and exciting tour! Even the experienced Florida birder will find new things to see and learn on this slower-paced adventure.
If you are looking for a fun, relaxing, and informative winter birding getaway then this is the tour for you! From sandy beaches and mangrove lagoons to pine savannah and beautiful sunsets, the sun is shining and a margarita isn't far away!
Length of Tour
7-Days/6-Nights

Brief Itinerary
Day 1: Arrivals at Orlando Int. Airport (MCO). Orlando Wetlands Park.
Day 2: Merritt Island NWR, Playalinda Beach, owls after dark.
Day 3: Smyrna Dunes, Daytona Beach, Gull Roost.
Day 4: Three Lakes WMA, Kissimmee, St. Cloud.
Day 5: Clearwater Rec. Area, Lake Apopka, Daytona Gull Roost.
Day 6: Viera Wetlands, Cruikshank Preserve, Port Canaveral.
Day 7: Departures from Orlando Int. Airport (MCO).
Full Itinerary
*Exact birding itinerary subject to change depending on current conditions.
Day 1 – Arrivals at Orlando Int. Airport (MCO). Orlando Wetlands Park.
Please plan to arrival at or before noon on our first day. Our guides will pick you up from the Orlando International Airport and then we will hit the ground running, with a full afternoon of birding at the famous Orlando Wetlands Park.
Orlando Wetlands Park is a 1600-acre man-made wetland preserve with miles of flat trails that border multiple large impoundments. This site provides advanced treatment of reclaimed water from Orlando and central Florida's blooming human population. Picking through songbird flocks around the visitor center and parking area may produce Orange-crowned Warbler, White-eyed Vireo, and Painted Bunting. As soon as we head out into the wetlands you will feel transported to a birding utopia… large numbers of herons, egrets, ibis, ducks, and coots crowd the marshes. Vultures and other raptors fill the sky… keep an eye out for a Short-tailed Hawk and we might get our first glimpse at a Snail Kite! Wood Stork, Limpkin, and Purple Gallinule are common here, in addition to other secretive marsh birds like Sora, Virginia Rail, and American Bittern. Photo opportunities will be everywhere you look! This is the ultimate welcome to Florida's birding paradise.
During dinner we will more formally introduce ourselves and the guides with provide an orientation and look at the week ahead. Night in Titusville, which will be our lodging for each day of this tour.
Day 2 – Merritt Island NWR, Playalinda Beach, owls after dark.
Our first full day will be dedicated to a very thorough exploration of the expansive Merritt Island National Wildlife Refuge. This refuge was established in 1963 and borders the NASA John F. Kennedy Space Center. The mangrove-lined lagoons, coastal dune forests, and sandy beaches are provide one of the premiere birding hotspots in the state, boasting over 300 species on its checklist. It is truly an amazing place.
We will begin at Parrish Park along the causeway over to Merritt Island. Laughing Gull, Ring-billed Gull, and sometimes Black Skimmers and various terns gather in the parking lot. Ruddy Turnstone, 'Western' Willet, and other shorebirds may be seen at close range. The sandy shoreline here provides a critical breeding area for Horseshoe Crabs, and we will be visiting at their peak mating period.
A short hike out to the Pumphouse Ponds should provide a nice opportunity to study shorebirds up close. Over a dozen shorebird species may be seen here, side-by-side. Tricolored Herons, Roseate Spoonbills, and Anhinga should be present as well. Keep an eye on the flyover terns… Gull-billed Tern is possible here!
A slow cruise around the Blackpoint Wildlife Drive should rack up 50+ species, with great opportunities to study puddle ducks, shorebirds, and 'white egrets'. Watch for Reddish Egrets doing their crazed dances in the shallow water! Mottled Ducks, Marsh Wrens, and Clapper Rails lurk in the dense vegetation. American Alligators and water snakes are numerous here, and we could even spot a Pygmy Rattlesnake!
We will head north to a canal that often has West Indian Manatee, and then take a slow drive back south on Bio Lab Road. This scenic road runs down the edge of Mosquito Lagoon and can provide close views of shorebirds and other wading birds. Scanning carefully through the mangroves might find us Black- and Yellow-crowned Night-Herons.
Playalinda Beach will be our first time seeing the Atlantic Ocean, and we can take our shoes off and enjoy Florida's beautiful sandy beaches. Squadrons of Brown Pelicans will be flying low overhead, while Sandering run up and down the beach with the rolling waves. If we are lucky Northern Gannets may be seen foraging offshore, and if we are really lucky a Magnificent Frigatebird might soar over!
Heading back in towards the center of Merritt Island, we will check the visitor center for Painted Buntings, Yellow-bellied Sapsuckers, and other wintering songbirds. The day will end with us searching for Florida Scrub-Jays. If we are lucky the jays might come out for some seriously close views!
After dinner we will take a loop around the area searching for Eastern Screech-Owl, Great Horned Owl, and Barred Owl depending on client interest. Night in Titusville.
Day 3 – Smyrna Dunes, Daytona Beach and Gull Roost.
Heading north from Titusville we will visit the top edge of Merritt Island NWR, and search the saltmarshes and bays along Shiloh Road for a few target birds. Sedge Wren, Nelson's Sparrow, and the threatened Saltmarsh Sparrow can be found here. Northern Harrier can often be seen hunting the marshes.
Smyrna Dunes Park at Ponce Inlet protects 73-acres of coastal sand dunes sandwiched between the Indian River and the Atlantic Ocean. Our primary target here will actually be the threatened Gopher Tortoises that live in burrows throughout the dune system. Birds should be abundant too – watch for Loggerhead Shrikes hunting from scrubby perches! Osprey often fly low overhead, carrying fresh fish!
After lunch we will visit the Port Orange Causeway where 100s of Brown Pelicans and other waterbirds gather to rest and refuel. Depending on tides there can also be 100s of shorebirds gathered here, and American Oystercatchers can be spotted on exposed oyster beds.
Lighthouse Point Park is a great stop for seeing Caspian, Royal, Forster's, and Common Terns and sometimes Bonaparte's Gulls forage at close range. Watch for Green Sea Turtles along the jetty, and enjoy the antics of Boat-tailed Grackles in the parking lot. Ponce Inlet Preserve may offer us another chance to see shy Clapper Rails. Various patches of vegetation on this narrow barrier island provide refuge to various warblers and other songbirds like Blue-headed Vireo and Summer Tanager.
The remainder of the afternoon will be spent walking up and down the beachfront at Frank Rendon Park. Daytona Beach is famous for its broad, firm, flat beaches suitable for actual car races! Now the races are held at a track a few miles inland, but for birders the beach is still a must-visit location where each night over 60,000 gulls gather to roost! Laughing Gulls, Ring-billed Gulls, and Herring Gulls will be the most predominant species. Slowly strolling down the beach should also produce a fair number of Great Black-backed Gulls and Lesser Black-backed Gulls. Our guides will take their time to carefully and thoroughly explain the intricacies of gull identification, and help you to learn how to age gulls and then put a name to them using clues ranging from plumage to size and shape. A careful observer might spot something much rarer… Franklin's Gull, Thayer's Gull, Iceland Gull, and Glaucous Gull are surprisingly regular here. Crazy rarities have been found here too, like Black-tailed Gull and 'Vega' Herring Gulls! You never know what we might turn up! Don't let gull ID scare you… this is the ultimate way to learn the gulls. Think about it… sunny, warm beach in Florida with literally point-black views! Way better than trying to learn the gulls squinting through a scope and shivering in the bitter cold around the Great Lakes!
Among the gulls we should also have nice views of Royal, Sandwich, and Forster's Terns. Red Knot, Sanderling, Black-bellied Plovers and other shorebirds are common along the beach. Parasitic Jaegers patrol up and down the surf, eager to chase after a gull or tern to steal its food. Daytona Beach is well-known for close encounters with jaegers, and a careful eye might be able to pick out a Pomarine. Northern Gannets are usually pass by further offshore.
Dinner at a brewery in Daytona, then night in Titusville.
Day 4 – Three Lakes WMA, Kissimmee, St. Cloud.
Our fourth full day will see us out the door early, as we try to get in position at the Three Lakes Wildlife Management Area to see Red-cockaded Woodpeckers leaving their roost cavities at daybreak. Experiencing sunrise from within the pine savannah is a really beautiful and special thing, and its especially satisfying when surrounded by cool birds! These endangered woodpeckers are habitat specialists closely tied to the Longleaf Pine flatwoods of the southeastern United States. Most of their population occurs within the state of Florida. These medium-sized woodpeckers are cooperative breeders, living in close-knit social groups that work together to raise and protect their young. This unique habitat is also home to Brown-headed Nuthatches and the rare Bachman's Sparrow. We will search for the sparrows here but they aren't singing in January so it can be difficult. Pine Warblers, 'Yellow' Palm Warblers, Northern Flickers, and other songbirds may be encountered.
At nearby Joe Overstreet Road we will slowly drive through some cattle ranches and search for Red-headed Woodpecker, Eastern Meadowlark, and Sandhill Crane. Crested Caracara and Bald Eagles can be found here, along with the abundant American Kestrels and Red-tailed Hawks. Scissor-tailed Flycatchers often overwinter along the road. Down at the boat launch we will have another chance at specialties like Snail Kite, Limpkin, Purple Gallinule, and Mottled Duck. This is another great site for photography.
Heading north towards Kissimmee we will search the ranchlands for one of very few remaining Whooping Cranes. These cranes are from the resident, non-migratory population that has been left to slowly die out. Less than 20 Whoopers still exist in Florida, but this area is often prime habitat for the massive, white birds. Crested Caracara are often perched along the road.
After a quick lunch we will set out for various lakes and ponds in the Kissimmee and St. Cloud areas. Our goal will be to find cooperative Snail Kites! These deep, cattail-lined lakes are home to literally 1000s of apple snails, and these snails are the main source of food for the endangered Snail Kite and the Limpkin. In the United States, Snail Kites are only found in Florida. Their population is stable and actually expanding northward in the state. Central Florida's wetlands protect the majority of the population, and it isn't uncommon for us to see 5 or more kites at one site! We will take the time to watch their foraging styles, learn how to age and sex them by plumage, and discuss their conservation and the natural history of their apple snail prey.
Night in Titusville.
Day 5 – Clearwater Rec. Area, Lake Apopka, Daytona Gull Roost.
This day will kick off early as we search another pine flatwoods preserve for Bachman's Sparrow. These cryptic, secretive sparrows hide in dense grass and in clumps of saw-palmetto below the towering pines. We will have another opportunity to see Red-cockaded, Pileated, Hairy, and Red-headed Woodpeckers in the pines here. The habitat also supports southern forest birds like Carolina Chickadee, Eastern Towhee, Carolina Wren, Brown-headed Nuthatch, and Blue-gray Gnatcatchers. Mixed flocks of Pine and Yellow-rumped Warblers move through the canopy, sometimes accompanied by an exciting rarity. Barred and Great Horned Owls may be found.
After picking up sandwiches for a picnic lunch, we will set out to explore the Lake Apopka Wildlife Drive for a few hours. This vast wetlands complex along the north shore of Lake Apopka has an astonishing number of wintering waterfowl, wading birds, raptors, and swallows. Near the entrance gate we will search for White-crowned, Vesper, Savannah, and Swamp Sparrows. An Ash-throated Flycatcher usually overwinters here too, and Vermilion Flycatcher will be a top target for us. Lake Apopka boasts the largest concentration of Fulvous Whistling-Ducks in Florida, and maybe the entire United States. Purple Gallinule and Common Gallinule are common, and the exotic Gray-headed Swamphen (formerly Purple Swamphen) are now residents here. Least and American Bittern hide in the reeds. Sometimes 1000s of Tree Swallows forage over the marshes, and 100s of ducks fill the open water areas. Ruddy Duck, Redhead, Lesser Scaup, Blue- and Green-winged Teal, and the 'Florida' subspecies of Mottled Duck are common here. Lake Apopka is a well-known winter hotspot for raptors, and multiple subspecies of Red-tailed Hawk can be seen here in addition to Osprey, Bald Eagles, Peregrine, and Merlin. Depending on recent sightings we may search for Groove-billed Ani, Barn Owl, and other rare birds.
By mid-afternoon we will race back to Daytona Beach and finish out the day with another visit to the gull mega-roost, searching for rare gulls and working on our ID skills. Night in Titusville.
Day 6 – Viera Wetlands, Cruikshank Preserve, Port Canaveral.
Space Coast Regional Airport will be our first stop of the day, where American Pipit and American Kestrel are regular sightings. Some winters this airport hosts Scissor-tailed and Western Kingbirds. A quick visit to the Indian River will demonstrate its importance as a major wintering grounds for Lesser Scaup. Sometimes 1000s of scaup can be seen gathered in large rafts on the river! We will scan through for Greater Scaup, Redhead, Canvasback, and Horned Grebes. Jetty Park in Port Canaveral is a great hotspot for terns, gulls, and shorebirds. Northern Gannet sometimes stray close to the jetty. The rocks here are a regular wintering location for Red-breasted Mergansers, Red-throated Loon, Purple Sandpipers, and even Common Eider! The Banana Bridge nearby is another location to find wintering ducks, Common Loons, and terns.
Back on the mainland, we will head to the Helen & Allan Cruickshank Sanctuary. This little reserve is one of the best locations to see the endemic Florida Scrub-Jay. Dozens of jays live in extended family groups throughout the native pine-scrub habitat, and it shouldn't be a problem to get stellar views of these colorful, inquisitive jays. Florida Scrub-Jay have an interesting natural history backstory and they have very special habitat requirements which we will discuss in detail. Other birds of the Florida scrub will be searched for, in addition to various butterflies.
Viera Wetlands (now called Ritch Grissom Memorial Wetlands) is a 200-acre water treatment facility that was designated specifically for visitors to wander around the impoundments. The property was opened to birders in 2007, and it was promptly included in the 'Great Florida Birding Trail' in 2008. There are 4 cells with different water depths which each attract different types of wetland birds. This site is a terrific place for birders and wildlife photographers, and offers easy access to lots of birds! Alligators are common and lucky visitors can see Nine-banded Armadillo or North American River Otters! Birds we will be looking for here include 'Florida' Mottled Duck, Wood Stork, Anhinga, King Rail, American and Least Bitterns, Glossy Ibis, Limpkin, and Crested Caracara.
The Orlando-Melbourn Airport is a nice place to visit for Burrowing Owls, although they are rare and declining in Florida. Nearby we will make another stop to see West Indian Manatees. And then our final full day will come to an end enjoying the spectacle of 100s of Roseate Spoonbill, White Ibis, and other waders gathered to roost at the Fellsmere Grade Recreation Area. Seeing all these iconic, beautiful birds coming together at Fellsmere almost feels like a celebration of Florida birding. We are sure that you will feel a bit of inspiration here, and hopefully realize a new-found love for Florida and its birds. Night in Titusville.
Day 7 – Departures from Orlando Int. Airport (MCO).
Any available time on our last morning will be spent searching for last-minute birds that we haven't seen yet, or haven't seen well enough. We will then make our way towards Orlando, and everyone will be dropped off at the airport for their departing flights. Guests are encouraged to depart from Orlando International Airport around noon on the last day.
Cost
Cost is $2,150 per person, based upon double occupancy, from Orlando, FL (Airport code MCO).
This trip ends in Orlando, FL (Airport code MCO).
Cost Includes
Cost includes airport transfers, all ground transportation, accomodations, entrance fees and services of your professional leader(s).
Cost does not Include
All meals, flights to/from destination city, trip insurance, or anything that is not specifically mentioned in the itinerary.
Minimum Number
If fewer than the minimum number of participants registered, the trip can still run with a small-group supplement fee per person determined by the number of participants.
Single Supplement
If a single room is preferred, or we are unable to find a suitable roommate for you, a single supplement fee of $450 will be assessed.
Deposit Requirements
A $500 deposit per person is required to hold each space on this tour. Deposit may be made online by clicking the "Book Your Trip Now" button and using any credit card. If you prefer, you may call us at 888-875-9453 to pay by phone. You may also mail us a check, however, remember that all space is held on a first come-first served basis as deposits are received.
Minimum Number
If fewer than the minimum number of required participants are registered, we may still be able to run the trip by adding a small-group supplement fee, per person, determined by the number of participants registered.
How to Book
In order to hold your space, click the "Book Your Trip Now" button above and complete the deposit process, including payment of the deposit through our Paypal portal using ANY CREDIT CARD. Upon completion of deposit, please visit our secure, online CLIENT INFORMATION FORM to complete your registration.
Final Payment
For all land-based tours: full payment by check is due 120 days prior to the departure date.
For all boat-based adventure cruises of 7-days or longer: full payment by check is required 180 days prior to departure.
NOTE: If you prefer to use credit card for final payment, a 3% fee may be added to cover the credit card merchant fees we incur.
This trip is based out of one hotel for the entire week, ensuite and comfortable.
Activity Level Rating: 1 (Note: 1 is easy and 5 is difficult)
Anticipate walks up to 1.5 miles in length, but over completely flat and usually fairly open terrain. Weather can vary dramatically from hot and sunny to chilly and windy so please bring layered clothing and rain gear. We will be traveling in large SUVS, so please be prepared for climbing in and out of the (quite luxurious) trucks many times per day.
Recommended Field Guide
Recommended Field Guide
Sibley Birds East (2nd Edition, 2016, Knopf)
by David Allen Sibley
Sibley Birds is also available as an eGuide App
Purchasing Flights
Do not purchase your flights until the trip has been confirmed to go.
Detailed Trip Information
Upon notification that final payment is due (120 days prior to departure for land based tours / 180 days for boat based tours), you will receive a trip package of detailed information for your tour.
Any additional information about the trip, including lodgings, contacts, participants, meeting locations, etc., will sent about 2 weeks prior to the trip departure, or after final payment is received for late registrants.
Travel Insurance
As with all tours, we recommend purchasing Travel Insurance to help cover your investment, for covered reasons. Please see our section on Travel Insurance.
Passport & Visa
US Citizens may require a visa to enter certain foreign countries. See above for any required visa information.
Participants arriving to the USA from a foreign country may need to get a travel visa to enter the United States. Be sure to check the requirements for your country of origin.
Itinerary Changes
The trip itinerary is developed many months ahead of time. Occasionally, despite our best planning, changes may occur during the trip, or we may be forced to alter our plans. Changes may occur because of weather, road conditions, safety concerns or other circumstances. In these situations, it is the leader(s) responsibility to carefully consider and implement appropriate alternatives. Any additional costs incurred because of changes will be the responsibility of each individual participant. Refunds will not be issued as a result of itinerary changes.