ECUADOR Nature Journaling Workshop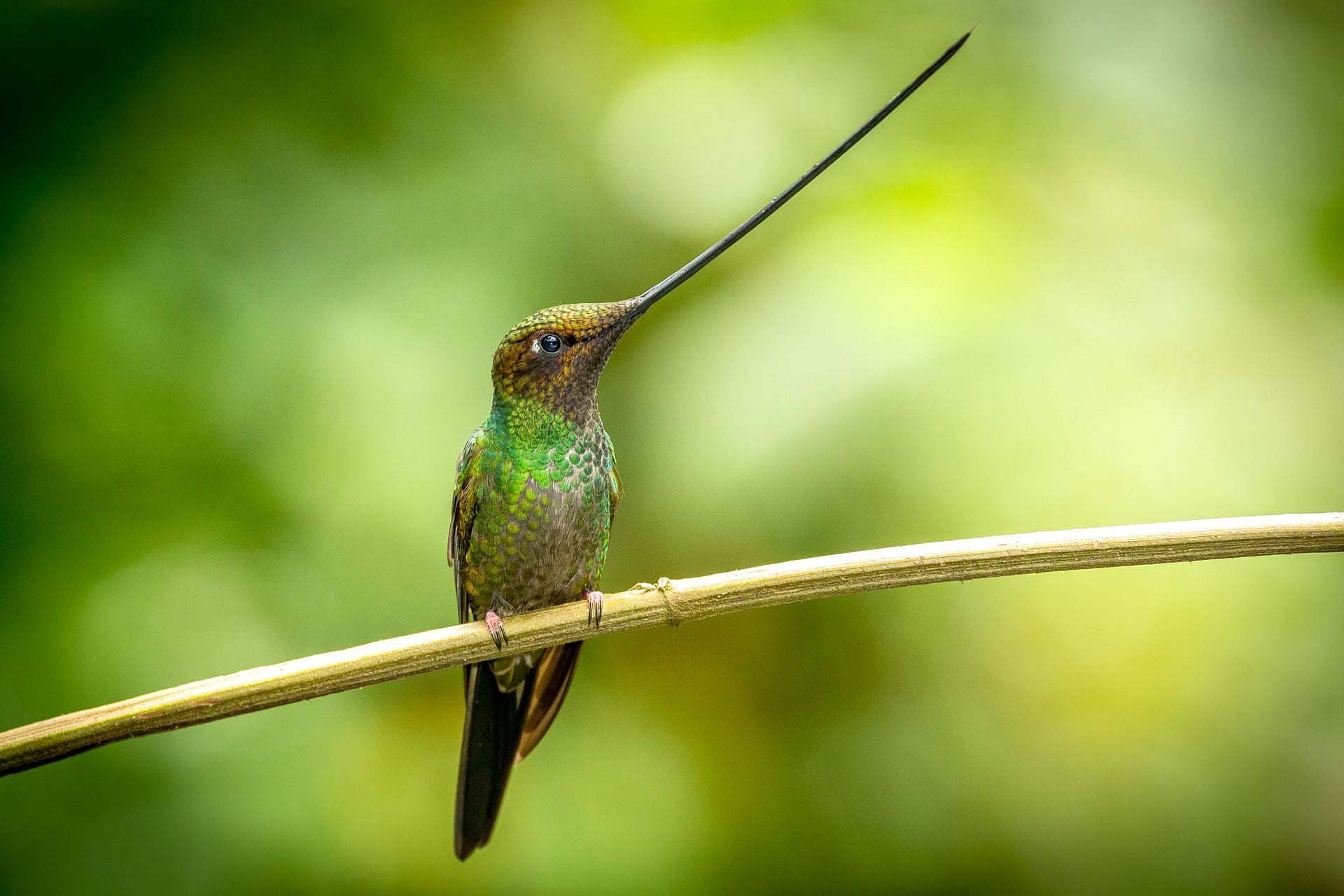 TOUR FOCUS

NATURE JOURNALING
TOUR COST
From: $4,950 (See details)
Cost is per person, double occupancy from Quito, Ecuador (UIO)
GROUP SIZE
4 - 8 Participants
AVAILABILITY
7 spaces available
PRIVATE TOUR OPTION
This tour is available as a private trip for any size group. The tour cost will vary with the number of people and any custom requests.
If you have been on this tour, please be the first to leave a review!
Highlights of ECUADOR Nature Journaling Workshop
Observe and record between 50-60 species of hummingbirds!
Learn profession field sketching and watercolor techniques
Enjoy beautiful cloud forest habitat full of colorful orchids
Description of ECUADOR Nature Journaling Workshop
This amazing trip is limited to just 8 participants as we explore many hummingbird locations through the mountains of Ecuador and enjoy studying and drawing them in gardens and at feeders. Catherine Hamilton will instruct in the art of field sketching as well as her beautiful watercolor techniques that bring the birds she draws to life!
Hummingbirds will be a special focus of this tour. They are jewels of the birding world, and Ecuador is home to about 130 species! The eastern slope of the Andes in northern Ecuador are home to over 60 species, and we will explore the best locations to see and study hummingbirds with names like Shining Sunbeam, Collared Inca, Mountain Velvetbreast, Sword-billed Hummingbird and an array of Brilliants, Woodstars, Coronets, Avocet-bills and so many more.
Our birding areas will be in cloud forest from 4500 ft up to above tree line in the Paramo at 12,000 ft. Most lodges offer stationary feeder sites as well as wildflower and garden locations in each area in order to find the most species and the best opportunities to study and draw hummingbirds.
Perfect for all skill levels! Join us for this colorful, challenging and fun nature journaling adventure!
Length of Tour
9-Days/8-Nights

Detailed Itinerary
Day 1 – Quito / Garden Hotel
Participants arrive throughout the day and transfer to Garden Hotel San Jose de Puembo. If arriving early enough in the day, you may enjoy a couple resident hummingbirds… Sparkling Violetear and Black-tailed Trainbearer.
Day 2 – Drive to WildSumaco Lodge.
WildSumaco Lodge offers wonderful hummingbirds with great opportunities to relax and enjoy the gardens or walk through the cloud forest in search of amazing field sketching opportunities.
Day 3 – WildSumaco Lodge
Early morning forest birds give way to late morning activity around the hummingbird feeders. So much to see, draw and paint!
Day 4 – Drive to Guango Lodge
Depart early for our next lodge. Hummingbird feeders surround the front of our lodge and this is the best place to find many species like Chestnut-breasted Coronet and the amazing Sword-billed Hummingbird.
Day 5 – Drive to Septimo Paraiso Lodge
Today we'll drive to the western side of the Andes and downslope a bit to Mindo. Here we will find many new hummingbird species to study and sketch.
Day 6 – Septimo Paraiso Lodge
Today will be spent at and around the lodge to enjoy the hummingbird gardens and practice more painting and drawing techniques.
Day 7 – Septimo Paraiso Lodge
Today we will drive up the slope a little to another amazing hummingbird location to find a few additional species of hummingbirds!
Day 8 – Drive to Quito / Garden Hotel San Jose de Puembo
This morning we will rise very early to visit the Cock-of-the-Rock lek and Antpitta haven of Reserva Angel Paz (where there are also hummingbirds). After, we'll continue to the amazing Oilbird colony discovered in recent years, before arriving at our hotel for our final night and another view of the resident hummingbirds here.
Day 9 – Return Home
Our hummingbird adventure finishes as flights depart throughout the day.
Cost
Cost is $4,950 per person, based upon double occupancy, from Quito, Ecuador (Airport code UIO.
This trip ends in Quito, Ecuador (Airport code UIO).
Single Supplement
If a single hotel room is preferred, or we are unable to find a suitable roommate for you, a single supplement fee of $500 will be assessed.
NOTE: For boat-based tours, see pricing options for single cabins. Single cabin cost includes the single hotel cost above.
Minimum Number
If fewer than the minimum number of required participants are registered, we may still be able to run the trip by adding a small-group supplement fee, per person, determined by the number of participants registered.
Deposit Requirements
A $500 deposit per person is required to hold each space on this tour. Deposit may be made online by clicking the "Book Your Trip Now" button and using any credit card. If you prefer, you may call us at 888-875-9453 to pay by phone. You may also mail us a check, however, remember that all space is held on a first come-first served basis as deposits are received.
How to Book
In order to hold your space, click the "Book Your Trip Now" button above and complete the deposit process, including payment of the deposit through our Paypal portal using ANY CREDIT CARD. Upon completion of deposit, please visit our secure, online CLIENT INFORMATION FORM to complete your registration.
Final Payment
For all land-based tours: full payment by check is due 120 days prior to the departure date.
For all boat-based adventure cruises of 7-days or longer: full payment by check is required 180 days prior to departure.
NOTE: If you prefer to use credit card for final payment, a 3% fee may be added to cover the credit card merchant fees we incur.
Septimo Paraiso Lodge
Set at about 5000 feet above sea level, on a private reserve, the lodge offers luxury well beyond its rustic setting. Large rooms with full bath… some with spectacular views, are surrounded by rainforest. The birding is spectacular!
Guango Lodge
A small tourist lodge on a family property that is surrounded by temperate forest and very birdy flocks. Guango Lodge, about 1 hour away from San Isidro, lies at a higher elevation (about 9000 feet) on Ecuador's eastern slope.
This area is centered in a zone classified as humid temperate forest, a habitat distinctly different from San Isidro and characterized  by its more stunted trees (and thicker canopy), cooler climate, and different bird and plant composition. All rooms have private bath.
Hummingbird feeders surround the front deck and this is the best place to find many species like Chestnut-breasted Coronet and the amazing Sword-billed Hummingbird.
WildSumaco Lodge
A new tourist lodge with all the ammenities… full en suit bath, etc, set amidst the incredible mid-level cloud forest on the eastern slope of the Andes.
Activity Level Rating: 2 (Note: 1 is easy and 5 is difficult)
This is a very easy tour with limited walking, however, two of our lodges will be over 8000 feet elevation and we will travel to over 12,000 feet.
Gear for Bird & Wildlife Viewing
Good quality binoculars
Spotting scopes are helpful to view distant subjects as you sketch or do some digiscoping from which to sketch or paint later.
Photography Gear Recommendations
The best camera is the one you have with you! That said, we will help you get great photos no matter what camera you use.
Journaling supplies
Catherine will send a list of recommended supplies well before your tour.
Purchasing Flights
Do not purchase your flights until the trip has been confirmed to go.
Detailed Trip Information
Upon notification that final payment is due (120 days prior to departure for land based tours / 180 days for boat based tours), you will receive a trip package of detailed information for your tour.
Any additional information about the trip, including lodgings, contacts, participants, meeting locations, etc., will sent about 2 weeks prior to the trip departure, or after final payment is received for late registrants.
Travel Insurance
As with all tours, we recommend purchasing Travel Insurance to help cover your investment, for covered reasons. Please see our section on Travel Insurance.
Passport & Visa
US Citizens may require a visa to enter certain foreign countries. See above for any required visa information.
Participants arriving to the USA from a foreign country may need to get a travel visa to enter the United States. Be sure to check the requirements for your country of origin.
Itinerary Changes
The trip itinerary is developed many months ahead of time. Occasionally, despite our best planning, changes may occur during the trip, or we may be forced to alter our plans. Changes may occur because of weather, road conditions, safety concerns or other circumstances. In these situations, it is the leader(s) responsibility to carefully consider and implement appropriate alternatives. Any additional costs incurred because of changes will be the responsibility of each individual participant. Refunds will not be issued as a result of itinerary changes.