Olympus Partnership Workshop
OHIO: Migration Spectacular Bird Photography Workshop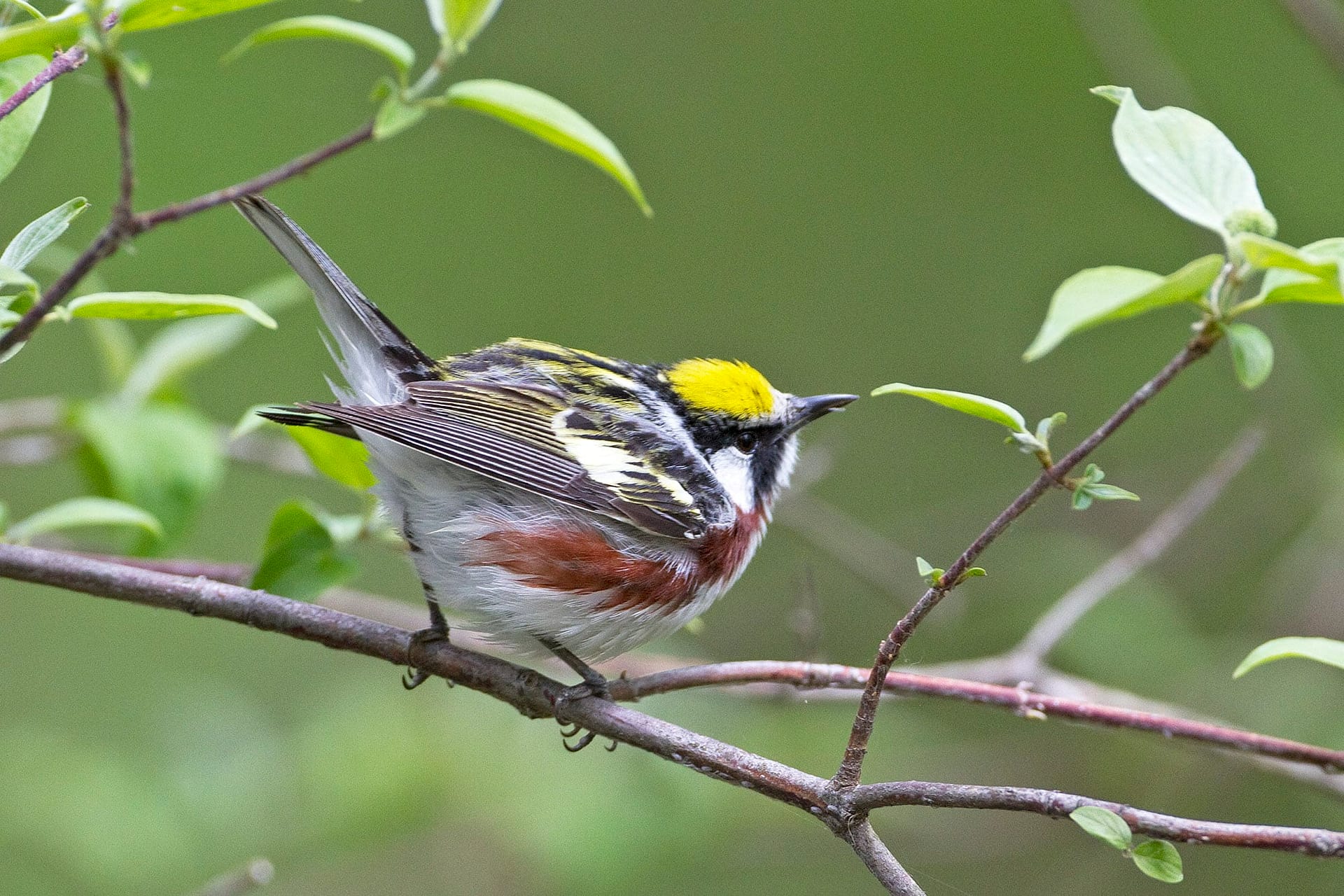 SCHEDULED TOURS
2024 :: May 13 - May 19

TOUR COST
From: $3,500 (See details)
Cost is per person, double occupancy from Detroit, MI (DTW)
GROUP SIZE
4 - 7 Participants
AVAILABILITY
2024: 7 spaces available
PRIVATE TOUR OPTION
This tour is available as a private trip for any size group. The tour cost will vary with the number of people and any custom requests.
If you have been on this tour, please be the first to leave a review!
Highlights of OHIO: Migration Spectacular Bird Photography Workshop
Small group of 4-7 participants
2 leaders… Photo instructor and birding guide
Magical spring migration
Up to 35 possible warbler species
Exceptional, up close views
Multiple habitats to explore
Description of OHIO: Migration Spectacular Bird Photography Workshop
Witness the amazing return of eastern neotropical migrants during the height of spring migration at what is aptly-described as "the Warbler Capital of the World" – Magee Marsh, on the south shore of Lake Erie in northwestern Ohio. Often our distance from feeding warblers is less than what the "big lenses" allow! Typically, a hand-held 150-600 or even 100-400 with closer focus is best for these bird-filled conditions.
The famed Magee Marsh boardwalk (often difficult for tripod use) winds through a 7-acre woodlot that is strategically positioned between Lake Erie and marshes of Ottawa National Wildlife Refuge. Large numbers of warblers, vireos, orioles, thrushes and cuckoos drop into this haven during their northbound journey, giving excellent opportunities to observe and photograph them up close.
Along the edges of the forest at Magee and adjacent beach-ridge woods provide critically important resting place and refueling point for many of these birds before they cross Lake Erie to their breeding grounds. Here is where the big lenses and tripods will come into play. We'll explore a variety of habitats to enjoy other goodies such as Red-headed Woodpecker, Lark Sparrow, American Woodcock, and Eastern Screech-owl.
NOTE: ALTHOUGH MEALS ARE NOT INCLUDED IN THE TOUR COST, WE WILL EAT OUR MEALS AS A GROUP TO HAVE DISCUSSIONS OF THE WORKSHOP.
Length of Tour
7-Days/6-Nights

Cost
Cost is $3,500 per person, based upon double occupancy, from Detroit, MI (Airport code DTW.
This trip ends in Detroit, MI (Airport code DTW).
Single Supplement
If a single hotel room is preferred, or we are unable to find a suitable roommate for you, a single supplement fee of $350 will be assessed.
NOTE: For boat-based tours, see pricing options for single cabins. Single cabin cost includes the single hotel cost above.
Minimum Number
If fewer than the minimum number of required participants are registered, we may still be able to run the trip by adding a small-group supplement fee, per person, determined by the number of participants registered.
Deposit Requirements
A $500 deposit per person is required to hold each space on this tour. Deposit may be made online by clicking the "Book Your Trip Now" button and using any credit card. If you prefer, you may call us at 888-875-9453 to pay by phone. You may also mail us a check, however, remember that all space is held on a first come-first served basis as deposits are received.
How to Book
In order to hold your space, click the "Book Your Trip Now" button above and complete the deposit process, including payment of the deposit through our Paypal portal using ANY CREDIT CARD. Upon completion of deposit, please visit our secure, online CLIENT INFORMATION FORM to complete your registration.
Final Payment
For all land-based tours: full payment by check is due 120 days prior to the departure date.
For all boat-based adventure cruises of 7-days or longer: full payment by check is required 180 days prior to departure.
NOTE: If you prefer to use credit card for final payment, a 3% fee may be added to cover the credit card merchant fees we incur.
This trip includes one standard hotel for the duration of the tour.
Activity Level Rating: 1 (Note: 1 is easy and 5 is difficult)
Very easy walking on boardwalks and well groomed trails.
Gear for Birding & Wildlife Viewing
Good quality binoculars
Spotting scopes are not typically needed as we will be photographing much of the time, unless you plan to do some digiscoping.
Photography Gear Recommendations
The best camera is the one you have with you! That said, we will help you get great photos no matter what camera you use.
This photo tour is geared toward those using DSLR or Mirrorless cameras with interchangeable lenses, here is what we recommend that you bring:
Bring at least 2 camera bodies – to reduce changing lenses and just in case of accidental damage to one
Recommended Lenses for Birds & Wildlife
100-400mm (or equivalent) for birds in flight
500mm lens or longer for birds and wildlife
Recommended Lenses for Landscape Opportunities
24-105mm (or equivalent) for landscape and general purpose
Recommended Lenses for Macro (Bugs, Frogs, etc.)
100mm Macro is fine for general purpose macro photography
150mm Macro is best for small, quick moving subjects like frogs
Other Accessories
Tripod for big lenses and steady video
Flash for fill light
Better Beamer or MagMod flash extender
Rain cover for camera
Weather resistant Camera Bag (Backpack style is best)
Batteries and chargers
Lots of memory cards!
Laptop or other downloading device
Recommended Field Guide
There are a number of excellent field guides that cover the birds seen on this trip. Some are also available as an ebook/App. The Sibley Guide to Birds; National Geographic Field Guide to the Birds of North America; Kaufman Field Guide to the Birds of North America; The Crossley ID Guide to mention a few.
Since warblers are a major focus of the trip, The Warbler Guide by Stephenson and Whittle is an extraordinary detailed book containing everything you need to know about our wood-warblers!
Transportation
We will using a 12 or 15-passenger van, driven by the leader (s). If the group size is smaller, a mini-van may be used.
Climate / Weather
Temperatures and weather conditions can widely during the trip. Expect the mornings to be chilly. Overnight lows in the 40's (F) and daytime highs in the 50-60's (F) are average; though warmer days are not unheard of! The possibility of rain is to be expected, and everyone should come prepared with waterproof clothing and shoes.
Purchasing Flights
Do not purchase your flights until the trip has been confirmed to go.
Detailed Trip Information
Upon notification that final payment is due (120 days prior to departure for land based tours / 180 days for boat based tours), you will receive a trip package of detailed information for your tour.
Any additional information about the trip, including lodgings, contacts, participants, meeting locations, etc., will sent about 2 weeks prior to the trip departure, or after final payment is received for late registrants.
Travel Insurance
As with all tours, we recommend purchasing Travel Insurance to help cover your investment, for covered reasons. Please see our section on Travel Insurance.
Passport & Visa
US Citizens may require a visa to enter certain foreign countries. See above for any required visa information.
Participants arriving to the USA from a foreign country may need to get a travel visa to enter the United States. Be sure to check the requirements for your country of origin.
Itinerary Changes
The trip itinerary is developed many months ahead of time. Occasionally, despite our best planning, changes may occur during the trip, or we may be forced to alter our plans. Changes may occur because of weather, road conditions, safety concerns or other circumstances. In these situations, it is the leader(s) responsibility to carefully consider and implement appropriate alternatives. Any additional costs incurred because of changes will be the responsibility of each individual participant. Refunds will not be issued as a result of itinerary changes.