SCOTLAND: Highlands & Orkney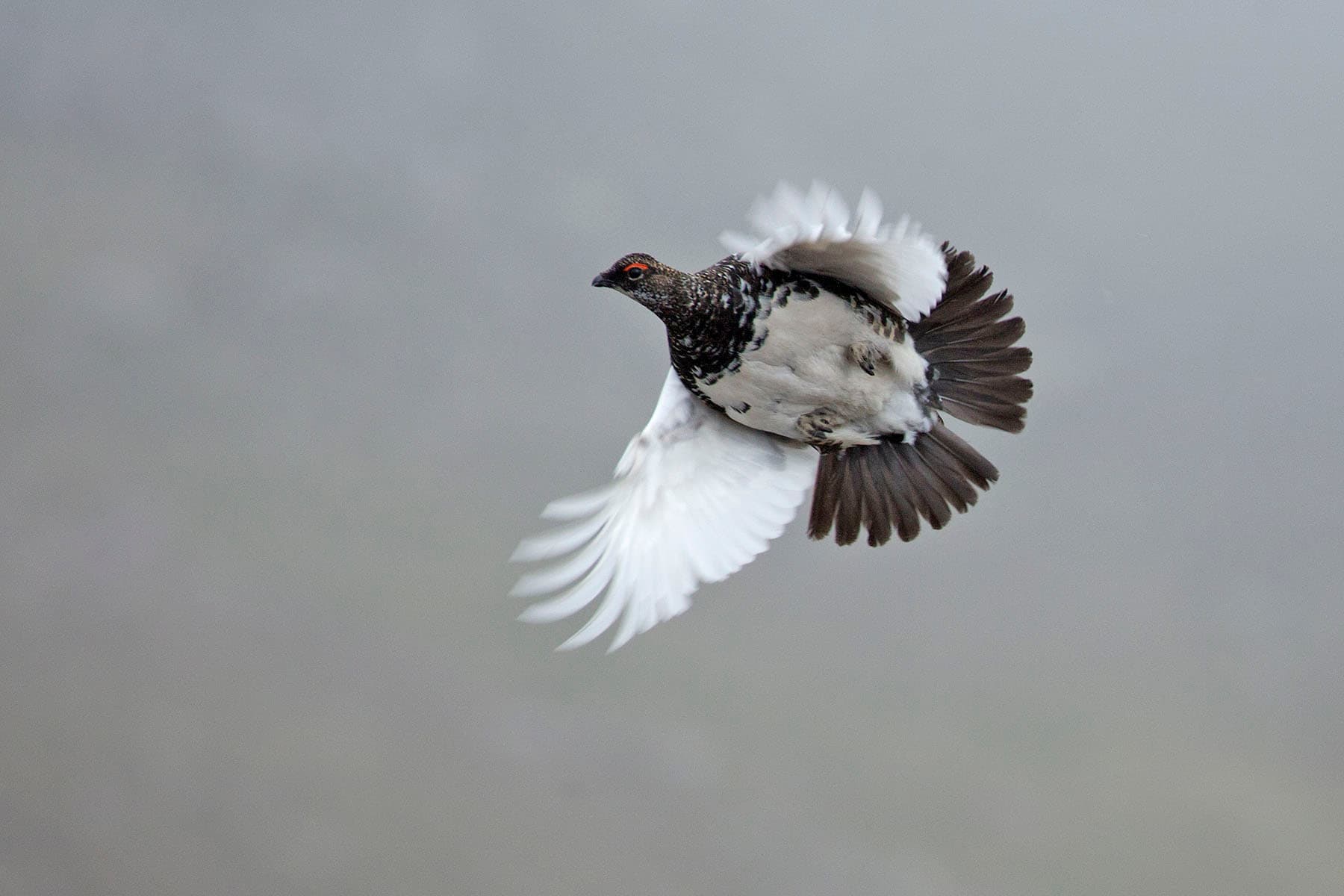 TOUR FOCUS

BIRDS & WILDLIFE
SCHEDULED TOURS
2024 :: June 1 - June 15

TOUR COST
From: $6,900 (See details)
Cost is per person, double occupancy from Inverness, Scotland (INV)
GROUP SIZE
6 Participants
AVAILABILITY
2024 trip is FULL
taking registrations for 2025; cost and dates tbd
PRIVATE TOUR OPTION
This tour is available as a private trip for any size group. The tour cost will vary with the number of people and any custom requests.
If you have been on this tour, please be the first to leave a review!
Highlights of SCOTLAND: Highlands & Orkney
Spectacle of cliff-nesting seabirds
Black Grouse, Dotterel and White-tailed Eagle
Interesting archaeological and historical sites
Island-hopping with otters and seals
Description of SCOTLAND: Highlands & Orkney
Join us for an enjoyable, two-week trip to one of the most scenic parts of the world, discovering  the birds and wildlife of Scotland's remote highlands and the Orkneys. The focus of
this relaxed trip is on natural history, amid stunning scenery and interesting archaeology, too
. With seasonally pleasant climate, June is a wonderful time to experience resident and migratory species breeding in diverse habitats.
In the famed Scottish Highlands we'll explore rugged glens and vast moorlands from our base in the beautiful Spey Valley. The ancient Caledonian pinewoods are home to Crested Tit and Britain's only endemic bird, the Scottish Crossbill.  On the Cairngorms mountain plateau we'll take an extended walk in search of our targets, Ptarmigan and Dotterel. Secluded lochs harbor stunning breeding plumaged Horned Grebe, Red-throated and Black-throated Loons. Rolling moorlands feature European Golden Plover and Red Grouse, while Red Kites are well-established on the Black Isle. Along the Moray coast we'll visit mainland Scotland's only Gannetry to see the birds up close!
On Mainland Orkney, Hen Harrier and Short-eared Owl are settling to breed, Peregrine Falcon and Merlin hunt along the meadow fringes, and a number of waders – breeding Black-tailed Godwit, Snipe, Water Rail and Greylag Goose – forage waterways. We visit seabird cliffs on several occasions, with a full range of seabirds present, including Gannet, Atlantic Puffin, Guillemot (Common Murre), Razorbill, Fulmar, Black Guillemot and Shag.
A key feature of our exploration of the Orkneys will be island hopping, visiting Westray, Rousay and Hoy, all very different islands which hold incredible historical sites as well as seabirds, waders and more.
We visit some of the finest prehistoric archaeological sites in Britain during our stay. The settlement of Skara Brae is a must-see, along with Maes Howe, Scapa Flow, the Churchill barriers, the 6-metre high Standing Stones of Stenness and the 5,000-year-old Ring of Brodgar, amongst other interesting sites, especially on Rousay.
Our wonderful trip to Scotland's Highlands and Orkneys
occurs at a relaxed pace, based out of two centers, with time for exploring historical sites, photography and botany, as well as fabulous birdwatching (
about 130 species of birds)
in a spectacular setting! 
Length of Tour
15-days/14-nights

Brief Itinerary
Day 1 – AM arrival at Inverness; PM transfer to Nethy Bridge
Day 2 – Abernethy Forest and lochs
Day 3 – Moorlands and Black Isle
Day 4 – Cairngorm Plateau
Day 5 – Troup Head and East coast
Day 6 – Moray Coast and Black Isle
Day 7 – Loch Ness, Urquhart Castle and distillery
Day 8 – Transfer to Orkney
Day 9 – West Mainland
Day 10 – Westray
Day 11 – Hoy
Day 12 – Rousay and West Mainland
Day 13 – Mainland
Day 14 – Transfer to Highlands
Day 15 – AM departure from Inverness
Itinerary
Day 1 : AM arrival in Inverness; PM transfer to Nethy Bridge
AM arrival (by noon) at Inverness Airport (INV) and transfer to Mountview Hotel, Nethy Bridge, our base in the Highlands for the next seven nights.
Days 2 – 7 : The Scottish Highlands
Six days birding the fabulous Abernethy Forest, Moray Coast and Scottish Highlands. Our itinerary will vary according to weather and our success with birds as we progress, though the following outline gives a good idea of each day.
Day 2
Today is firmly focused on the birds which make this wonderful part of the country so special. After breakfast we visit local 'hotspots' in Caledonian pine forest to see Crested Tit, and we often see adults with fledged young at this time. Scottish (Parrot) Crossbill are nomadic, though present throughout the year. Red Squirrel are seen on our Hotel feeders most days. Later we investigate local lochs and rivers, birchwoods and moorland, where your list may include Osprey, Dipper, Buzzard, Goldeneye, Red Grouse, Black-throated Diver, Lesser Redpoll, Peregrine, breeding waders and Slavonian Grebe. The beauty of divers and grebes in breeding plumage is spellbinding, and during this holiday we make time to find them at close quarters. [B,L,D]
Day 3
An early visit to a nearby moor to a Black Grouse lek. Scanning for raptors in the open ground and at forest clearings we may see Red Kite, Golden or White-tailed Eagle, Goshawk, Hen Harrier, Peregrine or perhaps Merlin. Capercaillie are increasingly scare, and during the breeding season we no longer look for them, though incidental sightings are possible.
Later we drive to the Black Isle, where birding should include Red Kite, ducks, waders, gulls and terns, particularly at Chanonry Point, a spectacular peninsula which juts into the Moray Firth, often giving close access. Depending on the tides, we have excellent chances of seeing Bottle-nosed Dolphin too.
[B,L,D]
Day 4
We spend a full day on the Cairngorm plateau, with unforgettable mountain scenery all around as we head to the right spots for Ptarmigan and Dotterel. Once Dotterel are 'in' by early May only bad weather can stop us seeing them. We carefully choose the best day and location for your comfort and safety, and we also take care not to disturb the birds. We also look out for Ring Ouzel and Snow Bunting (sometimes singing). Brilliant birding in a very special habitat.  [B,L,D]
Day 5
We take an exciting cruise to the foot of Troup Head, mainland Scotland's only Gannetry, to see the birds. Auks on the sea will include Puffin and Black Guillemot, and the Great and Arctic Skuas may be seen too. A very exciting boat trip! Divers may be present, and we should see Rock Pipit, newly arrived Northern Wheatear and more. We also know quiet and under-watched places on the west coast where waders can be found in bright summer plumage. We also target any available rarities on this day, perhaps including King Eider.
[B,L,D]
Day 6
A complete contrast as we visit the Moray Coast, where birding is excellent at any time of year. In summer we see gulls, terns, waders and duck, perhaps including migrants. We expect to see a range of breeding birds including Osprey fishing, Common Eider, Goosander, Red-breasted Merganser, Stonechat, Common Scoter, Red-throated Diver, Sedge Warbler, Whitethroat, Corn Bunting, Tree Sparrow, Yellowhammer and Grey Partridge. Sandwich, Common, Arctic and Little Tern, Gannet, Guillemot and Razorbill are also likely.
[B,L,D]
Day 7
Today we head north to visit the spectacular ruins of Urquhart Castle on a peninsula surrounded by Loch Ness. In its 500 years of being a medieval castle, Urquhart has played several important roles and been a popular recurring feature in and of Scottish history. In particular, the castle faced a considerable amount of action and bloodshed during the 13th to 17th centuries. It was seized by the English after Edward I's invasion, reclaimed and seized again, was under the control of Robert the Bruce, King of Scots in the 14th century and was repeatedly attacked during the 15th and 16th centuries by the MacDonald Lords of the Isles arriving from the West; to recap the very least from its thrilling history. The visitor centre is excellent, and includes a sizeable model of the castle, depicting what it might have looked like in its prime. The exhibition also consists of a theatre which runs an informative movie about the history of the castle from the 6th century to the 17th century.
We round the day off with a visit to a local Malt Whisky Distillery where we can sample some of the malts Speyside has to offer!
Day 8 :  Transfer to Orkney
We depart Nethy Bridge in the morning, aiming to be on Orkney by mid-afternoon. Depending on recent sightings a couple of stops will be made on the way up, perhaps at Golspie and Loch Fleet NNR. We take the ferry across the Pentland Firth, which offers us great views of the north coast of the Mainland and of Orkney as we arrive. These waters have a strong tidal current and offer rich fishing for birds and cetaceans alike. We can expect to see auks, Gannet, gulls, tern and perhaps a few Great Skua during the ferry journey. On arrival we will take time to visit the Stones of Stenness and Ring of Brodgar before we transfer to the Orkney Hotel for 6 nights. [B,L,D]
Day 9 :  West Mainland
Our first day is a gentle introduction to all that is great about Orkney in summer. We take a scenic drive down quiet lanes, using our bus as a mobile hide to get intimate views of waders and their chicks, and with luck Hen Harrier and Short-eared Owls on the moorland fringe. Taking in the RSPB reserves of Birsay Moors, The Loons and Marwick Head we will build up a healthy species list of breeding birds, and hope to see rare breeders including Black-tailed Godwit, Pintail and Whooper Swan amongst the abundant common waders and wildfowl. At Marwick Head we will walk up to the Kitchener Memorial above the spectacular seabird colony where we will encounter good numbers of auks. If the tides allow, we will also take a walk around Brough Head looking at seabirds which should include confiding Puffins. [B,L,D]
Day 10 :  Westray
The ferries allow us about six hours on Westray, with a 75 minute crossing each way. We take our minibus onboard to ensure we have sufficient time to take leisurely coastal walks at either end of the island. Westray is seldom visited by birders or indeed visitors to Orkney, but we will show you all the avian delights of this undiscovered gem! Westray is the best place in Orkney to catch up with Corncrake, and it has also has a healthy breeding population of waders and seabirds. At Noup Head in the north-west we take in the Gannetry (the only accessible colony on the islands), and other seabirds in a clifftop walk. This section of coast is one of the best for cetaceans in all Orkney, and we hope we get calm conditions to scan for Minke Whale, Dolphins and Porpoise, and perhaps something truly special, like a passing pod of Orca. If weather conditions allow, a cliff-top walk on this RSPB reserve is highly recommended. Another excursion will be a shorter walk at the Castle O'Burrian in the south-east corner where we hope to encounter Puffins and Twite! [B,L,D]
Day 11 :  Hoy
Today we visit the rugged island of Hoy, which has a totally different feel to the rest of Orkney. Taking the minibus on the ferry across Scapa Flow, we have around six hours on Hoy, which gives us lots of options. If the weather allows, a walk out to the cliffs above the infamous seastack The Old Man of Hoy is well worth doing, providing stunning views of the spectacular seacliffs of St John's Head too. Wildlife on the way might include Red Grouse and Mountain Hare and will definitely include Great Skua which may well provide us with a closer than desired view if we stray too close to one of the nests! The botany here is good too, with several orchids and other restricted range species. The walk is five miles return and is the longest of the week, with an altitudinal climb from Rackwick Bay of 300 ft (c.100m). We shall also explore the Rackwick Valley and admire the glacial features of this stunning landscape. We hope to add to our raptor sightings too, as these sheltered valleys hold several pairs of Hen Harrier and Merlin. In the last few years the return of the White-tailed Eagles (the first in over 100 years) was noted on Hoy, with luck we may see them over the valley. A curiosity in the valley is the 5000 year old archaeological remains of the rock-cut tomb called the Dwarfie Stane which the nimble can clamber into. If time allows we will take a look at the Scapa Flow Visitor Centre at Lyness, close to our ferry point, which mainly focuses on the strategic importance of the Scapa Flow throughout the two World Wars. [B,L,D]
Day 12 :  Rousay and West Mainland
Today we take the short ferry hop over to Rousay. The second hilliest island after Hoy, its slopes are dominated by thick heather which is the perfect home for nesting raptors. For the archaeologists amongst us, there will be a visit to Taversoe Tuick, an unusual two-storied cairn, and of course the superb Midhowe Cairn and Broch. We will leave Rousay in the afternoon, and finish the day on the mainland near the Broch of Gurness near Evie where we will overlook the Eynhallow Sound, looking for Black Guillemot, Red-breasted Merganser and perhaps a late-staying Great Northern Diver. There will be time to look round the Broch and village site itself too. [B,L,D]
Day 13 :  Mainland
The morning will be spent visiting historical sites across Mainland, with unforgettable visits to Maes Howe chambered cairn and Skara Brae, two of the finest archaeological sites in NW Europe. We take in the isles of Burray and South Ronaldsay, with famous sites being the Italian Chapel (decorated with scrap materials by Italian prisoners of war in WW2) and the Churchill Barriers (causeways linking the islands).  [B,L,D]
Day 14 :  Transfer from Orkney to mainland Scotland and drive to Inverness
Our Orkney saga ends by taking the ferry across the pentland Firth for one last chance of cetaceans and seabirds. Once back on the mainland, we head south to Inverness arriving late afternoon.  [B,L,D]
Day 15 :  Depart from Inverness
Morning transfer to Inverness Airport [INV]
Please note:  The itinerary is given as a guide only. Actual content may vary according to the judgement of your guide(s), and elements beyond our control (e.g., weather, boats).
Cost
$6,900 per person, based upon double occupancy, from Inverness, Scotland (Airport code INV).
This trip ends in same as arrival city (Airport code ).
Single Supplement and other Cost Additions
If a single room is preferred, or we are unable to find a suitable roommate for you, a single supplement fee of $500 will be assessed.

Cost includes
14 nights en-suite accommodation; all meals from dinner on Day 1 to breakfast on Day 15 (unless you are on an early flight); all transportation by comfortable minibus from Inverness; guidance from professional leader(s); all entrance, ferry and boat fees.
Cost does not include
Travel to Inverness [INV] meeting point; travel insurance; tip to hotel staff and local leader; drinks and other items of a personal nature.
Minimum Number
If fewer than the minimum number of participants are registered the trip can still run with a small-group supplement fee per person determined by the number of participants.
Deposit Requirements
A $500 deposit per person is required to hold each space on this tour. Deposit may be made online by clicking the "Book Your Trip Now" button and using any credit card. If you prefer, you may call us at 888-875-9453 to pay by phone. You may also mail us a check, however, remember that all space is held on a first come-first served basis as deposits are received.
How to Book
In order to hold your space, click the "Book Your Trip Now" button above and complete the deposit process, including payment of the deposit through our Paypal portal using ANY CREDIT CARD. Upon completion of deposit, please visit our secure, online CLIENT INFORMATION FORM to complete your registration.
Final Payment
For all land-based tours: full payment by check is due 120 days prior to the departure date.
For all boat-based adventure cruises of 7-days or longer: full payment by check is required 180 days prior to departure.
NOTE: If you prefer to use credit card for final payment, a 3% fee may be added to cover the credit card merchant fees we incur.
14 nights at two centers, all ensuite, in comfortable hotels.
In the Highlands we will be based for 7 nights in Nethy Bridge at the Mountview Hotel.
We are at 1 location on Orkney, in Kirkwall, for 6 nights..
Our last (14th) night we will near Inverness Airport
Activity Level Rating: 4 (Note: 1 is easy and 5 is difficult)
Walking:
You need a reasonable level of fitness.
There will be short to moderate (3- 8 mile) walks every day, at a slow pace. The terrain is mostly level, though there will be times when we walk distances in soft sand, through moist meadows and moorlands, over stoney ground, up steps, and over rough, uneven or soft ground with several stiles to climb over. Walks on Rousay are on relatively steep grassy paths, and there is a strenuous mountain walk in the Highlands to the Cairngorm Plateau, of 6+ miles return walk climbing up 2000 feet to 4000 feet. On the island of Hoy there is a 5-6 mile return walk with an altitudinal climb of about 300 ft to view the Old Man of Hoy.
Recommended Field Guide:
Birds of Europe
(3rd Edition, 2022, Princeton University Press)
by Lars Svensson, Killian Mullarney and Dan Zetterstrom
This trip is for non-smokers only. Smoking is not permitted at any time during our tour.
No Visa is required to visit the United Kingdom.
Weather:
Expect a wide variation in weather conditions. Blazing sunshine and rain are equally likely, and you will probably experience a bit of everything. Average June temperature 48-60F. Bring waterproofs, walking boots or shoes (we will walk through wet grass and puddles of water) and warm clothing. Strong winds can be a feature on the islands.
The month of June has about 19 hours of daylight.
Walking:
You need a reasonable level of fitness.
Walking on the Cairngorms Plateau for Ptarmigan and Dotterel is strenuous, requiring a longer walk as we climb about 2000 ft in elevation, from about 2000 ft to 4000 ft.
Ferry and Boat rides:
Several ferry rides are needed to access the islands in Orkney. We also have a boat trip to view the gannetry at Troup Head.
Transportation:
All transportation will be by comfortable minibus
Purchasing Flights
Do not purchase your flights until the trip has been confirmed to go.
Detailed Trip Information
Upon notification that final payment is due (120 days prior to departure for land based tours / 180 days for boat based tours), you will receive a trip package of detailed information for your tour.
Any additional information about the trip, including lodgings, contacts, participants, meeting locations, etc., will sent about 2 weeks prior to the trip departure, or after final payment is received for late registrants.
Travel Insurance
As with all tours, we recommend purchasing Travel Insurance to help cover your investment, for covered reasons. Please see our section on Travel Insurance.
Passport & Visa
US Citizens may require a visa to enter certain foreign countries. See above for any required visa information.
Participants arriving to the USA from a foreign country may need to get a travel visa to enter the United States. Be sure to check the requirements for your country of origin.
Itinerary Changes
The trip itinerary is developed many months ahead of time. Occasionally, despite our best planning, changes may occur during the trip, or we may be forced to alter our plans. Changes may occur because of weather, road conditions, safety concerns or other circumstances. In these situations, it is the leader(s) responsibility to carefully consider and implement appropriate alternatives. Any additional costs incurred because of changes will be the responsibility of each individual participant. Refunds will not be issued as a result of itinerary changes.