YELLOWSTONE: Winter Wildlife Safari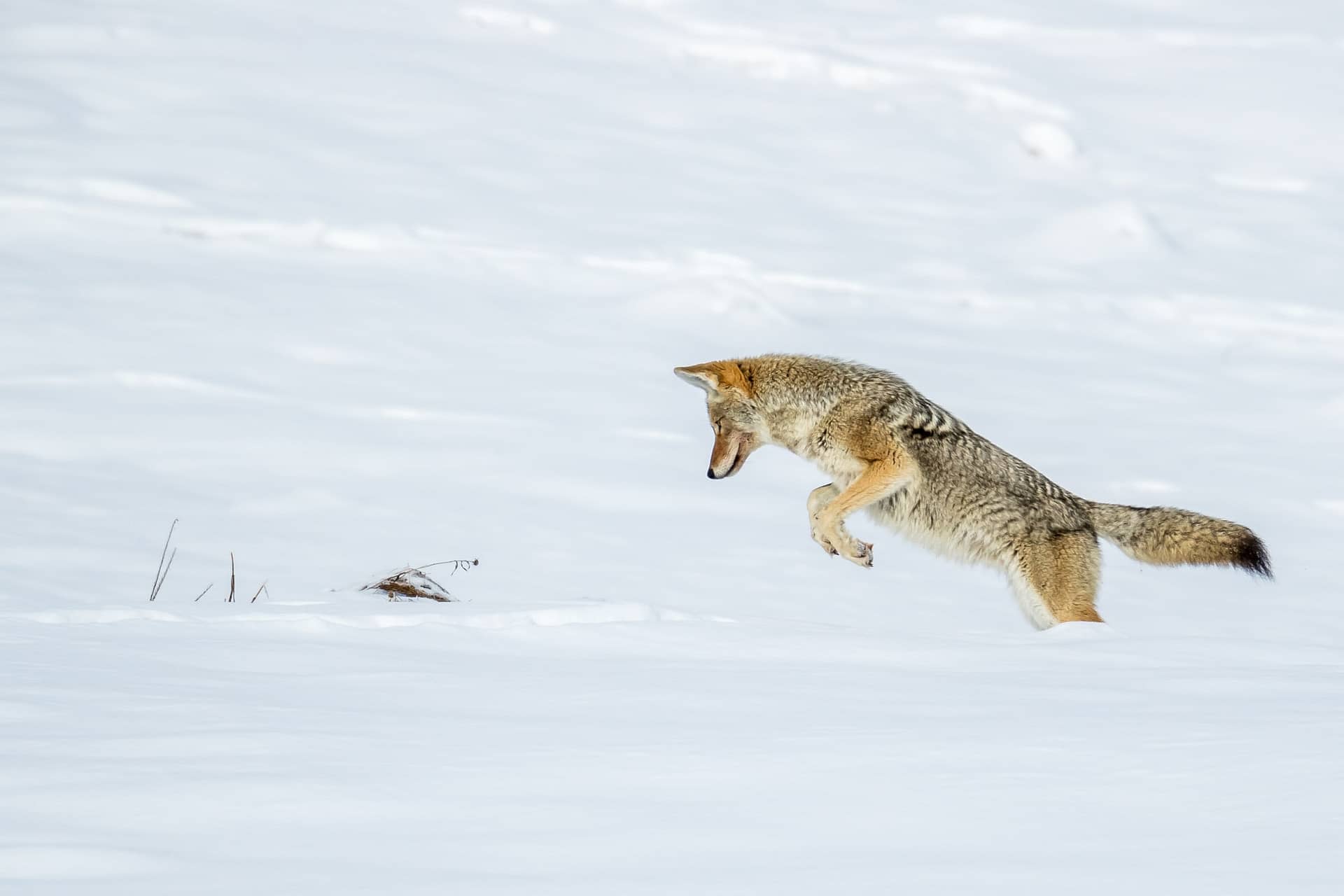 TOUR FOCUS

BIRDS & WILDLIFE
SCHEDULED TOURS
2024 :: February 12 - February 19

TOUR COST
From: $5,750 (See details)
Cost is per person, double occupancy from Bozeman, Montana. (BZN)
GROUP SIZE
4 - 7 Participants
AVAILABILITY
7 spaces available.
PRIVATE TOUR OPTION
This tour is available as a private trip for any size group. The tour cost will vary with the number of people and any custom requests.
If you have been on this tour, please be the first to leave a review!
Highlights of YELLOWSTONE: Winter Wildlife Safari
Join Wildside Nature Tours Guides Chris Brown and Adam Brubaker for an outstanding Yellowstone experience!

Yellowstone in winter is rich in wildlife!
• Warm snow coaches to travel the backcountry
• Bison covered in snow and hoarfrost
• Moose in the willows
• Possible bobcats along the Madison River
• Coyotes hunting in the snow
• Possible wolves in several locations
Description of YELLOWSTONE: Winter Wildlife Safari
Yellowstone is rich in wildlife and in winter much of it is even more visible! Fewer people and limited access allow us to explore the park more freely, using snow coaches and SUVs.
Coyotes, bison, bobcats, elk, bighorn sheep, fox and hopefully wolves and mountain lion will be seen. We will also enjoy a couple great locations for winter birds.
From West Yellowstone we will explore the Madison River by snow coach, in search of bobcats, wolves and waterfowl. This is typically one of the best locations for bobcats in the park.
From Gardiner we will explore the famed Lamar Valley, known for its wolf packs, bison and bighorns!
WILDSIDE NATURE TOURS IS AN AUTHORIZED PERMITTEE OF YELLOWSTONE NATIONAL PARK
Length of Tour
8-Days/7-Nights

Brief Itinerary
Day 1 – Arrive in Bozeman.
Days 2 and 3 – Exploring Yellowstone Interior.
Day 4 – Drive to Gardiner.
Days 5 through 7 – Exploring Yellowstone's Northern Range.
Day 8 – Return to Bozeman / Home.
Detailed Itinerary
Day 1 – Arrival in Bozeman.
Arrive in Bozeman between 12-4pm if possible. We will provide shuttle service for everyone from the airport to our firest night accommodation in West Yellowstone. From here we will check into our hotel rooms and then regroup for a meet and greet / dinner at a local restaurant. Over dinner we will discuss the logistics of the coming days.
Days 2 and 3 – Exploring Yellowstone's Interior.
We will spend the next two days exploring the interior of Yellowstone in private snow coaches. These two days will start with a pick-up out front of our hotel at 6:45 am. Each day will be spent entirely in the National Park, for which we will provide box lunches. This portion of the tour gives us our best opportunity for bison covered in hoarfrost and some truly unique wildlife opportunities such as bobcats and red fox.
Day 4 – Drive to Gardiner.
We will drive up to Gardiner, Montana today where we will check into the Best Western.
Days 5 through 7 – Exploring Yellowstone's Northern Range.
The following days will be spent exploring the Northern Range of Yellowstone National Park. This will provide us with access to the absolute best place on Earth for seeing wolves. Wolves however are just one of the many different opportunities that we will have along the Northern Range. Every species of mammal in Yellowstone National Park, except for the bears, will be concentrated throughout this stretch of the park come this time of year.
Day 8 – Return to Bozeman / Home.
We will provide shuttle service for everyone back to Bozeman airport.
Cost
Cost is $5,750 per person, based upon double occupancy, from Bozeman, Montana. (Airport code BZN).
This trip ends in same as arrival city (Airport code BZN).
Single Supplement
If a single room is preferred, or we are unable to find a suitable roommate for you, a single supplement fee of $600 will be assessed.
Deposit Requirements
A $1,000 deposit per person is required to hold each space on this tour. Deposit may be made online by clicking the "Book Your Trip Now" button and using any credit card. If you prefer, you may call us at 888-875-9453 to pay by phone. You may also mail us a check, however, remember that all space is held on a first come-first served basis as deposits are received.
Minimum Number
If fewer than the minimum number of required participants are registered, we may still be able to run the trip by adding a small-group supplement fee, per person, determined by the number of participants registered.
How to Book
In order to hold your space, click the "Book Your Trip Now" button above and complete the deposit process, including payment of the deposit through our Paypal portal using ANY CREDIT CARD. Upon completion of deposit, please visit our secure, online CLIENT INFORMATION FORM to complete your registration.
Final Payment
For all land-based tours: full payment by check is due 120 days prior to the departure date.
For all boat-based adventure cruises of 7-days or longer: full payment by check is required 180 days prior to departure.
NOTE: If you prefer to use credit card for final payment, a 3% fee may be added to cover the credit card merchant fees we incur.
This trip includes US standard hotels.
Activity Level Rating: 2 (Note: 1 is easy and 5 is difficult)
Cold weather and maybe some deep snow for short walks (no more than a few hundred feet).
Purchasing Flights
Do not purchase your flights until the trip has been confirmed to go.
Detailed Trip Information
Upon notification that final payment is due (120 days prior to departure for land based tours / 180 days for boat based tours), you will receive a trip package of detailed information for your tour.
Any additional information about the trip, including lodgings, contacts, participants, meeting locations, etc., will sent about 2 weeks prior to the trip departure, or after final payment is received for late registrants.
Travel Insurance
As with all tours, we recommend purchasing Travel Insurance to help cover your investment, for covered reasons. Please see our section on Travel Insurance.
Passport & Visa
US Citizens may require a visa to enter certain foreign countries. See above for any required visa information.
Participants arriving to the USA from a foreign country may need to get a travel visa to enter the United States. Be sure to check the requirements for your country of origin.
Itinerary Changes
The trip itinerary is developed many months ahead of time. Occasionally, despite our best planning, changes may occur during the trip, or we may be forced to alter our plans. Changes may occur because of weather, road conditions, safety concerns or other circumstances. In these situations, it is the leader(s) responsibility to carefully consider and implement appropriate alternatives. Any additional costs incurred because of changes will be the responsibility of each individual participant. Refunds will not be issued as a result of itinerary changes.