Art Instructor and Senior Leader
If you have been on this tour, please be the first to leave a review!
Catherine Hamilton grew up exploring the mountains and deserts of Southern California, and was pretty much born with a pencil in hand. She began birding at an early age with her father, developing a keen interest in both natural history and art. She started her first ornithological notebook at seven. Somewhat mysteriously her parents encouraged her to continue this behavior, and is still doing about the same things today.
Catherine holds a Bachelor of Fine Arts in Illustration from the Rhode Island School of Design and a Master of Fine Arts in Painting from Bennington College. She taught painting and drawing at RISD from 1997-2003, and has taught at other institutions and programs (Bennington College, Mass College of Art, Mass Audubon) throughout the 25 years she has been a professional artist. For the last five years she has been traveling and birding full time, keeping her studio on the road while maintaining her exhibiting and project schedules. Working out of wildlife refuges, urban environments, research stations, and museum collections, Catherine has been following birds primarily through North, Central, and South America, making drawings and paintings. Her fine art can be found in private, corporate, and small museum collections in the US and abroad. Her bird illustrations can be found in publications like the recent Princeton University Press book "The Warbler Guide," and in journals and magazines such as "Nature," "Bird Observer," and "Orion Magazine." Catherine was also featured in the 2012 HBO documentary "Birders: the Central Park Effect."
Catherine loves sharing her passion for both the avian world and the world of drawing with birders and artists of all levels, and believes that anyone can gain insight and greater understanding of the world around them through field sketching and observation.
Catherine Hamilton's Upcoming Tours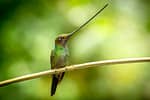 LEADERS
Catherine Hamilton
NATURE JOURNALING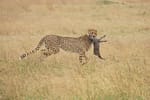 LEADERS
Catherine Hamilton and Adrian Binns
BIRDS & WILDLIFE
LEADERS
Catherine Hamilton
NATURE JOURNALING
LEADERS
Catherine Hamilton and Adrian Binns
BIRDS & WILDLIFE