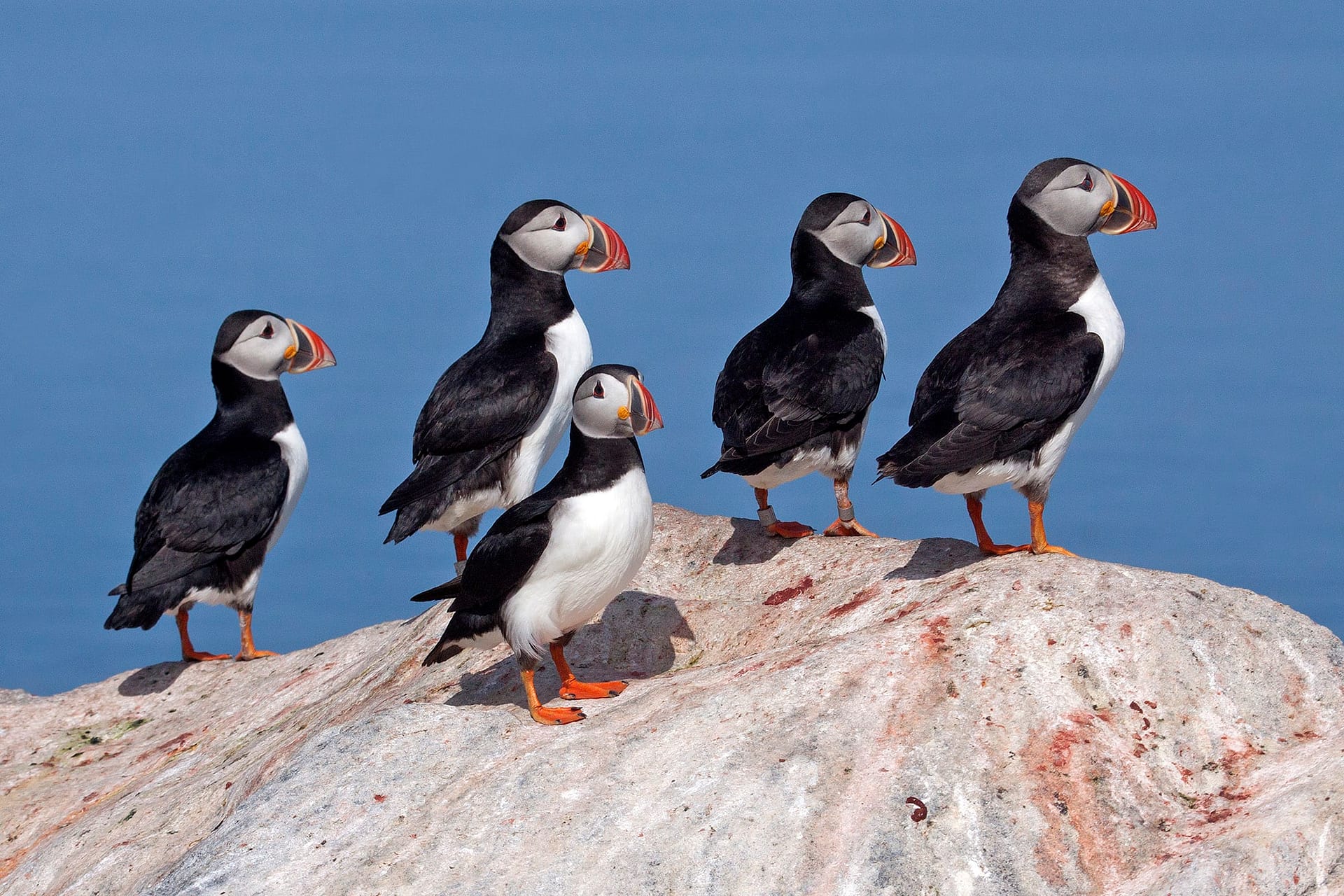 NEWS & UPDATES
Stay up-to-date with new tours, special offers and exciting news. We'll also share some hints and tips for travel, photography and birding. We will NEVER share nor sell your information!
Acadia Birding Festival — June 1 – 4, 2023
NOTE: The 2020 Acadia Birding Festival was canceled due to COVID-19 – for more information visit: https://www.acadiabirdingfestival.com
Every year Wildside Nature Tours send a number of our tour leaders to Maine to help lead field trips at the Acadia Birding Festival.
Acadia's birding community invites you and your family to celebrate the ecological wonders of the birds of the Gulf of Maine at the Acadia Birding Festival. Explore Mount Desert Island and its birds through numerous events and venues. Greet our warblers on early morning birding walks, visit with puffins and pelagic birds at sea, and observe Peregrine Falcons at an active breeding site in Acadia National Park. Our combination of lectures, walks, and adventures will connect you to Downeast Maine's many bird species, diverse habitats and local birding experts.
From the deck of the whale watch catamaran "Friendship V" you can enjoy the sights and sounds of Atlantic Puffins, Razorbills, Roseate and Arctic Terns on Petit Manan Island then visit with whales and pelagic birds 25 to 30 miles offshore. Our bays and marine estuaries will be explored by kayak and canoe, with registered guide Robert Shaw of National Park Sea Kayak Tours. There is no better way to learn about sea birds than to be on the water with them accompanied by avian experts.
Through a variety of birding walks we will attempt to connect participants to all of the primary terrestrial habitats of Mount Desert Island. We will strive to lead participants to Mount Desert Islands birding "hot spots".
There is no other birding event in Maine that offers the variety of birdwatching experiences as the Acadia Birding Festival.
For more information visit: https://www.acadiabirdingfestival.com.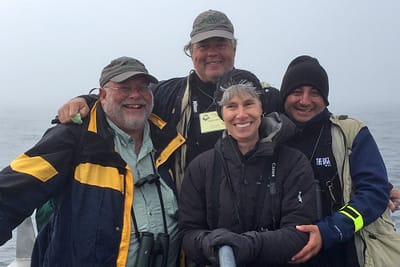 "We made it through another successful festival, thanks to the help and expertise of you and all the other guides. We couldn't have done it without you! We had nearly 40 guides this year and I've heard wonderful comments from registrants about the guiding quality of the trips. Yay! Keep up the good work. You are an inspiration to young and old on these field trips!"             – Becky Marvil, Executive Director of Acadia Birding Festival  –  June 2015 
Above:   Greg Miller, Adrian Binns, Becky Marvil and Edison Buenano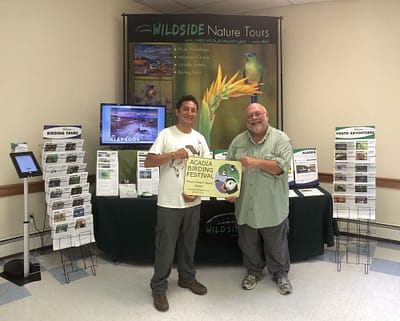 Left:  Edison Buenano and Greg Miller at the Wildside Nature Tours booth