TRIP REPORT: CUBA – 2019 April – Cultural Immersion & Endemic Birding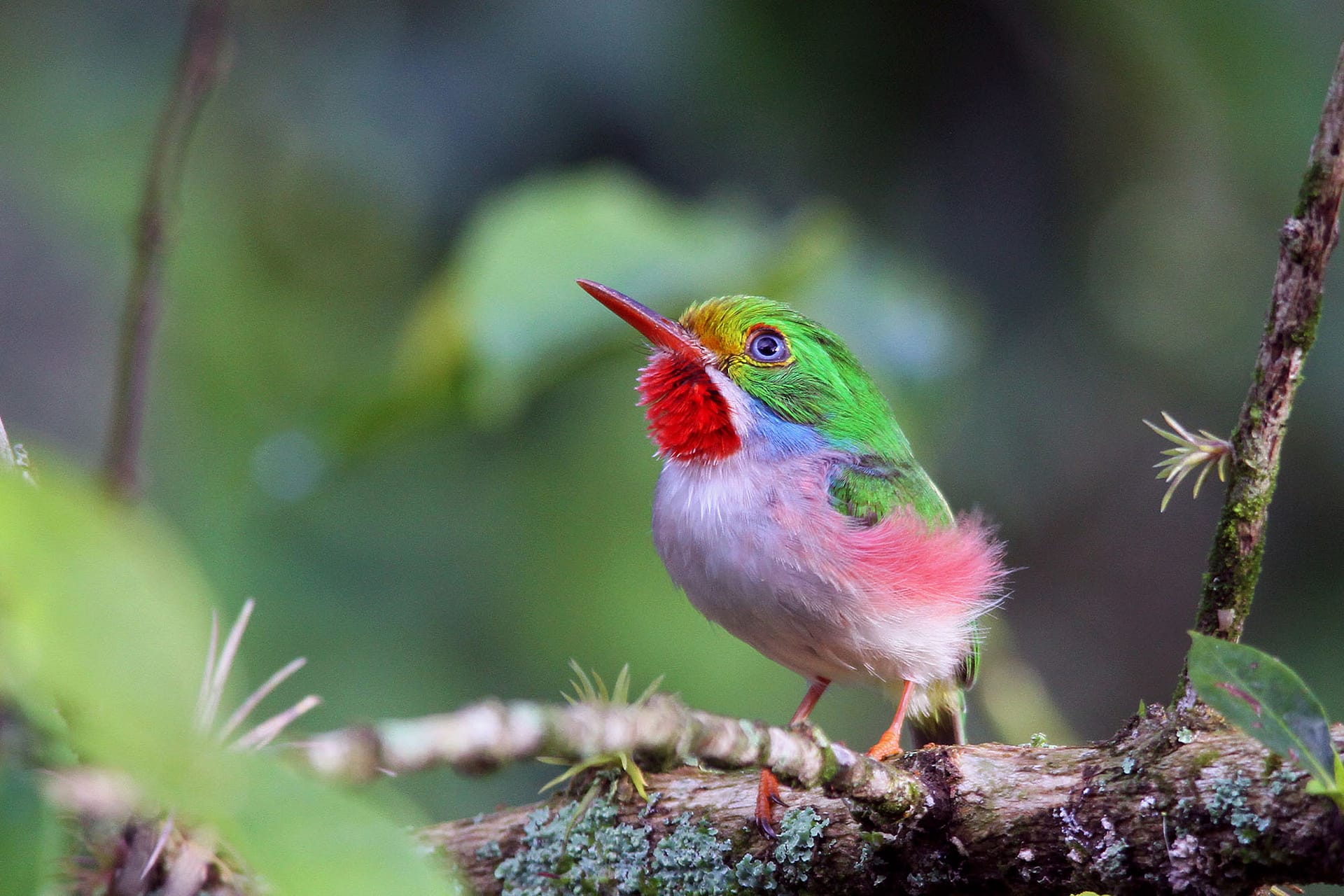 PRIVATE TOUR OPTION
This tour is available as a private trip for any size group. The tour cost will vary with the number of people and any custom requests.
TESTIMONIALS
If you have been on this tour, please be the first to leave a review!
Trip Report written by Gabriel Lugo
DAY 1
After our short flight to Havana from Miami we met Ernesto, our Cuban guide, then hit the road right away, headed West.
In Las Terrazas we stopped by a field to look for Fernandina's Flicker. We did hear the bird but unfortunately it was on the ground and really hard to find.
The group had their first taste of Cuba with five West Indian Woodpecker, a Cuban Emerald and the beautiful Red-legged Thrush, along with some Smooth-billed Ani.
We moved to our lunch location, an old French coffee farm surrounded by wonderful views and lots of birds. Trying to not look at the birds all around, we had our first Cuban lunch. After eating we found a Cuban Green Woodpecker nest with adults feeding and two Cuban Trogons next to them – an amazing treat. La Sagra's Flycatcher, Cuban Pewee, Black-whiskered Vireo and Yellow-faced Grassquit were other highlights at this spot.
On the way out of Las Terrazas we went to a local farm and we had more than 40 Cuban Grassquits there before heading West to our destination – Viñales.
Once everybody was set on their rooms we had a conversation with Nils Navarro, author and excellent artist of the illustrated birds of Cuba book.
When you have had a great birding day, ending with family style dinner and flan as dessert, you can't ask for anything else.
DAY 2
Our first full birding day was flexible, but with one bird in the top of the list: the Cuban Solitaire. It's melodies welcomed us, echoing between the limestone hills. After a couple of minutes we spotted two, getting good views. One of them had something better in mind: he perched on the wires giving us perfect views and a concert! That was a great start, along with a good show by the Cuban Vireo and La Sagra's Flycatcher.
Next we walked around a farm and beside having five migratory warblers species, we had one of the favorites – the Cuban Tody – with very close views of the beautiful Yellow-headed Warbler in addition. More Cuban Trogons and a new species for the trip, the Cuban Oriole, was seen after.
A very entertaining visit to a local tobacco farm was next. One of the farm employees explained to us the whole process and details. As usual, participants had a chance to smoke. Coffee with rum at the farm shop and a nice chat with Benito, the owner, are always good.
We had lunch at Los Jazmines with a stunning view of the Viñales valley. Siesta time!
We had some time in the town walking around the plaza José Martí, the market. I had a nice conversation with the group about Puerto Rico and Cuba. Then we visited the Pre-Historic Mural, where we had the best views of the Western Spindalis. We went next to San Vicente Ranch, and saw White-crowned and Scaly-naped Pigeons, with a couple of beautiful Red-legged Honeycreepers.
We finished the day by stopping by El Palenque. These stunning limestone formations are much better with the sunlight hitting the walls at the end of the day.
DAY 3
Today we would finish the day at Playa Larga in Zapata Swamp next to the Bay of Pigs.
Our first stop was by the highway looking for some surprises: Yellow-breasted Crake, Least Bittern and King Rail, seeing at least three crakes, and one bittern flying nearby. We just heard the rail. Definitely the crake was the bird of the day.
Next we tried with no success this time for the Giant Kingbird.
On the way to lunch we had a call from other group, which was lead by Ernesto's wife, telling us they found the Stygian Owl. We were hungry, but we had to stop by and try for this special owl! After getting the best possible views of it we stopped for lunch and had what looked like the biggest chicken in the world! Well, that was good enough to make us take a good siesta on the bus before arriving on the road that would lead us to Zapata.
On the way we stopped to try for Spotted Rail with no success this time but having perfect views of the Red-shouldered Blackbird. We take it for sure!!
Now in Playa Larga for a little time to relax on the beach with some mojitos and dinner!
DAY 4
Early start on the way to Santo Tomás on the heart of Zapata Swamp!
We spotted a couple of Cuban Nightjar, and finally we saw a very cooperative one which flew and landed about forty feet from us on the road. With that done we arrived at Santo Tomás and got ready for our boat ride through Spanish-made canals, looking for our main targets: Zapata Sparrow and Zapata Wren. We weren't disappointed. The sparrow was seen well from the boat and from one of the platforms while looking for the wren. The wren took awhile before we heard one nearby, but then within a couple of minutes two of them perched very close and very open. To our surprise, those two birds stayed there for more than ten minutes and even when they moved one stayed close enough to keep having very good views – and photos of course.
I think this is the right time to mention I was not carrying my camera because hopefully a new one is on the way but not on time for this trip! Too bad because the views we had this time of some of the birds were the best I've seen. Well, next November or in March 2020! (Photos accompanying this report are from past trips to Cuba.)
On the way back to terra firma, we had several migratory warblers before spotting a Yellow-billed Cuckoo. Gray-fronted Quail Dove was heard and seen, after a couple minutes searching on the ground, and it even perched, giving better views.
Four Cuban Parakeets along with blackbirds and a family of Cuban Orioles was seen next to our bus feeding on a tree before they took off.
Lunch was next with a nice Caribbean breeze from the Bay of Pigs.
Salinas de Brito was next having a wonderful time on the West side of the Bay of Pigs. Flamingos, shorebirds, terns, pelicans, warblers – but especially a show by a Clapper Rail who cared nothing about our presence and walked around and through us. The Clapper Rail were the stars. A couple more did a similar thing, giving the group a good chance to admire this "secretive" bird.
I have to say though that the bird of the day was a Cuban Black Hawk who was spotted eating crab, with no worries about our presence either.
In the evening after the usual siesta, we got together to celebrate the groups' new BirdsCaribbean memberships. Our participants got from BirdsCaribbean a year membership, along with hats and some other gifts. Wildside is a proud sponsor and our participants get the benefit of it – but even more so the conservation efforts of the organization around all the Caribbean.
DAY 5
We headed to Soplillar this morning. On the field we heard our main target here: Fernandina's Flicker. We had several views of this beautiful bird! A wet Great Lizard-Cuckoo was seen trying to get dry, then again with a lizard in its bill. We had perhaps better views of Cuban Vireo on the road.
Cuban Pygmy Owl was heard on the trees nearby but not seen.
We searched for Blue-headed Quail Doves with no luck. What we had was much better views of the Gray-fronted, which was "paralyzed" by our presence and we took advantage of that.
Rain poured, so we headed to our casas before lunch.
Back on to the bus, we stopped by a Bee Hummingbird spot. There were at least 30 Cuban Emerald but the star was the smallest bird in the world itself. Three males and a couple females gave us a show – it was even possible to digiscope one male several times before and after the rain started again! That was fantastic!
We had lunch at Los Hondones, a small community where a group of friends who were all interested in nature started years ago to build their houses and make their backyards ecologically friendly. This is where Ernesto, our local guide, is building his house. The lunch this time was in Yeniel's house. Everything was cooked in charcoal which gives the food that special taste.
Right by their house we had Cuban Trogons, Cuban Emerald, Cuban Oriole and a much better view of the Cuban Pigmy Owl.
We tried again for Blue-headed Quail Dove in a known spot for them but no birds were found.
At least we enjoyed the beautiful spot in Cueva de los Peces and the beach.
After dinner in our casa, Ca del Sol, we went out to check a nest of the endemic Bare-legged Owl. On the way we saw three Common Nighthawk and at the owl spot we heard two Antillean Nighthawk. The idea was to wait for the owl to come out, and once they came out see them – but they didn't get the message!
DAY 6
Our first stop after leaving Playa Larga and Zapata was once again Cueva de los Peces for the Blue-headed Quail Dove. There was one, but it never showed. We ended up missing this species for the first time in five trips.
On the road we stopped and checked a couple possible nests occupied by Bare-legged Owl. Ernesto was checking a couple but after about ten minutes I spotted one in the next palm checking him. We had amazing views of it.
We were looking for more Cuban Parrots and Parakeets on the way but not finding them.
Next stop was the city of Cienfuegos. Lots of renovations taking place in this very busy city. We had lunch in front of the bay.
After lunch we went to look for Gundlach's Hawk in the Cienfuegos Botanical Garden. Works better when there's a known active nest, but only if you have a local guide who knows what's going on around. Beautiful views.
Next we stopped outside of Trinidad and saw Cuban Gnatcatcher and a Yellow-headed x Oriente Warbler hybrid. Very interesting.
We had a sunset walk by the old city in Trinidad and dinner with "the sunset view" over the city in Vista Gourmet.
DAY 7
After a nice breakfast we headed East to Valle de los Ingenios. That area was the richest part of Cuba in the past. Here we had our targets: Cuban Crow, Cuban Palm Crow and Giant Kingbird in the very same area. We spotted a beautiful male Northern Bobwhite in the field, giving us excellent views when it walked closer.
We made a couple of stops on the way to some ponds, with nothing different. At one pit stop we had one of the beautiful endemic Anolis equestris on a Flamboyant tree.
We arrived in time for lunch in Cayo Coco on a beautiful day for a beach area.
After checking in we headed out for some late birding, having our main target: Oriente Warbler! Right there we had Mangrove Cuckoo which is always a very welcome sight by the birders from the North.
Heading back to our rooms for dinner, we stopped by the lagoons to enjoy the sunset along with shorebirds, terns and especially American Flamingo!
DAY 8
First thing in the morning we tried for the Thick-billed Vireo spotted by Ernesto a couple weeks ago. Unfortunately it wasn't found. At least a beautiful Cape May Warbler was the consolation bird for that spot.
We checked the coast, and had a flock of Ruddy Turnstone and a Black-bellied Plover.
We went to a very well known spot there in Cayo Coco – Cueva del Jabalí. There we had a beautiful Key West Quail-Dove along with some migratory warblers and Indigo Bunting and Painted Bunting. A Gundlach's Hawk was spotted flying over the area.
We headed to Cayo Guillermo, trying for Bahama Mockingbird. We really didn't waste any time because one was spotted from the road in a different spot. Once we had good views and moved to a better angle, a female joined the show and gave us an excellent chance for photos and digiscoping.
At lunch we talked about yesterday's birds and today's as well. The rest of the day was for beach, pool, massage, snorkeling and more.
DAY 9
After a long drive from Cayo Coco, and a very well deserved shower, we had dinner then headed to El Morro Castle to witness the traditional cannon shot. It was so interesting, even for me who has seen it on previous trips. We really enjoyed the view of the bay and the city of Havana.
DAY 10
We had to change our original plans since our city guide wasn't available in the morning and Hemingway's farm was close. Participants had a good chat with Orlando Garrido. Finally at Hemingway's farm we were able to walk and see around this historic site, preserved very closely to the way he had it during his years in Cuba.
Lunch was at an Italian restaurant which was very good!
A very hot day deserves a little time to cool down or just walk around on your own, and that was we did. Some went for a shower, nap, museums or just to walk around in a place where every corner can tell you a story.
We spent the evening having an Old Havana city tour, followed by something that everybody was very anxious to do: Havana tour in classic American cars! Their faces told you all. We rode in a very well preserved car from the 50's for a little more than an hour.
Afterward we went to what had become "our" restaurant for the farewell dinner – 5 Sentidos – and it was the perfect end to a magnificent trip full of birds, culture, history and new birding friends.