TRIP REPORT: KENYA – 2019 August – Wildlife Safari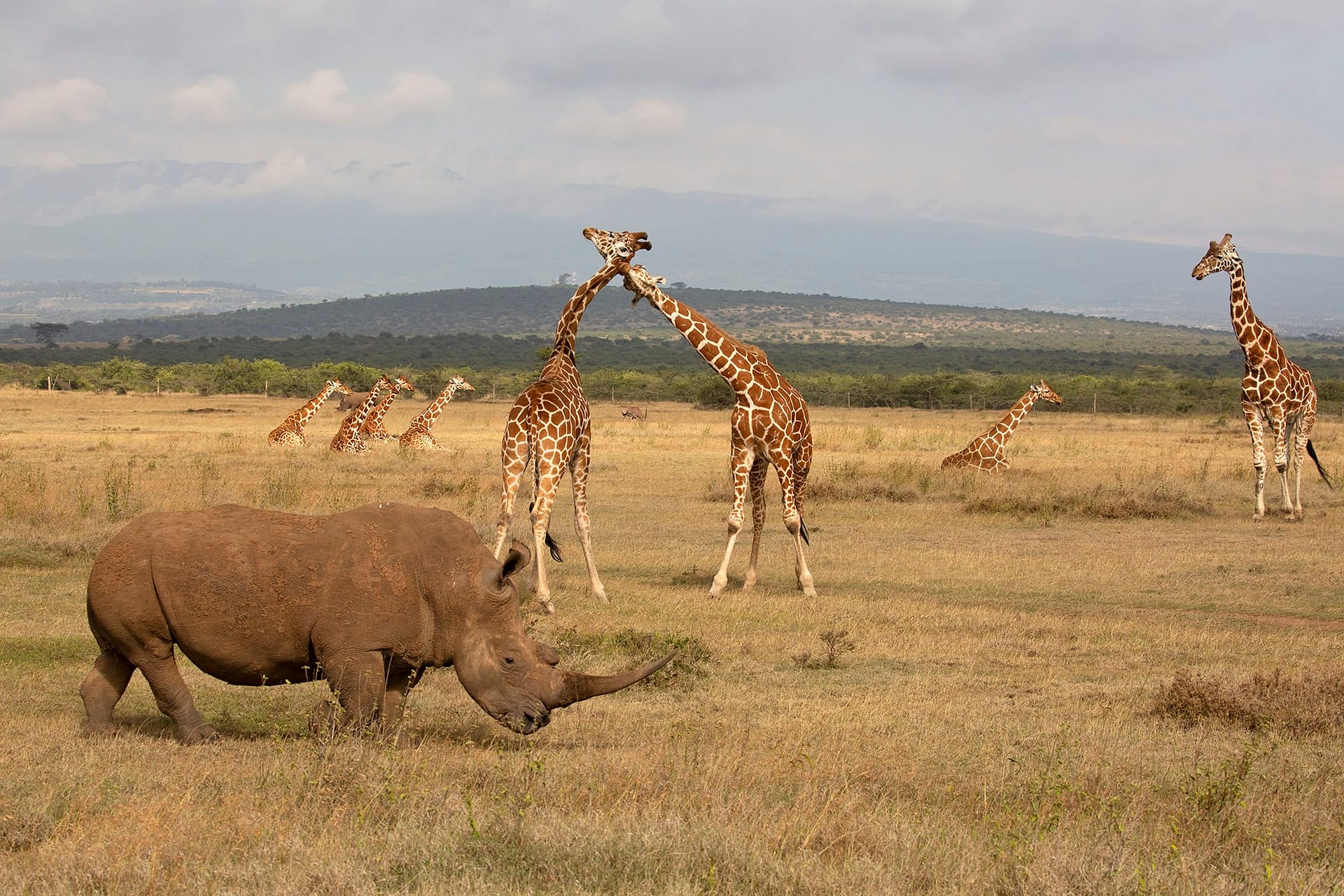 PRIVATE TOUR OPTION
This tour is available as a private trip for any size group. The tour cost will vary with the number of people and any custom requests.
TESTIMONIALS
If you have been on this tour, please be the first to leave a review!
Aug 2 – 21, 2019 Trip report by Adrian Binns
This was my 15th trip into Kenya. This August our 19-day safari covered 5 areas the Central Highlands, the drier northern park Samburu, the Rift Valley, the rain forest at Kakamega and the Maasai Mara. The trip was most successful with a plethora of birds, 500 species, and 65 mammal species highlighted by the spectacular Wildebeest migration. Overall the landscape was surprisingly green this year due to a extended rainy season and the weather throughout was most pleasant.
Highlands
The central highlands is the area between Nairobi and the arid region of Samburu to the north with the western boundary being the edge of the rift valley. Three nights was sent in different locations, Mount Lodge at the base of Mt. Kenya, Naro Moru, and the Ark in the Abedares as we traversed the region on our way to and from Samburu.  As with many parts of the country that we visited the area was very lush having benefited from good seasonal rains.
Showers gave way to a beautiful day as began our trip, heading north to wards Mt. Kenya. Around Thika we soon found got to grips with some of the more common birds and had excellent views of Yellow Weaver, Violet-backed Starling, Cape Robin Chat and African Paradise Flycatcher and the endemic Hinde's Babbler. Along a stretch of road Gary found the wing of a Barn Owl, a sad reminder of the perils birds face crossing busy roads.
Reaching Mountain Lodge we watched a Martial Eagle carrying a Scaly Francolin heading to a begging chick on a nest, and minutes later Ginny spotted a perched African Crowned Eagle. Around the grounds we found Grey-capped Warbler, Cinnamon-chested Bee-eater, Yellow-crowned Canary, Hunter's Cisticola and Mountain Thrush, Grey and Black-throated Apalis, Thick-billed Seed-eater, Brown-capped Weaver, a small flock of Kikuyu White-eyes and wonderful close looks at a Grey Cuckooshrike. Around the waterhole Buffalo rested and Bushbuck licked the salt from the dirt as Red-billed Oxpeckers attended to the antelope. In the evening Jeremiah spotted a couple of White-tailed Mongoose foraging along the side of the lodge. A walk through the forest dominated by tall broad-leaved crotons, with Benson and an armed ranger, produced a handful of woodland birds, Mountain Yellow Warbler, Chestnut-throated Apalis, Olive-breasted Mountain Greenbul, Olive Sunbird, Mustached Green Tinkerbird and Grey-headed Nigrita.
A walk along the road at Imenti Forest was in a rolling fog but we were still able to see flocks of Violet-backed, Kendrick's and Sharp's Starlings, Olive Pigeons and Slender-billed Greenbuls and fly by Alpine Swifts. White-eared Barbets, Crowned and Silvery-cheeked Hornbills showed well.
At Naro Moru the beautiful gardens attracted Red-fronted Parrots, Tacazze Sunbird, Yellow-rumped Tinkerbird, Montane Oriole, while on the river we soon found Mountain Wagtail and a pair of African Black Duck. After hearing the eerie calls of Southern Tree Hyrax during the night we found an obliging fellow on a window sill the next morning!
The between the two mountain ranges, Mt. Kenya and the Aberdares, lies Solio Plains. Crossing the short grass plain we got to grips with the pipits, namely African and Plain-backed. There was numerous Capped Wheatears and Northern Anteater Chats, a Black-chested Snake-Eagle, a family of Black-lored Babblers, a Brimstone Canary's coming to drink from a puddle, and an African Hoopoe perched on a fence post with a grub in its mouth.
We had a most enjoyable though short visit with Paul who showed us one of the Mackinder Eagle Owls that are on his small farm before heading into Aberdare National Park. The elevated boardwalk at The Ark was full of activity with Scaly Francolins and Suni foraging below, Eastern Double-collared and Golden-winged Sunbirds feeding on flowering plants, and a Hartlaub's Turaco joining Speckled Mousebirds and Spectacled Weavers at the feeder. The watering hole was active with Giant Forest Hogs, Warthogs and Buffalo feeding around the perimeter on moist grasses.  While watching a female Bushbuck with Red-billed Oxpeckers on her neck, she suddenly bolted at full speed scattering the birds, when she saw a Spotted Hyaena appear over a ridge. As we climbed over the top of the Aberdares we easily found the highland specialities all at high elevation, these being Jackson's Francolin, Moorland Chat, Malachite Sunbird and the endemic Aberdare Cisticola.
The final stop of our trip was at Limuru on our way back to Nairobi from the Mara. The pond was full of water with a wide assortment of ducks and waders, however it was three in particular that we were hoping for, Maccoa Duck, White-backed Duck and African Swamp-hen, all of whom showed from a corner of the rushes as I made a final scan!
Samburu
Based out of the Simba Lodge for 4 nights we spent 3 full days exploring both sides of the Easo Nyiro river, Buffalo Springs on the south side and Samburu on the north. Mammals were scattered almost everywhere, including those that are only found on this part of the trip, Bright's Gazelle, Grevy's Zebra, Reticulated Giraffe, Desert Warthog, Greater Kudu, Beisa Oryx and Gerenuk.
The open arid landscape with various knolls and the Matthews Range in the distance makes this a wonderful place for raptors. We did very well – watching a Gabar Goshawk harass a Tawny Eagle, a Fan-tailed Raven chase a Verreaux's Eagles, one of three we would see together in flight; a pair of Wahlberg's Eagles, and an African Harrier Hawk hanging on a tree trunk foraging in crevasses with its legs; Bateleur, Black-winged Kite, Pale Chanting Goshawk, Pygmy Falcon, a Martial Eagle on a nest, another eyeing the landscape for a potential meal from the top of broken Doum Palm. We would later find her mantling a Nile Monitor – success. While a Palm Nut Vulture glided past us we wondered where all the scavenging vultures were. We only saw a few Hooded, White-backed and Ruppell's, a start reminder that the vultures in this part of the world seem to be in decline.
On the other hand other birds are not. Weavers, some in large numbers, such as Donaldson-Smith Sparrow-Weaver, White-browed Sparrow-Weaver, White-headed Buffalo-Weaver and Red-billed Buffalo Weaver were busy gathering nesting material for their rather untidy nests. On one occasion there was a comical interaction between two White-headed Buffalo-Weavers trying to eat what looked like a 4 inch worm, with each taking it in turns to pinch it from each other and have a go, which as it turned out was not to either of their liken There were spectacular birds such as Red-and-yellow Barbet dueting, a small flock of Golden-breasted Starling, Grey-headed Silverbill, Rosy-patched Bush-shrike, African Hoopoe, Red-fronted Barbet, Nubian Woodpecker and Abyssinian Scimitarbill, along with both Chestnut-bellied and Black-faced Sandgrouse.
Our excellent driver Shem spotted a pair of Northern White-faced Scops Owls at the top of an acacia overhanging a track. This being an unexpected sighting here! Carol found a female Pringle's Puffback much to our delight. We enjoyed watching a White-bellied Bustard chasing a Buff-crested Bustard out of its patch. There was great views of the 'somali's' – Ostrich, Bee-eater, Golden-breasted Bunting and Courser, the latter spotted by Jessica while looking at a shepherd and his goats, unfortunately inside the park! And of course larks are at home in this habitat, the most common being Pink-breasted with a few White-browed, Red-winged and Fisher's Sparrow-larks dotted about.
The grounds of our lodge produced an array of birds happy to visit the wheatabix-and-bread mix crumbs I offered at breakfast. This included Superb and Bristle-crowned Starling, White-headed Buffalo Weaver, Red-billed Hornbill, Parrot-billed Starlings and Dodson's Bulbul. While to shy to partake at the smorgasbord Rufous Chatterer and Spotted Morning Thrush could be found below deck vying for dropped pieces while in the adjacent acacias Go-away-birds, Black-bellied Sunbird, Brubru, Northern Crombec and Grey-headed Kingfishers often stopped by. Around our rooms and the pool we found African Pygmy Kingfisher, Golden Palm Weaver, Pygmy Batis and White-throated Bee-eater, while at lunch one day what a spectacle it was to watch a herd of elephants coming to drink from the small pond. There was always plenty to see around the lodge.
One afternoon we found a female Leopard up an acacia tree scanning her surrounding for potential prey before laying down on one of the main horizontal branches for a rest. In the full sunlight she was exquisite. This was followed by  watching in amazement as a male Pygmy Falcon, at 8 inches Africa's smallest raptor, eating a plump 6 inch Common Button Quail – an exceedingly good meal  And this was at less than 10 feet away when we spotted it! While photographing a beautiful double rainbow arched over the landscape, for the second day in a row we had Striped Hyaena. Unlike the one in the floodlight at dinner the night before, this one was out for a late afternoon stroll.
We stopped for an Impala standing alert next to a fallen trunk, and realized that she had just given birth, her single calf less than half an hour old. We witnessed her first steps on wobbly legs and first attempt at suckling, as her mother was licking it clean. What an amazing experience to be part of. Gerenuks were often seen around acacia bushes on their hind legs reaching for fresher leaves while along the river we watched small herds of Greater Kudu and Beisa Oryx coming to drink. On one occasion we had Elephants feeding near our vehicle, with a radio collared matriarch trumpeting to greet a few stranglers as they joined the family. We also were able to watch a female Cheetah in search of a morning meal. While laying down she was keeping an eye on a distant impala. Once she felt the timing right she got up and began to slowly stalk her prey, but the impala became aware of what was going on and moved away.
Our final experience in Samburu was certainly one we will remember. It was a wonderful moment expressing exactly what makes a safari so special was when we were watching our first pride of lions near the end of their afternoon siesta. A herd of three dozen elephants were crossing the Easo Nyiro river from the far river bank and coming ashore just behind our vehicle. One of the younger males opted to take a route between between a large riverbank toothbrush shrub and our vehicle, a gap of barely 15 feet, only to find himself confronting the pride. Quickly realizing his mistake he swayed his trunk from side to side and flapped his huge ears as he quickly moved on brushing the front of our vehicle. Being able to watch these two powerhouses of the savannah within close proximity at the same time was special. This was a tremendously exhilarating experience. Such is the wonderful African bush, one never knows what you will come across next.
Rift Valley
During our four night stay within the Rift Valley we visited two National Parks, Nakuru and Bogoria, and the area around Lake Baringo. The water levels along these lakes has risen considerably in recent years and not only altered the landscape but it has also effected the fauna. The millions of flamingos once associated with Nakuru now can be found at Bogoria, where we enjoyed a large concentration of Lesser Flamingos with many juveniles at the northern end and even had a herd of five Zebra runs through the flock splashing as they went.
The rhino show at Nakuru was spectacular with numerous White's on the short grass plain adjacent to the lake, and Black's associating with Buffalo and Zebra within the taller grass savannah. A lioness had chosen a culvert to raise her three cubs and from a distance we were able to observe, along with many other people, what surely must have been the cubs first introduction to the outside world as they followed their mother through the grasses to a thicket. To be surrounded by a kaleidoscope of Rothschild's Giraffes, including several very young, feeding on acacias was magical.
Avian activity was highlighted by a small flock of White Helmet Shrikes moving through the Yellow-backed Acacias where  Red-chested, Black and Klaas's Cuckoos were sighted. A cooperative Mocking Cliff Chat was enjoying the early morning sun rays above our rooms. Jeramiah was surprised to have a Southern Ground Hornbill pecking at his room window upon returning from lunch. We would come across the family of three shortly after on our game drive.
At Baringo our local guide Francis had a few specialities lined up for us, namely Spotted Thick-knee, Hueglin's Courser, Slender-tailed Nightjar, and Greyish Owl, the latter one of four owls all seen during daylight hours. The others being Verreaux's Eagle Owl the largest, Pearl-spotted Owlet and the diminutive African Scops Owl. On the grounds of our lodge Jackson's Hornbill, Little Weaver and Northern Masked Weaver readily came to the feeder.
A three hour boat ride on the lake had our boatman Louie carefully navigate through the vegetation to observe Jackson's Golden-backed Weavers displaying and watch in amazement as a Village Weaver begin the first strand of weaving his nest with a piece of grass. Madagascar Bee-eaters, a southern species that spends the summer months around the lake posed at the tops of bare trees. Kingfishers were represented by a Giant, several Woodland and Malachite, and many Pied. A huge surprise was finding two secretive White-backed Night Herons amongst the remains of the still underwater Baringo Country Club.
There was a small flyover flock of Openbill Storks and a pair of African Fish Eagles showed well as the slowly glided to pick up a fish. At the waters edge Purple Heron, Squacco Heron and African Jacana were busy stalking prey while Northern Red Bishop and Yellow-crowned Bishop were displaying from the tops of the reeds. Circling the island we found a cooperative Senegal Thick-knee. There was a moment when we could see Hippos swimming towards us which had Louie move us well away, while the basking Nile Crocodiles and Nile Monitors were far more laid-back!
There would be one more endemic bird, Sharpe's Longclaw, quickly found in the grasslands at Kinankop, where we also enjoyed our first, though distant, views of displaying Long-tailed Widowbirds and Red-naped Widowbirds. Shalow's Wheatear and White-fronted Bee-eater were also new. A final stop along the Kerio Valley before climbing the western Rift wall produced Brown Babblers and distant calling White-crested Turacos.
Kakamega
As we journeyed along the western highlands towards Kakamega a roadside stop at a marsh had us viewing Levaillant's Cisticola, along with the wonderfully comical jumping display of Jackson's Widowbirds, as well as Red-naped and Fan-tailed Widowbirds.
With two full days within the 240 sq kms Kakamega forest and aided by the keen ears and eyes of Job. In spite of Grey Parrots no longer being sighted in the forest and Great Blue Turacos uncharacteristically silent and out of view we did remarkably well. Our mornings were split up between the main dirt road (now graded!) through the forest, and the forest station trails. Each afternoon we encountered rain, as one would expect in a rain forest, impacting some of our birding.
Within the grounds of the Rondo Retreat a pair of African Crowned Eagles continue to nest in the Antiaris toxicarias tree, the fifth year they have raising young there. A multitude of Vieillot's Black Weavers, ignoring their neighbours the raptors, were busy displaying on the nests.  Yellow-throated Greenbul, Grey-throated Barbet and Stuhlmann's Starling were most conspicuous while noisy Black-and-white Casqued Hornbills flew over and Chubb's Cisticolas dueted by the entrance gate. The Lower Garden Trail produced good views of Snow-capped and Grey-winged Robin-Chat along with Banded Prinia, Luhder's Bush-shrike and Turner's Eremomela. While a White-spotted Flufftail was heard calling, often very close, it never showed.
A morning spent by the bridge along the main road was most successful with numerous forest weavers, such as Brown-capped, Dark-backed, Black-necked, Black-billed as well as the striking Red-headed Malimbe. Greenbuls were represented by Little Grey, Placid, Yellow-whiskered, Ansorge's, Joyful along with a confiding Red-tailed Bristlebill. Square-tailed Drongos perched on open mid-level branches while Yellow-billed Barbet, Pink-footed Puffback, African Blue Flycatcher, Bocage's Bush-shrike, Petit's Cuckoo-shrike and half a dozen White Wood-hoopoes all showed well. With the exception of a flock of Dusky Tits moving through the canopy, these small sized warblers – Brown-throated Wattle-eye, Black-faced Rufous Warbler,  White-browed Crombec, Uganda Woodland Warbler, Olive-green Camaroptera, White-bellied Nigrita, White-chinned Prinia, were all seen in the lower vegetation, with a major highlight being a pair of tail-wagging African Shrike-Flycatchers, and Red-headed Bluebills feeding on the edge of the dirt road.
Within the forest trails we added Kakamega and Toro Olive Greenbul, Equatorial Akalat, Brown-chested Alethe, Blue-throated Bee-eater and the beautiful Black-collared Apalis. A Blue-shouldered Robin-Chat was imitating a Black Cuckoo but it could not be coaxed out. The three expected primates were readily seen these being Blue Monkey, Red-tailed Monkey and Black-and-white Colobus the latter often joining in the dawn chorus.
Kisumu
With the long ride to the Mara on our last day in the west, we made a stop on the north eastern shore of Lake Victoria at Kisumu. Several species are to be found here that we would likely not encounter elsewhere on our trip. Local guide Titus joined us and we enjoyed a mornings birding around Hippo Point and the very busy fisherman's spot at Dunga Beach.  Target birds such as Red-chested Sunbird, Eastern Plantain Eater, Black-headed Gonolek, Black-billed Barbet, Double-toothed Barbet, Northern Brown-throated Weaver and Slender-billed Weaver were all seen well. Within the papyrus we found Swamp Flycatcher, Carruther's Cisticola and Papyrus Gonolek, briefly saw White-winged Warbler and had fly by Papyrus Canaries.
Mara
We began our 4 night stay in the Masai Mara along the Ololoolo Escarpment with an assortment of sunbirds including Green-headed, Marico and Bronzed, along with canaries Yellow-fronted and Southern Grosbeak-Canary feeding of flowers and seeds within the gardens at Mara West. Carol spotted a juvenile Red-chested Cuckoo hunkered in the crotons, and we enjoyed Sulphur-breasted Bush-shrike and our closes looks at Olive Pigeon, Dusky Turtle Dove. Nesting Wahlberg's Eagles along with Yellow-mantled Widowbirds, Yellow Bishop, Usambiro Barbets and Arrow-marked Babblers were all seen well, however it was wonderful views of both Ross's and Schalow's Turaco that stole the show.
Having reached the Masai Mara this is where mammals certainly take center stage. Based within the Triangle at the Serena this enabled us to easily maneuver in a number of directions. On our first two days the migration was not around the Serena, but further south. We were amongst it as we ventured towards the Tanzanian border, an endless scattering of wildebeest spread out along the rolling savannah numbering in the tens of thousands. On our third day when reaching the pinnacle of a hill we encountered the leading edge of the Great Wildebeest Migration, with pockets of Zebra leading the way, knowing that they were heading towards the Mara River by the Serena. This was without a doubt a major highlight for us.
Positioned at a narrow track crossing the main swamp, in one direction we watched a herd of Elephants feeding as the ambled their way towards us, while in the opposite direction Masai Giraffe with their height advantage were easily able to spot and keep track of a Lioness. As she moved through the tall red oat grassland, pausing often, it was fascinating to see twenty giraffes following along, always mindful to keep their distance and an eye on where she was.  The remainder of the marsh pride of Lions had split up for the night and each had made a kill, though in both cases in was tough for us to see what it was. Within one of the groups, a male was following a female around, a sure sign that she was about to come into estrous.
We encountered another cat, this being two Cheetah brothers laying in the shade of an acacia along the Kenya-Tanzania (Mara-Serengeti) border, both occasionally lifting their heads up to check their surrounding, but neither at the same time.
Late one afternoon a large herd of Wildebeest had recently crossed the Mara and where they were gathering to watch a few late comers, they were also keeping an eye on a clan of nine Spotted Hyaena that had tracked down an unfortunate member of their herd. While on another occasion, along the Mara River while watching a pod of Hippos, most of whom were out of the water, we witnessed a lone Wildebeest trying to work its way back across the river. We were not the only ones, so were Nile Crocodiles! While one got a hold of a leg prohibiting the wildebeest from getting away. Several other crocodiles circled the poor beast, until 20 minute later when another croc appeared and finished off the job!  With the majority of the wildebeest having to cross the river at some point this is a time of plenty for the huge Nile Crocodiles.
On our night game drive we encountered numerous Hippos that had ventured away from the river to feed on the grasses, along with many Cape Hare, and a single White-tailed Mongoose and Bat-eared Fox. Several nightjars alighted on dirt tracks these being Slender-tailed Nightjar.
Other signs of recent carnage included vultures – Lappet-faced, Rueppell's, African White-backed and Hooded, at hippo or wildebeest carcasses.  Other raptors included Bataleur, Martial Eagle, Dark Chanting Goshawk, Black-chested Snake-Eagle, African Hawk-Eagle, Tawny Eagle, Secretary Bird, Pygmy Falcon, Grey Kestrel and lovely views of Black-winged Kite hovering in position for minutes at a time.
Within the tall grasses Stout's Cisticola, Rosy-throated Longclaw and Yellow-throated Sandgrouse were readily seen while on the edges we found Red-billed Francolin and Coqui Francolin, as well as smaller members of the avian family these being Quail Finch, Pectoral-patched and Desert Cisticola. In shrubby areas we encountered two pairs of Crowned Hornbills, fly by Myers Parrots, a number of nesting Grey-capped Social Weaver, Speckle-fronted Weaver, and African Golden-breasted Bunting and Yellow-bellied Eremomela. A few waders were new including the stunning female Greater Painted-Snipe, and a Green Sandpiper joined by a Wood Sandpiper for comparison, a pair of Rufous-bellied Heron were looking for the perfect spot to alight within a marsh, while in the short grasses Temminck's Courser were actively searching for food.
A few nice sightings of mammals was a lovely way to end our visit to this wonderful reserve. A band of Banded Mongoose scurrying along from mound to mound. A pair of rather uncommon Oribi were sighted beside the road, and we finally got close to lions on two occasions. Firstly two males reposing on an outcropping at Keekerok and a lucky chance encounter with a pair as they entered the road we were on. The lioness continued to walk right by our vehicle, while the male inexplicable stepped on the dirt road, flopped down and rolled over onto his back. He then proceed to follow along the same path as the female giving us a full frame view as he walked feet away from us. He they climbed the embankment and lay down allow us to have a face to face encounter as he licked his paws before opting to fall asleep!