AMAZON 2024: Peruvian Riverboat Photography & Birding Adventure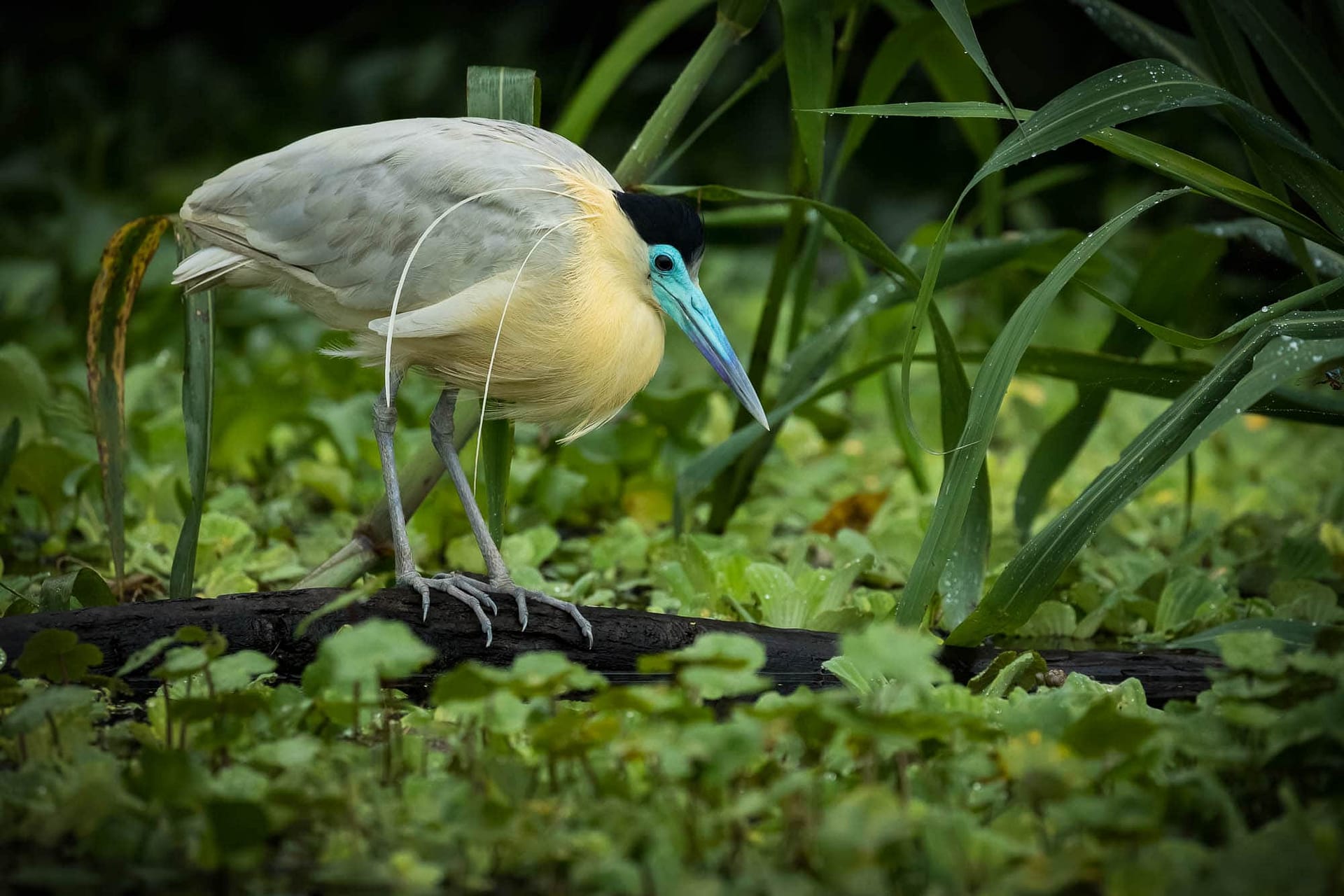 TOUR FOCUS

/ BIRDS & PHOTO
SCHEDULED TOURS
2024 :: February 17 - February 25

TOUR COST
From: $6,500 (See details)
Cost is per person, double occupancy from Lima, Peru. (LIM)
GROUP SIZE
16 - 20 Participants
AVAILABILITY
11 spaces available
Please see "Cost Details"
for cabin pricing and availability.
[1 female would like a roommate]
PRIVATE TOUR OPTION
This tour is available as a private trip for any size group. The tour cost will vary with the number of people and any custom requests.
If you have been on this tour, please be the first to leave a review!
Highlights of AMAZON 2024: Peruvian Riverboat Photography & Birding Adventure
2 Wildside leaders plus 2 local naturalists for 21 participants
Multiple daily skiff excursions from our deluxe riverboat
2 large skiffs for exploration… one for birding and one for photography
8 – 10 species of monkeys
So many birds… macaws, woodpeckers, cotingas, hawks
2 species of river dolphins
Description of AMAZON 2024: Peruvian Riverboat Photography & Birding Adventure
Birding, photography, fun and relaxation… all from our 150 foot deluxe Amazon riverboat! A host of leaders for your Amazon adventure will include Lee Hoy, bird and nature photographer and Edison Buenaño, South America's top birding guide plus two local naturalist/guides.
Our cruise will include afternoon lectures on birds, wildlife and photography. We enjoy multiple excursions by motorized skiff each day, designed to reveal the incredible wildlife that calls the rainforest home and with any luck we'll spot sloths, monkeys, toucans, macaws, pink dolphins and so much more!
The cuisine onboard is regional and provides a unique and delicious window into local culture. Gain a rare glimpse of how life 'on the river' is lived and experience the magic of the Amazon on this once-in-a-lifetime riverboat adventure.
This trip can be combined with our Birding Machu Picchu tour!
Length of Tour
9-Days/8-Nights

BASIC ITINERARY
Day 1 – Arrive Lima.
Day 2 – Iquitos/Amazon Riverboat.
Day 3 – Marañon River / Amazon River / Ucayali River.
Day 4 – Marañon River / Pacaya Samiria National Reserve / Shaman Visit.
Day 5 – Marañon River / Pacaya Samiria National Reserve.
Day 6 – Marañon River / Pacaya Samiria National Reserve.
Day 7 – Nauta / Sapisapi River.
Day 8 – Iquitos / Lima.
Day 9 – Lima / Coastal Birding / Departures home (or to Machu Picchu trip option)
DETAILED ITINERARY
*Actual itinerary may vary with water levels and weather.
DAY 1 – ARRIVE LIMA
Upon arrival from your international flight, you will be transferred to your hotel and overnight in Lima, the nation's capital and largest city.
DAY 2 – IQUITOS/AMAZON RIVERBOAT

Today will begin very early, to give us time to eat breakfast and catch our flight to Iquitos, where we'll transfer to our Amazon River ship, our home for the next seven days.
But before boarding, we get acquainted with this jungle port city an orientation tour. This is the country's main river port, established in 1864 in the heart of rubber country on the Amazon's deep waters. Like any port, it has a hustle-bustle feel, yet it is not without its places of quiet and shaded retreats. Much of the architecture we see is a 19th-century vestige of the era when European commercial barons held sway over life and culture here. And while Iquitos has seen many fortunes rise and fall, its isolation has remained constant: access to the city is by air or river only.
We will also make a brief stop at the Amazonian Manatee Rescue Centre. The Amazonian Manatee is very rare and endangered mammal unique to the Amazon Jungle. This centre focuses on rescuing orphaned manatees who have been victims of poaching. The centre helps rehabilitate and reintroduce these wonderful creatures back into the Amazon Basin. Here you will have a see the efforts of the rescue centre as well as have the opportunity to feed these amazing and loveable animals.
Once on board ship, you can just relax and let the wild rainforest surround you. Step out on deck to watch the riverbanks go by—but keep your eyes peeled for wildlife such as gray and pink dolphins.
Our ship casts off and wends its way to the confluence of the Marañon and Ucayali Rivers. Here, it is generally (but not universally!) considered that the Amazon River begins, at least in name.
DAY 3 – MARAÑON RIVER / AMAZON RIVER / UCAYALI RIVER

After breakfast, we have an excursion on the Amazon and some of its tributaries to see the wonders of the rain forest. This is our chance to see monkeys, sloths, and a variety of birds.
Back onboard , we'll gather for lunch, followed by a presentation on the Amazon River. Afterwards, we'll walk along the shores of the Ucayali River, located in the Yucuruchi region of the Amazon. Here we'll have an opportunity to see the Victoria Regia water lily—a gigantic aquatic plant.
DAY 4 – MARAÑON RIVER / PACAYA SAMIRIA NATIONAL RESERVE / SHAMAN VISIT

Today we rise early to visit the Pacaya-Samiria Reserve for a full day of discovery in Peru's largest national park.
Then, keep your eyes wide open and your binoculars at the ready to catch sight of cocoi heron and striated herons, colorful macaws, squirrel and woolly monkeys, caimans, sloths and many more primate, bird and mammal species. Current counts record more than 200 bird species and 10 primate species within its boundaries. Our route takes us over the tributary waters of the Marañon. Along the way, our guides will point out the interesting wildlife species that inhabit the riverbanks—not to mention unusual fish and vegetation in the river.
Back onboard, we'll gather for breakfast followed by a presentation on the life, history, and culture of the Amazon's main tribes.
After lunch, we have an introductory discussion about shamanism that will help us understand the traditions of the rain forest people. Our ship then arrives in the Amazon Natural Park where we'll take a short walk to the Enchanted Lake. Here a catamaran waits to sail us along the lake's tranquil waters, where we'll listen to the local birdsong and keep our eyes peeled for sighting the different animal species found in this area.
Before dinner, we'll touch upon the spirit realm, paying a visit to a local shaman. Mystic … minister … healer—one might consider a shaman to be "all of the above." But to understand shamanism requires something of a leap of faith, a leap into the spirit world that is the shaman's domain.
Shamanism is practiced around the globe, and is universally distinguished by a trance state called shamanic ecstasy. In these "out of body" travels, the shaman enlists denizens of the spirit world to help him with a variety of duties, from healing the sick to assisting a deceased person's soul into the afterworld—and all the while, the shaman remains conscious. Before you leave the Amazon jungle, you'll gain rare insight into the complexities of this phenomenon when you meet an actual practicing shaman in a river village. He'll introduce us to his spiritual healing craft and tell us about rain forest plants that indigenous peoples have for untold centuries held to possess curative properties. Your experience may not be "out of body," but it's sure to be out of the ordinary.
DAY 5 – MARAÑON RIVER / PACAYA SAMIRIA NATIONAL RESERVE

The early morning offers another opportunity to watch the world awakening in the rain forest. Perhaps you'll spy iguanas, river turtles, cormorants, or wattled jacana during this excursion.
We return to our riverboat and prepare to meet a local Indian family. They will welcome us into their home to share conversation over the midday meal, introducing you to their culture, costumes, and way of life. This is a rare and unforgettable opportunity to gain new insight into a world truly apart from our own.
Be sure to be well rested, so that you won't miss our late-night excursion to discover who comes out at night in the jungle! As we join our Trip Leader for a nighttime boat ride in the wild, be on the lookout for mammals, bats, and reptiles such as capybara, black caiman, poison frogs, and a vast number of other species.
DAY 6 – MARAÑON RIVER / PACAYA SAMIRIA NATIONAL RESERVE

Today we rise early and set out to explore the impressive biodiversity of this unusual ecosystem. We'll look for a quiet spot to enjoy our picnic breakfast, followed by a trip to explore Choroyacu. We'll also ride up the Nahuapa River for a little fishing expedition. What's biting? Piranhas, of course! Reputedly "the most ferocious fish in the world" (to quote Teddy Roosevelt), piranha are a dietary staple for many of the Amazon rain forest's indigenous people. While fearsome, they're also esteemed as some of the best eating fish in South America. They have a light, nutty-tasting flesh that lends itself wonderfully to any number of cooking methods, which we'll discover when we cast our lines today. Piranha aren't terribly selective about what they eat, making piranha fishing fairly easy. No hand-tied flies or special casting technique required. It's often enough just to drop a line—usually baited with raw meat or chicken—where they're swimming.
We will also visit Choroyacu Creek where we'll have the opportunity to climb in a dugout canoe and explore this scenic area with the locals.
After lunch, you're invited to plunge into the river for a swim, perhaps sharing the water with some pink or grey river dolphins.
We'll have another chance to witness the nocturnal life of the rain forest after dinner this evening, as we venture out in small boats onto the Marañon River. Perhaps our flashlights will reflect the red eye shine of the black caiman—or even the glowing yellow eyes of a jaguar!
DAY 7 – NAUTA / SAPISAPI RIVER

It's back to civilization today, as our ship returns to its home port of Iquitos. But before we dock, we have a few more unique experiences to look forward to.
This morning, we'll call on the town of Nauta, where the Ucayali and the Marañon—the major headstreams of the Amazon—join together. On our included tour, we'll ride the local motorcars and browse the local market. You're welcome to try your hand at bargaining!
Continuing on our way, we visit the Sapisapi River to look for charapas and turtles. The river has given up its secrets—or at least some of them.
Tonight, we'll celebrate our discoveries at our Farewell Dinner and Party, complete with live music, aboard our ship.
DAY 8 – IQUITOS / LIMA

Disembark at Iquitos. We will transfer to the Iquitos airport for our flight back to Lima and transported to your hotel.
Spend a final night in the City of Kings and enjoy a Pisco Sour or try some Peruvian ceviche!
DAY 9 – LIMA
Depart at any time.
PLEASE NOTE…
The itinerary may vary slightly depending on the weather and water levels which affect our ability to enter areas. It may also be run in reverse to minimize the number of people from different boats visiting areas at one time.
Cost
Cost is $6,500 per person, based upon double occupancy, from Lima, Peru. (Airport code LIM).
This trip ends in same as arrival city (Airport code LIM).
Shared cabins and suites are all double occupancy with private bathroom, air conditioning and view of the river.
(5) Mid-deck standard shared cabin per person $6500, double occupancy [2 available]
(2) Main deck shared suite per person $6900, double occupancy [1 available]
(1) Mid-deck shared suite with small balcony per person $6900, double occupancy [1 available]
(1) Top deck shared suite per person $6900, double occupancy [1 available]
Above prices based on double occupancy. If a single cabin is preferred, we have TWO single cabins on the riverboat (cost includes single hotel room in Lima, too):
(1) Mid-deck single cabin with one double bed and small balcony: $6950 [1 available]
(1) Top-deck single cabin with one double bed: $6950 [SOLD OUT]
Single Supplement
If a single room is preferred, or we are unable to find a suitable roommate for you, a single supplement fee of $0 will be assessed.
Deposit Requirements
A $1,000 deposit per person is required to hold each space on this tour. Deposit may be made online by clicking the "Book Your Trip Now" button and using any credit card. If you prefer, you may call us at 888-875-9453 to pay by phone. You may also mail us a check, however, remember that all space is held on a first come-first served basis as deposits are received.
Minimum Number
If fewer than the minimum number of required participants are registered, we may still be able to run the trip by adding a small-group supplement fee, per person, determined by the number of participants registered.
How to Book
In order to hold your space, click the "Book Your Trip Now" button above and complete the deposit process, including payment of the deposit through our Paypal portal using ANY CREDIT CARD. Upon completion of deposit, please visit our secure, online CLIENT INFORMATION FORM to complete your registration.
Final Payment
For all land-based tours: full payment by check is due 120 days prior to the departure date.
For all boat-based adventure cruises of 7-days or longer: full payment by check is required 180 days prior to departure.
NOTE: If you prefer to use credit card for final payment, a 3% fee may be added to cover the credit card merchant fees we incur.
La Perla Riverboat Cabins
Main Deck
2 suites on the main deck with one queen or two twin beds, A/C and large windows, private facilities.
Upper Deck
6 standard cabins on the upper deck with side-by-side twin beds or 1 queen bed, river-facing windows with private facilities and A/C.
1 single medium cabin with balcony, full-sized bed, A/C, large window and private facilities.
Top Deck
1 spacious suite on the third deck with queen size bed or two twins, river-facing windows with private facilities and A/C.
1 single cabin on third deck with one full-size bed, A/C and large window, private facilities.
Built: 2012 in Nauta, Peru
Length: 135ft / 50m
Beam: 29ft / 8.8m
Draft: 7ft / 2.1m
Capacity: 28 passengers (including leaders)
Generator: 2 X Perkins 90 kW
Engine: 2 X Volvo Penta 235 HP
Cruising Speed: 8 – 10 knots
Water: 2 x 820 Gallon fresh water tanks
Water Treatment: 2 Aerobic Biofilter Plants
Crew: 10 + 1 Naturalist Guide
Launch Boats
2 motorized, open skiffs (one for birding and one for photography) are used to explore smaller tributaries featuring ecologically-friendly four-stroke engines and safety equipment holding up to 24 passengers each.
Activity Level Rating: 1 (Note: 1 is easy and 5 is difficult)
Easy walks in villages, with two longer walks under 2 miles round-trip each.
Most of our birding will be done from our two motorized skiffs.
5 One skiff for birders
5 One skiff for photographers
Note on Single Cabins
Unlike at a hotel where we can reserve additional rooms, we cannot 'add' to the limited number of cabins on a boat, therefore, we cannot sell a double occupancy cabin as a single unless both spaces are paid in full (less cost of local flight we would not need to purchase).
Additional Cash Needs
The bar on board accepts cash only
Gratuities
— $100 per participant for crew tips
— $100 per participant for local naturalist tips
— $50 per participant for Edison's tip
Purchasing Flights
Do not purchase your flights until the trip has been confirmed to go.
Detailed Trip Information
Upon notification that final payment is due (120 days prior to departure for land based tours / 180 days for boat based tours), you will receive a trip package of detailed information for your tour.
Any additional information about the trip, including lodgings, contacts, participants, meeting locations, etc., will sent about 2 weeks prior to the trip departure, or after final payment is received for late registrants.
Travel Insurance
As with all tours, we recommend purchasing Travel Insurance to help cover your investment, for covered reasons. Please see our section on Travel Insurance.
Passport & Visa
US Citizens may require a visa to enter certain foreign countries. See above for any required visa information.
Participants arriving to the USA from a foreign country may need to get a travel visa to enter the United States. Be sure to check the requirements for your country of origin.
Itinerary Changes
The trip itinerary is developed many months ahead of time. Occasionally, despite our best planning, changes may occur during the trip, or we may be forced to alter our plans. Changes may occur because of weather, road conditions, safety concerns or other circumstances. In these situations, it is the leader(s) responsibility to carefully consider and implement appropriate alternatives. Any additional costs incurred because of changes will be the responsibility of each individual participant. Refunds will not be issued as a result of itinerary changes.