BELIZE 9-Day: Intro to Tropical Birding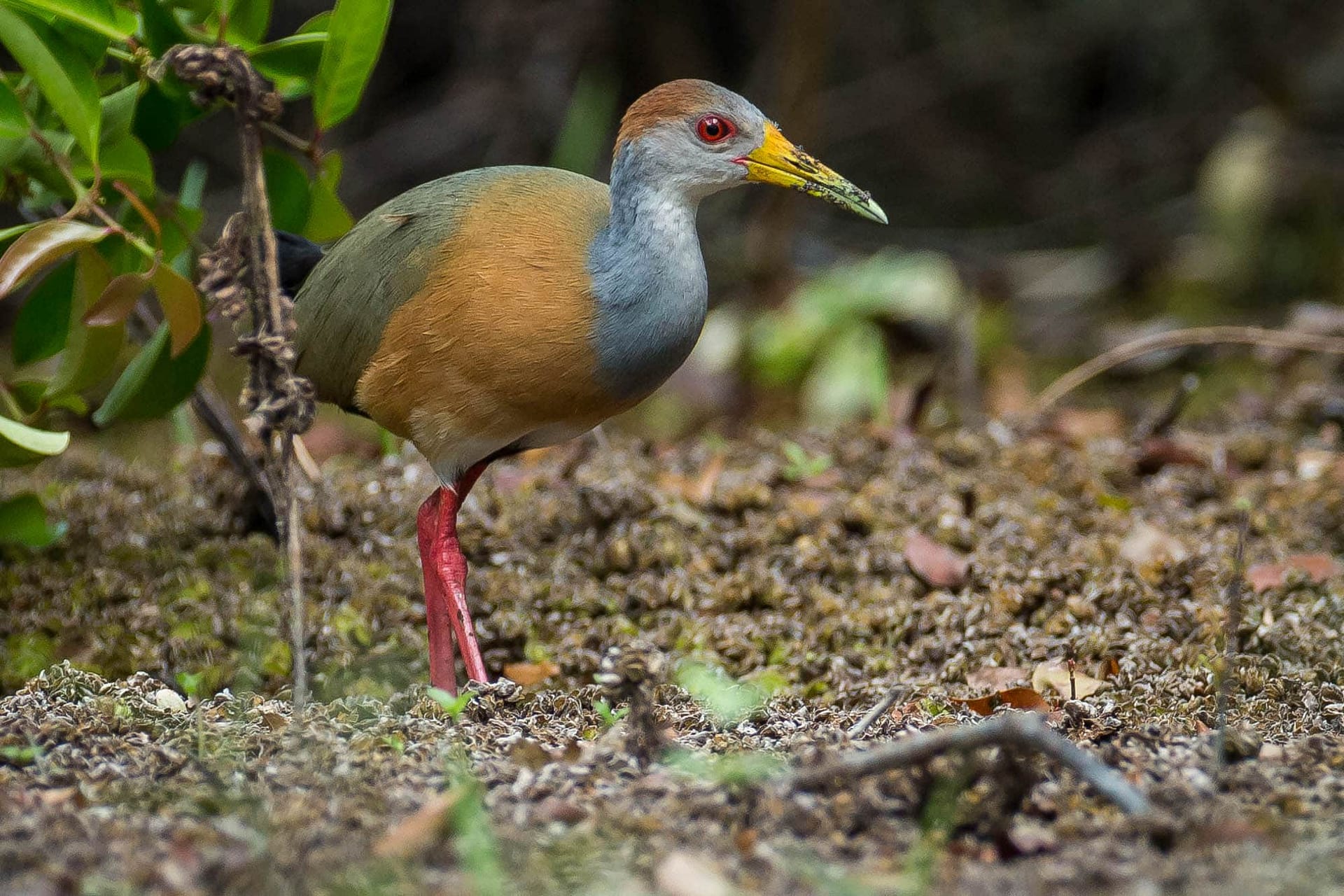 TOUR FOCUS

BIRDS & WILDLIFE
SCHEDULED TOURS
2023 :: November 3 - November 11
2023 :: December 2 - December 10
2024 :: February 17 - February 25
2024 :: March 2 - March 10

TOUR COST
From: $3,300 (See details)
Cost is per person, double occupancy from Belize City, Belize (BZE)
GROUP SIZE
4 - 7 Participants
AVAILABILITY
November 2023: FULL
December 2023: 5 spaces available
February 2024: 3 spaces available
March 2024: FULL

PRIVATE TOUR OPTION
This tour is available as a private trip for any size group. The tour cost will vary with the number of people and any custom requests.
If you have been on this tour, please be the first to leave a review!
Highlights of BELIZE 9-Day: Intro to Tropical Birding
Less than 2.5 hours flight from the Miami or Houston
Belize is the best destination to begin your tropical birding fun
Over 60% of the land in Belize is protected
Belize is the last Central American stronghold of the majestic Jabiru
Many regional endemics such as the Yucatan Jay, Yucatan Flycatcher and Yellow-lored Parrot
Description of BELIZE 9-Day: Intro to Tropical Birding
Belize is the best location to begin your tropical birding travels! Located only a few hours from the USA, Belize is home to over 600 species of birds. Easy trails, comfortable climate and easy access to great birding locations make Belize a very special place to learn the tropical families.
Belize is one of the most environmentally conscious countries in the Americas. Thanks in part to its small population, over 60% of its 23,000 sq. kms. have been protected. This protection has allowed the birds and wildlife to continue to flourish. Over 600 bird species have been recorded within its borders and along its reef! Belize is the last Central American stronghold of the majestic Jabiru which nests in the savannas and wetlands of the north. Regional endemics such as Yucatan Jay, Yucatan Flycatcher and Yellow-lored Parrot may also be found in the savannas.
Length of Tour
9-Days/8-Nights

Brief Itinerary
Day 1 – Arrive/Rio Bravo / La Milpa Lodge
Day 2 – Rio Bravo / La Milpa Lodge
Day 3 – Rio Bravo / La Milpa Lodge
Day 4 – Shipstern Wildlife Area
Day 5 – Shipstern Wildlife Area
Day 6 – Crooked Tree Sanctuary
Day 7 – Crooked Tree Sanctuary
Day 8 – Crooked Tree Sanctuary
Day 9 – Home
Detailed Itinerary
Day 1 – Arrive Belize / Rio Bravo Conservation Area
Arrive and transfer to he Rio Bravo Conservation Area (RBCA) with birding along the way. The RBCA covers 5% of Belize's land area and is a privately held wildlife sanctuary and research area. The La Milpa Station, named for the ancient Mayan ruins found on the site, offers great food a excellent accommodations in the same forest as the famous (and much more expensive) Chan Chich Resort. The birding is incredible with Crested Eagle being seen regularly! This is also the area Belize chose to release a pair of Harpy Eagles donated from the breeding program in Panama.
Day 2 – Rio Bravo / La Milpa Lodge
Birding the property around Rio Bravo is a great experience a dawn to dusk, and beyond, offers a multitude of species. Collared Forest Falcons, Ocellated Turkeys, Northern Potoos and a multitude of tanagers, honeycreepers and hummingbirds may be seen.
Night spotlighting may offer Spectacled Owl, Mottled Owl, Black-and-White Owl and a number of roosting passerines. We have also seen Jaguar, Margay, Jaguarundi, Kinkajou, Tapir and other mammals while spotlighting!
Day 3 – Rio Bravo / La Milpa Lodge
Todays birding will take us to the La Milpa ruins where the forest remains little disturbed and the birding is often interrupted by Black Howler Monkeys and Spider Monkeys! We always hope for an ant swarm here to bring in a number of tanagers and woodcreepers. More spotlighting will extend our day!
Day 4 – Drive to Shipstern Wildlife Area
After breakfast we will depart for Shipstern, having lunch along the way. Birding stops will keep us busy and we will arrive at our lodging in late afternoon.
Day 5 – Shipstern Wildlife Area
We will spend a full day enjoying locations around the Shipstern Wildlife Area in search of the Yucatan endemics and specialties!
Day 6 – Drive to Crooked Tree Sanctuary
After breakfast we will depart for Crooked Tree having lunch along the way. Birding stops will keep us busy and we will arrive at Crooked Tree Lodge late afternoon.
Our lodge sits quietly along the edge of the freshwater, seasonal lagoon. Here we can watch a multitude of wading birds, shorebirds and waterfowl. The surrounding savanna and wetlands offer excellent birding with many Yucatan Endemics.
Day 7 – Crooked Tree Sanctuary
We will explore the Crooked Tree Lagoon and Spanish Creek by boat in search of the many species of birds which inhabit this beautiful sanctuary. With low canopy logwood, turtlebone, provision tree and mangrove, good views of Yellow-tailed Oriole, Mangrove Vireo and Rufous-browed Peppershrike are very possible. The endangered Black Howler Monkey and Morelets Crocodile are also found here.
After lunch back at our lodge, we will explore the upper end of the island, a pine-oak savanna. Yellow-lored (Yucatan) Parrot, Yucatan Woodpecker and Yucatan Jay can be found in this open habitat.
Day 8 – Crooked Tree Sanctuary
Today we will boat up the New River to the Mayan ruins of Lamanai. We will see many bird species along the water's edge (Jabiru, Norther Jacana, Black-collared hawk) as well as along the trails of the gallery forest surrounding Lamanai. The ruins of Lamanai are some of the best examples of the Mayan civilization. It was the last stronghold of this ancient civilization of which we know relatively little about. Here we have found Slaty-tailed and Collared Trogons, Double-toothed Kite, and Brown-hooded Parrot.
Day 9 – Depart for home
Cost
Cost is $3,300 per person, based upon double occupancy, from Belize City, Belize (Airport code BZE).
This trip ends in Belize City, Belize (Airport code BZE).
Single Supplement
If a single room is preferred, or we are unable to find a suitable roommate for you, a single supplement fee of $400 will be assessed.
Deposit Requirements
A $500 deposit per person is required to hold each space on this tour. Deposit may be made online by clicking the "Book Your Trip Now" button and using any credit card. If you prefer, you may call us at 888-875-9453 to pay by phone. You may also mail us a check, however, remember that all space is held on a first come-first served basis as deposits are received.
Minimum Number
If fewer than the minimum number of required participants are registered, we may still be able to run the trip by adding a small-group supplement fee, per person, determined by the number of participants registered.
How to Book
In order to hold your space, click the "Book Your Trip Now" button above and complete the deposit process, including payment of the deposit through our Paypal portal using ANY CREDIT CARD. Upon completion of deposit, please visit our secure, online CLIENT INFORMATION FORM to complete your registration.
Final Payment
For all land-based tours: full payment by check is due 120 days prior to the departure date.
For all boat-based adventure cruises of 7-days or longer: full payment by check is required 180 days prior to departure.
NOTE: If you prefer to use credit card for final payment, a 3% fee may be added to cover the credit card merchant fees we incur.
Birding Areas and Accommodations
Rio Bravo Conservation Area – La Milpa Research Station
Located in northwestern Belize, the Rio Bravo Conservation Area covers 5% of the country's land area! Lush, tropical dry forest covers ancient Mayan ruins where Howler Monkeys move through the trees and Jaguars silently roam the trails, rarely seen. The lodging at the La Milpa Research Station offers spacious cabanas with en suite facilities. Excellent meals are served family style in their large dining room.
Sarteneja Inn and Restaurant
The simple yet comfortable Sarteneja Inn and Restaurant is the perfect place to allow us easy access to the far northeastern region of Belize and the wonderful Shipstern Nature Reserve. With delicious meals prepared in the local style, we won't go hungry!
Crooked Tree Wildlife Sanctuary – Birds Eye View Lodge
Our lodge is set along the Crooked Tree Lagoon on the edge of the Creole settlement of Crooked Tree Village. This town of about 900 people offers incredible wildlife viewing as well as a very friendly atmosphere. Smiling faces will greet us everywhere in the village. The lodges offer private rooms or cabanas with en-suite bath and their own dining room to serve our guests. The down-home treatement at each lodge, including delicious Creole style meals and desserts are always a hit!
Activity Level Rating: 2 (Note: 1 is easy and 5 is difficult)
The trails are easy, but you should be able to easily walk two miles without stopping. Not that we will be doing this, however, sometimes it may be needed to get the birds we seek.
Purchasing Flights
Do not purchase your flights until the trip has been confirmed to go.
Detailed Trip Information
Upon notification that final payment is due (120 days prior to departure for land based tours / 180 days for boat based tours), you will receive a trip package of detailed information for your tour.
Any additional information about the trip, including lodgings, contacts, participants, meeting locations, etc., will sent about 2 weeks prior to the trip departure, or after final payment is received for late registrants.
Travel Insurance
As with all tours, we recommend purchasing Travel Insurance to help cover your investment, for covered reasons. Please see our section on Travel Insurance.
Passport & Visa
US Citizens may require a visa to enter certain foreign countries. See above for any required visa information.
Participants arriving to the USA from a foreign country may need to get a travel visa to enter the United States. Be sure to check the requirements for your country of origin.
Itinerary Changes
The trip itinerary is developed many months ahead of time. Occasionally, despite our best planning, changes may occur during the trip, or we may be forced to alter our plans. Changes may occur because of weather, road conditions, safety concerns or other circumstances. In these situations, it is the leader(s) responsibility to carefully consider and implement appropriate alternatives. Any additional costs incurred because of changes will be the responsibility of each individual participant. Refunds will not be issued as a result of itinerary changes.