BELIZE & TIKAL 13-Day: Tropical Birding Bonanza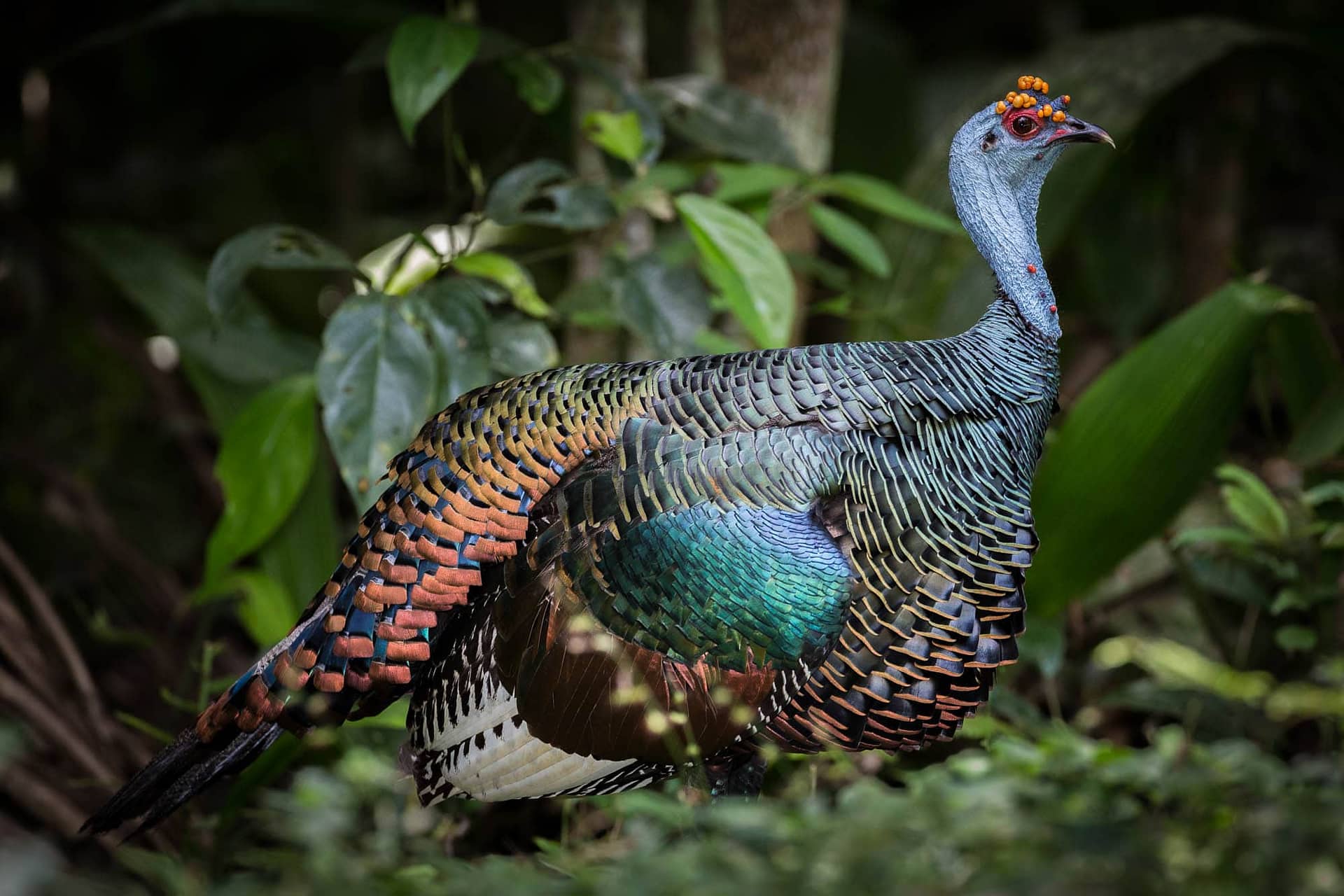 TOUR FOCUS

BIRDS & WILDLIFE
SCHEDULED TOURS
2024 :: January 16 - January 28

TOUR COST
From: $4,950 (See details)
Cost is per person, double occupancy from Belize City, Belize (BZE)
GROUP SIZE
4 - 7 Participants
AVAILABILITY
2024: 7 spaces available
PRIVATE TOUR OPTION
This tour is available as a private trip for any size group. The tour cost will vary with the number of people and any custom requests.
If you have been on this tour, please be the first to leave a review!
Highlights of BELIZE & TIKAL 13-Day: Tropical Birding Bonanza
Less than 2.5 hours flight from the Miami or Houston
Belize is the best destination to begin your tropical birding fun
Over 60% of the land in Belize is protected
Belize is the last Central American stronghold of the majestic Jabiru
Explore the magical Mayan ruins of Tikal in Guatemala
Many regional endemics such as the Yucatan Jay, Yucatan Flycatcher and Yellow-lored Parrot
Description of BELIZE & TIKAL 13-Day: Tropical Birding Bonanza
Belize is the best location to begin your tropical birding travels! Located only a few hours from the USA, Belize is home to over 600 species of birds. Easy trails, comfortable climate and easy access to great birding locations make Belize a very special place to learn the tropical families.
Belize is one of the most environmentally conscious countries in the Americas. Thanks in part to its small population, over 60% of its 23,000 sq. kms. have been protected. This protection has allowed the birds and wildlife to continue to flourish. Over 600 bird species have been recorded within its borders and along its reef! Belize is the last Central American stronghold of the majestic Jabiru which nests in the savannas and wetlands of the north. Regional endemics such as Yucatan Jay, Yucatan Flycatcher and Yellow-lored Parrot may also be found in the savannas. The rare Orange-breasted Falcon and Stygian Owl can be found in the Maya Mountains alongside many of the northern migrants. The broad-leaf rainforest holds more target species including many forest raptors the rare and local Keel-billed Motmot.
The Mayan ruins of Tikal hold not only the magic of an ancient civilization, but also many species that are difficult to find elsewhere. Regional endemics like Gray-throated Chat and Rose-throated Tanager can be found in the low scrub forests near our lodge. Quiet patience have earned rare sightings of forest floor species like Thicket Tinamou and Pheasant Cuckoo. Evenings by the hidden ponds offer generous views of many birds who come to bathe at their edges in the waning light.
Length of Tour
13-Days/12-Nights (With Tikal Extension)

Brief Itinerary
Day 1 – Arrive/Tropical Dry Forest
Day 2 – Tropical Dry Forest
Day 3 – Tropical Dry Forest
Day 4 – Broadleaf Rainforest and Pine Forests
Day 5 – Broadleaf Rainforest and Pine Forests
Day 6 – Broadleaf Rainforest and Pine Forests
Day 7 – Tikal, Guatemala
Day 8 – Tikal, Guatemala
Day 9 – Tikal, Guatemala
Day 10 – Crooked Tree Wetlands
Day 11 – Crooked Tree Wetlands
Day 12 – Crooked Tree Wetlands
Day 13 – Return Home
Detailed Itinerary
Day 1 – Arrival / Drive to Rio Bravo Conservation Area
After going through customs we will load our van and begin our adventure driving the north to the tropical dry forests of the Rio Bravo Conservation Area.
The RBCA covers 5% of Belize's land area and is a privately held wildlife sanctuary and research area within the tropical dry forest region. The La Milpa Station, named for the ancient Mayan ruins found on the site, offers great food a excellent accommodations.
NOTE: Though most birds we pass will be new to everyone, we will stop only for birds that are less common so as to spend less time on the road and more quality time birding! Dinner our Lodge.
After dinner we will have a short group discussion and an orientation to Belize before turning-in to rest before an early rise.
Day 2 – Rio Bravo / Tropical Dry Forests
Pre-breakfast birding will offer an orchestra of bird song. We will bird the grounds around the lodge until breakfast is served. After a quick breakfast served family style we will continue our birding through the grounds and seldom used entry road.
Lunch (as with all our meals) will be at La Milpa and will be followed by a brief siesta in the heat of the day. However, butterflies in the area can be fantastic at this time of day!
Birding the property around Rio Bravo is a great experience from dawn to dusk, and beyond, offering a multitude of species. Collared Forest Falcons, Ocellated Turkeys, Northern Potoos and a multitude of tanagers, honeycreepers and hummingbirds may be seen.
Night spotlighting may offer Spectacled Owl, Mottled Owl, Black-and-White Owl and a number of roosting passerines. We have also seen Jaguar, Margay, Kinkajou, Tapir and other mammals!
Day 3 – Rio Bravo / Tropical Dry Forests
Today's birding will take us to the La Milpa ruins where the forest remains little disturbed and the birding is often interrupted by Black Howler Monkeys and Spider Monkeys! We always hope for an ant swarm here to bring in a number of tanagers and woodcreepers. More spotlighting will extend our day!
Day 4 – Drive to Cayo District
After breakfast we will depart for the Cayo District with birding stops along the way.
Lunch will be at a local favorite, Cheers, on the Western Highway near Belmopan. Continuing on we will arrive at our lodge in time for some birding and exploration before dark.
Day 5 – Broadleaf Rainforests
Today will be spent exploring the property around the lodge, which has many opportunities for birding and photography abound on the trails and the entrance road to the lodge. All meals will be at the lodge.
Day 6 – Mountain Pine Ridge / Caracol Mayan Ruins
Today we will rise early to drive to the famous Mayan ruins of Caracol for amazing birding in the broadleaf rainforest. We will take a packed breakfast to be at the site in time for the dawn chorus. We will enjoy the trails and the ruins and have a packed lunch at the site.
After lunch we will begin our drive back to the lodge with stops along the way in the Mountain Pine Ridge to look for habitat-specific species, including the rare Orange-breasted Falcon.
Day 7 – Drive to Tikal, Guatemala / Tikal Inn
Tikal departures—you will need to be prepared for customs entry into Guatemala, including changing any Belize or US dollars to the Guatemalan Quetzal. When we arrive at the border we will be inundated with "money changers." Glenn will handle the negotiations for changing any money if you desire. Most vendors in Tikal will accept US dollars, but not Belize dollars. It is a good idea to change a little money for souvenirs, snacks, drinks, etc.
Money changing is separate from customs, which will be our next step, so please keep US$25 or BZ$50 available for customs! This is a quick process on the Belize side… keep passport ready!
The next stop will be in Guatemala and will be US$5 "tourist fee". We will also be required to fill out a customs form, have a pen handy along with your passport. Please stay together during the customs exchanges and border crossing while Glenn handles the issues with the bus connection. The bus will meet us on the other side of the gate after we enter Guatemala. We will arrive at Tikal in time for dinner.
Days 8 and 9 – Tikal National Park / Tikal Inn
Tikal is the best known of the Mayan Cities. The temples tower high over the forest canopy. The birding in this forest can be phenomenal!
After breakfast each morning we will enter the park, along with a Guatemalan guide to explore this incredible area through its many trails. There is also a roadway from our lodge, an old runway actually, that leads to several ponds, around which we have found Pheasant Cuckoo and other rarely seen species. In the evening many birds and other wildlife come to the ponds to drink and bath.
Lunches will be at local restaurants, dinner at our lodge.
Day 10 – Drive to Crooked Tree / Crooked Tree Lodge
The Crooked Tree Sanctuary is part of the village of Crooked Tree. This village, named for an old Bullet Tree that is no longer standing, is on an island in the fresh-water Crooked Tree Lagoon. This inland waterway is the drainage for the surrounding savanna area of northern Belize, and is a "magnet" for birds of many species throughout the year.
Day 11 – Crooked Tree Sanctuary / Birdseye View Lodge
Rise early for pre-breakfast birding. After breakfast we will board our boat to explore the Crooked Tree Lagoon and Spanish Creek in search of crocodiles, howler monkeys and, of course, many birds! The lagoons, streams and surrounding marsh all drain into Black Creek, and eventually into the Belize River. The vegetation along the creek is relatively low, affording some excellent views of the wildlife.
After lunch back at the lodge, we will take a short rest before we explore the upper end of the island of Crooked Tree, a pine/oak savanna home to many hard-to-find species such as Yellow-lored Parrot and Yucatan Jay.
Dinner at the lodge. After dinner we will have a group discussion and list updating, and of course, time to relax and enjoy the moonrise over Crooked Tree Lagoon. This is also a great area for stargazing!
Day 12 – Crooked Tree Sanctuary / Birdseye View Lodge
Rise early for pre-breakfast birding. After breakfast we will explore the village looking for endemics and other species we may have missed. Returning to the lodge for lunch we will have a short siesta before boarding the boat for a trip into the northern end of the lagoon.
Day 13 – Return Home
After Breakfast we will drive back to the Belize International Airport for our flights home. (Lunch is available for purchase in the airport's restaurant.)
Cost
Cost is $4,950 per person, based upon double occupancy, from Belize City, Belize (Airport code BZE).
This trip ends in Belize City, Belize (Airport code BZE).
Single Supplement
If a single room is preferred, or we are unable to find a suitable roommate for you, a single supplement fee of $600 will be assessed.
Deposit Requirements
A $1,000 deposit per person is required to hold each space on this tour. Deposit may be made online by clicking the "Book Your Trip Now" button and using any credit card. If you prefer, you may call us at 888-875-9453 to pay by phone. You may also mail us a check, however, remember that all space is held on a first come-first served basis as deposits are received.
Minimum Number
If fewer than the minimum number of required participants are registered, we may still be able to run the trip by adding a small-group supplement fee, per person, determined by the number of participants registered.
How to Book
In order to hold your space, click the "Book Your Trip Now" button above and complete the deposit process, including payment of the deposit through our Paypal portal using ANY CREDIT CARD. Upon completion of deposit, please visit our secure, online CLIENT INFORMATION FORM to complete your registration.
Final Payment
For all land-based tours: full payment by check is due 120 days prior to the departure date.
For all boat-based adventure cruises of 7-days or longer: full payment by check is required 180 days prior to departure.
NOTE: If you prefer to use credit card for final payment, a 3% fee may be added to cover the credit card merchant fees we incur.
Birding Areas and Accommodations
Bocawina Eco-Resort
Bocawina lies on the edge of the Maya Mountains. Electricity is both solar and hydro-powered.
Over 200 species of birds are possible on Black Rock's property and the Lodge is one of the rare places in Central America where you can observe all three species of Toucan in one morning. In addition, Orange-breasted Falcons and White Hawks may be seen soaring above the river.
Crooked Tree Wildlife Sanctuary – Crooked Tree Lodge OR Birds Eye View Lodge
Both lodges are set along the Crooked Tree Lagoon on the edge of the Creole settlement of Crooked Tree Village. This town of about 900 people offers incredible wildlife viewing as well as a very friendly atmosphere. Smiling faces will greet us everywhere in the village. The lodges offer private rooms or cabanas with en-suite bath and their own dining room to serve our guests. The down-home treatement at each lodge, including delicious Creole style meals and desserts are always a hit!
La Milpa Lodge / Rio Bravo Conservation Area
La Milpa Lodge lies in the heart of the tropical dry forest of the Rio Bravo Conservation Area. This huge, 300,000 acre swatch of land encompasses 5% of Belize's land area! The lodge rooms are spacious with en suite bathrooms and hot showers. We prepared meals are served family style in the main building.
Tikal, Guatemala / Tikal Inn
The Mayan ruins of Tikal are probably the best known of all the ancient cities of the Americas. Its tall structures, used in the movie Star Wars: Return of the Jedi, stand mysteriously amid the amazing rainforest, inviting our exploration. We will have a local Guatemalan guide with us as we explore the ruins for the first time. Howler Monkeys, Squirrel Monkeys and Coatimundi are everywhere, as are many other species of mammals and, of course, birds! The lodge is very comfortable, with a quiet luxury (and a pool). Breakfast and dinner will be at the lodge, while lunch will be at the park's restaurant. All facilities are in easy walking distance from the Park entrance.
Activity Level Rating: 2 (Note: 1 is easy and 5 is difficult)
The trails are easy, but you should be able to easily walk two miles without stopping. Not that we will be doing this, however, sometimes it may be needed to get the birds we seek.
Recommended Field Guide:
Birds of Belize
(University of Texas Press, 2003)
by H. Lee Jones
Purchasing Flights
Do not purchase your flights until the trip has been confirmed to go.
Detailed Trip Information
Upon notification that final payment is due (120 days prior to departure for land based tours / 180 days for boat based tours), you will receive a trip package of detailed information for your tour.
Any additional information about the trip, including lodgings, contacts, participants, meeting locations, etc., will sent about 2 weeks prior to the trip departure, or after final payment is received for late registrants.
Travel Insurance
As with all tours, we recommend purchasing Travel Insurance to help cover your investment, for covered reasons. Please see our section on Travel Insurance.
Passport & Visa
US Citizens may require a visa to enter certain foreign countries. See above for any required visa information.
Participants arriving to the USA from a foreign country may need to get a travel visa to enter the United States. Be sure to check the requirements for your country of origin.
Itinerary Changes
The trip itinerary is developed many months ahead of time. Occasionally, despite our best planning, changes may occur during the trip, or we may be forced to alter our plans. Changes may occur because of weather, road conditions, safety concerns or other circumstances. In these situations, it is the leader(s) responsibility to carefully consider and implement appropriate alternatives. Any additional costs incurred because of changes will be the responsibility of each individual participant. Refunds will not be issued as a result of itinerary changes.