BOTSWANA and Victoria Falls: Wildlife Safari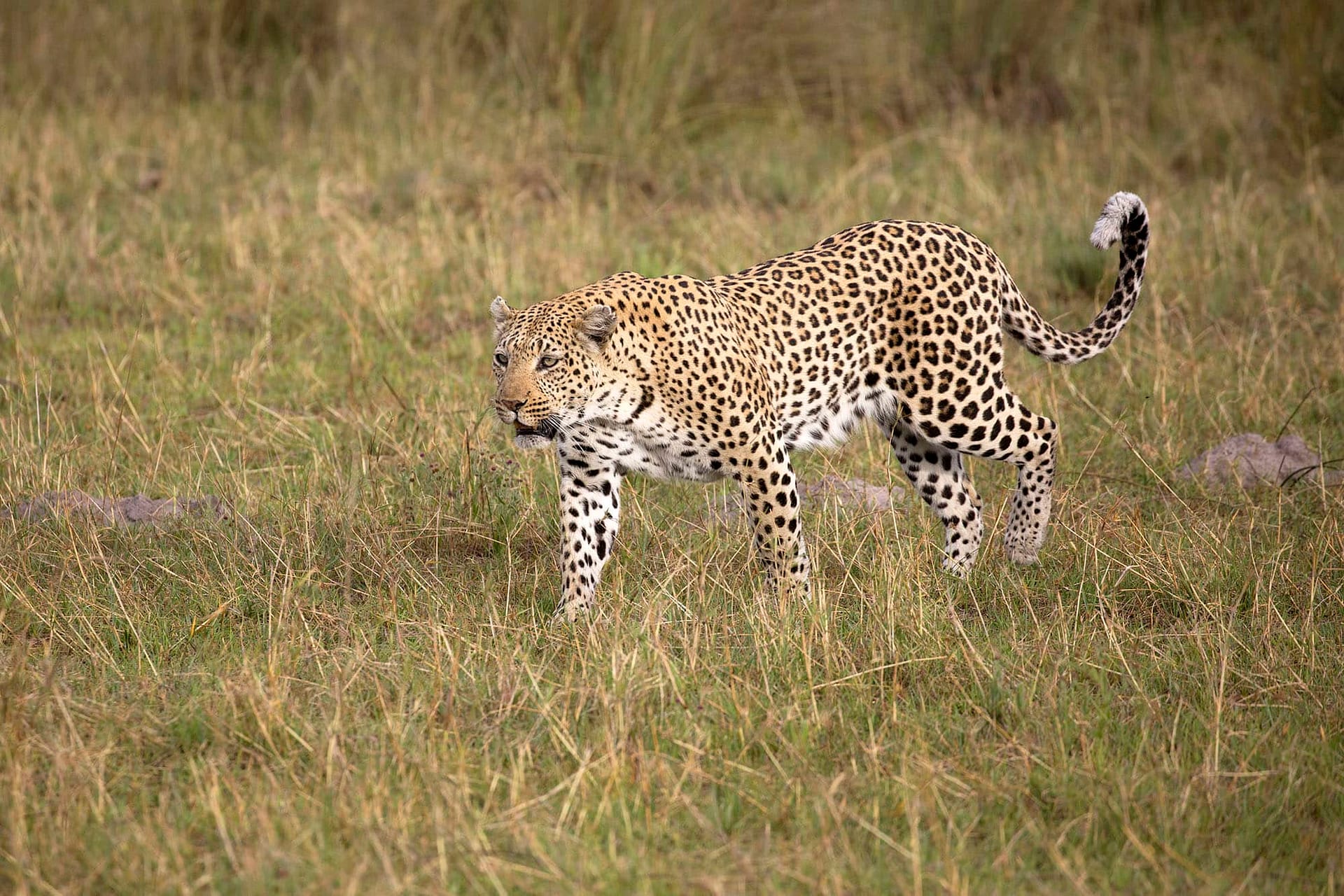 TOUR FOCUS

BIRDS & WILDLIFE
SCHEDULED TOURS
2023 :: November 5 - November 18
2024 :: November 1 - November 12

TOUR COST
From: $13,800 (See details)
Cost is per person, double occupancy from Maun, Botswana (MUB)
GROUP SIZE
6 Participants
AVAILABILITY
2023 – November 5-18 – FULL
November 1-12/15, 2024  cost and itinerary TBD
PRIVATE TOUR OPTION
This tour is available as a private trip for any size group. The tour cost will vary with the number of people and any custom requests.
If you have been on this tour, please be the first to leave a review!
Highlights of BOTSWANA and Victoria Falls: Wildlife Safari
Exclusive classic safari camps in superb secluded wilderness
Fly between camps
Explore the Okavango Delta wetlands, teeming with wildlife
Enjoy Cheetahs and Black-maned Lions in the Kalahari Desert
Visit spectacular Victoria Falls 'the smoke that thunders'
Follow Wild Dogs as they go on a hunt
Track White Rhinos on foot
Pel's Fishing Owl, Wattled Crane, Slaty Egret, and other avian specialties
Description of BOTSWANA and Victoria Falls: Wildlife Safari
Botswana is among the most rewarding countries in Africa to experience a spectacular safari. Wild and remote, teeming with wildlife and stunning scenery, Botswana leaves a lasting impact on visitors.
Endless horizons of the Kalahari Desert, lush wetlands of the Okavango Delta, and vast grasslands of Savuti combine to provide incredible opportunities for wildlife viewing. Nearly 600 species of birds are found in the diverse habitats of Botswana, including specialties such as Pel's Fishing Owl, Slaty Egret, African Skimmer, African Finfoot, Kalahari Scrub-Robin, Wattled Crane, Racquet-tailed Roller and Hartlaub's Babbler. Elephants, giraffes, buffalo, hippos, zebra, warthogs, and an assortment of antelope, red lechwe, greater kudu, sable, roan, reedbuck and impala, along with predators such as lion, leopard, cheetah, spotted hyena and African wild dogs are among the many highlights.
Situated in the center of southern Africa, landlocked Botswana lies at about 950 meters above sea level and more than 600 kilometers from the nearest coast. Relatively few people live in this vast rugged country, facilitating an experience of solitude and remote wildness. The country is striking for its flatness and aridity – the Kalahari Desert covers three-quarters of the land. The Okavango Delta is a wetland within a desert, receiving its waters from rain falling in central Africa, more than a thousand kilometers away. In the northeast, the Linyanti region and Savuti Channel feature varied mixed woodland habitats and ancient floodplains attracting massive herds of elephants and predators.
We'll augment our safari with a trip to the world-famous Victoria Falls, along the Zambezi River, where stunning vistas and a variety of birds create powerful memories.
On our Best of Botswana safari, we'll explore unique and pristine eco-systems world-renowned for concentrations of predators, herbivores, birds, reptiles, and spectacular scenery. The Kalahari Desert, Okavango Delta, Linyanti-Savuti, and Zambezi River provide experiences of a lifetime. Due to remoteness of this pristine landscape we will be flying between camps, saving us considerable time and giving us more time to enjoy the camps and concessions.
Note: Itinerary and accommodations may vary based upon availability.
View our webinars on Botswana's Okavango Delta Wildlife, Unique and Amazing Adaptations of Birds on Safari, and
Click to read about Six Specialty Species of the Okavango Delta  and Savanna Scavengers

Length of Tour
14-days/13-nights

Brief itinerary
Day 1 / Nov 5: Arr. Maun, Botswana; Duba Explorers
Day 2 / Nov 6: Duba Explorers
Day 3 / Nov 7: Duba Explorers
Day 4 / Nov 8: Duba Explorers
Day 5 / Nov 9: Selinda Explorers
Day 6 / Nov 10: Selinda Explorers
Day 7 / Nov 11: Selinda Explorers
Day 8 / Nov 12: Selinda Explorers
Day 9 / Nov 13: Tau Pan
Day 10 / Nov 14: Tau Pan
Day 11 / Nov 15: Tau Pan
Day 12 / Nov 16: Toka Leya, Zambia
Day 13 / Nov 17: Toka Leya, Zambia
Day 14 / Nov 18: Dep. Livingstone, Zambia
Note: Itinerary and accommodations may vary based upon availability
Itinerary
Day 1, 2 & 3 : Arrive in Maun, Botswana; Fly to Kalahari Plains Camp (3 nights)

We'll arrive mid-day at Maun Airport, then transfer by light aircraft from Maun to Kalahari Plains Camp. Here, our Botswana safari begins off the beaten track in the Kalahari Desert, the largest unbroken stretch of sand in the world, dominating central Botswana. The five million hectare (12 million acre) Central Kalahari Game Reserve is one of the biggest conservation areas in Africa, featuring vast flat expanses of sand dunes and salt pans, interspersed with long-dry riverbeds, hiding ancient fossils. This seemingly-barren savannah is home to a fascinating spectrum of plants, animals, and cultures that have successfully adapted to living in such a harsh environment. Southern Africa's aboriginal inhabitants, the remote San (bushmen) still live around the Kalahari.
The Kalahari Plains Camp, our base for two days, offers some of the best wildlife viewing opportunities in Africa, overlooking an immense pan with endless desert horizons and beautiful skies.
Healthy wildlife populations thrive year round, though sightings fluctuate with the seasons. The legendary Kalahari black-maned lion is a star attraction. When summer rains soak the earth, the arid desert blooms to life, attracting hundreds of grazing herbivores and their nearby predators. This area hosts nomadic populations of dryland specialists like cheetah, brown hyena, gemsbok, springbok, and eland as well as leopard, wild dog, spotted hyena, giraffe, kudu, wildebeest, steenbok, ostrich and hartebeest. Smaller species like black-backed jackal, African wildcat, honey badger, Cape and bat-eared fox, ground squirrel, and myriad mongoose may be found.
The Central Kalahari bird community, some 220 species, offers a high rate of endemism and not-to-be-missed specialties. Regionally threatened and arid-west endemic species such as Crimson-breasted Shrike, Violet-eared Waxbill, Double-banded Courser and Southern Pied Babbler. Also found in the area are Shaft-tailed Whydah, Barred Wren-Warbler, Northern Black Korhaan, Secretarybird, Kalahari Scrub-Robin, Kori Bustard, Lanner Falcon, Burchell's and Namaqua Sandgrouse. We'll look for Black-chested Prinia, Ant-eating Chat, Eastern Clapper Lark, Spike-heeled Lark, Scaly-feathered Weaver and Red-headed Finch.
Day 4-7 : Fly to Jacana Camp (4 nights), Okavango Delta

The flight from the Kalahari to the Okavango Delta reflects sharp contrast in scenery and habitats. We'll spend the next two nights within the largest inland wetlands on earth. The lush wilderness of the Okavango encompasses more than 15,000 square kilometers of watery paradise interlaced with papyrus, impenetrable reed beds, grassy floodplains, tree-covered islands and a complex network of winding water channels that are engineered and maintained by hippos and elephants. Some areas are permanently under water and others only when the rejuvenated annual floodwaters arrive from the central African highlands, thousands of kms away. This constant ebb and flow of water creates one of the most fascinating and diverse ecosystems on the planet, home to large numbers of mammals, birds, reptiles and other wildlife. The Okavango Delta is a world class, year-round wildlife destination, where sightings vary between seasons, water levels, weather, and camp locations. Unsurprisingly, the Okavango Delta is both a RAMSAR Site and UNESCO World Heritage Site.
Located on a beautiful island in the private Jao Concession, Jacana is a true water camp accessible only by boat in the heart of the Delta. Jacana provides an outstanding safari experience with comfortable accommodations and wildlife concentrations that ebb and flow with seasonally-changing water levels.
Whether on a game drive, or gliding down winding waterways on a mokoro (a traditional dugout canoe), we'll enjoy unique perspective and photographic opportunity to observe birds, frogs, reptiles, and mammals of all sizes. Wildlife includes the "big five" (lion, leopard, elephant, buffalo and rhino), many antelope species, zebras, giraffes, hippos, crocodiles and predators like cheetahs, hyenas and wild dogs. Smaller mammals such as jackals, foxes, serval, and honey badger are present.
Jacana Camp is one of the best areas to see red lechwe and secretive sitatunga antelope. Hippo and crocodile are regularly sighted; other game includes impala, elephant, buffalo, and spotted-necked otter. Predators like lion and leopard are constantly stalking their herbivore prey. Birdlife is exceptional with large concentrations of endangered Wattled Crane, along with Slaty Egrets, African and Lesser Jacanas, Rosy-throated Longclaws, African Skimmer, African Pygmy-goose, Western banded Snake-eagle and other Okavango specialties. We'll look for papyrus swamp specialists such as Greater Swamp Warbler and Chirping Cisticola, and Swamp Nightjar and Brown Firefinch are also possible. Pel's Fishing-owl is a major highlight of the location, and Jacana is our best chance to see one.
Day 8-11 : Fly to Linyati Tented Camp (4 nights)

Leaving the Okavango Delta, we fly to northern Botswana where vast open plains of the Linyanti region teem with wildlife. The Linyanti and Kwando Rivers converge in a wondrous marshy area attracting concentrations of lions, leopards, cheetahs, elephants, buffalos, and wild dogs. Rare roan and sable antelopes join other animals emerging from the surrounding mopane woodlands to drink at the rivers and wetland areas.
We'll spend 3 days in this expansive wildlife-rich area, enjoying ample opportunity to observe and photograph prolific animal interactions amid varied habitats.
The Savuti Marsh, located on the western edge of Chobe National Park, is fed by the enigmatic Savute Channel, whose erratic waters sometimes dry-up due to shifting tectonic plates, and occasionally flow both directions! Savuti's lush grasslands famously attract massive herds of buffalos and elephants, and the large prides of lions that have learned to hunt them. Dramatic scenes unfold when elephants come to drink, and lions ambush young and sick members of the herd.
Wildlife abounds with four of the big five (lion, leopard, elephant and buffalo – only rhinos are absent), many antelope species, zebras and giraffes with good populations of cheetahs, hyenas and wild dogs. Nocturnal species often seen are lesser bushbaby, spring hare, aardwolf, serval, large spotted genet and, if you are extremely lucky, the elusive pangolin!
Birding is outstanding here ranging from Okavango specials, such as Slaty Egret, Hartlaub's Babbler, Allen's Gallinule (seasonal) and Wattled Crane, to the drier mopane woodland species like Racket-tailed Roller, Bradfield's Hornbill, White-breasted Cuckoo-shrike, Bennett's Woodpecker, Swallow-tailed Bee-eater, Coqui Francolin and Arnot's Chat. Open plains host Kori Bustard, Ostrich, Secretarybird, Southern Ground-hornbill, and Southern Carmine Bee-eaters. The Savute Channel is an internationally-recognized Important Bird Area (IBA) particularly for birds of prey like Dickinson's kestrel, Verreaux's Eagle-owl and African Scops-owl.
Day 12-13 : Fly to Kasane; transfer to Zambia -Toka Leya (2 nights)

We transfer from Linyati Tented Camp by light aircraft to Kasane Airport, our last stop in Botswana. We then transfer by road, with a stop at the Zambian border to clear customs and immigration before continuing on a short drive to Toka Leya, a beautiful camp situated on the banks of the Zambezi River.
We'll enjoy a wonderful sunset river cruise on the Zambezi River, looking out for Half-collared Kingfisher, African Finfoot, African Skimmer, Rock Pratincole, Water Thick-knees, White-crowned Lapwing, and elephants swimming across the river!
One of the Seven Natural Wonders of the World, Victoria Falls is known locally as Mosi-oa-Tunya, "the Smoke that Thunders" – a name that accurately depicts the plumes of spray, visible for some distance, caused by the cascading waters of the Zambezi River. This area showcases spectacular scenic beauty, from thundering falls to picturesque flowing waters lined by lush vegetation. Wildlife abounds while boating on the river or on game drives in the Mosi-oa-Tunya National Park upstream from the falls.
The Mosi-oa-Tunya National Park encompasses mopane and Zambian teak woodlands, and thick riverine forest of palm trees along the banks of the Zambezi River. The park is home to many birds including Black-collared Barbet, Southern Black Tit, Collared Palm Thrush, Arrow-marked Babbler, Golden-tailed Woodpecker, Broad-billed Roller, Black Cuckoo-Shrike and Jacobin Cuckoo. Mammals include elephant, southern giraffe, greater kudu, common zebra, buffalo, sable antelope, and impala. This is the only location in Zambia to see rare white rhino; decades of poaching had eliminated 12,000 of them by 1993. Four white rhinos were introduced to the park in 2008, which armed rangers monitor closely. We'll take a guided walk through the open bush to look for these rare, beautiful creatures.
Day 14 : Depart from Livingstone, Zambia
We transfer mid morning to Livingstone Airport for our international departure and return to the US.
Please note that this itinerary is a guideline, and while we hope to do everything on safari, activities are subject to change, due to circumstances beyond our control.
Cost
$13,800 per person, based upon double occupancy, from Maun, Botswana (Airport code MUB).
This trip ends in Livingstone, Zambia (Airport code LVI).
Single Supplement and other Cost Additions
If a single room is preferred, or we are unable to find a suitable roommate for you, a single supplement fee of $1,650 will be assessed.

Included in the cost of the tour
All meals and drinks (from dinner on Day 1 through breakfast on Day 14); all transportation while on game drives; Entrance fee to Victoria Falls National Park; all laundry; gratuities to staff and guides.
Tour cost does not include
International flight to Maun, Botswana [MUB] and return from Livingstone, Zambia [LVI]; Visas for Zambia and Zimbabwe (currently $50); any Covid tests and related costs; Airport departure tax Livingstone (currently $40) unless included in air ticket; Medical or Travel Insurance; excess baggage charges, communications charges; any stop-over expenses prior to trip; and any other optional items not included in your itinerary price quotation.
Minimum Number
If fewer than the minimum number of participants are registered the trip can still run with a small-group supplement fee per person determined by the number of participants for a private vehicle.
Deposit Requirements
A $2,000 deposit per person is required to hold each space on this tour. Deposit may be made online by clicking the "Book Your Trip Now" button and using any credit card. If you prefer, you may call us at 888-875-9453 to pay by phone. You may also mail us a check, however, remember that all space is held on a first come-first served basis as deposits are received.
How to Book
In order to hold your space, click the "Book Your Trip Now" button above and complete the deposit process, including payment of the deposit through our Paypal portal using ANY CREDIT CARD. Upon completion of deposit, please visit our secure, online CLIENT INFORMATION FORM to complete your registration.
Final Payment
For all land-based tours: full payment by check is due 120 days prior to the departure date.
For all boat-based adventure cruises of 7-days or longer: full payment by check is required 180 days prior to departure.
NOTE: If you prefer to use credit card for final payment, a 3% fee may be added to cover the credit card merchant fees we incur.
We are in four wonderful secluded camps for a total of 13 nights.
All camps are ensuite with shower and flush toilet, a safe, a fan (no air-conditioning), and provide basic toilet amenities (soap, shampoo, conditioner). Laundry service is provide on a daily basis (weather permitting) and is free of charge. There is no fence around any of the camps, consequently you will be escorted to and from your tent after dark. In the morning you will be woken up with coffee or tea by a member of the staff.
Kalahari Plains Camp (3 nights) – Kalahari Plains is set in a remote part of the diverse and productive Central Kalahari Game Reserve (CKGR) and offers some of the best summer wildlife viewing opportunities in Africa. Located in the Kalahari Desert biome in the central part of Botswana, this reserve is the largest conservation area in the country and one of the largest in the world. Its star attractions include the legendary Kalahari black-maned lion as well as some of the world's best cheetah viewing. Kalahari Plains Camp is perfectly situated overlooking an immense pan with endless horizons and beautiful skies. It comprises eight en-suite canvas units with a sleep-out above each from which to enjoy moonlit or star-studded nights. The main area consists of a lounge and dining area with a swimming pool and deck. Solar power provides all the electricity and hot water in the camp and insulated canvas walls and roof keep temperatures inside the units comfortable.
Jacana Camp (2 nights) – Located on a small island in the  beautiful Jao Concession in Botswana's Okavango Delta, Jacana is a typical Delta camp that offers remote seclusion. Surrounded by seasonally-inundated floodplains and papyrus swamps, Jacana has five en-suite Meru-style tents, built on raised wooden decks to take advantage of the views of the broad channels in front. The en-suite bathroom is enclosed but roofless allowing for views of the the African skies. The main dining area is on an elevated platform nestled between two magnificent sycamore fig trees, surrounded by dense wild date palms, with a large viewing deck and open seating area around the fire. Jacana Camp is a true water camp, offering mokoro safaris and game drives all year round, as well as night drives when the waters have receded – generally during the summer months – between October and April.
Linyati Tented Camp (3 nights) – Set on the banks of the Linyati River, and tucked under tall riverine trees, the camp is ideally located in the wildlife-rich Linyanti Concession. Unrivalled in its remoteness and sense of space, the camp overlooks the iconic marsh and floodplains with its four large, airy and en-suite tents designed to recreate the style of the early explorers. Built on a slightly raised deck with impressive views, the camp's main area is the perfect place from which to watch the passing parade of wildlife and for convivial relaxation. Evenings are spent around the crackling fire under the stars or in the traditional boma.
Toka Leya (2 nights) – Overlooking the mighty Zambezi River and some of its islands, Toka Leya is perfect combination of relaxation and adventure; ideal for the beginning or the end of your African safari. Morning explorations on the river, the surrounding Mosi-oa-Tunya National Park or the nearby Victoria Falls can be followed by a tranquil afternoon at our spa or practicing inspired yoga on the panoramic deck of our gym. The camp's twelve spacious en-suite safari-style tents with expansive decks soak up the dramatic views and active wildlife. Limiting our footprint on this pristine area, wooden walkways snake between the units and the main area where the dining room, bar and lounge are complimented by an infinity pool, a sundeck for sumptuous meals and a convivial fire pit for night-time gatherings.
Activity Level Rating: 1 (Note: 1 is easy and 5 is difficult)
This is an easy trip, with the hardest part likely being getting into and out of vehicles and boats! We will be in open sided safari vehicles for most of the trip, with mokoro (dugout canoe) or boat rides for our water based activities. There will be limited walking on this trip with the exception of a couple of walking safaris usually lasting a couple of hours and over fairly easy terrain.
Recommended Field Guide (s)
Birds of Botswana (Princeton Field Guides, 2015)
by Peter Hancock and Ingrid Weiersbye
Birds of Southern Africa  4th Edition (Princeton Field Guides, 2011)
by Ian Sinclair, Phil Hockey, Warwick Tarboton and Peter Ryan
Stuart's Field Guide to Mammals of Southern Africa (Struik Nature, 2015) by Chris & Mathilde Stuart
Non-smoking Tour
This trip is for non-smokers only. Smoking is not permitted at any time during our tour.
Visa (s)
No visa is required for Botswana. However, you will need a visa to enter Zambia and Zimbabwe. One visa, called a UNIVISA,  now takes care of both countries, and this can be obtained upon your arrival in Zambia. The current cost is $50 (cash only).
Covid-19 Protocols
Please read our latest information and requirements in regards to Covid.
Currently you are required to show proof of a negative PCR test 72 hours prior to travel, and are required to do the same prior to returning to the US. We will arrange to have this done at a convenient place before the end of the trip.
International Flights
You will need to book your own flights to arrive in Maun [MUB], Botswana by late morning on Day 1. This is best done by flying into Johannesburg [JNB], South Africa, and taking another flight to Maun. Your return flight on Day 11 will need to depart Livingstone [LVI], Zambia late morning to make your connection in Johannesburg.
Insurance
Trip, medical and evacuation insurance is highly recommended for all safaris.
Transportation
We will using an open-sided 4×4 safari vehicle. At water camps we will be be using mokoros (dugout canoes) and boats.
Due to remoteness of this pristine landscape we will be flying between camps, saving us considerable time and giving us more time to enjoy the camps and concessions.
Climate / Weather
Though increasingly unpredictable February is in the middle of the wet season (Dec-Mar).  We can expect a mixture of bright sunny and cloudy days with occasional afternoon thunderstorms. Average low temperature are about 60F with highs 90F. We can expect into be a bit cooler in the Okavango Delta and warmer in the Kalahari Desert though night time will be cooler.
Malaria
Malaria is present throughout the northern part of the country. Check with your doctor for the recommended prophylaxis.
Luggage Type
Because we have 4 internal flights with Wilderness Air on small aircraft (Cessna) the maximum permissible luggage allowance is 20kg/44lbs. Only soft bags will be accepted – no frames or rigid structures. Maximum dimensions of the soft bags which can be accommodated in the hold are as follows: 10″ x 12″ x 24″. Free laundry service is available in all the camps, which will help you to pack lighter!
Purchasing Flights
Do not purchase your flights until the trip has been confirmed to go.
Detailed Trip Information
Upon notification that final payment is due (120 days prior to departure for land based tours / 180 days for boat based tours), you will receive a trip package of detailed information for your tour.
Any additional information about the trip, including lodgings, contacts, participants, meeting locations, etc., will sent about 2 weeks prior to the trip departure, or after final payment is received for late registrants.
Travel Insurance
As with all tours, we recommend purchasing Travel Insurance to help cover your investment, for covered reasons. Please see our section on Travel Insurance.
Passport & Visa
US Citizens may require a visa to enter certain foreign countries. See above for any required visa information.
Participants arriving to the USA from a foreign country may need to get a travel visa to enter the United States. Be sure to check the requirements for your country of origin.
Itinerary Changes
The trip itinerary is developed many months ahead of time. Occasionally, despite our best planning, changes may occur during the trip, or we may be forced to alter our plans. Changes may occur because of weather, road conditions, safety concerns or other circumstances. In these situations, it is the leader(s) responsibility to carefully consider and implement appropriate alternatives. Any additional costs incurred because of changes will be the responsibility of each individual participant. Refunds will not be issued as a result of itinerary changes.