COSTA RICA: Bird & Wildlife Photography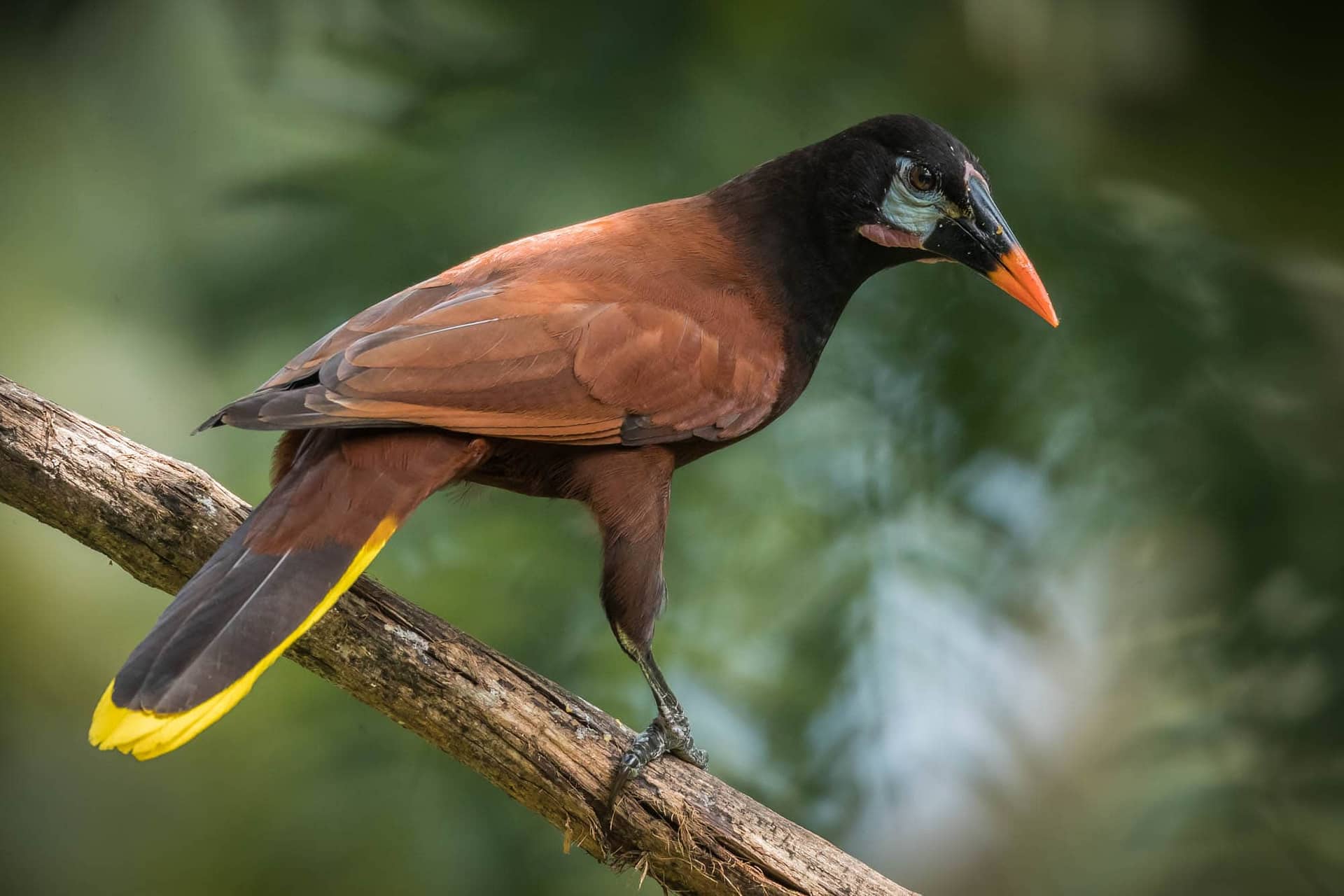 SCHEDULED TOURS
2024 :: March 16 - March 27

TOUR COST
From: $7,500 (See details)
Cost is per person, double occupancy from San Jose, Costa Rica (SJO)
GROUP SIZE
4 - 8 Participants
AVAILABILITY
8 spaces available
PRIVATE TOUR OPTION
This tour is available as a private trip for any size group. The tour cost will vary with the number of people and any custom requests.
If you have been on this tour, please be the first to leave a review!
Highlights of COSTA RICA: Bird & Wildlife Photography
Small group of only 4 – 8 photographers, plus two leaders and local birding guide for lots personal attention!
900+ species of birds with many feeder opportunities!
The stunning Resplendent Quetzal!
Over 50 species of hummingbirds!
Close-up King Vultures!
Incredible and beautiful habitat diversity!
Description of COSTA RICA: Bird & Wildlife Photography
Photography opportunities abound in Costa Rica. The Central American country of Costa Rica has become one of the most popular birding destinations in the Americas thanks to the abundance of birds and other wildlife. So of course, photography of the birds and wildlife must also be great!
Thanks to Costa Rica's incredible habitat diversity, and its location as part of the land-bridge between North and South America, it is home to over 800 species of birds that have been recorded within Costa Rica's borders.
We will visit two diverse habitats… in the mountains between 7000-10000 feet we hope to find Bay-headed Tanager, Rufous Motmot, Snowcap, Black-crested Coquet, Fiery-throated Hummingbird and, of course, the revered Resplendent Quetzal. In the lower elevations we find a plethora of toucans, aracaris, parrots, tanagers and yes, more hummingbirds!
Length of Tour
12-days/11-nights

Day 1 – Arrival and transfer to hotel
Arrival to San Jose and shuttle to Hotel. Depending on the arrival time, owl photography on the grounds of the lodge.
Day 2 – Pacific Coast Dry Forest
Drive towards the Pacific Coast, en route field photography for Tropical Dry Forest species such as Lesser Ground-Cuckoo, Black-headed Trogon, Turquoise-browed Motmot, Pearl Kite and more. Arrive to our hotel in the mid afternoon and do some photography on the grounds and gardens.
Day 3 -Tarcoles River Trip
Early morning boat ride on Tarcoles River for photography of wetland and mangrove species such as Bare-throated Tiger-Heron, Common Black-Hawk, Roseate Spoonbill, Mangrove Warbler, Boat-billed Heron and the endemic Mangrove Hummingbird.
In the afternoon we will do some field photography to capture the Scarlet Macaws, Fiery-billed Aracaris and more.
Day 4 – San Ramon Cloud Forest
After breakfast drive to our next destination, the Cloud Forest of San Ramon, where we will do field photography for species such as Golden-browned Chlorophonias, Sunbittern, Resplendent Quetzals, Northern Emerald-Toucanet and more. We will arrive to our lodge in the afternoon.
In the evening we will work with the endemic Bare-shanked Screech-Owl on the grounds of the lodge.
Day 5 – Northern Lowlands
After breakfast we will drive to our next destination, en route stop at Canopy San Luis to work on the feeders that are regularly visited by several species of tanagers such as Bay-headed, Silver-throated, Emerald and Speckled Tanagers.
Day 6 – Fruit feeders and High-speed Flash Hummingbirds
Photography at Laguna del Lagarto fruit feeders and lowland hummingbird species setups. Keel-billed and Yellow-throated Toucans, Brown- hooded Parrots, Green, Shining and Red-legged Honeycreepers, White-necked Jacobins, Green-breasted Mangos are some of the many species possible at this place.
Day 7 – King Vulture Blind
Bird feeders, King Vulture blind and Macro Photography for frogs and snakes. In the afternoon drive towards our destination in Sarapiqui area.
Day 8 – Cope Arte Gardens
After breakfast leave the lodge, en route visit Cope Arte Gardens, a local birder and artist's home with very active feeders, White-collared Manakins, Montezuma and Chestnut-headed Oropendolas, Rufous-naped Wood-rail, Crowned Woodnymph and Bronze-tailed Plumeleteer and many more. Also, we will go on the field to try some of the local owl roosting places, Spectacled and Crested Owls are possible here. We will continue to the highlands and arrive there late in the afternoon.
Day 9 – Savegre Cloud Forest and High-speed Flash Hummingbirds
Today we will start early on the ground of the lodge photographing the species that come to the gardens, White-throated Mountain-Gem, Talamanca and Volcano Hummingbirds, Acorn Woodpeckers and Long-tailed Silky-Flycatchers amongst them. Then we will drive to find our main target the Resplendent Quetzal.
In the afternoon a Multi-flash session with highland Hummingbirds will be set for us, our main target here is the beautiful Fiery-throated Hummingbird.
Day 10 – Savegre Cloud Forest and High-speed Flash Hummingbirds
We will spend our morning working on some local feeders to get more highland species. We will be spending the afternoon at Batsu Gardens where we will have flower setups for Hummingbird photography and fruit feeders as well. Golden- browned Chlorophonias, Slaty Flowerpiercers, Chestnut-capped Brushfinches, Flame-colored Tanagers and Scintillant Hummingbirds are some of our targets today.
Day 11 – Savegre/ Drive to San Jose
After breakfast we will do some field photography for species such as Flame-throated Warbler, Collared Redstart, Black-faced Solitary and then we will start our way back to San Jose and visit the Paramo to get landscape photos and work with the near endemic Volcano Junco and Timberline Wrens.
Day 12 – Return Home
Shuttles to international airport
Cost
Cost is $7,500 per person, based upon double occupancy, from San Jose, Costa Rica (Airport code SJO.
This trip ends in San Jose, Costa Rica (Airport code SJO).
Single Supplement
If a single hotel room is preferred, or we are unable to find a suitable roommate for you, a single supplement fee of $800 will be assessed.
NOTE: For boat-based tours, see pricing options for single cabins. Single cabin cost includes the single hotel cost above.
Minimum Number
If fewer than the minimum number of required participants are registered, we may still be able to run the trip by adding a small-group supplement fee, per person, determined by the number of participants registered.
Deposit Requirements
A $1,000 deposit per person is required to hold each space on this tour. Deposit may be made online by clicking the "Book Your Trip Now" button and using any credit card. If you prefer, you may call us at 888-875-9453 to pay by phone. You may also mail us a check, however, remember that all space is held on a first come-first served basis as deposits are received.
How to Book
In order to hold your space, click the "Book Your Trip Now" button above and complete the deposit process, including payment of the deposit through our Paypal portal using ANY CREDIT CARD. Upon completion of deposit, please visit our secure, online CLIENT INFORMATION FORM to complete your registration.
Final Payment
For all land-based tours: full payment by check is due 120 days prior to the departure date.
For all boat-based adventure cruises of 7-days or longer: full payment by check is required 180 days prior to departure.
NOTE: If you prefer to use credit card for final payment, a 3% fee may be added to cover the credit card merchant fees we incur.
Activity Level Rating: 2 (Note: 1 is easy and 5 is difficult)
Mostly easy trails, though often muddy. Some higher elevation walking (7000ft-10,000ft). Don't worry, we move slow to see more!
Photography Gear Recommendations
The best camera is the one you have with you! That said, we will help you get great photos no matter what camera you use.
This Photo Workshop is geared toward those using DSLR or Mirrorless cameras with interchangeable lenses, here is what we recommend that you bring:
• Bring at least 2 camera bodies – to reduce changing lenses and just in case of accidental damage to one
Recommended Lenses for Birds & Wildside
• 100-400mm (or equivalent) for birds in flight
• 500mm lens or longer for birds and wildlife
Recommended Lenses for Landscape Opportunities
• 24-105mm (or equivalent) for landscape and general purpose
• In addition you may also want to have an ultra-wide lens equivalent to about 16-35mm which may be used for fun landscapes and night sky photography.
Recommended Lenses for Macro (Bugs, Frogs, etc.)
• 100mm Macro is fine for general purpose macro photography
• 150mm Macro is best for small, quick moving subjects like frogs
Filters (For Limited Landscape Photography)
• Polarizing Filter for removing reflections (screw in for wide-angle lenses)
• Filter Holder for 4×6″ (or similar) filters
• 2-stop Neutral Density Filter
• 8-stop (or more) Neutral Density Filter
• 2-stop Hard and/or Soft Graduated Neutral Density Filter
Other Accessories
• Tripod for long exposures, big lenses and steady video
• Flash for low light, fill light and stop action
• Better Beamer or MagMod flash extender
• Rain cover for camera
• Weather resistant Camera Bag (Backpack style is best)
• Batteries and chargers
• Lots of memory cards!
• Laptop or other downloading device
Recommended Field Guide:
The Birds of Costa Rica
(2007, Cornell University Press)
By – Richard Garrigues
Purchasing Flights
Do not purchase your flights until the trip has been confirmed to go.
Detailed Trip Information
Upon notification that final payment is due (120 days prior to departure for land based tours / 180 days for boat based tours), you will receive a trip package of detailed information for your tour.
Any additional information about the trip, including lodgings, contacts, participants, meeting locations, etc., will sent about 2 weeks prior to the trip departure, or after final payment is received for late registrants.
Travel Insurance
As with all tours, we recommend purchasing Travel Insurance to help cover your investment, for covered reasons. Please see our section on Travel Insurance.
Passport & Visa
US Citizens may require a visa to enter certain foreign countries. See above for any required visa information.
Participants arriving to the USA from a foreign country may need to get a travel visa to enter the United States. Be sure to check the requirements for your country of origin.
Itinerary Changes
The trip itinerary is developed many months ahead of time. Occasionally, despite our best planning, changes may occur during the trip, or we may be forced to alter our plans. Changes may occur because of weather, road conditions, safety concerns or other circumstances. In these situations, it is the leader(s) responsibility to carefully consider and implement appropriate alternatives. Any additional costs incurred because of changes will be the responsibility of each individual participant. Refunds will not be issued as a result of itinerary changes.