FAROE ISLANDS: Wild Faroe Islands Photo Tour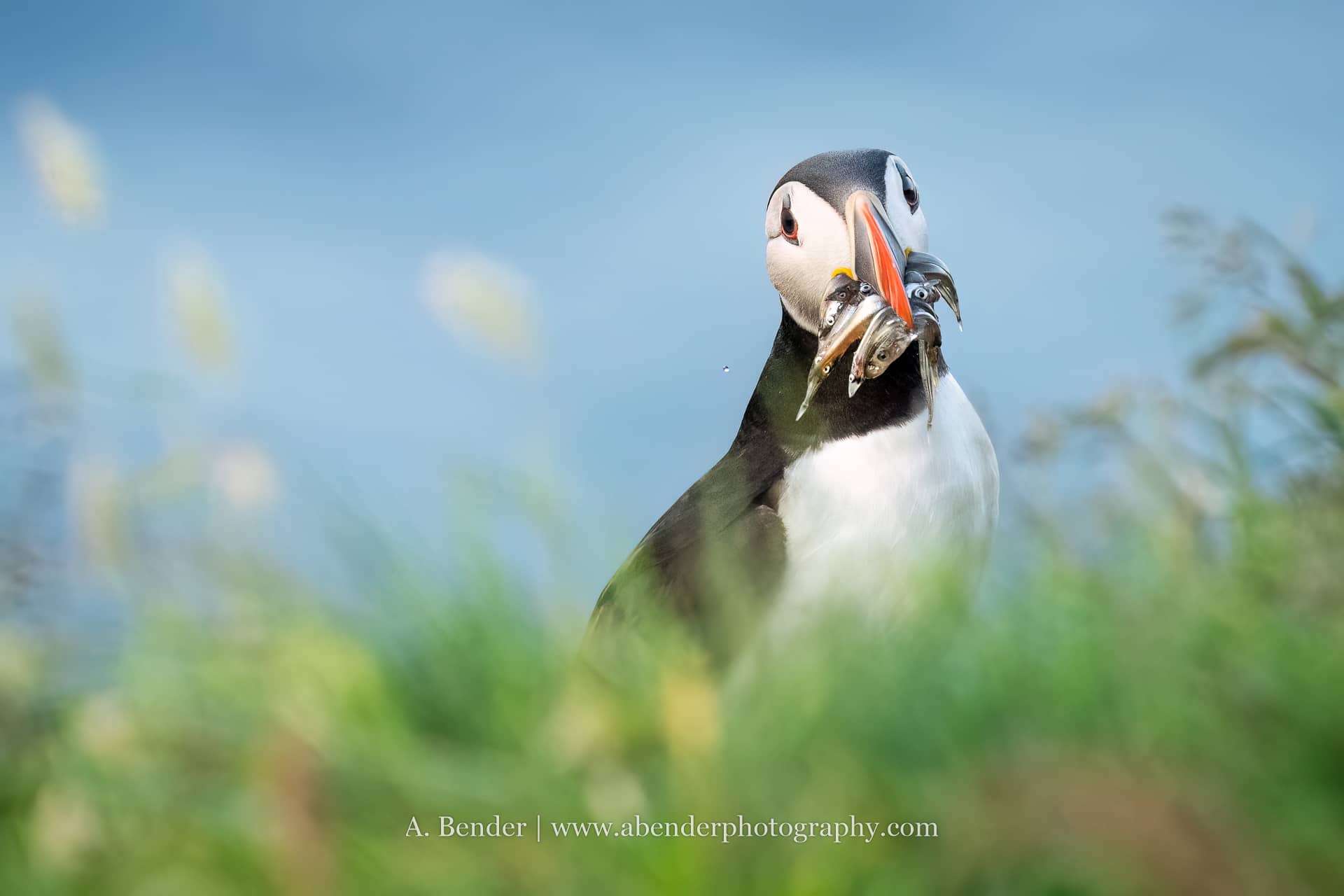 SCHEDULED TOURS
2024 :: July 1 - July 8

TOUR COST
From: $5,750 (See details)
Cost is per person, double occupancy from Vagar, Faroe Islands (FAE)
GROUP SIZE
3-4 Participants
AVAILABILITY
July 2024: 4 SPACES AVAILABLE
PRIVATE TOUR OPTION
This tour is available as a private trip for any size group. The tour cost will vary with the number of people and any custom requests.
If you have been on this tour, please be the first to leave a review!
Highlights of FAROE ISLANDS: Wild Faroe Islands Photo Tour
Hands-on photography instruction from award-winning, professional nature photographer, and Tamron Ambassador, Alyce Bender, and renowned Scottish/Faroese landscape photographer and guide, James Kelly.
The timing correlates with the arrival of millions of nesting seabirds, including Atlantic Puffins, eiders, Northern Fulmars, jaegers, murres, and many others.
Experience the long golden hours over rugged sloping green vistas and moody sea cliffs as this tour coincides with some of the longests days of the year. 
This workshop is ideal for those interested in learning about and photographing the wildlife and wild landscapes of these unique Nordic islands with a sprinkle of historic and cultural experiences included.
Description of FAROE ISLANDS: Wild Faroe Islands Photo Tour
The Faroe Islands, with their remote and untouched landscapes, offer a paradise for bird photographers. The archipelago's rugged terrain, towering cliffs, and breathtaking vistas provide endless opportunities to capture the raw beauty of nature. 
As spring transitions into summer, the Faroe Islands become a bustling haven for millions of migratory birds. The islands provide crucial nesting grounds for various species before they embark on their long journeys across the vast oceans. This period offers a unique opportunity to photograph these feathered visitors, from the endearing Atlantic puffins with their vibrant beaks to the elegant Northern Fulmars gliding effortlessly in the air. You may even have the chance to capture the Eurasian Oystercatcher, the national bird of the Faroe Islands, with its distinctive plumage.
While wildlife photography takes center stage on this tour, the enchanting landscapes of the Faroe Islands are not to be missed. As you traverse the islands, utilizing ferries and underwater tunnels to access different locations, you'll be greeted by a myriad of natural wonders. Waterfalls cascade down steep cliffs, creating a mesmerizing display of cascading water and mist. These waterfalls, coupled with the dramatic coastal cliffs where many bird species make their homes, provide excellent opportunities for capturing captivating land and seascape photographs.
Whether it's the awe-inspiring vistas of rugged coastlines, the vibrant play of light and shadows, or the dramatic convergence of land and sea, the Faroe Islands offer a visual feast for photographers. With its untouched and remote nature, this archipelago is truly a hidden gem that awaits those who seek to capture the raw and remarkable beauty of the world.
Length of Tour
8-Days/7-Nights

Brief Itinerary
Day 1: Arrive in Vagar Airport (FAE) 

Day 2: Tórshavn and surrounding area

Day 3: Tórshavn and surrounding area

Day 4: Mykines

Day 5: Mykines

Day 6: Suðuroy

Day 7: Northern Islands

Day 8: Depart the Faroes from Vagar Airport (FAE)
Detailed Itinerary
Please note that due to sudden shifts in weather and sea conditions, the itinerary may change during the tour for the safety and comfort of participants.
Day One: Arrive at Vagar Airport and get settled in Tórshavn
Bender and James will meet the group at the airport to pick up luggage and take everyone to our lodging in the capital city of Tórshavn.

Along the way, we may make a stop or two to give the group their first taste of the Faroese landscape. 

Stop at the local grocery store to pick up snacks and lunches for the week. 

(Lunch and Dinner out depending on timing of flight)
Day Two: Tórshavn and surrounding area
This will be the first day to get used to the northern latitude.

We will travel to the southern town of Kirkjubøur on the island of Streymoy. This village is regarded as the most important historical site in the Faroe Islands. Here we will be able to learn about some of the cultural history of the islands while we look for species like Eurasian oystercatchers, common eiders, and wagtails. 

After lunch, we will have a bit of rest time to acclimate to the long days ahead of us, as well as to pack an overnight bag.

Mid-afternoon, we will take a ferry to a neighboring island where colonies of puffins, storm-petrels, arctic terns, black-legged kittiwakes, and many others nest. Here we will stay the night, allowing us to photograph these birds through the long golden light and again in the soft morning glow.

(Breakfast at lodging, lunch out, packed dinner)
Day Three: Tórshavn and surrounding area
We continue to photograph the various bird species on this island through the morning.

A short stop will be made to visit and talk with some of the ladies of the island who knit and weave Faroese wool into beautiful but practical clothing items, such as sweaters (jumpers), socks, and beanies.

That afternoon we will catch the ferry back to Tórshavn where we will get lunch and visit a local park for some of the smaller species like common blackbirds, warblers, and flycatchers.

This will also be the afternoon to explore Tórshavn for any personal purchases in which you would like to take home to further remember your time here. 

As evening approaches, we will decide as a group if we want an early rest or to go out for additional landscape/wildlife photography as the sun sinks over the isles. 

(Packed breakfast, lunch out, dinner at lodging most likely)
Day Four: Mykines (pronounced 'Mee-chi-nes)
The morning sees us getting up early to pack an overnight bag and heading off to catch the morning ferry to the western most island in the Faroes – the island of Mykines.

This very special island is home to only 40 houses and 11 permanent residents. We will be staying overnight on the island in order to take advantage of having unlimited access to the hiking trails that surround the village and the long hours of light. 

Here we will have the unique opportunity to get within minimum focal distance of thousands of Atlantic puffins in the largest puffin colony in the Faroes. 

Beyond puffins, the island is home to nesting northern gannets, common murres, guillemots, terns, gulls, skuas, northern fulmars, swifts, wrens, martins, and many other species. Truly a bird photographer's paradise! 

(Breakfast at lodging, lunch and dinner out)
Day Five: Mykines
Waking up, surrounded by the green slopes of Mykines, we once again head out early to capture more images of the birdlife that call the island home for the summer. 

Taking a break mid-morning to pack up and check out of our lodging, we will grab an early lunch at the local cafe that serves homemade Faroese staples like fish stew, French hot dogs, and beef sandwiches.

We will then wrap up our visit and catch the afternoon ferry back to Vágar and return to Tórshavn for the evening.

(Packed breakfast or at lodging if able, lunch out, dinner at lodging most likely)
Day Six: Suðuroy
We board the morning ferry to Suðuroy. This ferry will take us to the southernmost island of Suðuroy. Thankfully, with about a two hour ride, we can all catch a few more hours of rest before arrival.

Once on Suðuroy, we will be visiting a series of different locations, from high cliffs to one of the few natural sandy beaches in the Faroes and the southernmost lighthouse in the islands, each of which presents photographic opportunities for various bird species and land/seascape images.

Potential species include puffins, oystercatchers, guillemots, northern fulmars, gulls, arctic terns, great skua, common redshanks, meadow pipits, and common ring plovers.

We will take advantage of the late ferry sailing to return to our lodging in Tórshavn late that evening having made the most of the long light hours this day.

(Breakfast on ferry, lunch and dinner out)
Day Seven: Northern Islands
Having a bit of a lie-in this morning to recoup from the previous day, we head out late morning to explore the far northern islands of Eysturoy, Bordoy, Kunoy, and Vidoy. 

During this day's explorations we will visit different vista points, harbors, and picturesque villages as we look for more puffins, whooper swans, eiders, golden plovers, jaegers, skua, and many other species.

This evening we will start packing up for departures the following day.

(Breakfast at lodging, lunch out, dinner at lodging most likely)
Day Eight: Depart the Faroes
After breakfast we will finish packing and load up for the last time on this tour.

All participants are dropped off at the airport for departing flights.

(Breakfast at lodging)
Cost
Cost is $5,750 per person, based upon double occupancy, from Vagar, Faroe Islands (Airport code FAE.
This trip ends in same as arrival city (Airport code ).
Meals (average lunch typically costs about $15USD with dinners being $30USD+)
Personal Purchases
Travel and Gear Insurance
Visas (if required) – those coming from the USA are given a no-fee visa upon arrival.
Single Supplement
If a single hotel room is preferred, or we are unable to find a suitable roommate for you, a single supplement fee of will be assessed.
NOTE: For boat-based tours, see pricing options for single cabins. Single cabin cost includes the single hotel cost above.
Minimum Number
If fewer than the minimum number of required participants are registered, we may still be able to run the trip by adding a small-group supplement fee, per person, determined by the number of participants registered.
Deposit Requirements
A $1,250 deposit per person is required to hold each space on this tour. Deposit may be made online by clicking the "Book Your Trip Now" button and using any credit card. If you prefer, you may call us at 888-875-9453 to pay by phone. You may also mail us a check, however, remember that all space is held on a first come-first served basis as deposits are received.
How to Book
In order to hold your space, click the "Book Your Trip Now" button above and complete the deposit process, including payment of the deposit through our Paypal portal using ANY CREDIT CARD. Upon completion of deposit, please visit our secure, online CLIENT INFORMATION FORM to complete your registration.
Final Payment
For all land-based tours: full payment by check is due 120 days prior to the departure date.
For all boat-based adventure cruises of 7-days or longer: full payment by check is required 180 days prior to departure.
NOTE: If you prefer to use credit card for final payment, a 3% fee may be added to cover the credit card merchant fees we incur.
The group will be staying in family home properties that are rented out to visiting groups such as ours. This will allow for us to have a kitchen, common areas, and semi-private sleeping quarters with shared bathrooms.
Activity Level Rating: 3 (Note: 1 is easy and 5 is difficult)
Most locations will involve a walk on uneven, sloping, and sometimes pathless routes. There are a couple of locations that will be longer, from 0.5-2 miles (1-3km) but this will depend on the weather and the group. Some of the best locations for puffins and other birds require a sustained uphill walking of up to 1 mile (1.6km). Good ability to walk with your gear and on uneven ground is important. The ground is often wet and slippery, good walking boots & poles are a must.
Note: We will be working around unguarded cliff edges. Those who have an extreme fear of heights may find this tour uncomfortable. We will also be using several ferries to access some of the outer islands
You will want to have a good selection of lenses with you on this trip. 
(Required)

Telephoto Lenses: The bird photography will need a minimum of a 400mm lens, with a recommendation of longer for better photos. Bender uses the Tamron 150-500mm and Tamron 50-400mm on a Sony A1 in Super35 (crop) mode allowing for an effective optical view of between 600mm-750mm. 

(Required)

Wide-angle lenses: This is also a must for this trip with scenic beauty everywhere you look. From wide open seas to mountain ranges, there is a feast for the eyes to capture the beauty of these islands. Bender traditionally uses a Tamron 18-300mm or the Tamron 11-20mm lens for landscapes here, while James uses Nikon 14-24mm & 24-70mm 

(Required)

 

Plenty of batteries and cards are required as there are not really any shops to purchase these once in the Faroes and certainly none when outside the capital of Tórshavn.  
(Recommended)

Macro lenses: The islands will be bursting with spring color. A macro lens can be a fun tool to have to capture unique images of the flowers, plants and lichen found across this archipelago. 

(Recommended)

Tripod: Tripods are also helpful if you are waiting for wildlife to do something so that you don't have to hold your camera all the time as well as providing a stable base for long exposure landscape photography. A monopod may be good for those who cannot hold long lenses but want to move quickly for wildlife. 

(Recommended)

Accessories: A circular polarizer will be a good option to help cut the glare off the ocean surface when capturing seascapes. They can also help bring a landscape to life under dull skies. Bring a remote shutter release if bringing a tripod.
Clothing:

The weather is … ever changing — chilly (40s and 50s) and wet with various levels of winds, making those cooler temperatures feel even colder.

Bring a layers!

A layered coat, warm hat, gloves, warm socks and hiking boots that can get wet. Something like a neck buff can be helpful too if the cold bothers you. At least one warm base layer shirt and maybe a pair of fleece lined pants will be helpful if the winds really pick-up during our trip. But also have a t-shirt or two in case there is a warm spell. Remember sunglasses and a hat

with chin strap

(because winds) as well for the long days in the field. Wool or synthetic moisture-wicking fabrics are best. Avoid bringing jeans.

(Required)

Wind and rainproof outer shell top and bottom for rain and/or high winds. An outer shell is required to keep you warm, dry, comfortable, and safe while out in the elements. Shell pants are also great so you don't have to worry about sitting in bird or sheep droppings. Rain covers for your gear will also be good to have as the Faroes frequently receive plenty of precipitation and we will be out photographing as long as the conditions are not extreme or dangerous. Mists and regular rains will not keep us from the field.
Both Atlantic Airways (the Faroese national airline) and SAS/Scandinavian Airlines offer flights into the Faroes.  When booking, we highly recommend flying with Atlantic Airways and also booking directly from their website: www.atlanticairways.com. Recent announcements also state Icelandair will start servicing the Faroe Islands in 2024.
Bender and James will provide participants with airport transfers from/to Vagar Airport, Faroe Islands (FAE).
For an birding book of the Faroe Islands in English consider: "AVITOPIA – Birds of the Faroe Islands Paperback" by Wolfgang Daunicht
Purchasing Flights
Do not purchase your flights until the trip has been confirmed to go.
Detailed Trip Information
Upon notification that final payment is due (120 days prior to departure for land based tours / 180 days for boat based tours), you will receive a trip package of detailed information for your tour.
Any additional information about the trip, including lodgings, contacts, participants, meeting locations, etc., will sent about 2 weeks prior to the trip departure, or after final payment is received for late registrants.
Travel Insurance
As with all tours, we recommend purchasing Travel Insurance to help cover your investment, for covered reasons. Please see our section on Travel Insurance.
Passport & Visa
US Citizens may require a visa to enter certain foreign countries. See above for any required visa information.
Participants arriving to the USA from a foreign country may need to get a travel visa to enter the United States. Be sure to check the requirements for your country of origin.
Itinerary Changes
The trip itinerary is developed many months ahead of time. Occasionally, despite our best planning, changes may occur during the trip, or we may be forced to alter our plans. Changes may occur because of weather, road conditions, safety concerns or other circumstances. In these situations, it is the leader(s) responsibility to carefully consider and implement appropriate alternatives. Any additional costs incurred because of changes will be the responsibility of each individual participant. Refunds will not be issued as a result of itinerary changes.