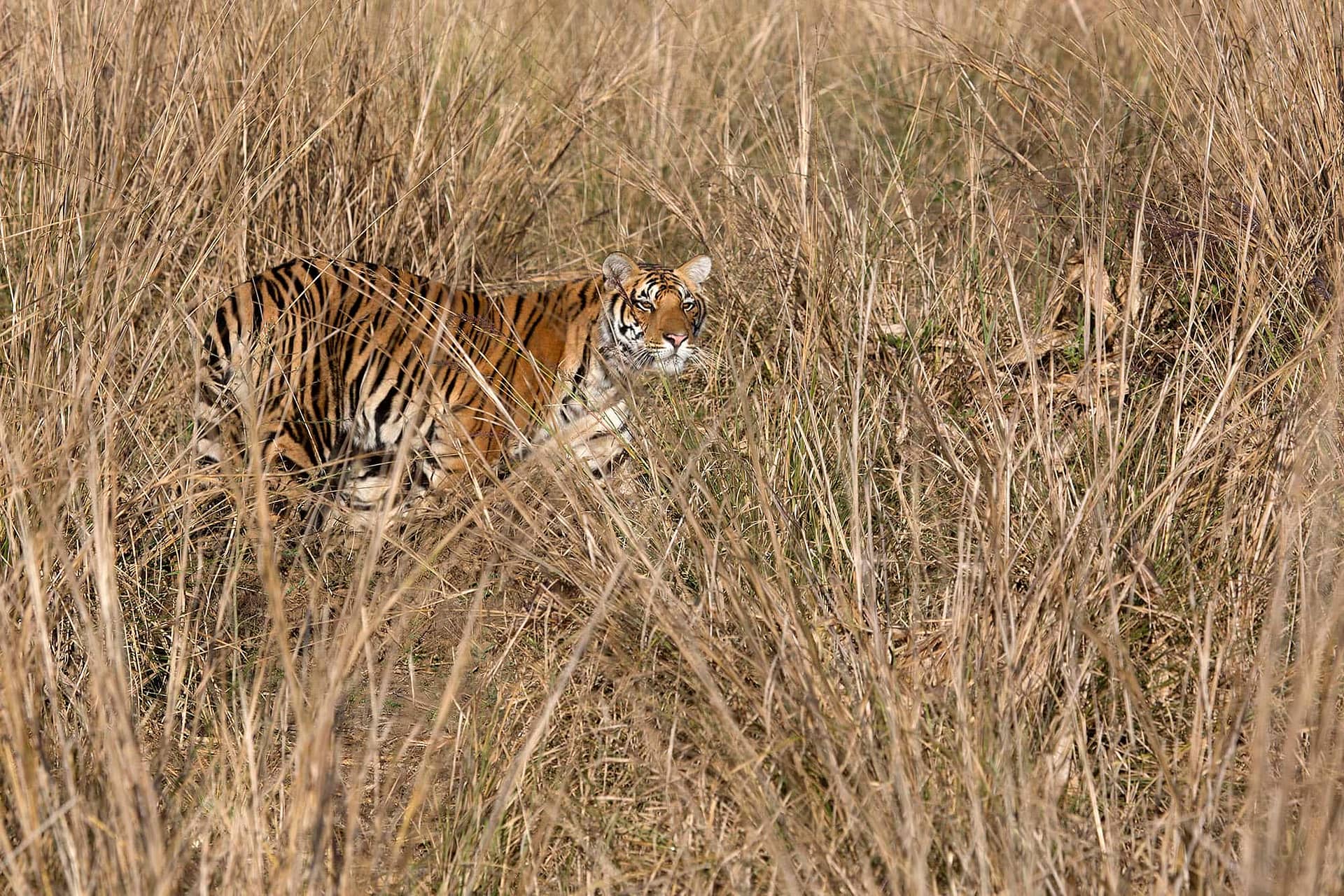 TOUR FOCUS

BIRDS & WILDLIFE
TOUR COST
From: $0 (See details)
Cost is per person, double occupancy from New Delhi, India (DEL)
GROUP SIZE
4-10 Participants
AVAILABILITY
8 Spaces Remain
PRIVATE TOUR OPTION
This tour is available as a private trip for any size group. The tour cost will vary with the number of people and any custom requests.
If you have been on this tour, please be the first to leave a review!
Highlights of INDIA: Tigers and Taj
Tigers commanding Ranthambore National Park
UNESCO wetlands teeming with birds
The exquisite Taj Mahal
Fascinating blend of culture, community, wildlife
Join OM System Ambassador, Lee Hoy for a photography journey of a lifetime
Adrian has been to India on many occasions and has the experience to identify all the amazing birds and wildlife on the journey
Description of INDIA: Tigers and Taj
Northern India contains some of the world's most impressive wildlife and cultural spectacles.
Rajasthan's beautiful Ranthambore National Park enthralls with its rich and abundant mammal fauna including the ultimate big cat – Tiger! We'll spend ample time exploring the park's forests, lakes and grasslands inhabited by Blackbuck, Blue Bull, Wild Boar, Sambar, Sloth Bear and a rich variety of birds.
The famous Keoladeo National Park in Bharatpur is renowned amongst birdwatchers and wildlife photographers worldwide. This expansive wetlands hosts a fabulous array of herons, storks, cranes, raptors, and wildlife. Imperial and Spotted Eagles hunt over jheels inhabited by Purple Swamphens, Pheasant-tailed Jacanas and improbably-tall Sarus Cranes. Woodland swamps are home to Long-tailed Nightjars, Dusky Eagle Owls and Siberian Rubythroats. Other inhabitants include Porcupines, Jackals, magnificent Rock Pythons and the graceful Jungle Cat.
Focus: Birds, Mammals, Culture, Photography, Scenery, Butterflies
Length of Tour
14-days/13-nights or 22-days/21 nights

Brief Itinerary
Day 1 – Arrive Delhi
Day 2 – Jaipur
Day 3- Jaipur; transfer to Ranthambhore
Days 4 – 7 – Ranthambhore
Day 8 – Ranthambhore; transfer to Bharatpur
Days 9 – 11 – Bharatpur
Days 12 & 13 – Transfer to Agra; Chambal
Day 14 – Agra; transfer to Delhi; end of main tour
Extension
Days 15 – 17 – Naintal
Days 18 & 19 – Kosi River and vicinity
Days 20 & 21 – Corbett National Park
Day 22 – Transfer to Delhi; evening flight back to US
Detailed Itinerary
Day 1 – Evening flight arrival in Delhi
Day 2 – Delhi to Jaipur
Transfer by road to Jaipur. On our way we will get our first experience at some of the more common and exotic species that make up this part of the world. In the afternoon we'll explore some of the cities showcase Rajasthani architecture with visits to the fantastic Palace of the Winds and Observatory.
Day 3 – Jaipur to Sawai Madhopur
This morning we'll visit the spectacular Amber Fort on the outskirts of Jaipur where we ride elephants to the main courtyard. After lunch we drive to Sawai Madhopur, situated near Ranthambore Reserve, and our base for the next 5 nights.
Days 4 – 7 – Ranthambore Tiger Reserve
While not guaranteed Ranthambore's tigers are frequently encountered in broad daylight. We have given ourselves a fine opportunity of seeing and hopefully photographing them with four days in the park. Impressive numbers of Sambar and Spotted Deer also graze these grasslands and are sometimes joined by Indian Gazelles. Other mammals we may encounter are Brown Mongoose, Golden Jackal, and Sloth Bear. Other cats are here too: Jungle Cats can sometimes be seen stalking sandgrouse or doves in the grasslands in the beautiful evening light. Leopards sometimes saunter across the tracks, particularly in the steep and wooded hills surrounding the hugely impressive Rajput fort of Ranthambore, which overlooks the park's main lake. Langurs frequent the battlements whilst overhead Bonelli's Eagles and Crested Serpent Eagles soar. Peacocks swagger through these open woodlands and above them Small Minivets, White-bellied Drongos and Blossom-headed Parakeets perch in fruiting trees, often in company with groups of Indian Tree-pies and Yellow-legged Green Pigeons. Stork-billed Kingfishers, their huge dagger-like bills making them look top-heavy, hunt along small rivers inhabited by Mugger Crocodiles and the secretive Brown Crake.
Outside the park are arid grasslands, which are home to Chestnut-bellied Sandgrouse, Indian Courser and the Bengal Fox. At Lake Soorwhal we can find a rich variety of birds and herds of the rare Blackbuck. This is a superb birdwatching site with the possibility of flocks of Demoiselle Cranes, White Pelicans and lots of waders including Great Thick-knee and Small Pratincoles.
Day 8 – Travel to Bharatpur
After a morning visit to the lovely 11th century Ranthambore Fort we take the early afternoon train to Bharatpur, where we'll be based at the beautiful Bagh for 6 nights.
Days 9 – 11 – Keoladeo Ghana National Park, Bharatpur
Bharatpur is one of the most important wetlands in the world and its abundant wildlife is very approachable making this paradise an absolute mecca for wildlife photographers. Early mornings are quite magical as mists rise from the water-lily bedecked jheels, obscuring the legs of a stately Blue Bull as it stands by a row of Jamun trees, these covered in the ghostly shapes of numerous Painted Storks – this is what Bharatpur is all about! Black-necked Storks stand nearly five feet and taller still are Sarus Cranes, which move solemnly through sedge beds, looking skyward as flocks of Common Cranes descend noisily from the sky. Cormorants, Darters and Comb Duck are all common, and stunning Pheasant-tailed and Bronze-winged Jacanas decorate the Sapan Mari Jheel. Brightly colored kingfishers, bee-eaters and rollers flash past Babul trees overhanging pools where Purple Swamp-hens congregate.
Amidst the adjacent forest dotted by pools, Bluethroats, Orange-headed Ground Thrushes, Indian Grey Hornbills and Coppersmiths inhabit the nearby cover as do roosting Long-tailed Nightjars, confident in their beautiful cryptic camouflage. Spotted Owlets roost in the garden and we'll hear the deep hoarse hoots of Dusky Horned Owls while Collared Scops Owls peer down at us from their roosts. Raptors really are exceptional here, with Imperial Eagle, Spotted Eagle, Red-headed Vulture and the ubiquitous Crested Serpent Eagle all-featuring. Dry lands offer yet another selection with Sirkeer Malkoha, Yellow-wattled Lapwing and the beautiful Red Avadavat, whilst beautifully patterned Rock Pythons bask in the sunshine. Bharatpur is also fantastic for mammals. Sambar and Blue Bull will be sighted daily whilst boisterous groups of Wild Boar splash in the shallows. We will likely hear the eerie calls of Golden Jackals before seeing our first one. Rhesus Macaques argue noisily in Kadam trees and Common Grey Mongoose wander along the paths as if they own them!
On one day we'll make a full day excursion to Bund Bertha where we have a good chance of seeing the rare Indian Skimmer. Great Thick-knees and Asian Openbills can usually be found along the shoreline and an assortment of thrushes and warblers in the scrub and woodland vegetation.
Day 12 – Bharatpur to Agra
Today we drive to Agra with an en-route visit to Fatehpur Sikri, the magnificent fortified city that was the capital of the Mughal Empire for a brief period. Later we visit the vast Agra Fort whose red sandstone ramparts protect wonderful pavilions of such intricate workmanship and mosques and audience halls decorated with ornate pillars inlaid with jasper and lapis lazuli.
Day 13 – Chambal
Boat ride on the Chambal River for Black-bellied Tern, Indian Skimmer, Gharial and Gangetic Dolphin.
Day 14 – Agra to Delhi
This morning we visit the Taj Mahal, the zenith of Mughal architecture and one of the most fabulous monuments in the world. This magnificent building is an experience not to be missed. Along the Yamuni River are Black-bellied Tern and River Lapwings. After lunch we'll return to Delhi.
– For those that are ending the tour, you will have a late evening return flight.
– For those continuing on the extension to Nainital & Corbett, we will be taking the overnight sleeper train from Delhi to Kathgodam.
Days 15 – 21 – Extension to Nainital & Corbett
To complete your sampling of Northern India's fabulous and varied wildlife our extension takes us by train into the foothills of the Himalaya and high into the hill station at Nainital, where we'll be based for 3 nights. The panorama of great Himalayan peaks (including 26,000 foot Nanda Devi) away to the north is quite astounding and the birdwatching is excellent too with Lammergeiers and Himalayan Griffon Vultures soaring over the convoluted landscape. Various laughingthrushes and accentors are on the agenda and in woodlands are some of the glorious jewels of these hills such as Golden Bush Robin, Fire-capped Tit, Red-flanked Bluetail and the immaculate Red-billed Blue Magpie. In Nainital's parks, gardens, meadows and pine forests we can see Black-headed Jay and the stunning Great Barbet whilst brilliantly colored Slaty-headed Parakeets are abundant.
From Nainital we head back downhill to the wonderfully situated The Den, where we'll spend two nights followed by two at the basic Dhikala compound in Corbett as we explore the Kosi River valley and Corbett National Park.
This is a fantastically rich area. Fabulous White-crested Laughing Thrushes will wake us with their maniacal laughter whilst Pallas's Fish Eagles and Mountain Hawk Eagles patrol the skies above the Inn. Both Tawny and Brown Fish Owls roost in trees down by the Kosi River where beautiful White-crowned and Plumbeous Water-Redstarts as well as the stunning Spotted Forktail live. Wintering Wallcreepers are not uncommon here and there is always the chance of an lingering Ibisbill! Jungle Cats, Leopards and Tigers are all possible here and inside Corbett, where the supporting cast includes Hog Deer and birds such as the gorgeous Green Magpie, elegant Kalij Pheasant, Red Junglefowl, an amazing variety of woodpeckers, bulbuls and drongos and the rapacious Collared Falconet, itself no bigger than a sparrow. By the unspoiled banks of the Ramganga River we can watch the Gharial, a prehistoric-looking fish-eating croc, whilst strident Himalayan Crested Kingfishers patrol the banks.
Day 22 – Return to Delhi, fly back to US
On the last day we return to Delhi by road, crossing the Ganges en-route. Late evening return flight back to the US.
Cost
$0 per person, based upon double occupancy, from New Delhi, India (Airport code DEL).
This trip ends in same as arrival city (Airport code DEL).
Single Supplement and other Cost Additions
If a single room is preferred, or we are unable to find a suitable roommate for you, a single supplement fee of $0 will be assessed.

Cost includes
Included in the cost are all accommodations, meals, transportation, entrance fees and service of the leader(s) and local guides, from Delhi.
Cost does not include
Not included in the cost is the airfare to Delhi, visa, travel insurance, camera fees at some sites, drinks, tips and items of a personal nature.
Minimum Number
If fewer than the minimum number of participants are registered the trip can still run with a small-group supplement fee per person determined by the number of participants.
Deposit Requirements
A $1,000 deposit per person is required to hold each space on this tour. Deposit may be made online by clicking the "Book Your Trip Now" button and using any credit card. If you prefer, you may call us at 888-875-9453 to pay by phone. You may also mail us a check, however, remember that all space is held on a first come-first served basis as deposits are received.
How to Book
In order to hold your space, click the "Book Your Trip Now" button above and complete the deposit process, including payment of the deposit through our Paypal portal using ANY CREDIT CARD. Upon completion of deposit, please visit our secure, online CLIENT INFORMATION FORM to complete your registration.
Final Payment
For all land-based tours: full payment by check is due 120 days prior to the departure date.
For all boat-based adventure cruises of 7-days or longer: full payment by check is required 180 days prior to departure.
NOTE: If you prefer to use credit card for final payment, a 3% fee may be added to cover the credit card merchant fees we incur.
We'll stay in a variety of accommodations, all with ensuite facilities, with the majority being good and comfortable. Standard international hotels in Delhi, Jaipur, Agra and Nainital.
For those on the extension, there is an overnight train on the first night with sleeping bunks in shared compartments. In Corbett, the rooms at Dhikala are more basic.
Activity Level Rating: 3 (Note: 1 is easy and 5 is difficult)
Participants should be reasonably fit to walk 2-7 miles per day. Most walking is not strenuous, but may be on narrow, uneven trails. We may climb a long series of steps to reach ancient forts. In Ranthambore, the terrain is rough in places, and our vehicle ride in the park may be quite bumpy. In Jaipur, we'll take an elephant ride and participants must be able to maneuver themselves on/off the animal (with assistance from helpers). We'll walk a relaxed pace for birding and enjoying surroundings.
On the extension, expect more strenuous, hilly conditions in the foothils of the Himalaya Mountains. We'll be at 4000-7500 feet in elevation; altitude sickness may be a factor.
Recommended Field Guide:
Birds of India
(Princeton Field Guides, 2nd edition, 2012)
by Richard Grimmett, Carol Inskipp and Tim Inskipp
This trip is for non-smokers only. Smoking is not permitted at any time during our safari.
You will need to get a Visa to enter India. Visa applications will need to be submitted and received prior to our trip.
Transportation:
Most of our transport will be by an air-conditioned minibus. The travel times between location can be long and we break the journey where appropriate. As one might expect traffic in the cities can be seem like rush hour at all times of the day! The longest journey will be on the last day of the extension, when it may take the better of the day, with stops, to get from Corbett to Delhi. In Ranthambhor Tiger Reserve and Corbett National Park we will be using a mixture of Jeeps and Cantars. Both are open topped vehicles.
We have one 3-hour train ride from Sawai Madhophur to Bharatpur. For those on the extension, there is an overnight train from Delhi to Kathgodam.
Weather:
The weather on the main tour should be ideal; daytime temperatures in the 70's and 80's with no humidity and little chance of rain. However, mornings, especially on game drives when we are in an open-top moving vehicle will be chilly. On the extension, conditions will vary, but overall expect cooler temperatures, 50's-70's, being winter in the foothills. Around Nainital, being the highest in elevation that we get, there is always a chance of snow at this time of year.
Purchasing Flights
Do not purchase your flights until the trip has been confirmed to go.
Detailed Trip Information
Upon notification that final payment is due (120 days prior to departure for land based tours / 180 days for boat based tours), you will receive a trip package of detailed information for your tour.
Any additional information about the trip, including lodgings, contacts, participants, meeting locations, etc., will sent about 2 weeks prior to the trip departure, or after final payment is received for late registrants.
Travel Insurance
As with all tours, we recommend purchasing Travel Insurance to help cover your investment, for covered reasons. Please see our section on Travel Insurance.
Passport & Visa
US Citizens may require a visa to enter certain foreign countries. See above for any required visa information.
Participants arriving to the USA from a foreign country may need to get a travel visa to enter the United States. Be sure to check the requirements for your country of origin.
Itinerary Changes
The trip itinerary is developed many months ahead of time. Occasionally, despite our best planning, changes may occur during the trip, or we may be forced to alter our plans. Changes may occur because of weather, road conditions, safety concerns or other circumstances. In these situations, it is the leader(s) responsibility to carefully consider and implement appropriate alternatives. Any additional costs incurred because of changes will be the responsibility of each individual participant. Refunds will not be issued as a result of itinerary changes.