BirdsCaribbean Partnership Tour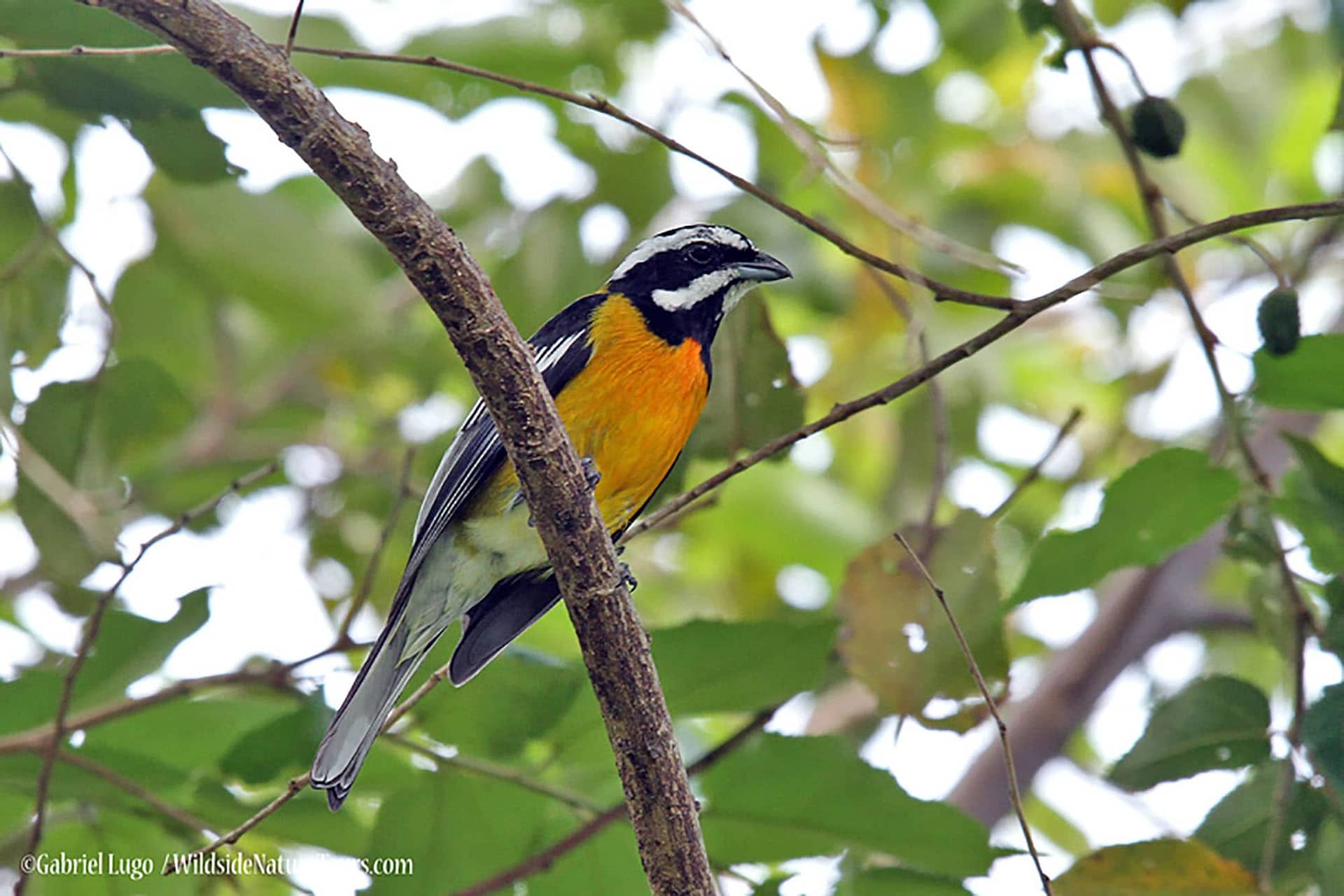 TOUR FOCUS

BIRDS & WILDLIFE
SCHEDULED TOURS
2023 :: December 7 - December 12

TOUR COST
From: $2,650 (See details)
Cost is per person, double occupancy from Montego Bay, Jamaica. (MBJ)
GROUP SIZE
4 - 8 Participants
PRIVATE TOUR OPTION
This tour is available as a private trip for any size group. The tour cost will vary with the number of people and any custom requests.
If you have been on this tour, please be the first to leave a review!
Highlights of JAMAICA: Endemic Birding
28 endemics plus a few endemic subspecies
Many Caribbean specialties
Overwintering neotropical warblers
Butterflies & reptiles
Description of JAMAICA: Endemic Birding
It should be no surprise that Jamaican birding is easy and fun! The endemic hummingbird, Red-billed Streamertail, is Jamaica's the national bird, so it has to be a fun place to visit! Add in 27 more endemic species, and many additional Caribbean specialties, and Jamaica becomes a destination no birder should miss! Jamaica is the 3rd largest of all the Caribbean Islands, even at just 146 miles from north to south, and 51 miles at its widest.
On this trip we are concentrating on the eastern side of the island where varied habitats throughout the lush, mountainous region offer many opportunities to see all the endemic bird species at a leisurely birding pace. We intend to bird locally but also travel a short distance to other regions (no more than 2 hours drive away) to catch up with specific species that are more localized.
Length of Tour
6-Days/5-Nights

Brief Itinerary
Day 1 – Arrive Montego Bay / Transfer to Toby's Resort
Day 2 – Birding Stewart Town
Day 3 – Birding John Crow Mountains
Day 4 – Birding John Crow Mountains / Ecclestown Road
Day 5 – Birding Ecclestown Road
Day 6 – Return Home
Detailed Itinerary
Day 1 – Arrive Montego Bay / Transfer to Toby's Resort
Arrive early afternoon between 1:00pm and 3:00pm.Transfer from Montego Bay airport as everybody arrives and drive to Rocklands Bird Sanctuary, a 25-30min drive.
Red-billed Streamertail and Jamaican Mango are so tame that they might come to a handheld feeder. Yellow-faced and Black-faced Grasquits, Orangequits, Jamaican Woodpecker, Caribbean Doves, Jamican Tody and more will be possible here.
Day 2 – Stewart Town / Hotel Galina Breeze
After breakfast well drive to Stewart Town area. In this area it will be possible to see around 20
endemics! Though our main targets will be Black-billed and Yellow-billed Parrots, any others will be very welcome, as usual, giving us more time birding for difficult endemics.
Day 3 – John Crow Mountains / Hotel Galina Breeze
An early start with packed breakfast will allow us reasonable time at the Hardware Gap area birding for more of Jamaica endemics, such as Jamaican Blackbird, Blue Mountain Vireo and the beautiful Crested Quail Dove. We'll also seek Chestnut-bellied and Jamaican Lizard Cuckoos and others, while enjoying the beautifully breathtaking landscapes!
We will take a break for a cup of famous Blue Mountain Coffee. Afternoon birding a little further up the road
enjoying more of Jamaica's bird life.
Day 4 – Galina Breeze Reserve / Bamboo Oasis / Hotel Galina Breeze
This morning is very flexible. If still needed, looking for Crested-quail Dove. If the dove was seen, our plan is to go birding in a property hotel owns and enjoy more views of Jamaican endemics.
At the same property we'll have a relaxed evening at Bamboo Oasis jumping in the cool river water.
Day 5 – Ecclesdown Road / Hotel Galina Breeze
Today we will drive to the foothills of the John Crow Mountains, to an area called Ecclesdown Road. Ecclesdown Road offers a good number of endemics and one ne of the targets here today is the Black-billed Streamertail. It is endemic to a small area of Jamaica and a bird that we will not encounter anywhere else.
Lunch at local restaurant to try the famous Jamaican jerk pork or chicken.
Day 6 – Return Home
After breakfast we will set off to Montego Bay and your departure flight. Airport drop-off will be about 12:00 noon, so plan flights accordingly.
Cost
Cost is $2,650 per person, based upon double occupancy, from Montego Bay, Jamaica. (Airport code MBJ).
This trip ends in Montego Bay (Airport code MBJ).
Single Supplement
If a single room is preferred, or we are unable to find a suitable roommate for you, a single supplement fee of $400 will be assessed.
Deposit Requirements
A $500 deposit per person is required to hold each space on this tour. Deposit may be made online by clicking the "Book Your Trip Now" button and using any credit card. If you prefer, you may call us at 888-875-9453 to pay by phone. You may also mail us a check, however, remember that all space is held on a first come-first served basis as deposits are received.
Minimum Number
If fewer than the minimum number of required participants are registered, we may still be able to run the trip by adding a small-group supplement fee, per person, determined by the number of participants registered.
How to Book
In order to hold your space, click the "Book Your Trip Now" button above and complete the deposit process, including payment of the deposit through our Paypal portal using ANY CREDIT CARD. Upon completion of deposit, please visit our secure, online CLIENT INFORMATION FORM to complete your registration.
Final Payment
For all land-based tours: full payment by check is due 120 days prior to the departure date.
For all boat-based adventure cruises of 7-days or longer: full payment by check is required 180 days prior to departure.
NOTE: If you prefer to use credit card for final payment, a 3% fee may be added to cover the credit card merchant fees we incur.
This trip includes standard hotels.
Activity Level Rating: 2 (Note: 1 is easy and 5 is difficult)
Mostly easy walks. Some rough roads to drive on.
Purchasing Flights
Do not purchase your flights until the trip has been confirmed to go.
Detailed Trip Information
Upon notification that final payment is due (120 days prior to departure for land based tours / 180 days for boat based tours), you will receive a trip package of detailed information for your tour.
Any additional information about the trip, including lodgings, contacts, participants, meeting locations, etc., will sent about 2 weeks prior to the trip departure, or after final payment is received for late registrants.
Travel Insurance
As with all tours, we recommend purchasing Travel Insurance to help cover your investment, for covered reasons. Please see our section on Travel Insurance.
Passport & Visa
US Citizens may require a visa to enter certain foreign countries. See above for any required visa information.
Participants arriving to the USA from a foreign country may need to get a travel visa to enter the United States. Be sure to check the requirements for your country of origin.
Itinerary Changes
The trip itinerary is developed many months ahead of time. Occasionally, despite our best planning, changes may occur during the trip, or we may be forced to alter our plans. Changes may occur because of weather, road conditions, safety concerns or other circumstances. In these situations, it is the leader(s) responsibility to carefully consider and implement appropriate alternatives. Any additional costs incurred because of changes will be the responsibility of each individual participant. Refunds will not be issued as a result of itinerary changes.