KENYA: 8-day Coastal extension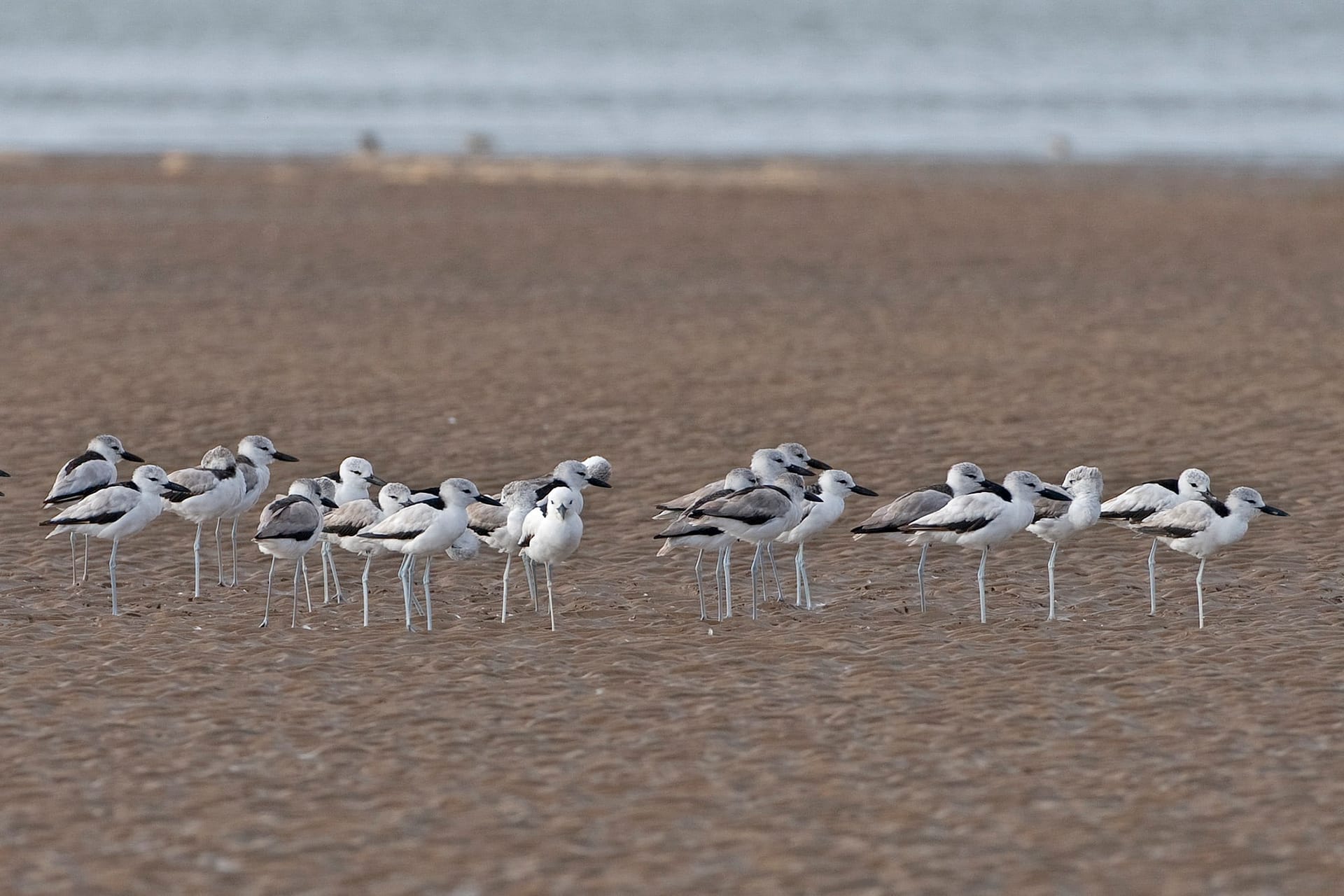 TOUR FOCUS

BIRDS & WILDLIFE
TOUR COST
From: $2,800 (See details)
Cost is per person, double occupancy from Nairobi, Kenya (NBO)
GROUP SIZE
4-6 Participants
PRIVATE TOUR OPTION
This tour is available as a private trip for any size group. The tour cost will vary with the number of people and any custom requests.
If you have been on this tour, please be the first to leave a review!
Highlights of KENYA: 8-day Coastal extension
Endemics of Taita Hills
Extraordinary wildlife in Tsavo East
Spectacular birding in Arabuko-Sokoke Forest
Crab Plovers on the flats at Mida Creek
Description of KENYA: 8-day Coastal extension
This wonderful 8-day/7-night extension to south eastern Kenya begins with a visit the Taita Hills for several forest endemics, followed by the arid bush of Tsavo East before finishing at Arabuko-Sokoke Forest, Kenya's coastal jewel.
The isolated Taita Hills, part of the Eastern Arc Mountain Range, rise steeply from Tsavo West National Park. This isolation has lead to a great deal of endemism and within the moist forests at an altitude of 6500 feet we will look for Taita White-eye, Apalis and the secretive Thrush.
Tsavo East is Kenya's largest National Park and made famous at the turn of the 20th century for its man-eating lions! It is home to most of the larger mammals including vast herds of dust-red Elephants and the last remaining 'tuskers'. Several species found in the more northerly arid region of the country can be found here such as Vulturine Guineafowl, Golden-breasted Starling and Gerenuk.
The more humid Kenyan coast offers a different habitat with coastal forests, tidal estuaries and creeks where Crab Plovers and an assortment of shorebirds winter.  The northernmost stand of Brachystegia forest is located at Arabuko-Sokoke where several endemics can be found including Sokoke Scops-Owl, Sokoke Pipit and the nomadic Clarke's Weaver (April to November).
This is a wonderful trip for photography. The combination of unusual scenery, beautiful and often very approachable wildlife, and rural Kenyan 'scenes' means that there is plenty to shoot on this Wildlife Safari.
As with all safaris, the itinerary can be altered and customized to suit your needs and goals, whether it would be more birding or mammals or length of trip. Two additional parks are within this region, Tsavo West and Shimba Hills.
This trip can be combined with a Kenyan, Tanzanian or Uganda Safari, or shorter trips that witness the Great Wildebeest Migration, or the endangered Mountain Gorillas.
Length of Tour
8-days/7-nights

Brief Itinerary
Day 1 – Overnight in Nairobi.
Day 2 – Nairobi to Voi
Day 3 – Taita Hills to Tsavo East
Day 4 – Tsavo East
Day 5 – Tsavo East to Malindi
Day 6 & 7 – Arabuko-Sokoke Forest & Mida Creek
Day 8 – Fly back to Nairobi
Detailed Itinerary
Day 1 – Arrival in Nairobi
Evening arrival in Nairobi
Day 2 – Nairobi/Mombasa Road – Voi Area
After breakfast, we drive south east along the Mombassa Road to Voi with a couple of birding stopovers along the way. One of the places we will be stopping is at Hunters Lodge and the nearby spring. Here, we will get a chance at kingfishers, Malachite, Pied, Grey-headed and Giant-one of the few good places to see the Giant, as well as both Golden and Palm Golden Weavers. For many years there has been a small colony of nesting Grey Herons, Sacred Ibis and Cattle Egrets here, we will also hope to see the Black-crowned Night Heron. We will proceed to Voi birding at the various hotspots.
Day 3 – Taita Hills to Tsavo East National Park
After an early breakfast, we depart for Taita Hills Forest. We will devote the entire morning looking for the Taita endemics and specialties. Taita Hills, a relict island of forests is home to three endemic species, Taita Thrush, Taita Apalis and Taita White-eye. There are other possible species here whose ranges just come over the border from Tanzania, including Stripe-cheeked and Yellow-streaked Greenbuls, Striped Pipit and Yellow-throated Woodland Warbler. After we have had our targets met, we will drive to Tsavo East National Park arriving with an afternoon game drive in this vast park with endless horizons allowing us to enjoy a great variety of mammals  including the beautiful Lesser Kudu, as well some unusual birds.
Day 4 – Tsavo East National Park
A full day with in Tsavo East National Park. Tsavo East was established in 1948 is the largest National Park in Kenya and worldly famous for its Man-eating lions featured in books and film, Man-Eaters of Tsavo. Owing the history to the construction of the railway that passes across Tsavo and reached Tsavo River in 1898, no doubt Tsavo is a magical place. During the construction of the bridge Lions (Man eaters of Tsavo) terrorized the workers, killing over 130 people before being killed by Col. Patterson. Tsavo East has very attractive scenic features besides its large herds of elephants, so called Red Elephants because of the red soil, as well as other different kinds of wildlife.
Birdlife is abundant in Tsavo East and species likely to be seen whilst driving through the park include; Crested Francolin, Yellow-necked Spurfowl, Helmeted Guineafowl, Spotted and Water Thick-knees, Crowned, Spur-winged and Three-banded Plovers, Chestnut-bellied, Liechtenstein's and Black-faced Sandgrouse, Namaqua Dove, Orange-bellied Parrot, Black-and-white, Great Spotted, Red-chested, African and Diederik Cuckoos, White-browed Coucal, Pearl-spotted Owlet, Palm Swift, Blue-naped Mousebird, Grey-headed and Striped Kingfishers, White-throated and Little Bee-eaters, Lilac-breasted and Rufous-crowned Rollers, Common Hoopoe, Abyssinian Scimitarbill, Eastern Yellow-billed and Von der Decken's Hornbills, D'Arnaud's Barbet, Nubian, Grey, Cardinal and Bearded Woodpeckers, Singing Bush Lark, Red-winged, Pink-breasted and Fawn-coloured Larks, Fischer's and Chestnut-headed Sparrow-Larks, Rock Martin, White-browed Scrub Robin, African Grey Flycatchers, Rattling, Ashy and Desert Cisticolas, Pale Prinia, Grey Wren-Warbler, Yellow-breasted Apalis, Northern Crombec, Yellow-bellied and Yellow-vented Eremomelas, Northern Grey Tit, Mouse-coloured Penduline Tit, Pygmy Batis and Northern White-crowned just to name a few.
Day 5 – Tsavo East National Park to Malindi
Our last morning in the park, as with an en route birding and game drive to the exit. We continue our journey onto Malindi and perhaps drop by either Arabuko-Sokoke Forest or the estuary at Mida Creek depending on tides and our timings.
Day 6 & 7 – Malindi – Arabuko Sokoke Forest, Mida Creek and Sabaki
Theses two days we will spent in the Malindi area visiting Arabuko Sokoke, Mida Creek plus other locations like Sabaki River estuary.
Arabuko Sokoke Forest is the largest natural coastal forest left in East Africa with three major habitats of Brachystegia woodland, Cynometra Forest with Thickets and Mixed Forest. The forest has very high biodiversity and we will be looking for many endemic and restricted species of birds, butterflies and mammals recorded here.
Among the wealth of birds we will look for the three near-endemics: Sokoke Scops Owl, Sokoke Pipit and with a great luck, Clarke's Weaver. Other globally threatened species include Southern Banded Snake Eagles, East Coast Akalat, Amani and Plain-backed Sunbirds. Regionally threatened species include African Pitta, Little Yellow Flycatcher, Scaly Babblers and African Crowned Eagles.
Mida Creek is also wonderful with its mudflats and 10km of unspoiled, mangrove-lined swamps that offer an unusual habitat, which is the home of the spectacular Crab Plovers. Other species we'll be looking for here includes White-Fronted and Lesser Sand plovers, Terek Sandpiper, Sooty Gulls, Black Herons, Crested and Lesser-Crested Terns, among a host of other waders. As from October to April, Mida Creek is a favored feeding ground and a wintering ground to thousands of European and Asian migrant shore birds.
Sabaki River mouth is unbelievable, with a variety of habitats from sandbanks, mud banks, and dunes, freshwater pools and marshes, scattered bushes and Mangrove swamps. The key species here are visiting flocks of Madagascar Pratincoles, African Skimmers, Whimbrels, Grey Plovers, Pacific Golden Plover, Zanzibar Red Bishop, Zanzibar Sombre Greenbul, Carmine Bee-Eaters, Yellowbill and the rare Broad-Billed Sandpiper among an incredible number of other water birds.
Day 8 – Morning in Malindi then Fly to Nairobi
This morning we will choose to visit some of the previously visited areas before we are transferred to the airport for our afternoon flight to back to Nairobi. Upon arrival we will be met and transferred to our airport hotel for our day rooms to freshen up as well as farewell dinner. We then take to shuttle to the airport for our home flight.
Note: The itinerary is subject to change based upon lodging availability and where the leader(s) feel the best wildlife and birding opportunities might be during our visit.
Cost
$2,800 per person, based upon double occupancy, from Nairobi, Kenya (Airport code NBO).
This trip ends in same as arrival city (Airport code ).
Single Supplement and other Cost Additions
If a single room is preferred, or we are unable to find a suitable roommate for you, a single supplement fee of $400 will be assessed.

The Cost Includes
All ground transport, game drives and park entrance fees; professional driver guide; meals and accommodation;  one-way flight Malindi-Nairobi; Flying Doctors Temporary Medical Travel Insurance; mineral water on game drives.
Note: There may be an additional surcharge should Park and or Conservation fees increase, which often happens with very little notice.
Cost Excludes
Airfares to Kenya; Visa fees (currently $50); beverages.; any items of personal nature (laundry, telephone calls and so forth); any services not mentioned or indicated as optional; gratuities to drivers / guides / porters / waiters.
Minimum Number
If fewer than the minimum number of participants are registered the trip can still run with a small-group supplement fee per person determined by the number of participants.
Deposit Requirements
A $1,000 deposit per person is required to hold each space on this tour. Deposit may be made online by clicking the "Book Your Trip Now" button and using any credit card. If you prefer, you may call us at 888-875-9453 to pay by phone. You may also mail us a check, however, remember that all space is held on a first come-first served basis as deposits are received.
How to Book
In order to hold your space, click the "Book Your Trip Now" button above and complete the deposit process, including payment of the deposit through our Paypal portal using ANY CREDIT CARD. Upon completion of deposit, please visit our secure, online CLIENT INFORMATION FORM to complete your registration.
Final Payment
For all land-based tours: full payment by check is due 120 days prior to the departure date.
For all boat-based adventure cruises of 7-days or longer: full payment by check is required 180 days prior to departure.
NOTE: If you prefer to use credit card for final payment, a 3% fee may be added to cover the credit card merchant fees we incur.
All the accommodations on this tour have clean comfortable rooms with en suite showers/baths and toilets and an the whole are very good, with excellent service.
Lodges and camps are based on availabilty and convenience to our wildlife locations.
Activity Level Rating: 2 (Note: 1 is easy and 5 is difficult)
A easy safari with a few long walks within Arabuko-Sokoke, Taita Hills and and Sabaki though nothing strenuous. Most of the walking is on even terrain and on the sand around the coast. In Tsavo East we are restricted to being in the vehicle.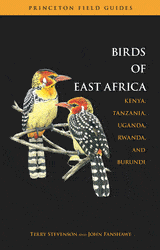 Recommended Field Guide:
Birds of East Africa (Princeton Field Guides, 2002) by Terry Stevenson and John Fanshawe
This trip is for non-smokers only. Smoking is not permitted at any time during our safari.
Trip Insurance is highly recommended for all safaris
You will need to get a Visa to enter Kenya. The current cost is $50 and this can be obtained online prior to arrival at the airport in Nairobi, Kenya
Malaria
There is a risk of malaria through the country. Check with your doctor for the recommended prophylaxis.
What to expect
This is a safari and as such we will concentrate on all the wildlife, as one would expect, the birds and mammals giving everyone time to view, experience and photograph them.
One or two hikes, especially at Sabaki along the estuary and in Arabuko-Sokoke Forest; a mostly pleasant and dry climate though more humid on the coast, breathtaking scenery and many excellent photographic opportunities.
We will be using the typical safari 'combo' vehicles such as a 4X4 Safari Mini Bus or Land Cruise. There is a pop-up roof that enables one to stand up to view and photograph wildlife. We will have a maximum of six participants per vehicle as this will guarantee everyone a window seat.
Purchasing Flights
Do not purchase your flights until the trip has been confirmed to go.
Detailed Trip Information
Upon notification that final payment is due (120 days prior to departure for land based tours / 180 days for boat based tours), you will receive a trip package of detailed information for your tour.
Any additional information about the trip, including lodgings, contacts, participants, meeting locations, etc., will sent about 2 weeks prior to the trip departure, or after final payment is received for late registrants.
Travel Insurance
As with all tours, we recommend purchasing Travel Insurance to help cover your investment, for covered reasons. Please see our section on Travel Insurance.
Passport & Visa
US Citizens may require a visa to enter certain foreign countries. See above for any required visa information.
Participants arriving to the USA from a foreign country may need to get a travel visa to enter the United States. Be sure to check the requirements for your country of origin.
Itinerary Changes
The trip itinerary is developed many months ahead of time. Occasionally, despite our best planning, changes may occur during the trip, or we may be forced to alter our plans. Changes may occur because of weather, road conditions, safety concerns or other circumstances. In these situations, it is the leader(s) responsibility to carefully consider and implement appropriate alternatives. Any additional costs incurred because of changes will be the responsibility of each individual participant. Refunds will not be issued as a result of itinerary changes.