MOROCCO: Birding the Edge of the Sahara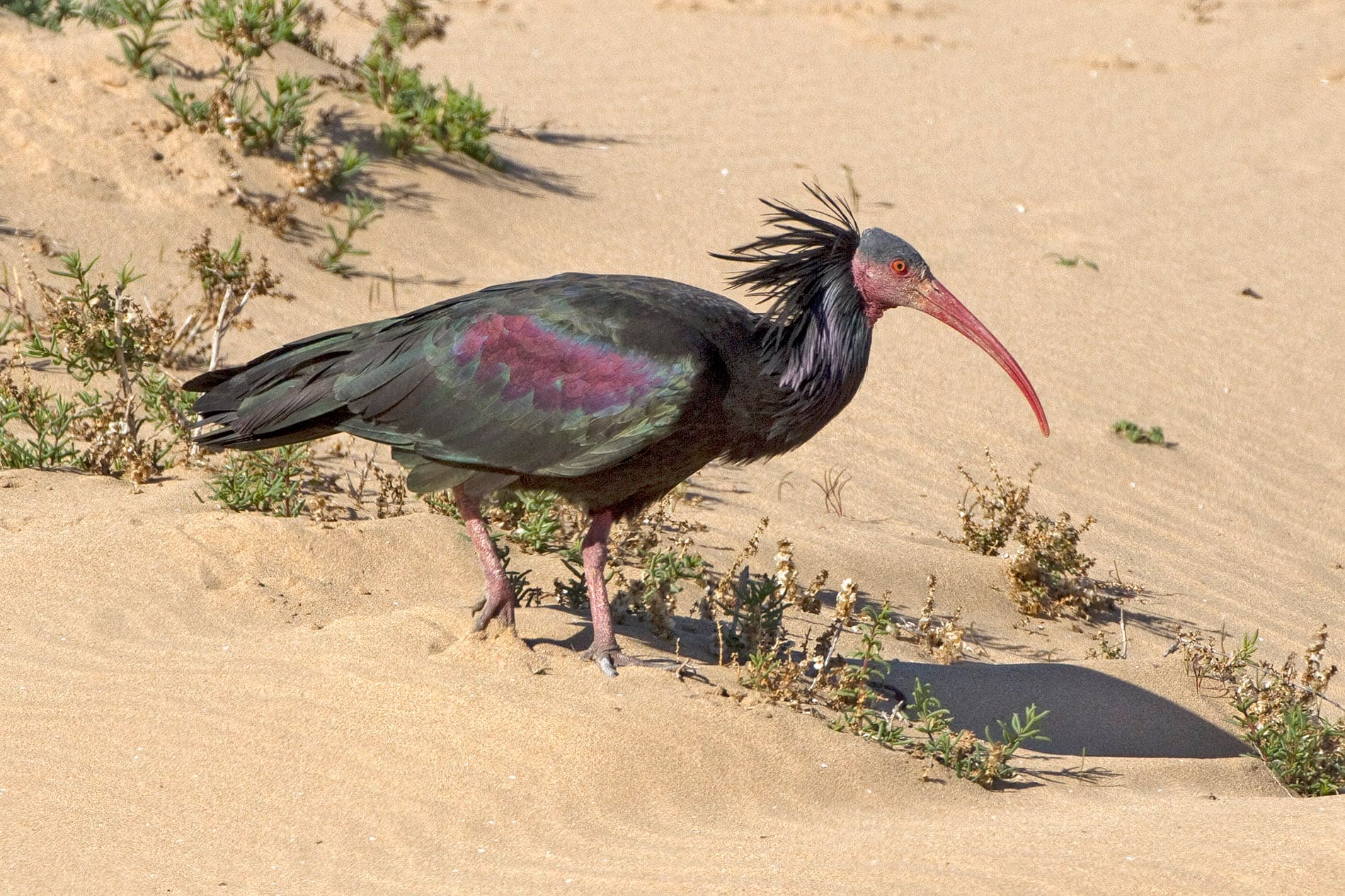 TOUR FOCUS

BIRDS & WILDLIFE
TOUR COST
From: $5,600 (See details)
Cost is per person, double occupancy from Agadir, Morocco (AGA)
GROUP SIZE
6-10 ( a second leader will be added with 8 or more) Participants
AVAILABILITY
2 spaces remain for 2023
Note 2023 itinerary will be run in reverse, beginning in Agadir and ending in Casablanca
PRIVATE TOUR OPTION
This tour is available as a private trip for any size group. The tour cost will vary with the number of people and any custom requests.
If you have been on this tour, please be the first to leave a review!
Highlights of MOROCCO: Birding the Edge of the Sahara
Birds and culture
Bald Ibis, one of the world's rarest birds
The elusive Dupont's Lark
Spectacular scenery through the Atlas Mountains
Kasbahs, ancient medinas and exotic souks
Sunrise camel ride in the Sahara Desert
Delicious Moroccan cuisine
Description of MOROCCO: Birding the Edge of the Sahara
From the coastal wetlands, over the High Atlas to the orange dunes of the Erg Chebbi along the edge of the Sahara – Morocco boasts the richest birdlife in North Africa. Endemic and specialty birds include African Marsh Owl, Double-spurred Francolin, Moussier's Redstart, Levaillant's Green Woodpecker, Tristram's Warbler, African Desert Warbler, Desert Sparrow, Crimson-winged Finch, the critically endangered Northern Bald Ibis, and elusive Houbara Bustard. Our spring tour coincides with the return of sub-saharan species such as Egyptian Nightjar and Blue-cheeked Bee-eater to the northern edge of their range, as well as numerous passerines heading for their breeding grounds in Europe. A dozen species of larks, including Thick-billed and Dupont's, along with Maghreb and Atlas Wheatears are likely as we explore most of this fascinating country. We also give you a chance to enjoy the rich culture and heritage of Mysterious Morocco with visits to the Roman ruins at Volubilis, the bustling medina in Fez, the world heritage site at Ait Benhaddou, and the souk in Taroudant to round out this wonderful destination.
Watch our webinars – Morocco: Birding the Edge of the Sahara,  Adrian's Favourite Birds of Morocco,  –
Focus: Birds, Culture, Scenery, Photography, Butterflies, Reptiles
Length of Tour
17-days/16-nights

Brief Itinerary
Day 1 – AM flight arrival in Casablanca. Transfer to Kenitra
Day 2 – The Zaers and Sidi Bourhaba
Day 3 – Merdja Zerga
Day 4 – Volubilis and Fez
Day 5 – The Middle Atlas
Day 6 – Zeida Plain to Erfoud
Days 7 & 8 – The Sahara Desert
Day 9 – Todra Gorge
Day 10 – Tagdilt Track and Vallee du Dades
Day 11 – The High Atlas
Day 12 – The Anti Atlas to Taroudannt
Days 13 & 14 – The Sous Valley
Days 15 & 16 – Sous-Massa National Park and Atlantic Coast
Day 17 – Return flight from Agadir via Casablanca
Note: Itinerary for 2023 will be in reverse, beginning in Agadir and ending in Casablanca
Detailed Itinerary
*Note: If you wish to arrive a day early we can make recommendations as to where to stay near the airport. Note, that the trip begins about 8am on Day 1.
Day 1 – AM arrival in Casablanca. Transfer to Kenitra
We begin at Casablanca Airport upon the arrival of the overnight flight from New York, which is currently approximately at 9am.
We head north to Rabat and visit the Chellah Necropolis, which was built in the 13th century by the Merenids and whose walls enclose the remains of the ancient roman city of Sala Colonia. Here we will get a good introduction to some of the common birds such as White Stork, Stonechat, Common Bulbul, Great and Atlas Blue Tit, Chaffinch, Blackcap, Spotless Starling and Robin.
Day 2 – The Zaers and Sidi Bourhaba
An early start today is essential for a trip southeast of Rabat into the King's hunting forest, the Zaers, to see and hear Double-spurred Francolin, a secretive game bird that calls from the tops of tree stumps. Other woodland species possible include Jay, Woodpigeon, Stock Dove, Greenfinch, Serin, Pied Flycatcher, Redstart and Barbary Partridge. We'll spend the afternoon along the Atlantic coast, visiting lagoons and saltpans including an excellent freshwater lake, Lac de Sidi Bourhaba. Good numbers of Red-knobbed Coots should be on the lake as well as Marbled Teal and Purple Gallinule, while Western Marsh Harriers quarter the reed beds. The beaches hold numerous Black-headed, Yellow-legged and Lesser Black-backed Gulls and with luck a Mediterranean Gull.
Day 3 – Merdja Zerga
After breakfast we head north to Merdja Zerga, which means "Blue Lagoon". This large coastal lagoon teem with thousands of waders including godwits, Greenshank and Redshank, lingering ducks and flamingoes. The marshes are one of the few places to find the African Marsh Owl, an endemic subspecies. We will also scan the beach and Atlantic Ocean for terns, gulls, any skuas on passage and Balearic Shearwater.
Day 4 – Volubilis and Fez
Today we head inland across the rolling agricultural plains and through olive groves to visit Volubilis, the largest and best-preserved Roman ruins in Morocco dating back to the 3rd century BC. While exploring the well-preserved mosaics, oil presses and public baths we will no doubt be joined by an assortment of lizards and butterflies including Common Blues and Bath Whites as well as Crested Larks, Black Redstarts and possibly Blue Rock Thrush. This afternoon we visit the medina in the oldest of the Imperial cities, Fez. Our guide will take us through the incredible maze of twisting alleys and covered bazaars with its aroma of spices and kaleidoscope of colors, stopping to see the 14th century Attarine Medersa with its beautiful craftsmanship and ending up at the extensive dye pits and tanneries, that make up the Fes el-Bali medina, one of the largest living medieval cities in the world.
Day 5 – The Middle Atlas
This morning we travel southeast; gradually climbing into the beautiful cedar forests of the Middle Atlas and the forest of Jabaa where Levaillant's Green Woodpecker, Great-spotted Woodpecker, Woodlark, Coal Tit, Nuthatch, Short-toed Treecreeper and Firecrest are possible and were we should come across small troops of endemic Barbary Apes. East of Ifrane is a area known as "the region of the lakes", it is here where the forests and barren rocky slopes converge, that the spectacular Moussier's Restart breed as well as the black-throated form of Northern Wheatear, known as "Seebolm's Wheatear". We'll encounter our first Sparrowhawk, Ravens, and possibly a lingering Ring Ouzel, and look for Ruddy Shelducks beside the upland water of Aquelmane Sidi Ali.
Day 6 – Zeida Plain to Erfoud
An early morning start to visit the stony plain near Zeida to search for Dupont's Lark amongst the sagebrush. This secretive species sings before dawn and is best located at first light. As dawn breaks Red-rumped Wheatears and Thekla Larks will greet us, and the snow capped peaks of the distant High Atlas will provide the perfect backdrop for our first desert birding. As we begin to head east through the arid landscape we will see Date Palm groves that line watercourses and we may encounter such species as the desert race of Southern Grey Shrike, Desert Lark, Black and Black-eared Wheatear as well as Lanner. A characteristic bird of the desert wadis is the White-crowned Black Wheatear, which we should find as we near the oasis town of Erfoud. The day will end with a search of the stone desert for Hoopoe Lark and Cream-coloured Courser.
Days 7 & 8 – The Sahara Desert
One of the highlights of the trip will be the 2 days spent driving by Land Rover into the Sahara desert to Erg Chebbi; the largest dune system in Morocco which makes for a spectacular backdrop for some high quality birding. It'll be another early morning start in order to catch the sunrise over the dunes. After having breakfast we'll search for the increasingly rare Desert Sparrow, which can often be found around the cafes and Brown-necked Ravens that fly over Merzouga. The gardens of our kasbah is a good place to find the Saharan (Eastern) Olivaceous Warbler. The tamarisk covered wadis and the dry lakebed (in most years) here boast a good variety of true desert species, including Fulvous Babbler, Trumpeter Finch, Desert Wheatear and both African Desert and Tristram's Warbler. Should the lakebed be full of water it will a welcome sight as we will be astonished by the number of waterfowl that are able to find this temporary body of water in the desert as they journey north. We will scour the expansive stoney landscape for Desert Lark, Bar-tailed Lark, Long-billed Lark (recently split from Crested Lark), and in recent years there have been reports of African Dunn's Lark. At dusk we'll look for Egyptian Nightjar and Pharaoh Eagle Owl.
Day 9 – Todra Gorge and the Vallee du Dades
Today we head west stopping to look for Lanner, Trumpeter Finch, Bar-tailed Lark and sandgrouse. Driving through the lush palm groves of the Vallee du Dades,alongthe southern foothills of the High Atlas, we'll be on the lookout for Blackbirds, Blue-cheeked Bee-eater, Golden Orioles, Rollers and Hoopoes as we head to the Gorges du Todra, whose towering pink rock walls are 3000' high. Here Rock Bunting, Rock Sparrow and Blue Rock Thrush sing from the rocks, while Crag Martin's and Bonelli's Eagles are seen over the chasm. Time permitting we'll explore the Tagdilt track.
Day 10 – The Tagdilt Track and Vallee du Dades
South of Boumalne lies a very productive area of hamada or black stone desert known as the Tagdilt track. It is here that we have our best chance of locating the desert loving wheatears and larks; Thick-billed, Lesser Short-toed, Hoopoe, Desert, Bar-tailed and Temminck's Lark as well as Desert and Red-rumped Wheatear. We'll also keep an eye out for other arid loving species such as Cream-colored Courser and Trumpeter Finch. Fat Sand Rats, a common prey item of the Long-legged Buzzard, are abundant here. In the past this has been one of the best areas for Pin-tailed and Crowned Sandgrouse, though they are highly nomadic, and Houbara Bustard, one of country's rarest birds – a species that sadly has almost been hunted to extinction in Morocco. We travel west through the Vallee du Dades stopping for lunch at a kasbah and finishing the day around the Mansour Eddahbi Dam in Ouarzazate, where an assortment of waterfowl including Great-crested Grebe, waders and Gull-billed and Black Terns are possible
Day 11 – The High Atlas
This morning we visit the fortified granary and village of Ait Benhaddou a world heritage site, dominated by thick walls and angled towers made of pise. While heading east we'll looking for the most elusive of Morocco's seven breeding wheatears, the Maghreb (Mourning) Wheatear and then it's onto the snow-covered peaks of the High Atlas. We travel over the Tizi-n-Tichka pass, keeping an eye to teh sky for Lammergeier, and onto our base 8000' up at the ski resort at Oukaimeden. Special birds here found at the edge of the snow line include, Alpine Accentor, Alpine and Red-billed Chough, Shore Lark, Rock Sparrow and probably the most reliable spot for Crimson-winged Finches in the Western Palearctic. We will also be on the look out for Golden Eagle, Barbary Falcon, Meadow Pipit, Gray Wagtail and White-throated Dipper.
Day 12 – The Anti-Atlas, Tiz-n-Test to Taroudant
This morning we head southwest over the Anti-Atlas through the narrow and magnificent Tiz-n-Test pass, stopping on the way to look for two North African endemics, Levaillant's Green Woodpecker in the Holm Oak belt, and Tristam's Warbler on it's breeding grounds if we haven't already seen them. At the bottom of the pass we enter the valley of the River Sous with its endemic argana forest, kasbahs and delightfully scented orange groves.
We spend the next several nights based in the old imperial southern capital city of Taroudant, where Little and Pallid Swifts perform there aerial acrobatics over the rooftops, and White Storks nest atop the palm trees. We'll explore the souk with all its exotic splendors; water sellers, Berber carpets and colorful spices. The fine art of bargaining will be necessary in order to return with a souvenir.
Days 13 & 14 – The Sous Valley
We will spend the next two days exploring the Sous Valley from Taroudant eastwards to the rugged gorge at Aoulouz. At Aoulouz we enter into the region's Argana forest, an open thorny habitat reminiscent of the savannahs south of the Sahara. While common species such as Long-legged Buzzards, Southern Gray and Woodchat Shrikes hunt from the argana, we will be on a constant look out for North Africa's rarest raptor, the elusive Dark Chanting Goshawk. Being at the foothills of the Anti-Atlas, this is a wonderful area in which to scan the skies for Eagles as they ride the thermals over Igoudar – Golden, Booted and Short-toed are likely while Tawny Eagle would be the 'icing on the cake!'
We'll walk along the river where Kingfisher, Yellow and White Wagtail including the Moroccan subspecies subpersonata are likely, and into the gorge at Aoulouz, where eagles and falcons soar; Crag Martins chase each other and Blue Rock Thrushes can be found along the cliffs. We will also see the ledges and caves where Bald Ibis once nested.
The valley should be full of passerines with migrating warblers such as Chiffchaff, Blackcap, Bonelli's, Willow, Subalpine, Spectacled and Sardinian Warbler and flocks of Goldfinches, Serins and Spanish Sparrows while Black-shouldered Kites hover and Montagu's Harriers quarter the irrigated fields. Fulvous Babbler's travel in small family groups, Lesser Kestrels circle the kasbahs and Quail can be heard calling from ploughed fields. Colorful species such as Common Cuckoo, Golden Oriole, Hoopoe, Turtle Dove and European Bee-eater are likely to also be encountered. At dusk we'll search the wadi's for Red-necked Nightjar.
Day 15 – Sous-Massa National Park
We'll spend the day at possibly the richest ornithological site in Morocco. The rich fertile estuary of the Oued Massa, with its reed beds and mudflats, is surrounded by an arid landscape. It is here that Jonah is alleged to have been cast-up by the whale.
Beginning at the eastern end we'll follow the Massa towards the coast. Amongst the reed beds, with luck we'll see Little Bittern or one of the rarer herons – Purple, Squacco or Night, and glimpse one or more of the Crakes; Spotted, Baillon's or Little Crake. Cetti's and Reed Warbler breed here, while Sedge and Great Reed should be migrating through. The globally endangered Marbled Teal is common on the lagoon as is Little Grebe, and we should see a few lingering ducks such as Tufted and Pochard. A local specialty is the Brown-throated Sand Martin, which can be seen hawking insects over the water's surface. Along the edge of alfalfa fields Corn Bunting sing from posts and Cirl Buntings dart back and forth while the secretive Black-crowned Tchagra will no doubt be heard before we find it sulking in the bushes. Laughing Doves 'laugh' from the palm trees and the buzzy call of Zitting Cisticolas fill the air.
Among the huge white dunes that form a stunning backdrop on one side of the river, we shall search for lingering Common Cranes. Wild Boars have been seen drinking from the water's edge. On the opposite side Leopard Lizard, Helmeted and Moorish Geckos, as well as a variety of skinks can be found in the extraordinary cactoid-euphorbia heath, while Little Owl's dose in the shadows of rock crevices. Spotless Starlings and House Buntings can be seen on the ochre walls of the surrounding villages and Stone Curlews are found in rocky agricultural pastures. We'll also search the arid fields surrounding a nearby reservoir for any Sandgrouse. Though several species are possible, Black-bellied are the most likely.
Day 16 – Tamri, the Atlantic Coast & Sous-Massa National Park
This morning we head north along the coast. Here the slopes of Atlas Mountains fall steeply to the Atlantic Ocean. Our first stop will be at Cape Rhir where a little sea watching may produce Gannet's, Cory's and Balearic Shearwaters, Sandwich Terns or a Sabine's Gull. On the golden beaches we'll find small flocks of the rare Audouin's Gulls amongst the common Lesser Black-backed and Yellow-legged Gulls. At Tamri along a thin strip of coastal steppe habitat we'll search for one of the worlds rarest birds, the Northern Bald Ibis, which use their long curved bills to probe the soft sand for insects. Disappearing at an alarming rate due to habitat loss, these pre-historic looking birds number around 500 in the wild.
The afternoon will be spent along the Oued Sous, which lies adjacent to one of the King's many Royal Palace's. This is a wonderful wide sandy estuary on the southern outskirts of Agadir. Here a good variety of waders, including Ruff, Oystercatcher, Spoonbill, Glossy Ibis, Black-winged Stilt and Avocet can be found. We should have excellent views of hundreds of Greater Flamingos as well as the white-necked Moroccan race of Great Cormorant. We'll follow the paths through the low tamarisk scrub, coming across the North African race of Black-billed Magpie, with a bare blue eye-patch, and migrants, possibly including Wryneck. The mudflats hold Ringed, Little Ringed and Kentish Plovers and maybe we'll be lucky enough to come across a Lesser-crested Tern, Slender-billed or Mediterranean Gull, Western Reef Heron or an early returning Collared Pratincole.
Day 17 – Return flight Agadir – Casablanca – New York
Note: Itinerary for 2023 will be in reverse, beginning in Agadir and ending in Casablanca
Cost
$5,600 per person, based upon double occupancy, from Agadir, Morocco (Airport code AGA).
This trip ends in Casablanca, Morocco (Airport code CMN).
Single Supplement and other Cost Additions
If a single room is preferred, or we are unable to find a suitable roommate for you, a single supplement fee of $600 will be assessed.

Cost Includes
All lodging, transportation, meals, entrance fees and certain tips from Casablanca on Day 1 through departure from Agadir on Day 17.
Cost Excludes
Your flight to Casablanca and return from Agadir and tip to driver.
Minimum Number
If fewer than the minimum number of participants are registered the trip can still run with a small-group supplement fee per person determined by the number of participants.
Deposit Requirements
A $500 deposit per person is required to hold each space on this tour. Deposit may be made online by clicking the "Book Your Trip Now" button and using any credit card. If you prefer, you may call us at 888-875-9453 to pay by phone. You may also mail us a check, however, remember that all space is held on a first come-first served basis as deposits are received.
How to Book
In order to hold your space, click the "Book Your Trip Now" button above and complete the deposit process, including payment of the deposit through our Paypal portal using ANY CREDIT CARD. Upon completion of deposit, please visit our secure, online CLIENT INFORMATION FORM to complete your registration.
Final Payment
For all land-based tours: full payment by check is due 120 days prior to the departure date.
For all boat-based adventure cruises of 7-days or longer: full payment by check is required 180 days prior to departure.
NOTE: If you prefer to use credit card for final payment, a 3% fee may be added to cover the credit card merchant fees we incur.
A variety of mid-range accomodations that will give you an idea of the "real" Morocco, including Riads and a townhouse. All but one is ensuite, and that is a townhouse with facilities on each floor.
Activity Level Rating: 3 (Note: 1 is easy and 5 is difficult)
1-5 miles of walking a day. The terrain will vary – sand, rocky, and possibility snow or ice, often uneven. You'll need to be able to climb short sections of steep sand dunes, and gentle uphill walks in the mountains at 8000 feet.
Walking:
Walking will be at a slow pace, and usually no more than 3-5 miles a day. The terrain is mostly level, though there will be times when we walk distances in soft sand and over stoney ground. In the High Atlas we will be at an elevation of 8000′
Recommended Field Guide
Birds of Europe
(2nd Edition, 2010, Princeton University Press)
by Lars Svensson, Killian Mullarney and Dan Zetterstrom
Non-Smoking Trip
This trip is for non-smokers only. Smoking is not permitted at any time during our tour.
Visa
No Visa is required to visit Morocco
Flights
You will need to book a flight on Royal Air Maroc (RAM) from New York (JFK) to arrive in Casablanca (CMN) on the morning of Day 1, usually around 9am. If you would like to arrive a day earlier or via another route (in which case you will need to arrive a day earlier), we can recommend an airport hotel.
On Day 17 you will need to book your return flight from Agadir (AGA), departing in the morning to Casablanca, to connect with your return flight from Casablanca (CMN) to New York (JFK).  Note: Please do not book your flight without first checking with Adrian re: the status of the trip, and the necessary return flight schedule from Agadir.
Weather
This is the beginning of springtime. Expect sunny clear days with temperatures ranging from the 60's to mid 80's. Cool nights and early mornings with temperatures in the low 40's. While the rainy season is usually during the winter months, rain is quite possible (and when this happens it does tend to be cooler) and we may have the odd day affected by it, but rarely does it make us loose much time in the field. It can also be windy on the coast. Expect it to be chilly high up on the slopes of the Atlas Mountain, with snow on the ground, and of course the desert will be considerably warmer – low 90's. Sand storms are also possible at this time of year.
Purchasing Flights
Do not purchase your flights until the trip has been confirmed to go.
Detailed Trip Information
Upon notification that final payment is due (120 days prior to departure for land based tours / 180 days for boat based tours), you will receive a trip package of detailed information for your tour.
Any additional information about the trip, including lodgings, contacts, participants, meeting locations, etc., will sent about 2 weeks prior to the trip departure, or after final payment is received for late registrants.
Travel Insurance
As with all tours, we recommend purchasing Travel Insurance to help cover your investment, for covered reasons. Please see our section on Travel Insurance.
Passport & Visa
US Citizens may require a visa to enter certain foreign countries. See above for any required visa information.
Participants arriving to the USA from a foreign country may need to get a travel visa to enter the United States. Be sure to check the requirements for your country of origin.
Itinerary Changes
The trip itinerary is developed many months ahead of time. Occasionally, despite our best planning, changes may occur during the trip, or we may be forced to alter our plans. Changes may occur because of weather, road conditions, safety concerns or other circumstances. In these situations, it is the leader(s) responsibility to carefully consider and implement appropriate alternatives. Any additional costs incurred because of changes will be the responsibility of each individual participant. Refunds will not be issued as a result of itinerary changes.