Short Trips for Target Birds Series
NEW MEXICO: Rosy-finches, Snow Geese & Sandhill Crane Spectacle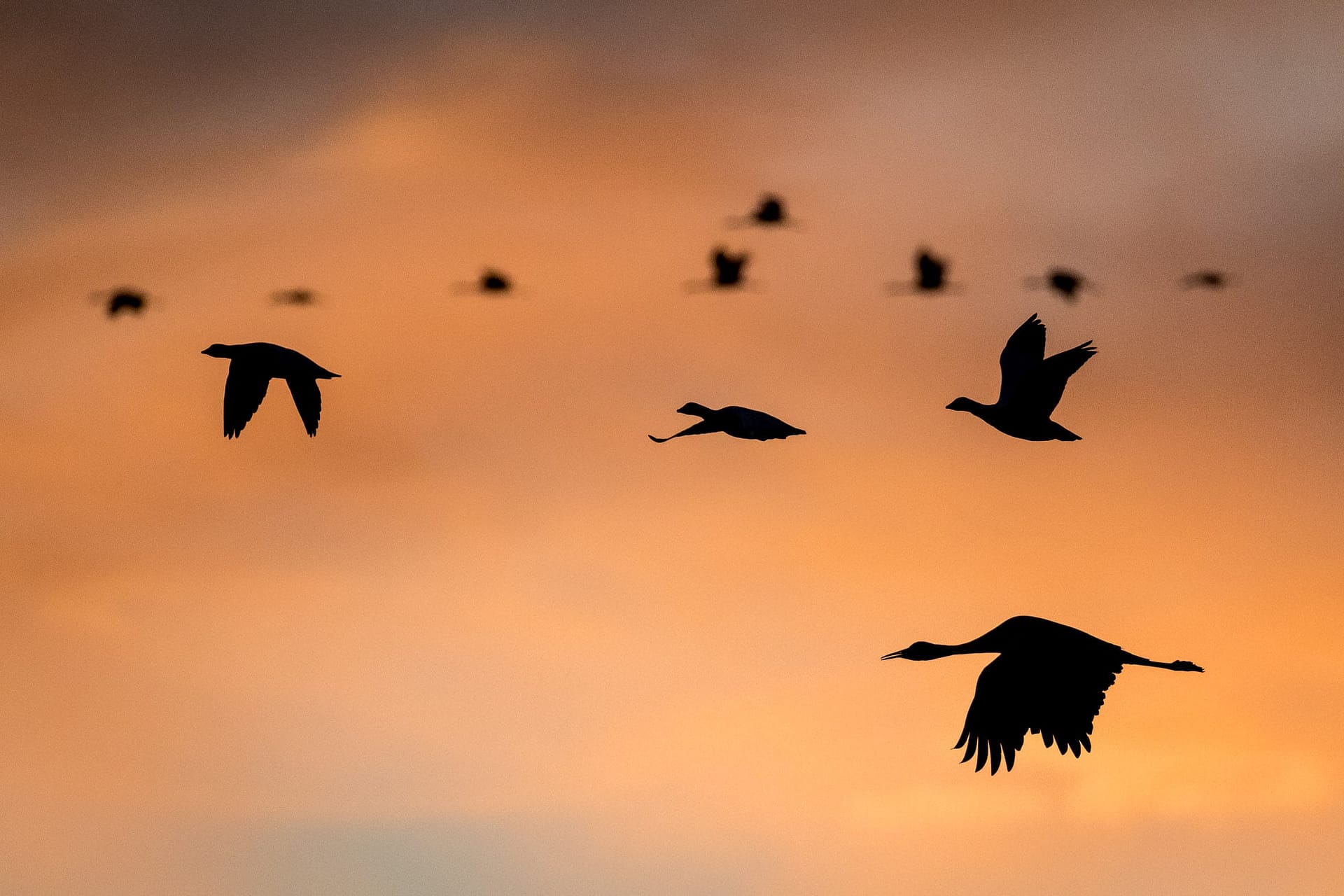 TOUR FOCUS

BIRDS & WILDLIFE
SCHEDULED TOURS
2023 :: December 6 - December 9

TOUR COST
From: $1,500 (See details)
Cost is per person, double occupancy from Albuquerque, NM (ABQ)
GROUP SIZE
2-7 Participants
PRIVATE TOUR OPTION
This tour is available as a private trip for any size group. The tour cost will vary with the number of people and any custom requests.
If you have been on this tour, please be the first to leave a review!
Highlights of NEW MEXICO: Rosy-finches, Snow Geese & Sandhill Crane Spectacle
Beautiful New Mexico landscape with beautiful sunsets
Thousands of wintering Sandhill Cranes & Snow Geese
Potential for all 3 rosy-finches at Sandia Crest!
Description of NEW MEXICO: Rosy-finches, Snow Geese & Sandhill Crane Spectacle
The spectacle of witnessing tens of thousands of Snow Geese lifting into the air is breath taking… add to that thousands of 'Lesser' Sandhill Cranes against the beautiful colors of the New Mexico landscape, and you have a trip to remember! At Sandia Crest, just outside the Albuquerque city limits, we'll search for all three species of wintering rosy-finches, and along the way we are sure to see plenty of waterfowl, wintering raptors, and a smattering of southwestern wintering songbirds including Chihuahuan Meadowlark!
Length of Tour
4-days/3-nights

Brief Itinerary
Day 1 – AM arrival in Albuquerque; Sandia Crest
Day 2-3 – Bosque del Apache and vicinity
Day 4 – Drive to Albuquerque for flights home
Itinerary
Day 1 – AM arrival in Albuquerque (ABQ). Afternoon visit to Sandia Crest.
After early arrivals to ABQ we will drive to Sandia Crest to look for Black, Gray-crowned, and Brown-capped Rosy-finches – one of the only places to see all 3 rosy-finches at once! Black Rosy-finches are the most likely, however.
Day 2, 3 – Bosque del Apache NWR & surrounding area.
These two days will be spent visiting the Bosque del Apache NWR and nearby hotspots in search of Ross's, Snow, Cackling, and Greater White-fronted Geese plus 'Lesser' Sandhill Cranes, a multitude of waterfowl, owls, hawks, and many wonderful mammals like Mule Deer, Javelina, and Bobcats.
Day 4 – Return to Albuquerque. Afternoon departures from ABQ.
The morning fly-out of Snow Geese and Sandhill Cranes is truly one the great avian spectacles of North America. Return to ABQ for our *afternoon* departures.
Cost
Cost is $1,500 per person, based upon double occupancy, from Albuquerque, NM (Airport code ABQ).
This trip ends in same as arrival city (Airport code ABQ).
Cost Includes
Cost includes airport transfers, all ground transportation, accomodations, entrance fees and services of your professional leader(s).
Cost does not Include
All meals, flights to/from destination city, trip insurance, or anything that is not specifically mentioned in the itinerary.
Minimum Number
If fewer than the minimum number of participants registered, the trip can still run with a small-group supplement fee per person determined by the number of participants.
Single Supplement
If a single room is preferred, or we are unable to find a suitable roommate for you, a single supplement fee of $225 will be assessed.
Deposit Requirements
A $500 deposit per person is required to hold each space on this tour. Deposit may be made online by clicking the "Book Your Trip Now" button and using any credit card. If you prefer, you may call us at 888-875-9453 to pay by phone. You may also mail us a check, however, remember that all space is held on a first come-first served basis as deposits are received.
Minimum Number
If fewer than the minimum number of required participants are registered, we may still be able to run the trip by adding a small-group supplement fee, per person, determined by the number of participants registered.
How to Book
In order to hold your space, click the "Book Your Trip Now" button above and complete the deposit process, including payment of the deposit through our Paypal portal using ANY CREDIT CARD. Upon completion of deposit, please visit our secure, online CLIENT INFORMATION FORM to complete your registration.
Final Payment
For all land-based tours: full payment by check is due 120 days prior to the departure date.
For all boat-based adventure cruises of 7-days or longer: full payment by check is required 180 days prior to departure.
NOTE: If you prefer to use credit card for final payment, a 3% fee may be added to cover the credit card merchant fees we incur.
3 nights accommodations in standard motels, all ensuite and comfortable. Wherever possible, we support establishments that implement eco-friendly practices.
Activity Level Rating: 2 (Note: 1 is easy and 5 is difficult)
A reasonable degree of fitness is required. Walking is on easy to moderate terrain. Hiking boots or good walking shoes should do. The rosy-finches are at 10,500 feet elevation, and we will likely see snow on the ground, but we are getting there by vehicle!
Recommended Field Guide
Sibley Birds West (2nd Edition, 2016, Knopf)
by David Allen Sibley
Sibley Birds is also available as an App
Non-smoking Tour
This trip is for non-smokers only. Smoking is not permitted at any time during our tour.
Climate / Weather
Temperatures and weather conditions vary widely during the trip. Expect warm to cool and very dry climate. The focus of the tour will be birds and scenery, but we will have time for other wildlife and photography. Expect to take full advantage of the short daylight hours including two relatively long days in order to witness the spectacle of thousands of cranes and geese leaving Bosque at dawn and birds coming to roost at dusk. We will be in a very dry climate. Early morning temperatures when we watch the crane fly-out will be in the 20's while midday temperatures will be in the upper 50's to low 60's. I do not expect rain – please keep in mind that is not a guarantee. Come prepared for all kinds of weather!
Purchasing Flights
Do not purchase your flights until the trip has been confirmed to go.
Detailed Trip Information
Upon notification that final payment is due (120 days prior to departure for land based tours / 180 days for boat based tours), you will receive a trip package of detailed information for your tour.
Any additional information about the trip, including lodgings, contacts, participants, meeting locations, etc., will sent about 2 weeks prior to the trip departure, or after final payment is received for late registrants.
Travel Insurance
As with all tours, we recommend purchasing Travel Insurance to help cover your investment, for covered reasons. Please see our section on Travel Insurance.
Passport & Visa
US Citizens may require a visa to enter certain foreign countries. See above for any required visa information.
Participants arriving to the USA from a foreign country may need to get a travel visa to enter the United States. Be sure to check the requirements for your country of origin.
Itinerary Changes
The trip itinerary is developed many months ahead of time. Occasionally, despite our best planning, changes may occur during the trip, or we may be forced to alter our plans. Changes may occur because of weather, road conditions, safety concerns or other circumstances. In these situations, it is the leader(s) responsibility to carefully consider and implement appropriate alternatives. Any additional costs incurred because of changes will be the responsibility of each individual participant. Refunds will not be issued as a result of itinerary changes.