PANAMA: Birding the Islands, Highlands & Pipeline Road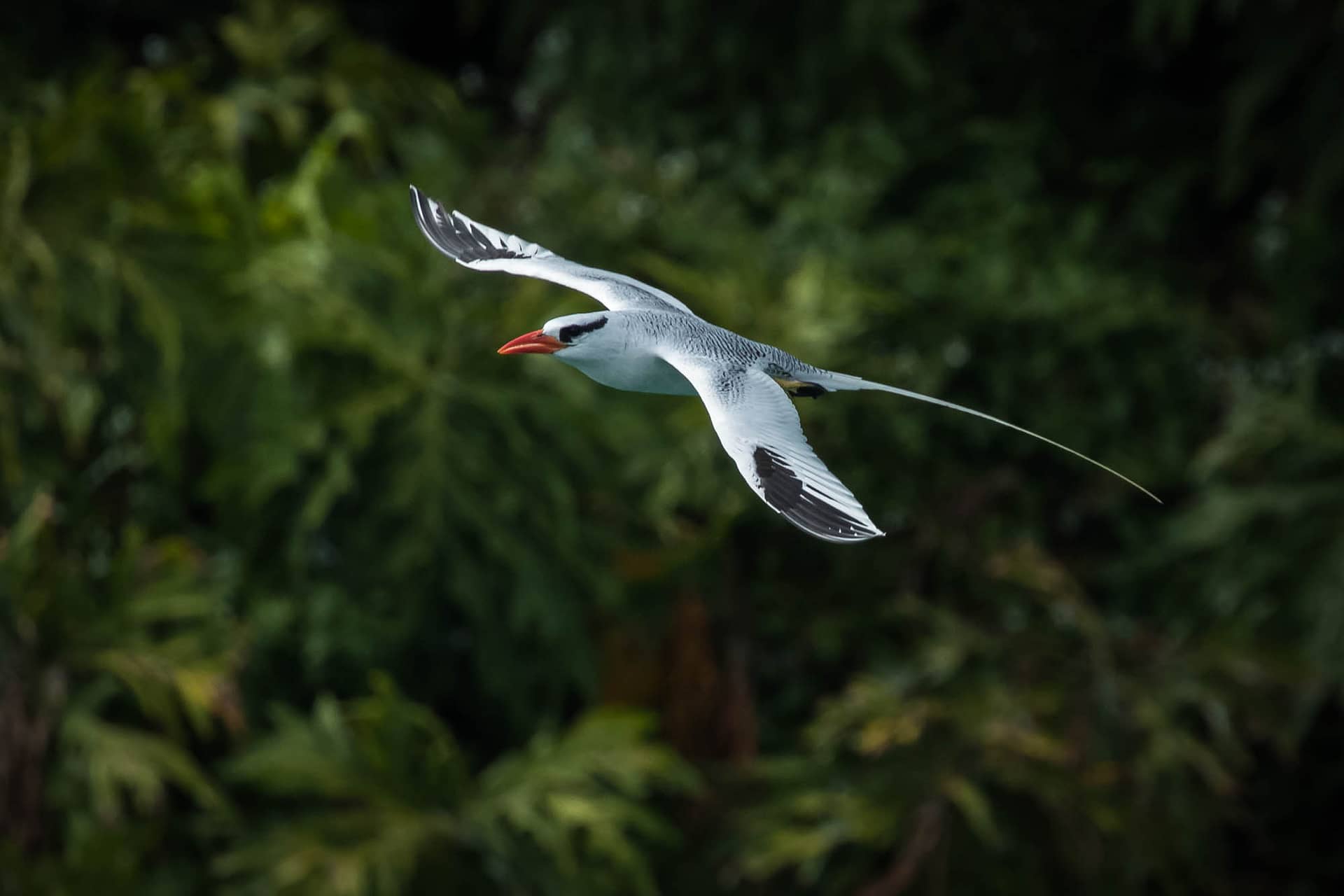 TOUR FOCUS

BIRDS & WILDLIFE
TOUR COST
From: $4,500 (See details)
Cost is per person, double occupancy from Panama City, Panama (PTY)
GROUP SIZE
4 - 8 Participants
AVAILABILITY
October 2023: 5 spaces available

PRIVATE TOUR OPTION
This tour is available as a private trip for any size group. The tour cost will vary with the number of people and any custom requests.
If you have been on this tour, please be the first to leave a review!
Highlights of PANAMA: Birding the Islands, Highlands & Pipeline Road
Over 400 species of birds around the lodge
Over 900 species seen in Panama
Luxurious island accommodations
Top quality Gamboa Rainforest Resort in the Canal Zone
The world famous Pipeline Road
Daily adventures in many habitats
Description of PANAMA: Birding the Islands, Highlands & Pipeline Road
This awesome Panama birding tour will offer a new adventure every day during our stay at the luxurious Tranquilo Bay Resort on an island near Bocas del Toro, Panama. The 'ultra-luxury' Tranquilo Bay Resort is one of Central America's hottest new rainforest destinations for birding in Panama, a paradise that's home to 400 bird species and a plethora of colorful Poison Dart Frog species! This trip will be based at the lodge for the full trip, with day-trips to other great locations.
From this beautiful home base at the lodge we will have many options to explore by motor boat, kayak and on foot as we discover birds and wildlife galore. Kinkajous, Night Monkeys, Crab-eating Raccoons, American Crocodiles, Iguanas and other species of lizards and many, many birds will fill each day as our trip will include birding excursions to other islands as well as the mainland where we can find species not readily found from other locations.
Back on the mainland we will have two full days to explore the world famous Pipeline Road! Here we can enjoy the observation platform to have a unique view of species found only in the canopy. Along the Pipeline Road we will look for an ant swarm, which attracts many hard to see species into the open! Hawks, eagles, ground cuckoos, tanagers, antbirds, thrushes, trogons, toucans and so much more will be found!
Length of Tour
10-Days/9-Nights

Basic Itinerary
Day 1 – Arrive in Panama City
Day 2 – Fly to Bocas del Toro and begin our adventure
Days 3 through 6 – Tranquilo Bay Resort
Day 7 – Afternoon flight to Panama City
Day 8 & 9 – Gamboa Rainforest Lodge/Pipeline Road
Day 10 – Flights home
Detailed Itinerary
Day 1 – Arrive in Panama City
Flight arrivals throughout the day… arrive at anytime but consider our early morning departure for Bocas del Toro on the following day!
Day 2 – Fly to Bocas del Toro and begin our adventure
An early morning departure will alow us plenty of bjrding time when we arrive at the lodge! We will begin with brunch then off we go to enjoy the trails and gardens!
Day 3 through 6 – Tranquilo Bay Resort
BIRDING
Each day we will explore another region, including a day trip to the mainland to explore up the slopes of the highlands for species not found lower down.
Birding in Panama, an area roughly the size of South Carolina, includes well over 900 recorded bird species, more than the U.S. and Canada Combined. The Province of Bocas del Toro hosts two overlapping Endemic Bird Areas, Central American Caribbean Slope and Panama and Costa Rica Highlands. A Panama birding tour is not complete without visiting western Panama's Caribbean slope, one of the most important areas for restricted range avifauna in the world.
In western Panama the Caribbean Slope of the Talamanca mountain range, Tranquilo Bay's back yard, plunges some 11,000 feet from the high alpine forest of La Amistad National Park into the lowland rainforests bordering the Caribbean Sea, in a span of less than 40 miles. Within the areas we explore from our comfortable facility the altitude ranges from 7,000 feet to sea level in a zone where nearly 500 species of birds can be found. This extreme biodiversity and high level of endemic species is due to abrupt changes in altitudinal zones and extreme geographic features creating many distinct ecosystems, as well as, migratory corridors.
Tranquilo Bay is located on 100 pristine acres, adjacent to Bastimentos National Marine Park, amongst the convergence of 3 distinct ecosystems. This creates an extremely diverse and unique wildlife observation site where flora and fauna overlap from separate worlds increasing diversity. In a week it is possible to identify over 100 species of birds without leaving the property. There are several elevated porches throughout the facility, creating an incredible eye-level view. While birding onsite you might also encounter white-faced capuchin monkeys, night monkeys, two and three toed sloths, iguanas, caiman, butterflies, a variety of frogs and lizards, and within the canopy a collage of rain forest hardwood and fruit trees, lianas, mangroves, ferns, orchids and cycads.
From your cabana, on the rainforests edge overlooking the Caribbean Sea, wake to the morning call of hundreds of Red-lored Parrots, the beautiful voice of flocks of Montezuma Oropendolas, and the mysterious sounds of the Green Ibis on the wing. Take coffee on your private elevated veranda as humming birds zip by, raptors hunt for their morning meal and brown pelicans share a few sardines with the magnificent frigates, just beyond the mangrove forest. Hundreds of trees, bushes, and flowering plants have been strategically blended throughout our living areas to attract a diverse variety of birds without the use of feeders.
Our central location in the archipelago allows us to explore freely, traveling by boat directly from the facility for all of our excursions. Due to dramatic geographic formations and Bocas del Toro's dynamic environment the range of different bird habitats seem endless.
SNORKELING ON ONE OR TWO DAYS
Much of the marine park has never been explored under the surface, and many of the known underwater sites are as yet unnamed. Within the marine park, sea fan gardens, vibrant coral reefs, and over 200 species of tropical fish live amongst a dramatic sub-sea terrain, which seems to transform every few hundred yards.
Oceanic formations in the area include walls, freshwater caves, tunnels, pinnacles, coral spires and towers, Spur and groove, ocean impact reef, sandy ledges and protected patch reef.
Tranquilo Bay is centrally located in the archipelago and only a short boat ride away from a variety of depths and currents to accommodate all skill levels. All excursions depart directly from our facility where our staff will handle the preparation, maintenance and portage of the equipment. From the moment you arrive we will take care of your equipment for you. Save your energy to explore a new reef. Our boatmen will wash your gear and store it each day… You enjoy your vacation!
If snorkeling is the primary objective of your trip, note that the Caribbean Sea is calmer and there is less rain from February through June and September through November, September and October being the most consistent of all months.
The visibility, while most times is good, does not compare with that of other well known dive destinations such as Cayman Islands or Cozumel. That being said, most of the interesting formations here in Bocas del Toro are in shallower water. In many areas the maximum depth is 40 feet and the light penetration is excellent.
Just remember, you're not coming here because it is the clearest ocean you can find, you're coming to explore the most biologically diverse Caribbean marine park in Central America.
Day 7 – Afternoon flight to Panama City
After returning to Panama City we will transfer to Gamboa Rainforest Resort for the next three nights. We should have some daylight remaining to explore the grounds for Southern Lapwing as well as many tanagers, warblers and more.
Days 8 & 9 – Pipeline Road and More
The world famous Pipeline Road is well known for its amazing single-day bird counts… and we will have two days to explore sections of the road as well as enjoy the observation deck that allows views into the forest canopy.
Other nearby areas will also be explored to include wetland species, too.
Day 10 – Flights back to USA
Cost
Cost is $4,500 per person, based upon double occupancy, from Panama City, Panama (Airport code PTY).
This trip ends in Panama City, Panama (Airport code PTY).
Cost Includes
Local round-trip flights from Panama City to Bocas del Toro, all ground transportation and water transportation, all meals, guides and entrance fees.
Not Included
International airfare, passport fees, luggage fees, alcoholic drinks, phone calls, laundry or anything of a personal nature.
Single Supplement
If a single room is preferred, or we are unable to find a suitable roommate for you, a single supplement fee of $975 will be assessed.
Deposit Requirements
A $500 deposit per person is required to hold each space on this tour. Deposit may be made online by clicking the "Book Your Trip Now" button and using any credit card. If you prefer, you may call us at 888-875-9453 to pay by phone. You may also mail us a check, however, remember that all space is held on a first come-first served basis as deposits are received.
Minimum Number
If fewer than the minimum number of required participants are registered, we may still be able to run the trip by adding a small-group supplement fee, per person, determined by the number of participants registered.
How to Book
In order to hold your space, click the "Book Your Trip Now" button above and complete the deposit process, including payment of the deposit through our Paypal portal using ANY CREDIT CARD. Upon completion of deposit, please visit our secure, online CLIENT INFORMATION FORM to complete your registration.
Final Payment
For all land-based tours: full payment by check is due 120 days prior to the departure date.
For all boat-based adventure cruises of 7-days or longer: full payment by check is required 180 days prior to departure.
NOTE: If you prefer to use credit card for final payment, a 3% fee may be added to cover the credit card merchant fees we incur.
RIANDE AIRPORT HOTEL
Excellent quality hotel, 3 minutes from the airport, with bar and restaurant on premises.
Gamboa Rainforest Resort
This luxury resort sits along the Chagres River. The air-conditioned rooms are quite spacious and many overlook the ground and river. Multi-level swimming pools offer cool respite from a morning of tropical birding. Most meals are served buffet style and include so many options, you will certainly not go hungry!
TRANQUILO BAY RESORT
Tranquilo Bay is adjacent to Bastimentos National Marine Park. We have over a kilometer of Caribbean coastline covered in coral gardens teaming with tropical fish. Our facilities encompass over 200 acres and three ecosystems, with over a mile of hiking trails full of wildlife. At least 75% of the acreage has been left to evolve in its natural state. Extreme biodiversity of flora and fauna, tropical rainforest, primary growth mangrove forest, incredible coral reef, and the Caribbean Sea are here for your onsite exploration.
The interior of each of our cabanas is tastefully and comfortably appointed with air-conditioning, local hardwoods, tile floors, fine linens and a calming color palette.  Each bedroom features a queen bed or double beds, handcrafted for Tranquilo Bay, made from local hardwoods with an orthopedic mattress.  We also have twin beds that we can add into a cabana for children. Reading lamps and various books are also found within each bedroom.  A small seating area adjacent to one of the windows and a closet round out the remainder of the bedroom.
The spacious granite countertop provides you with plenty of room for your belongings.  Each bathroom includes a large walk-in shower with a full size water heater.  Coffee makers, hair dryers and snack baskets are also located within the bathroom.
A covered porch with a hammock and Adirondack chairs await to help you escape the "every day" that you left behind when you enter the grounds at Tranquilo Bay.
Four cabanas have a breathtaking ocean view.  Two cabanas have a luscious tropical jungle view.
The main lodge is situated on a beautiful hilltop vantage, with panoramic views of the canopy and one of the most diverse and species rich ecotones on earth. Wrap around elevated porches provide outstanding eye-level views of all the magic where the ocean and mangrove forest meet the rainforest. Whether you're just looking for wildlife, or you're into photography, being immersed in the canopy will amaze you.
The ocean view and elevation over the jungle canopy are incredible.  Our upstairs balcony is the perfect place to watch the sun rise with your morning coffee and the moon rise in the evening with a cold beverage.  The monkeys and birds also travel through on their late afternoon feeding migration. The interior of the main lodge building includes the dining room and the bar.
Activity Level Rating: 2 (Note: 1 is easy and 5 is difficult)
This is a fairly easy trip… other than the stairs at Tranquilo Bay, and a few trails with steep sections. We take boat trips from our lodge to other islands and to the mainland.
Pipeline Road is well groomed and easy walking with rolling hills and no steep up or down.

The Birds of Panama: A Field Guide
by George R. Angehr & Robert Dean
Purchasing Flights
Do not purchase your flights until the trip has been confirmed to go.
Detailed Trip Information
Upon notification that final payment is due (120 days prior to departure for land based tours / 180 days for boat based tours), you will receive a trip package of detailed information for your tour.
Any additional information about the trip, including lodgings, contacts, participants, meeting locations, etc., will sent about 2 weeks prior to the trip departure, or after final payment is received for late registrants.
Travel Insurance
As with all tours, we recommend purchasing Travel Insurance to help cover your investment, for covered reasons. Please see our section on Travel Insurance.
Passport & Visa
US Citizens may require a visa to enter certain foreign countries. See above for any required visa information.
Participants arriving to the USA from a foreign country may need to get a travel visa to enter the United States. Be sure to check the requirements for your country of origin.
Itinerary Changes
The trip itinerary is developed many months ahead of time. Occasionally, despite our best planning, changes may occur during the trip, or we may be forced to alter our plans. Changes may occur because of weather, road conditions, safety concerns or other circumstances. In these situations, it is the leader(s) responsibility to carefully consider and implement appropriate alternatives. Any additional costs incurred because of changes will be the responsibility of each individual participant. Refunds will not be issued as a result of itinerary changes.