BRAZIL: Pantanal Wildlife Safari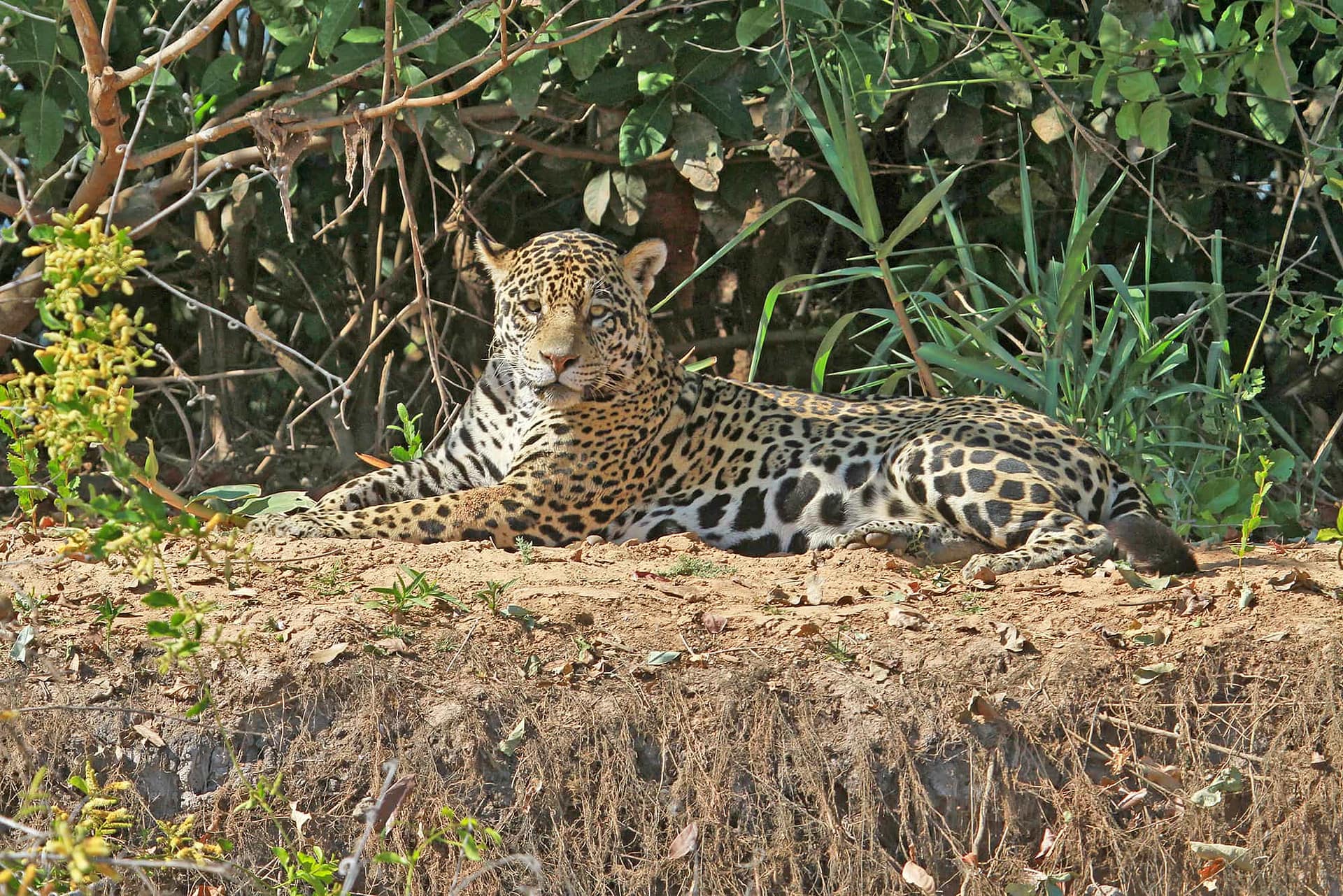 TOUR FOCUS

BIRDS & WILDLIFE
SCHEDULED TOURS
2024 :: August 3 - August 14

TOUR COST
From: $7,150 (See details)
Cost is per person, double occupancy from Cuiaba, Brazil (CGB)
GROUP SIZE
4-8 Participants
AVAILABILITY
2024 – 6 spaces remain
PRIVATE TOUR OPTION
This tour is available as a private trip for any size group. The tour cost will vary with the number of people and any custom requests.
Highlights of BRAZIL: Pantanal Wildlife Safari
Vast wetlands teeming with waders, caimen, and capybaras
Jaguars, Jabirus, and Jacamars
Colorful Macaws, Toucans, and Aracaris
Traversing the Transpantaneira
Description of BRAZIL: Pantanal Wildlife Safari
The Pantanal, the world's largest inland freshwater wetland, is a paradise for wildlife enthusiasts,  and photographers alike. Situated in the heart of Brazil, in the state of Mato Grosso, this internationally-acclaimed ecosystem teems with wildlife, hosting a stunning variety of birds, mammals and reptiles within a diverse, lush landscape.
Our trip is timed for the dry season, when animals congregate around shrinking waters, providing excellent up-close experiences and photographic opportunities. Herons, ibis, and jabirus feed in shallow pools, just yards away from partially-submerged caiman too numerous to count.
Starting from Cuiaba, we'll head south through cerrado scrub habitat, where colorful Hyacinth Macaws, Toco Toucans, and Chestnut-eared Aracaris captivate cameras. We'll traverse the famed Transpantaneira highway at a relaxed pace, stopping to observe waders, raptors, capybara, and myriad creatures that attract attention. Multiple boat rides will bring us close to kingfishers, sunbitterns, and giant river otters diving for catfish.
Jaguar, the largest New World cat, is the highlight of the trip. We'll spend ample time exploring rivers where these impressive beauties stalk riverbanks. Join us for a spectacular wildlife experience not to be missed.
Watch our webinar –  Pantanal: Realm of the Jaguar, –
Length of Tour
12-days/11-nights

Brief Itinerary
Day 1 – Morning arrrival in Cuiaba. Transfer to the northern Pantanal and Piuval Lodge (3 nights)
Days 2 & 3 – Two full days around Puival
Day 4 – Transfer along transpantaneira to the southern end and Porto Jofre (4 nights)
Days 5 through 7 – Three full days of boat rides on the Cuiaba River for Jaguar
Day 8 – Transfer to the central transpantaneira to the central.  (4 nights)
Days 9 through 11 – Three full days around the gallery forest and savannah including half day boat ride on the Pixaim River
Day 12 – Transfer to Cuiaba for late afternoon flight
Detailed Itinerary
Days 1 – 3 –  Northern Transpantaneira – Piuval
Mid morning arrival at Cuiaba airport where we will meet our local guide and transfer to the Pantanal arriving early afternoon to settle into the Pousada Piuval for a 3-night stay.
There is plenty to see around the rich grounds of the Pousada Piuval in the northern section of the transpantaneira. Working our way through the savanna, species we will not encounter further south include Blue-crowned Trogon, Greater Rheas, Red-legged Seriemas, White-fronted Woodpecker and Black-bellied Antwren. In patches of dry forest we hope to find Chaco Chachalacas, Chestnut-bellied Guan and Bare-faced Curassow. This is also an excellent place to see Hyacinth Macaws which are often found feeding on buriti palm nuts.
Water levels permitting we take the first of our motorboat excursions in this vast wetland through the baia (large Piuval Bay). Along the way Ringed and Amazon Kingfishers are commonly seen and Black-collared and Great Black Hawks hunt from the edge of the waterway.  We'll enjoy sweeping views of the vibrant wetland as numerous birds including Roseate Spoonbills and Wood Storks flying by.  Howler Monkeys and Black-tailed Marmoset are often found in nearby trees, which might hold Linneated Woodpecker, Red-billed Scythebill, Amazonian Motmot or a Bat Falcon, while amongst the shrubbery we should find Black-capped Donacobius and Gray-crested Cacholote. We will also look for Southern Screamer, and Gray (Common) Potoo on a daytime roost.  At night time we search for Mottled and Black-banded Owls, Pauraque, Great Potoo, and will likely come across Crab-eating Foxes, possibly Giant Anteater and the icing on the cake would be Azara's Night Monkey.
Days 4 – 7 –  Southern Transpantaneira – Porto Jofre
We transfer from the Piuval to Porto Jofre at the southern end of the transpantaneira, for a 4-night stay and three full days of boat rides on the Cuiaba River in search of Jaguars.
At Porto Jofre, our lodge is set on the banks of the Cuiaba River giving us easy access to explore the river and its tributaries.   We take boat rides along the river to an area known as Tres Irmaos as well as on the Piquiri River, to search for the elusive Jaguar. This area is reputed to have the highest concentration of Jaguars in the world! Jaguars have become habituated to boats and wildlife observers, and with keen eyes we hope to find one of these exquisite cats on the banks, laying in the shade. With patience and luck we may even see one hunting caiman or capybara! Jaguars are the largest of South America's cats and in the Pantanal these are up to 50% heavier than those found anywhere else, with males reaching 350 pounds!
While our primary focus will be locating Jaguars, there is so much more to see! We are always on the lookout for Brazilian Tapir, and will spend time with Giant River Otters watching them playing and fishing. These endangered and highly social mammals are known locally as "river wolves".
At various open sand banks we'll find Black Skimmers, Large-billed and Yellow-billed Terns, as well as Collared Plovers and photogenic Pied Plovers. Along gallery forest edges we often see Crane Hawks, Great Black Hawks, Boat-billed Herons, Greater Ani and Blue-throated Piping Guans. Kingfishers abound, along with Cocoi Heron, Capped Heron and eye-catching Sunbitterns. Sungrebes favour swimming in the shadows of overhanging vegetation. There will be no shortage of Yacare Caimans or Capybaras!  At dusk we keep an eye out for Band-tailed Nighthawks flying over the river.
On the grounds of our lodge there is a resident flock of Hyacinth Macaw, the largest of the parrot family, and noisy Yellow-rumped Caciques.  We'll enjoy wonderful opportunities to photograph iconic Toco Toucans. The large lake is covered with giant water lilies, where Wattled Jacanas tread softly on the pads, while Cattle Tyrants and White-headed Marsh Tyrants flit about. Nacunda Nighthawks can be found roosting on the ground around the lake.
Days 8 – 11 – Central Transpantaneira – Pixaim
We begin our journey back north along the transpantaneira to the central region for a 4 nights in two locations to explore the area around the Pixaim River and Alegre. O/n: SouthWild Pantanal Lodge (BLD) & Pousa Alegre (BLD)
The lodge has a nice feeder set up, with Chestnut-eared Aracaris, Toco Toucans, Silver-beaked Tanagers, Saffron Finch, Orange-backed Troupials, Red-crested and Yellow-billed Cardinals regularly visiting. The trails in the gallery forests along the Rio Pixaim provide excellent birding with nearly all of the Pantanal's speciality forest  birds present including Rusty-fronted Tody Flycatcher, Black-fronted Nunbird, Mato Grosso Antbird, Narrow-billed Woodcreeper, Cream-colored Woodpecker, Flavescent Warbler, White-lored Spinetail, Buff-bellied Hermit and Helmeted Manakin all being possible. A stellar observation tower allows us to get eye level with nesting Jabiru's. Black-striped Tufted Capuchins, South American Coati and Crab-eating Foxes are often seen around the grounds. We may also have opportunity to watch Ocelot at dusk.
A boat ride on the Pixaim River should produce excellent photographic opportunities since it is a narrow making it easy to reach both sides! Drifting slowly along we'll encounter all five species of kingfishers including Green, Green-and-Rufous and Pygmy Kingfisher. Other birds could include the Sunbittern, Boat-billed Heron, the much sought after Agami Heron and the diminutive and secretive Zig-zag Heron.  We should also have another chance to see Giant River Otters.
Day 12 –  Transfer to the airport in Cuiaba
After breakfast we work our way out of transpantaneira to Cuiaba. Following lunch we will dropped off at the airport for our return flight to the US.
• Note: the itinerary and lodging may vary based upon availability of accommodations
Cost
Cost is $7,150 per person, based upon double occupancy, from Cuiaba, Brazil (Airport code CGB).
This trip ends in same as arrival city (Airport code ).
Cost Includes
Included in the cost are all accommodations, meals, transportation, entrance fees and service of the leader(s) and local guides, from Cuiaba.
Cost does not Include
Not included in the cost is the airfare to Cuiaba [CGB], travel insurance, drinks, tip to local leader, and items of a personal nature.
Minimum Number
If fewer than the minimum number of participants are registered the trip can still run with a small-group supplement fee per person determined by the number of participants.
Single Supplement
If a single room is preferred, or we are unable to find a suitable roommate for you, a single supplement fee of $650 will be assessed.
Deposit Requirements
A $1,000 deposit per person is required to hold each space on this tour. Deposit may be made online by clicking the "Book Your Trip Now" button and using any credit card. If you prefer, you may call us at 888-875-9453 to pay by phone. You may also mail us a check, however, remember that all space is held on a first come-first served basis as deposits are received.
Minimum Number
If fewer than the minimum number of required participants are registered, we may still be able to run the trip by adding a small-group supplement fee, per person, determined by the number of participants registered.
How to Book
In order to hold your space, click the "Book Your Trip Now" button above and complete the deposit process, including payment of the deposit through our Paypal portal using ANY CREDIT CARD. Upon completion of deposit, please visit our secure, online CLIENT INFORMATION FORM to complete your registration.
Final Payment
For all land-based tours: full payment by check is due 120 days prior to the departure date.
For all boat-based adventure cruises of 7-days or longer: full payment by check is required 180 days prior to departure.
NOTE: If you prefer to use credit card for final payment, a 3% fee may be added to cover the credit card merchant fees we incur.
11 nights in 4 lodges. All ensuite.
Pousada Piuval is the first lodge along the Transpantaneira (10km from Pocone). It is situated on 7000 hectare cattle ranch. The air-conditioned rooms are ensuite.
Pousa Alegre located at km 33, off the Transpantaneira, is set in 8000 hectares of savanna and forest. All rooms are ensuite and air-conditioned.
SouthWild Pantanal Lodge is at 67km along the Transpantaneira. All rooms are ensuite and air-conditioned.
Hotel Pantanal Norte (Porto Jofre Hotel) situated at the end of the 145km Transpantaneira on the banks of the Cuiaba River is a comfortable lodge with spacious  air-conditioned en-suite rooms.
Note: Accommodations subject to change based upon availability.
Activity Level Rating: 2 (Note: 1 is easy and 5 is difficult)
Mostly level terrain with some walking on sandy tracks. Numerous boat rides which entail sitting for long periods.
Recommended Field Guide:
A Field Guide to the Birds of Brazil
by Ber van Perlo
(Oxford University Press, 2009)
This trip is for non-smokers only. Smoking is not permitted at any time during our wildlife safari.
As of June 18, 2019, US citizens do not need a Visa to enter Brazil.
Arrival and Departure: You will need to arrive in Cuiaba (CGB) on the morning of Day 1.  That would mean leaving the US a day earlier.  A return flight leaving Cuiaba would have to be late afternoon on Day 11. You would be back in the US the following day.
Purchasing Flights
Do not purchase your flights until the trip has been confirmed to go.
Detailed Trip Information
Upon notification that final payment is due (120 days prior to departure for land based tours / 180 days for boat based tours), you will receive a trip package of detailed information for your tour.
Any additional information about the trip, including lodgings, contacts, participants, meeting locations, etc., will sent about 2 weeks prior to the trip departure, or after final payment is received for late registrants.
Travel Insurance
As with all tours, we recommend purchasing Travel Insurance to help cover your investment, for covered reasons. Please see our section on Travel Insurance.
Passport & Visa
US Citizens may require a visa to enter certain foreign countries. See above for any required visa information.
Participants arriving to the USA from a foreign country may need to get a travel visa to enter the United States. Be sure to check the requirements for your country of origin.
Itinerary Changes
The trip itinerary is developed many months ahead of time. Occasionally, despite our best planning, changes may occur during the trip, or we may be forced to alter our plans. Changes may occur because of weather, road conditions, safety concerns or other circumstances. In these situations, it is the leader(s) responsibility to carefully consider and implement appropriate alternatives. Any additional costs incurred because of changes will be the responsibility of each individual participant. Refunds will not be issued as a result of itinerary changes.