PERU: Birding Manu & Machu Picchu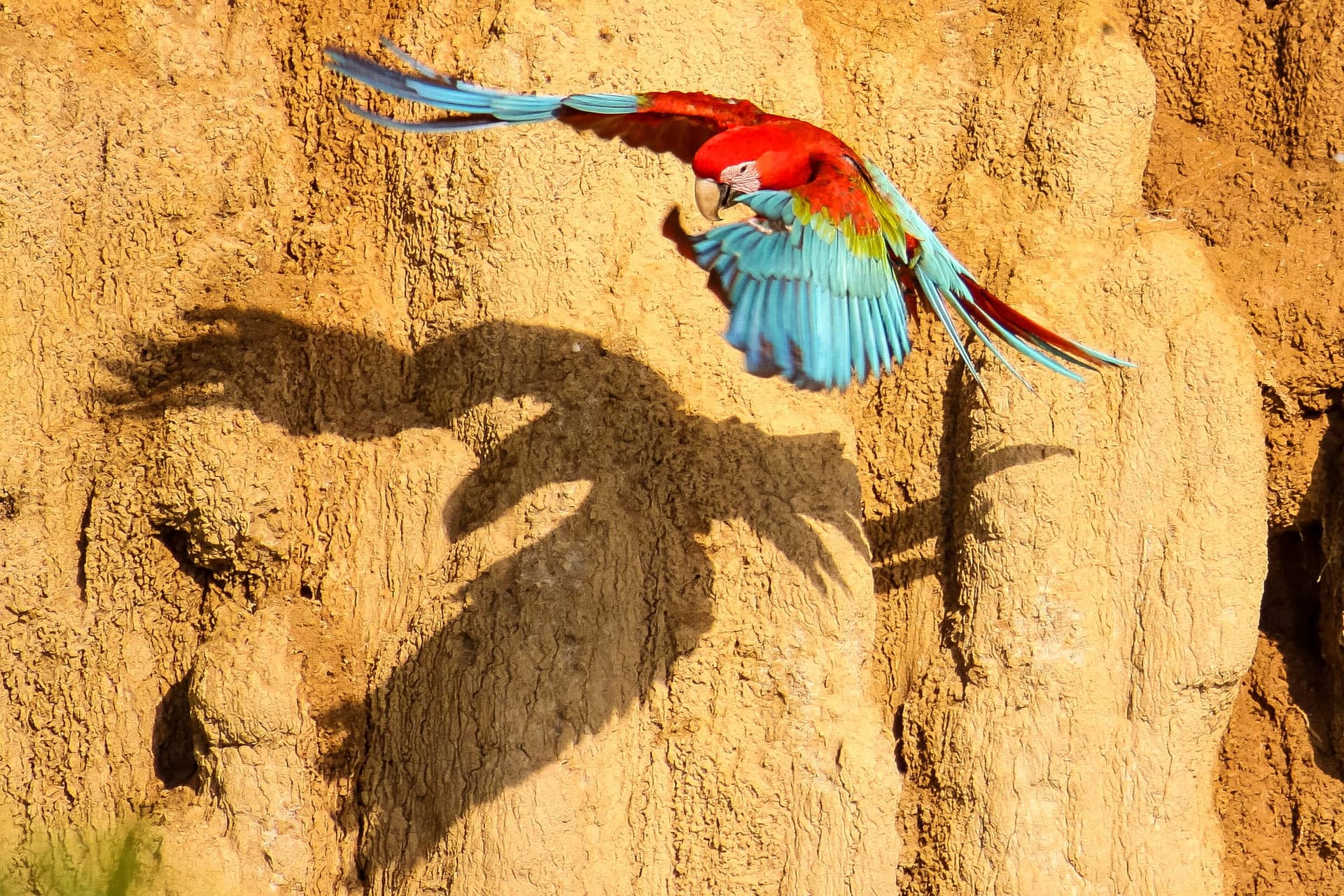 TOUR FOCUS

BIRDS & WILDLIFE
TOUR COST
From: $7,250 (See details)
Cost is per person, double occupancy from Lima, Peru (LIM)
GROUP SIZE
6 - 10 Participants
AVAILABILITY
2022: 8 spaces available
2023: 8 spaces available
PRIVATE TOUR OPTION
This tour is available as a private trip for any size group. The tour cost will vary with the number of people and any custom requests.
If you have been on this tour, please be the first to leave a review!
Highlights of PERU: Birding Manu & Machu Picchu
Over 1800 species of birds have been recorded in Peru
Over 1000 species of birds have been recorded in the Manu region
The Manu Biosphere Reserve is an important world conservation site for its outstanding biological diversity
Spectacled Bears, to Giant Otters, to 13 different species of monkey could be seen
Description of PERU: Birding Manu & Machu Picchu
The diversity of wildlife in Peru makes it one of the top birding destinations. The Manu Biosphere Reserve has the highest diversity of life on Earth and is one of the most important conservation units in the world.
The beauty of this trip is the variety of habitats visited ranging from orchid laden cloud forest where Spectacled Bears and Cock-of-the-Rocks still live unmolested, to untouched Amazon rainforest where 13 species of Monkey abound and Giant Otters still exist in the ox-bow lakes.
A trip to Manu is a trip to one of the world's great wilderness areas where wildlife is still plentiful and over 1000 species of birds have been recorded.
However, we'll start this amazing trip with a visit to South Americas most famous site – the spectacular Inca ruins of Machu Picchu.
Length of Tour
16-Days/15-Nights

Brief Itinerary
Day 1 – Arrival in Lima
Day 2 – Coastal Birding
Day 3 – Cusco
Day 4 – Ollantaytambo
Day 5 – Aguas Calientes
Day 6 – Cusco
Day 7 – Travel to Cock-of-the-Rock Lodge
Days 8 and 9 – Cock-of-the-Rock Lodge
Day 10 – Amazonia Lodge
Day 11 – Travel to Manu Wildlife Center
Days 12 through 14 – Manu Wildlife Center
Day 15 – Puerto Maldonado
Day 16 – Afternoon return to Lima for flights home
Detailed Itinerary
Day 1 – Arrival in Lima
Arriving in Lima we transfer to our hotel in Lima
Day 2 – Coastal Birding
All day birding along the coast in search of Humbolt Penguin, Red-legged Cormorant, Peruvian Thick-knee, Peruvian Pelica, Inca Tern, Surf Cinclodes, Gray-hooded Gull and so many more!.
Day 3 – Cusco
Early morning flight to Cusco and we head out south of town with a picnic lunch to Huacarpay lakes. The lake is surrounded by Inca, and pre-Inca ruins. Here we will see a variety of high Andean waterfowl including Puna, Speckled and Cinnamon Teal, Yellow-billed Pintail, Andean Duck and other wetland associated birds. Birds of Prey we may see include Aplomado Falcon, Cinereous Harrier, Red-backed Hawk and Black-chested Buzzard-Eagle. In the arid scrub around the lake we should find the pretty, endemic Bearded Mountaineer feeding in the tree tobacco (Nicotania sp.) with Giant Hummingbird and Trainbearers. In the late afternoon we'll drive back to Cusco for a night in the old Inca capital.
Day 4 – Ollantaytambo
Morning visits to historic sites in and around Cusco before our afternoon drive through the Scared Valley of the Incas to the historic town of Ollantaytambo. We'll visit the Inca fortress. Probably built by the great Inca ruler Pachacutec in the 1460s, it was the site of Hernando Pizzaro's defeat by Manco Inca in 1536. Constructed of finely cut polygonal stones and royalties blocks, the fortress and nearby town represent the best of Inca architecture and construction. Large worked blocks, some weighing as much as 100 tons were quarried from a site more than a thousand vertical feet above the valley floor using a technique of pecking with hammer stones, then skidded down and across the Urubamba river several kilometers to the temple site. Inclined ramps were built to raise the blocks several hundred feet up hill to the construction area. We have ample time to examine the complex and ponder its many mysteries. Night in Ollaataytambo
Day 5 – Aguas Calientes
We leave early in the morning for the 2.5 hour train journey to Machu-Picchu. From the train we will certainly see Torrent Ducks and White-capped Dipper on the Urubamba River and get closer looks as we leave the train. Arriving at the ruins, birding takes a back seat as we are taken on a guided tour of this mystical archeological complex. White-tipped Swifts will be flying overhead. After lunch we will look for Inca Wren, which is quite common in the bamboo around the ruins and then descend into the Urubamba gorge for late afternoon birding. Night at our Hotel in Aguas Calientes.
Day 6 – Cusco
Those who wish may reteurn to explore the ruins of Machu Picchu, for the rest – all morning birding the railway track along the Urubamba River. In the remnant cloud forest we will be looking specifically for Sclaters and Bolivian Tyrranulets, Silver-backed Tanager, Pale-eyed Thrush, Masked Fruiteater (endemic), Black-streaked Puffbird, Oleaginous Hemispingus and Capped Conebill. Mixed flocks contain many species of Tanager and the endemic Green and White Hummingbird is common here. After a late lunch, we return on the tourist train to the historic town of Cusco for the night.
Day 7 – Travel to Cock-of-the-Rock Lodge
Early start in our expedition bus. We will make a couple of selected stops in the inter-montane valleys specifically for two endemic species. We'll take a picnic breakfast as the sun hits the slopes and colorful Quechua peasant farmers pass by with livestock creating a peacefull pastoral scene. We should see Andean Hillstar, Andean Flicker, Black-throated Flowerpiercer, Chuiguanco Thrush and more. Our next stop is for the endemic Creamy-crested Spinetail, before arriving at the last Andean pass – Ajcanacu.
Andean Condors have been seen here in the past and if its clear we'll be able to look out from the last range of the Andes over the Amazon basin stretching into the distance, as the Incas did in ancient times, worshipping the sun rising over the endless rainforest. In the after-noon we will bird the upper limits of the eastern slopes. Working our way down the eastern slope of the Andes, the forest becomes more continuous and we will spend the afternoon birding to our next stop at 2800 meters above sea level above Pillahuata. Possibilities are many but we hope to encounter mixed species flocks of impossibly colorful Tanagers! Gray-breasted Mountain Toucan, Collared Jay and Mountain Cacique are among some of the many species we may find. Night at the comfortable Cock-of-the-Rock Lodge near Union at 1300 meters.
Days 8 and 9 – Cock of the Rock Lodge
Cock of the Rock Lodge is situated in the pristine Cloud Forest of the Mountains of Manu just a few minutes walk from a spectacular Cock of the Rock lek furnished with comfortable blinds (hides) whch enable us to observe these colorful birds during their dawn mating rituals. Facilities at the Lodge include 12 large spacious en-suite bungalows with hot and cold running water, flush toilets and two single beds in each room plus several rooms with shared facilities. Lighting is by candle and lantern but there is a small generator available for charging batteries.
There is a large dining area and lounge overlooking a feeding station for Brown Capuchin Monkeys and Tayras (a large mustellid related to the Martens). Hummingbird feeders attract several species right in he dining room including Rufous-webbed Brilliant. There is trail system behind the lodge that enables you to see the under-story of the Cloud Forest first hand and facilitates seeing some species not likely from the road. Many spectacular waterfalls in the area are far enough away so as to enable hearing birdsong. Orchids abound with c. 80 species recorded around the lodge. One day we'll devote to the 2500 meter altitude zone, and one day to the 1500 meter zone. Possibilities include White-rumped Hawk and Solitary Eagle as well as more colorful species like Crested Quetzal, Golden-headed Quetzal, Masked Trogon, Highland Motmot and Blue-banded Toucanet.
We will visit one of the two nearby Cock-of-the-Rock leks to watch the strange mating dance of these spectacular birds. Up to 20 males congregate at this spot to display. We will also do some night birding here and we have been lucky previously with Foothill and Rufescent Screech Owl, Rufous-banded Owl, Lyre-tailed Nightjar and Andean Potoo. Nights at Cock-of-the-Rock Lodge. NOTE: If Cock of the Rock Lodge is full we'll stay at the nearby very comfortable Paradise Lodge
Day 10 – Amazonia Lodge
After a dawn breakfast accompanied by the singing of Andean Solitaires and Paradise Tanagers from the breakfast table, we leave Cock of the Rock Lodge at 1600 meters and spend the day birding slowly down to the comfortable Amazonia Lodge at 500 meters. We will pay particular attention to the stretch between 1500 meters and 800 meters. This upper tropical zone forest has disappeared on much of the Andean slopes in South America because of it's suitability for cash crops such as tea, coffee and coca, but in this part of Peru the forest remains untouched. A spectacular new Tanager to science, yet to be described is along this stretch and we have seen it with several tours. We will head down the Alto Madre de Dios river in our motorized canoes to Amazonia Lodge… about 30 minutes. Here we will enjoy easy afternoon birding around the lodge. Known for its hummingbird feeders we will seek the lodge mascot, the Rufous-crested Coquette.
Day 11 – Travel to Manu Wildlife Center
Early birding around the lodge before breakfast. After breakfast we will enjoy more birding in around the lodge trails until lunch. After lunch we will board our boat again and head down the Alto Madre de Dios river in our motorized canoe to its confluence with the Manu River (about 3 hours), and then on for another 2 hours to the very comfortable Manu Wildlife Center, jointly owned by Manu Expeditions and the Peru Verde conservation group.
This lodge facility is designed to take visitors, but there are usually biologists here conducting scientific research, often ornithologists. Accommodations are first class in bungalows with en-suite bath, hot water and with adjoining spacious dining and bar complexes. On the river journey, we will have the opportunity to see some of the typical riverside species such as Pied Lapwing, Collared Plover, Fasciated Tiger-heron, Orinoco Goose, Large-billed and Yellow-billed Tern. Flyovers will include many species of Macaws and Parrots, and this is our opportunity for some Bird of Prey observations. The river trip is a pleasure as we leave the last foothills and enter the Amazon proper. Our boats are roofed with comfortable padded bucket seats. We plan to arrive at the Manu Wildlife Center in the late afternoon. Night Manu Wildlife Center.
Days 12 through 14 – Manu Wildlife Center
Three full days based at the Manu Wildlife Center. Situated just upriver from the Blanquillo Macaw Lick. There will be the opportunity on one morning to visit the Macaw lick and observe the spectacle of hundreds of Parrots and Macaws at close quarters from our blinds. Here we will see the beautiful Orange-cheeked Parrrot, hundreds of Blue-headed Parrots as well as Mealy and Yellow-crowned Parrots. Smaller visitors include White-eyed, Cobalt-winged and Dusky-cheeeked parrotlets. The rest of the time will be spent exploring the extensive trail systems which have been designed to visit different forest types. The area around this lodge has the most forest types of anywhere in the Manu area, and thus the highest bio-diversity – which means the most species of birds and other animals. Large stands of Bamboo hold many local and much sought after species, and coupled with the extensive Varzea, Tierra Firme and Mature Transitional Floodplain Forest, this means a mind-boggling variety of bird-life. Although investigation on birds is in its early stages we expect this lodge area to hold more species of birds than anywhere else in the world and the bird list is already 575+.
We will spend time at a canopy observation tower accessed by a spiral metal stairway watching canopy flocks which include a multitude of Tanagers, Dacnis and Honeycreepers. Some of the more interesting and unusual species we will be searching for in the Bamboo include – Rufous-headed Woodpecker, Manu Antbird (common here) and Flammulated Bamboo-tyrant to name but a few. We will also visit Ox-bow lakes in the area where we will see lakeside birds including Hoatzin, Sungrebe and Agami Heron. We may also be lucky and see one of the two Giant Otter families that live in the area.
Night spotlighting may produce Long-tailed, Great and Gray Potoos, Amazonian Pygmy Owl, Spectacled Owl, Ocellated Poorwill and Silky-tailed Nightjar amongst others. A visit to the large mammal lick in the forest, apart from attracting Tapirs, Peccaries and maybe a Jaguar, also attracts Guans, Currasows, Chachalacas as well as Rose-fronted and Rock Parakeets and Dusky-billed Parrotlet. All nights at the Manu Wildlife Center.
Day 15 – Puerto Maldonado
Early start on our comfortable boats and our last look at early morning Parrot flocks. Our journey down the Madre de Dios River takes us past pristine forest until the town of Boca Colorado. It will be a great chance to see riverside birds and raptors. As the journey continues we'll see evidence of gold panning and arrive at our destination of Laberinto. Leaving our boat we'll take a 40 minute bus ride, birding along the way, into the bustling frontier town of Puerto Maldonado where we'll stay at our comfortable hotel.
Day 16 – Afternoon return to Lima for flights home
Morning birding in the forests around Pto. Maldonado to find more localized specialties.
Mid-afternoon flights to Lima for connecting international departures. (Day use of a hotel in Lima close to the airport available if necessary.)
Cost
Cost is $7,250 per person, based upon double occupancy, from Lima, Peru (Airport code LIM).
This trip ends in Lima, Peru (Airport code LIM).
Single Supplement
If a single room is preferred, or we are unable to find a suitable roommate for you, a single supplement fee of $950 will be assessed.
Deposit Requirements
A $1,000 deposit per person is required to hold each space on this tour. Deposit may be made online by clicking the "Book Your Trip Now" button and using any credit card. If you prefer, you may call us at 888-875-9453 to pay by phone. You may also mail us a check, however, remember that all space is held on a first come-first served basis as deposits are received.
Minimum Number
If fewer than the minimum number of required participants are registered, we may still be able to run the trip by adding a small-group supplement fee, per person, determined by the number of participants registered.
How to Book
In order to hold your space, click the "Book Your Trip Now" button above and complete the deposit process, including payment of the deposit through our Paypal portal using ANY CREDIT CARD. Upon completion of deposit, please visit our secure, online CLIENT INFORMATION FORM to complete your registration.
Final Payment
For all land-based tours: full payment by check is due 120 days prior to the departure date.
For all boat-based adventure cruises of 7-days or longer: full payment by check is required 180 days prior to departure.
NOTE: If you prefer to use credit card for final payment, a 3% fee may be added to cover the credit card merchant fees we incur.
In Lima, Cusco, Ollantaytambo and Machu Picchu we will use good quality hotels.
Lodges in other areas offer limited electricity…
Cock-of-the-Rock Lodge
Cock-of-the-Rock Lodge is situated in the pristine Cloud Forest of the Mountains of Manu just a few minutes walk from a spectacular Cock of the Rock lek furnished with comfortable blinds (hides) which enable us to observe these colorful birds during their dawn mating rituals.
Facilities at the Lodge include 12 large spacious bungalows with hot and cold running water, flush toilets and two single beds in each room. Lighting is by candle and lantern but there is a small generator available for charging batteries in the dining room each evening.
The large dining area and lounge overlooks feeding stations for tanagers and Brown Capuchin Monkeys. Hummingbird feeders attract several species right in the dining room.
NOTE: Be sure to bring a battery-powered travel alarm!
Amazonia Lodge
Amazonia Lodge has wonderful gardens and feeders full of hummingbirds! Simple rooms and shared bath facilities with hot shwers offer a great stopover for the night on our way to the Manu Wildlife Center, breaking up what would otherwise be long day.
The large dining area offers excellent meals. Generated electricity is available for several hours each day for battery charging.
Manu Wildlife Center
The Manu Wildlife Center consists of 22 double bungalows built in the style of the local Machiguenga indigenous communities. Local wood, bamboo and palm fronds for roofing are used. All materials used have been sustainably harvested-—the wood used in the construction is collected from the river as, each rainy season, hundreds of trees are washed into the river as it cuts its ever-changing course.
Each room has good quality foam mattresses and all beds have cotton sheets and quilts (best for hot tropical conditions). Although all the rooms are screened with imported insect netting, beds are furnished with individual mosquito nets. The bungalows are arranged around a pleasant and well planned Amazonian garden with plants and shrubs that attract birds, butterflies and mammals. All bungalows are separate and private, but with large windows facing the forest and garden. Each has private toilet and shower facilities with hot water always available. Lighting is with gas or oil lamps and candles, however, a generator is run periodically to charge batteries in the dining area.
The large dining and bar/lounge areas are nearby. Food is good and wholesome, and a variety of fresh vegetables, fruits, grains and meats are used. Vegetarian diets are easily accommodated. There is a spacious bar and lounge area as well. A variety of cold non-alcoholic and alcoholic beverages are always available here for purchase. CASH ONLY!
Activity Level Rating: 3 (Note: 1 is easy and 5 is difficult)
Most trails are well groomed, however, there will be a fair amount of walking at elevations over 8000 feet. Machu Picchu has a lot of steps. A lot.
Purchasing Flights
Do not purchase your flights until the trip has been confirmed to go.
Detailed Trip Information
Upon notification that final payment is due (120 days prior to departure for land based tours / 180 days for boat based tours), you will receive a trip package of detailed information for your tour.
Any additional information about the trip, including lodgings, contacts, participants, meeting locations, etc., will sent about 2 weeks prior to the trip departure, or after final payment is received for late registrants.
Travel Insurance
As with all tours, we recommend purchasing Travel Insurance to help cover your investment, for covered reasons. Please see our section on Travel Insurance.
Passport & Visa
US Citizens may require a visa to enter certain foreign countries. See above for any required visa information.
Participants arriving to the USA from a foreign country may need to get a travel visa to enter the United States. Be sure to check the requirements for your country of origin.
Itinerary Changes
The trip itinerary is developed many months ahead of time. Occasionally, despite our best planning, changes may occur during the trip, or we may be forced to alter our plans. Changes may occur because of weather, road conditions, safety concerns or other circumstances. In these situations, it is the leader(s) responsibility to carefully consider and implement appropriate alternatives. Any additional costs incurred because of changes will be the responsibility of each individual participant. Refunds will not be issued as a result of itinerary changes.