Raptors in Flight Workshop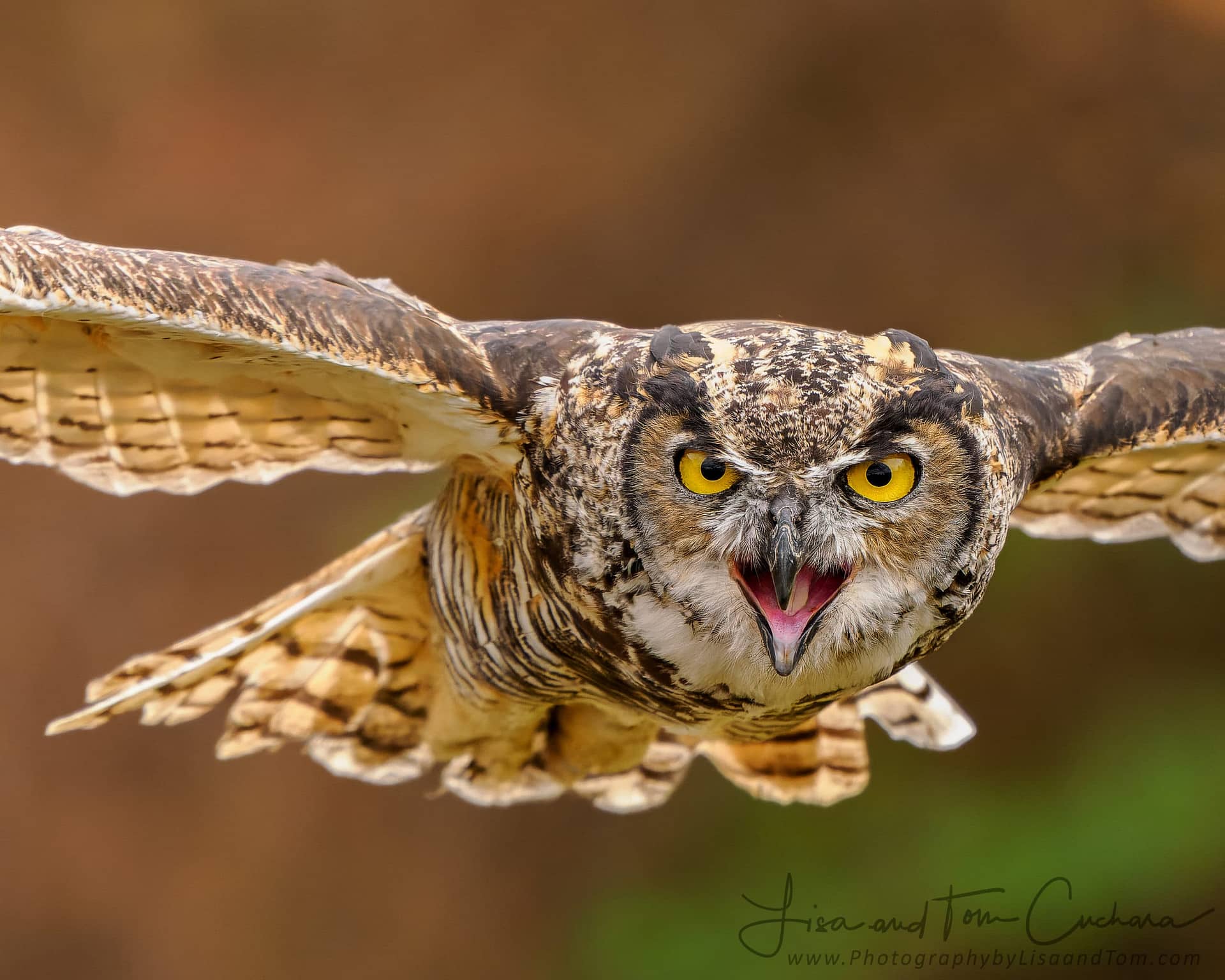 TOUR COST
From: $1,850 (See details)
Cost is per person, double occupancy from Toronto, Canada (YYZ)
GROUP SIZE
5-10 Participants
AVAILABILITY
Group size 5 to 10. We purposefully keep our group size small so you have unobstructed access to composing and taking photographs of the birds in flight. There are two leaders, which works very well to the benefit of workshop participants. Participants are welcome to ask questions anytime during the session.
The sessions will be spread out over two days, concurrently. We scheduled four (4), two (2) hour sessions over two (2) days!
PRIVATE TOUR OPTION
This tour is available as a private trip for any size group. The tour cost will vary with the number of people and any custom requests.
If you have been on this tour, please be the first to leave a review!
Highlights of Raptors in Flight Workshop
Join Lisa and Tom for a weekend of photographing raptors!

● Lisa and Tom are OM SYSTEM Ambassadors!

● Four (4) two-hour sessions (8 hours total) of photographing nothing but Raptors!

● Bird Portrait and lots of Birds In-Flight!

● Low number of photographers to maximize access and compositions for Birds In Flight

(aka, BIF)!
Description of Raptors in Flight Workshop
Come and photograph Birds! Photograph Healthy Trained Birds of Prey in Flight (and on well-placed snags). You will learn a lot and come away with AWESOME photographs!!! This is a fantastic opportunity to view and photograph raptors up close and personal! We have been here before and our participants wanted more time with the birds So, we've answered the challenge. All the Raptors we will photograph are healthy (never been injured in the wild or by man!) This is a great opportunity to have fun getting just the right angle as the bird's wings expand and fold for flight.
Flying Birds could include: Great Horned Owl, Snowy Owl, Bald Eagle, Harris Hawk, Red-Tailed Hawk, Barn Owl, Harlan's Hawk, Golden Eagle, and Eurasian Eagle Owl will be added when available. Static Birds could include: Barred Owl, Eastern Screech Owl, Merlin, Gyrfalcon, Eagle Owl, Aplomado Falcon.
These demonstrations include healthy birds that are trained for free flight, with each different bird unique in its own appearance, behavior, and flight style. All of the birds are domestically produced, professionally trained, happy, and healthy. Lisa and Tom are shooting during this workshop, but will be available for instruction throughout the workshop during and after each session.
Length of Tour
3-days/2-Nights

Pre-workshop Session:
Day Zero (Wednesday, May 9th) – 8pm EST
Zoom pre-workshop Introduction, Basics
Workshop Sessions:
Day One (Friday, May 11th) – 6pm EST
Arrive & Drive to Hotel
Meet and greet 6pm, go over gear, settings, etc.
Day Two (Saturday, May 12th) – 10am EST
Morning Session: 10am to 12pm EST
Lunch on site: 12pm to 1pm EST (Bring a lunch or at least high quality snacks.)
Afternoon Session: 1pm to 3pm EST
Dinner: 4:30pm EST
Informal image review: 7pm EST
Day Three (Sunday, May 13th) – 10am EST
Morning Session: 10am to 12pm EST
Lunch on site: 12pm to 1pm EST (Bring a lunch or at least high quality snacks.)
Afternoon Session: 1pm to 3pm EST
Workshop Concludes: 3pm EST
Return home/airport after the afternoon session is over.
Cost
Cost is $1,850 per person, based upon double occupancy, from Toronto, Canada (Airport code YYZ.
This trip ends in same as arrival city (Airport code ).
Meals and transportation to the location are not included.
You could also fly into Buffalo, NY Airport (BUF) or Niagara Falls, NY Airport (IAG).
Single Supplement
If a single hotel room is preferred, or we are unable to find a suitable roommate for you, a single supplement fee of $150 will be assessed.
NOTE: For boat-based tours, see pricing options for single cabins. Single cabin cost includes the single hotel cost above.
Minimum Number
If fewer than the minimum number of required participants are registered, we may still be able to run the trip by adding a small-group supplement fee, per person, determined by the number of participants registered.
Deposit Requirements
A $500 deposit per person is required to hold each space on this tour. Deposit may be made online by clicking the "Book Your Trip Now" button and using any credit card. If you prefer, you may call us at 888-875-9453 to pay by phone. You may also mail us a check, however, remember that all space is held on a first come-first served basis as deposits are received.
How to Book
In order to hold your space, click the "Book Your Trip Now" button above and complete the deposit process, including payment of the deposit through our Paypal portal using ANY CREDIT CARD. Upon completion of deposit, please visit our secure, online CLIENT INFORMATION FORM to complete your registration.
Final Payment
For all land-based tours: full payment by check is due 120 days prior to the departure date.
For all boat-based adventure cruises of 7-days or longer: full payment by check is required 180 days prior to departure.
NOTE: If you prefer to use credit card for final payment, a 3% fee may be added to cover the credit card merchant fees we incur.
This trip includes standard hotels.
Activity Level Rating: 1 (Note: 1 is easy and 5 is difficult)
You will be walking in a field, not far from the parking lot, the lawn is well maintained, however, the ground is uneven.
Lens: a telephoto or prime lens: 300mm, 70-200mm, 100-400, 100-500 RF, 200-500, 40-150mm (micro four thirds), 150-400(micro four thirds). Neither wide angles lens nor super telephoto lenses are needed.
Camera: Bring a second camera with plenty of batteries!
Tripod with Gimbal or Flexi-shooter head: Optional. Not required, but you can bring it along in case your arms get tired
Laptop: Optional. Bring this along for viewing images after the first day's session.
Clothing
Dress for the weather. Bring warm clothes (layers) and rain gear for you and your camera. If you are a OMD owner there is no need to cover the camera. It is water and splash proof!
Bugs: Optional. Bring bug and tick repellent.
Miscellaneous: If you intend to photograph before or after landscape or other, bring what gear best suits your photographic style. You do not need additional items for the raptors.
Vittoria, Norfolk County, ON (Canada). The nearest Airport is (YYZ) Toronto. You can also choose to fly in from Buffalo Airport (BUF) or Niagara Falls International Airport (IAG).
This is a weekend event, but you are welcome to stay longer. Niagara Falls is nearby. All workshop participants are responsible for their own transportation getting to the hotel, raptors, and return to the hotel. We do not have a van and cannot provide transportation.
If you live more than three (3) hours away, we suggest arriving Friday (not Saturday morning). We suggest arriving Friday May 11, 2023. The hotel we are staying at is about 20 minutes away from the raptors. The local airport is about 32 miles from the hotel. Workshop length is two (2) nights and three (3) days. The workshop ends after the last session on Sunday.
Purchasing Flights
Do not purchase your flights until the trip has been confirmed to go.
Detailed Trip Information
Upon notification that final payment is due (120 days prior to departure for land based tours / 180 days for boat based tours), you will receive a trip package of detailed information for your tour.
Any additional information about the trip, including lodgings, contacts, participants, meeting locations, etc., will sent about 2 weeks prior to the trip departure, or after final payment is received for late registrants.
Travel Insurance
As with all tours, we recommend purchasing Travel Insurance to help cover your investment, for covered reasons. Please see our section on Travel Insurance.
Passport & Visa
US Citizens may require a visa to enter certain foreign countries. See above for any required visa information.
Participants arriving to the USA from a foreign country may need to get a travel visa to enter the United States. Be sure to check the requirements for your country of origin.
Itinerary Changes
The trip itinerary is developed many months ahead of time. Occasionally, despite our best planning, changes may occur during the trip, or we may be forced to alter our plans. Changes may occur because of weather, road conditions, safety concerns or other circumstances. In these situations, it is the leader(s) responsibility to carefully consider and implement appropriate alternatives. Any additional costs incurred because of changes will be the responsibility of each individual participant. Refunds will not be issued as a result of itinerary changes.