Short Trips for Target Birds Series
NEW JERSEY: Harlequin Duck, Long-tailed Duck & Purple Sandpiper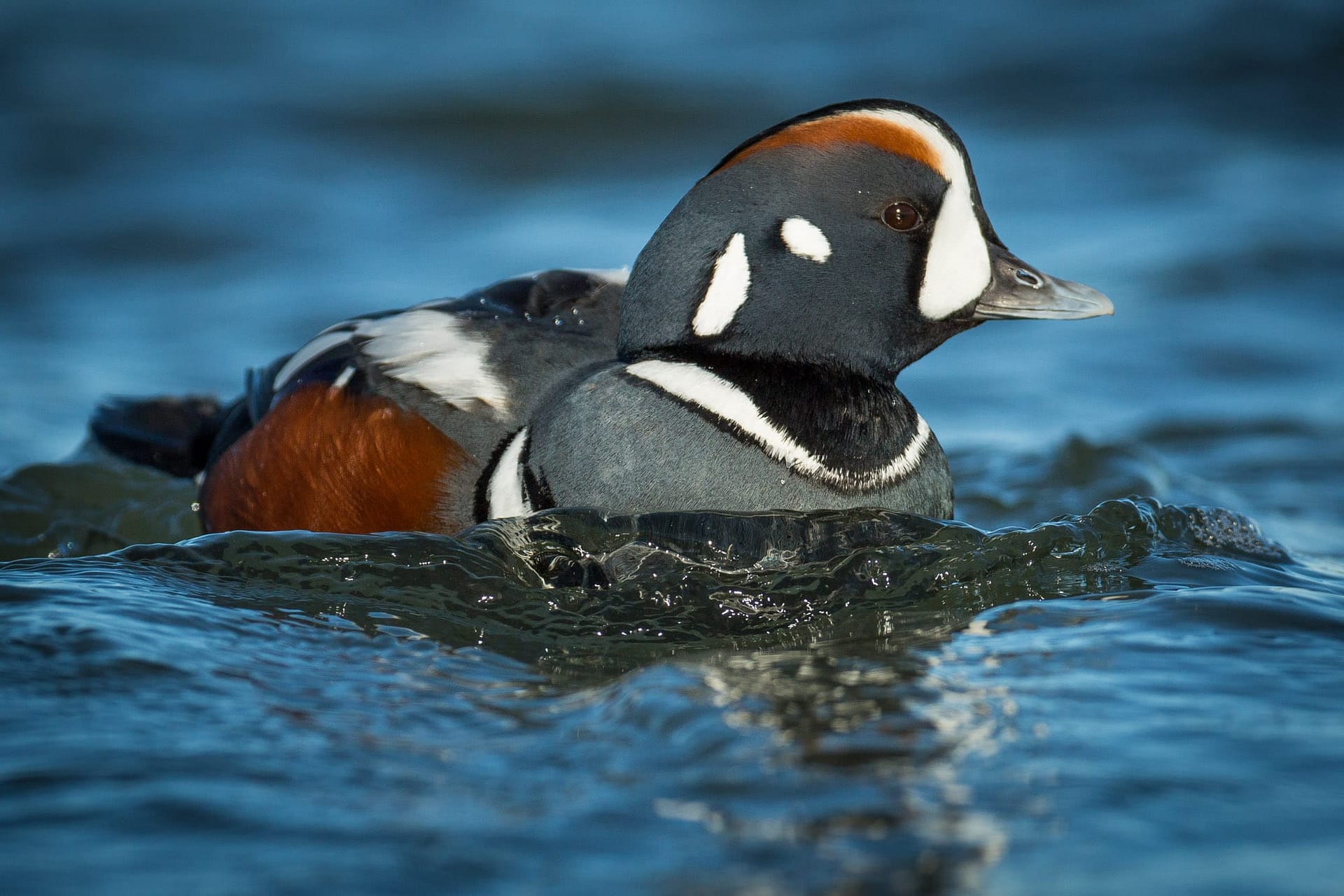 TOUR FOCUS

BIRDS & WILDLIFE
SCHEDULED TOURS
2023 :: December 9 - December 12

TOUR COST
From: $1,500 (See details)
Cost is per person, double occupancy from Philadelphia, Pennsylvania. (PHL)
GROUP SIZE
3 - 7 Participants
AVAILABILITY
7 spaces available
PRIVATE TOUR OPTION
This tour is available as a private trip for any size group. The tour cost will vary with the number of people and any custom requests.
If you have been on this tour, please be the first to leave a review!
Highlights of NEW JERSEY: Harlequin Duck, Long-tailed Duck & Purple Sandpiper
Best of  Coastal New Jersey Winter Birding
Harlequin, Long-tailed Duck and Eiders
Purple Sandpiper, Snow Bunting and Short-eared Owl
Description of NEW JERSEY: Harlequin Duck, Long-tailed Duck & Purple Sandpiper
Visit the Jersey Shore during it's most serene season: winter. The crowds of sunbathers have left months ago and they have been replaced by bird species found here only in the coldest months! During this long-weekend trip we will visit local winter hotspots to search for flocks of wintering waterfowl, shorebirds, loons and any of the other rotating cast of characters that call the Mid-Atlantic home during this time of year. We will visit Barnegat Lighthouse State Park, which hosts a flock of Harlequin Ducks as well as Purple Sandpipers, Great Cormorants, and Common Eiders each year.
We will also visit various North Shore, Barnegat Bay and/or Long Beach Island local hotspots, keeping an eye on the latest reports to maximize out species list, particularly with harder-to-get local wintering species, such as Short-eared Owl, Snow Bunting, and various gull species, such as Iceland and Glaucous Gulls or Eurasian Wigeon. A long and exciting list of other rarities are always possible in this area in winter, as well as more locally common species such as Fish Crow and Black Vulture. This winter trip to the Mid-Atlantic is a great way start or finish off  your own year list!
Primary Targets: Harlequin Duck, Long-tailed Duck, Purple Sandpiper
Secondary Targets: Snowy Owl, Snow Bunting, Lapland Longspur, King Eider, Razorbill, Black-legged Kittiwake, Iceland Gull, Glaucous Gull, Common Eider, Fish Crow, Black Vulture, Eurasian Wigeon.
Read about US Endemics to the Lower 48
Length of Tour
4-Days/3-Nights

Brief Itinerary
Day 1 – South Jersey
Day 2 – Barnegat Lighthouse
Day 3 – New Jersey Shore
Day 4 – Philadelphia / Departure
Detailed Itinerary
Day 1 – South Jersey
Arrive by noon; depending on arrival times and other circumstances we may bird our way to the shore from the airport. We should pick up Fish Crow and maybe Black Vulture on our way south and east. We will spend the sunset hours searching for Short-eared Owls in the spartina and phragmites of the Barnegat Bay. Night near Tom's River.
Day 2 – Barnegat Lighthouse
Today we will visit Barnegat Inlet and search for most of our primary target species. This is among the "go-to" winter birding spots for locals, and with good reason. We will be on the lookout for Purple Sandpiper, Long-tailed and Harlequin Ducks, Great Cormorant, and Common Eider as well as Razorbill and King Eider, each of which are recorded annually. We will spend the afternoon birding the back bays and marshes of the Barnegat Bay or chasing rarities. Night near Tom's River.
Day 3 – New Jersey Shore
Today will be a "leader's choice" day. We will either use today as another opportunity to visit Barnegat Light or other local spots to pick up targets which have eluded us thus far, or we will chase the latest reports of species of interest. These could include things like Iceland Gull, Eurasian Wigeon, Lapland Longspur or other regional or even national rarities! With specialized local experience we could see quite a few species on our final full day of birding. Night near Philadelphia.
Day 4 – Philadelphia / Departure
This morning we will bird the Philadelphia area before heading to the airport and our departing flights.
Cost
Cost is $1,500 per person, based upon double occupancy, from Philadelphia, Pennsylvania. (Airport code PHL).
This trip ends in same as arrival city (Airport code ).
Cost Includes
Cost includes airport transfers, all ground transportation, accomodations, entrance fees and services of your professional leader(s).
Cost does not Include
All meals, flights to/from destination city, trip insurance, or anything that is not specifically mentioned in the itinerary.
Minimum Number
If fewer than the minimum number of participants registered, the trip can still run with a small-group supplement fee per person determined by the number of participants.
Single Supplement
If a single room is preferred, or we are unable to find a suitable roommate for you, a single supplement fee of $300 will be assessed.
Deposit Requirements
A $500 deposit per person is required to hold each space on this tour. Deposit may be made online by clicking the "Book Your Trip Now" button and using any credit card. If you prefer, you may call us at 888-875-9453 to pay by phone. You may also mail us a check, however, remember that all space is held on a first come-first served basis as deposits are received.
Minimum Number
If fewer than the minimum number of required participants are registered, we may still be able to run the trip by adding a small-group supplement fee, per person, determined by the number of participants registered.
How to Book
In order to hold your space, click the "Book Your Trip Now" button above and complete the deposit process, including payment of the deposit through our Paypal portal using ANY CREDIT CARD. Upon completion of deposit, please visit our secure, online CLIENT INFORMATION FORM to complete your registration.
Final Payment
For all land-based tours: full payment by check is due 120 days prior to the departure date.
For all boat-based adventure cruises of 7-days or longer: full payment by check is required 180 days prior to departure.
NOTE: If you prefer to use credit card for final payment, a 3% fee may be added to cover the credit card merchant fees we incur.
This trip includes standard hotels.
Activity Level Rating: 2 (Note: 1 is easy and 5 is difficult)
A reasonable degree of fitness is required as the jetty at Barnegat Light is uneven, slippery and has gaps and elevation changes between its boulders. Walking will be on rocky jetties, sandy beaches and dirt roads and gravel paths. There will likely be several miles of walking each day. The length of the Barnegat jetty is almost a mile. We will be at or near sea level for all of this trip. Participants should be aware of possibly walking in snow and icy conditions.
Recommended Field Guide
The Sibley Field Guide to Birds of  North America (2nd Edition, 2016, Knopf)
by David Allen Sibley
– only available as The Sibley eGuide to Birds App covers all of North America.
Non-smoking Tour
This trip is for non-smokers only. Smoking is not permitted at any time during our tour.
Climate / Weather
This is a rain-or-shine trip and the Jersey Shore can have tough cold winter weather; it can also be very mellow at times, when a light jacket might suffice. Pack accordingly, with layers, gloves, and a pull down hat and plan for cold wind and the potential for precipitation (rain or snow, or both!).
Purchasing Flights
Do not purchase your flights until the trip has been confirmed to go.
Detailed Trip Information
Upon notification that final payment is due (120 days prior to departure for land based tours / 180 days for boat based tours), you will receive a trip package of detailed information for your tour.
Any additional information about the trip, including lodgings, contacts, participants, meeting locations, etc., will sent about 2 weeks prior to the trip departure, or after final payment is received for late registrants.
Travel Insurance
As with all tours, we recommend purchasing Travel Insurance to help cover your investment, for covered reasons. Please see our section on Travel Insurance.
Passport & Visa
US Citizens may require a visa to enter certain foreign countries. See above for any required visa information.
Participants arriving to the USA from a foreign country may need to get a travel visa to enter the United States. Be sure to check the requirements for your country of origin.
Itinerary Changes
The trip itinerary is developed many months ahead of time. Occasionally, despite our best planning, changes may occur during the trip, or we may be forced to alter our plans. Changes may occur because of weather, road conditions, safety concerns or other circumstances. In these situations, it is the leader(s) responsibility to carefully consider and implement appropriate alternatives. Any additional costs incurred because of changes will be the responsibility of each individual participant. Refunds will not be issued as a result of itinerary changes.