Short Trips for Target Birds Series
UTAH, NEVADA & IDAHO: Snowcock, Cassia Crossbill & Flammulated Owl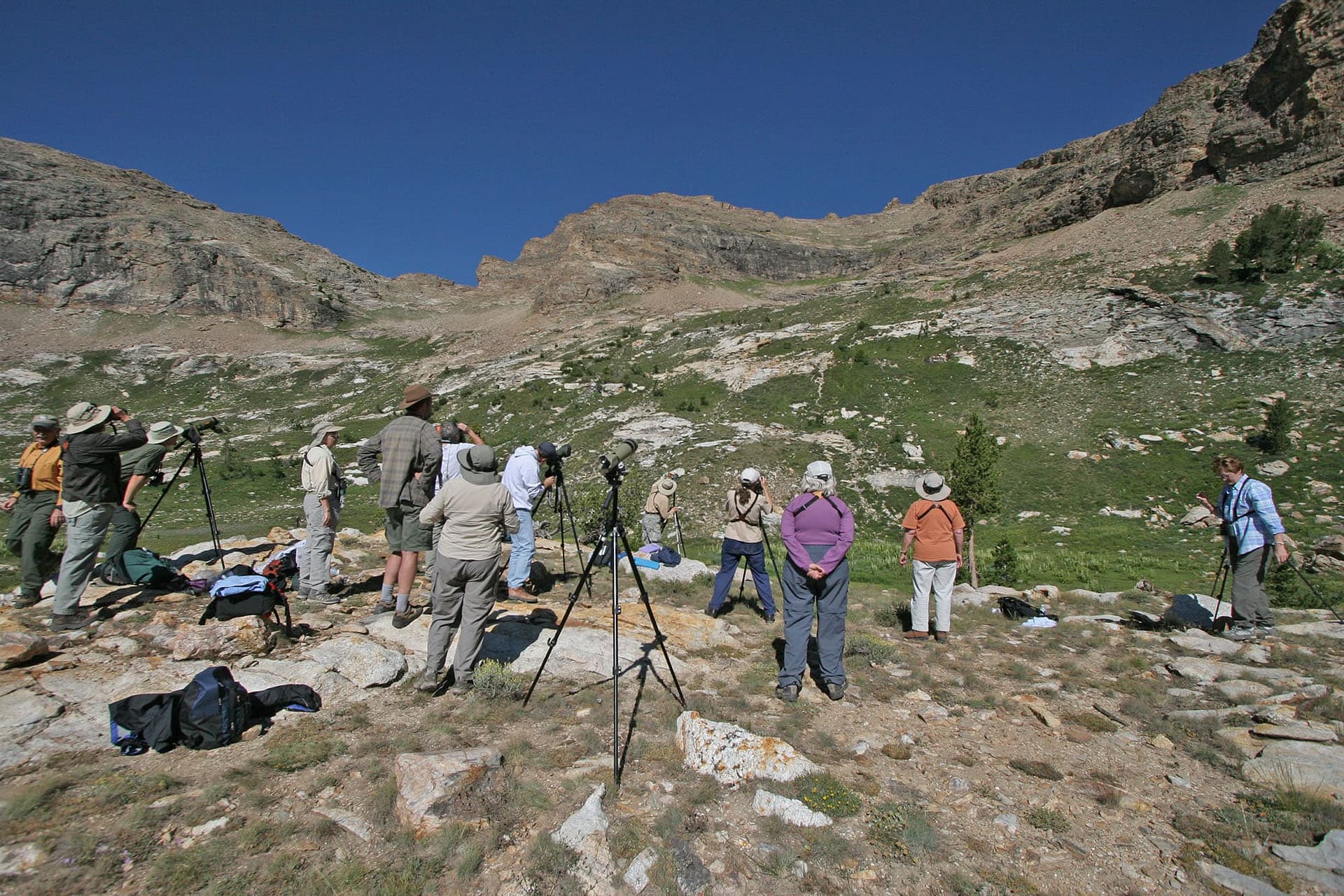 TOUR FOCUS

BIRDS & WILDLIFE
SCHEDULED TOURS
2024 :: July 25 - July 29

TOUR COST
From: $1,900 (See details)
Cost is per person, double occupancy from Salt Lake City, Utah. (SLC)
GROUP SIZE
2 - 7 Participants
AVAILABILITY
2023: FULL
2024: 4 spaces available
PRIVATE TOUR OPTION
This tour is available as a private trip for any size group. The tour cost will vary with the number of people and any custom requests.
If you have been on this tour, please be the first to leave a review!
Highlights of UTAH, NEVADA & IDAHO: Snowcock, Cassia Crossbill & Flammulated Owl
Himalayan Snowcock in the Ruby Mountains of Nevada!
Cassia Crossbill in the South Mountains of Idaho!
Flammulated Owl, Black Swift, Ferruginous Hawk!
Great Salt Lake & Great Basin Birding!
Description of UTAH, NEVADA & IDAHO: Snowcock, Cassia Crossbill & Flammulated Owl
This short trip to Utah, Nevada, and Idaho is designed to target many of the Great Basin's most sought-after species. Our primary goals will be to track down Himalayan Snowcocks in the Ruby Mountains of Nevada, the Cassia Crossbill only found in the South Hills and Albion Mountains of Idaho, and range-restricted and shy Flammulated Owl in the Wasatch Mountains of Utah. Along the way, we'll seek other regional specialties including Black Swift, Northern Goshawk, Ferruginous Hawk, Chukar, Common Poorwill, Black Rosy-Finch, Gray Vireo, Sage Thrasher, and Gray Partridge in addition to ~150 species total!
The Himalayan Snowcock was successfully introduced to the Ruby Mountains of northern Nevada and presents one of the greatest challenges of any resident, countable bird in North America. Though they are as large as our largest grouse, the snowcock can be difficult to find. They are perfectly camouflaged amongst rocky cliffs high in rugged and remote mountains. Considerable physical effort is required to trek up the steep, rugged trail for an opportunity to tick them. Not only do visitors to the Ruby Mountains have a chance to see this spectacular gamebird but the scenery is spectacular! Other high-elevation species we may encounter include Black Rosy-Finch, Dusky Grouse, and Lewis' Woodpecker.
In the South Hills of south-central Idaho, we'll search for the newly-recognized Cassia Crossbill. This habitat-specific endemic is only found in this small mountain range, having evolved in the lodgepole pine forests here which are notably absent of red squirrels!
This tour begins and ends in Salt Lake City, amid some of northern Utah's top birding hotspots. We'll visit the Wasatch Mountains, Bear River Migratory Bird Refuge, and Antelope Island to target other Great Basin goodies including Black Swift, Flammulated Owl, Common Poorwill, and Chukar. Shorebird migration will be in full swing with thousands of phalaropes and Eared Grebes on the Great Salt Lake, a true avian spectacle!
Length of Tour
5-Days/4-Nights

Brief Itinerary
Day 1 – Mid-day arrivals in Salt Lake City, & Wasatch Mountains. Night in Salt Lake City.
Day 2 – Pequop Mountains, South Fork Reservoir, & Elko. Night in Elko.
Day 3 – Ruby Mountains, & South Hills. Night in Twin Falls.
Day 4 – South Hills & Bear River Migratory Bird Refuge. Night in Layton.
Day 5 – Great Salt Lake, Antelope Island, & afternoon departures from SLC.
Detailed Itinerary
Day 1 – Mid-day arrivals in Salt Lake City, & Wasatch Mountains. Night in Salt Lake City.
Mid-day arrivals in Salt Lake City. During the afternoon we will explore the foothills and canyons of the Wasatch Mountains. At Little Cottonwood Canyon we'll look for our first target, Black Swift, though it is getting late in the season for them. We'll encounter American Dipper, Lincoln's Sparrow, Red-naped Sapsucker, Olive-sided and Hammond's Flycatcher, Hermit Thrush, MacGillivary's Warbler, Band-tailed Pigeon, California Quail, Evening Grosbeak, Black-headed Grosbeak, Stellar's Jay, and Woodhouse's Scrub-Jay. At dusk we begin our nocturnal search for Flammulated Owl and Common Poorwill. Night in Salt Lake City, UT.
Day 2 – Pequop Mountains, South Fork Reservoir, & Elko. Night in Elko.
We leave Salt Lake City and head to Elko, Nevada (about a 3-hour drive) which we'll break up with several birding stops along the way. We pass through good shorebird habitat along the salt flats of the south shore of the Great Salt Lake, possibly picking up Baird's Sandpiper and Snowy Plover. In the Pequop Mountains we'll expore ridges covered with pinyon-juniper woodlands which host Pinyon Jay, Woodhouse's Scrub-Jay, Juniper Titmouse, and Gray Flycatcher,.
Late afternoon we'll bird in the Elko area, exploring rolling sagebrush-covered hills, looking for Sage Thrasher, Brewer's Sparrow, and other sagebrush inhabitants. A visit to South Fork Reservoir will yield an amazing variety of waders, waterfowl, shorebirds and terns. We'll retire early to prepare for tomorrow's early start. Night in Elko, NV.
Day 3 – Ruby Mountains, & South Hills. Night in Twin Falls.
Today we look for the Himalayan Snowcock. This will require a 3:00am start for the 45-minute drive to Lamoille Canyon in the heart of the Ruby Mountains. Our hike begins in pre-dawn darkness, ascending about 2,000 feet along a narrow path for 2 miles. We'll eat breakfast snacks at the trailhead and along the way. We aim to reach Island Lake and the cirque by daybreak for the best chance to see our target. Most of the morning will be spent in the cirque scanning towering rocky cliffsides for Himalayan Snowcock and Black Rosy-Finch, and enjoying the many other birds and spectacular scenery of this alpine area. Pika and Mountain Goat are often seen in the area. Golden Eagles may be soaring in the distance. We'll descend back to the trailhead in the late morning, birding along the way for Rufous and Broad-tailed Hummingbirds, Dusky Flycatcher, Mountain Bluebirds, and possible Dusky Grouse. On our way back to town we'll stop at the mouth of the canyon, where a grove of large cottonwoods is home to a colony of Lewis's Woodpeckers. Chukar, Cordilleran Flycatcher, Green-tailed Towhee, and Lazuli Bunting are possible along the way.
After lunch we drive northwards into Idaho. We'll spot a variety of raptors along the way including Ferruginous Hawk, Swainson's Hawk, Golden Eagle, and sometimes Prairie Falcon. Time permitting, we'll make our first search for Cassia Crossbill. Recently split from Red Crossbill, Cassia's Crossbill is found only in the South Hills of southern Idaho. While most crossbills are nomadic, Cassia's are sedentary, residing within lodgepole pine forests that are notably absent of red squirrels. They share habitat with Western Wood-Pewee, Mountain Chickadee, Pine Siskin, Western Tanager, MacGillivray's Warbler, and western specialties. Night in Twin Falls, ID.
Day 4 – South Hills & Bear River Migratory Bird Refuge. Night in Layton.
Depending upon our success on the previous afternoon, our itinerary is flexible this morning. We may return to the South Hills for Cassia Crossbill, or we'll search nearby grasslands for Gray Partridge and other new trip birds. Afterwards, we return to Utah where we will visit Bear River Migratory Bird Refuge. This is perhaps Utah's most famous birding location. Huge numbers of shorebirds and waterfowl congregate at this time of year. A lot depends upon water levels, but we should come across Western and Clark's Grebe's, American White Pelicans, California Gulls, Cinnamon Teal, White-faced Ibis, Long-billed Dowitchers, Marbled Godwits, Solitary Sandpipers, American Avocet, Black-necked Stilts, Caspian and Forster's Terns, Marsh Wrens, and Yellow-headed Blackbirds. Night in Layton, UT.
Day 5 – Great Salt Lake, Antelope Island, & afternoon departures from SLC.
We spend our final morning at Antelope Island in the Great Salt Lake. Along the edge of this vast inland sea we'll witness one of the West's greatest migratory spectacles; where hundreds-of-thousands of Wilson's Phalaropes, Red-necked Phalaropes, and Eared Grebes congregate during the peak of migration! Along the 7-mile causeway that connects the island and mainland, we'll stop to watch Franklin's Gulls and Long-billed Curlews ceaselessly chasing millions of brine flies along the water's edge. On the island, we'll explore different areas for Black-chinned Hummingbird, Western Wood-Pewee, Burrowing Owl, Barn Owl, Great Horned Owl, Western Meadowlark, Lark Sparrow, Wilson's Warbler, and Chukar. The island also hosts populations of Bison, Pronghorn, Mule Deer, Coyote, and many species of snakes and butterflies. The trip ends mid-day at the Salt Lake City Airport.
Cost
Cost is $1,900 per person, based upon double occupancy, from Salt Lake City, Utah. (Airport code SLC).
This trip ends in same as arrival city (Airport code SLC).
Cost Includes
Cost includes airport transfers, all ground transportation, accommodations, entrance fees and services of your professional leader(s).
Cost does not Include
All meals, flights to/from destination city, trip insurance, or anything that is not specifically mentioned in the itinerary.
Minimum Number
If fewer than the minimum number of participants registered the trip can still run with a small-group supplement fee per person determined by the number of participants.
Single Supplement
If a single room is preferred, or we are unable to find a suitable roommate for you, a single supplement fee of $300 will be assessed.
Deposit Requirements
A $500 deposit per person is required to hold each space on this tour. Deposit may be made online by clicking the "Book Your Trip Now" button and using any credit card. If you prefer, you may call us at 888-875-9453 to pay by phone. You may also mail us a check, however, remember that all space is held on a first come-first served basis as deposits are received.
Minimum Number
If fewer than the minimum number of required participants are registered, we may still be able to run the trip by adding a small-group supplement fee, per person, determined by the number of participants registered.
How to Book
In order to hold your space, click the "Book Your Trip Now" button above and complete the deposit process, including payment of the deposit through our Paypal portal using ANY CREDIT CARD. Upon completion of deposit, please visit our secure, online CLIENT INFORMATION FORM to complete your registration.
Final Payment
For all land-based tours: full payment by check is due 120 days prior to the departure date.
For all boat-based adventure cruises of 7-days or longer: full payment by check is required 180 days prior to departure.
NOTE: If you prefer to use credit card for final payment, a 3% fee may be added to cover the credit card merchant fees we incur.
4 nights accommodations in standard motels, all ensuite and comfortable. Wherever possible, we support establishments that implement eco-friendly practices.
Activity Level Rating: 4 (Note: 1 is easy and 5 is difficult)
This trip includes some long driving periods as well as an early morning (pre-dawn) hike for Himalayan Snowcock. We'll climb 2000 feet, beginning at an elevation of 8,000 feet along a rugged, narrow trail for 2 miles. You must be physically fit to make this trek.
Recommended Field Guide
Sibley Birds West (2nd Edition, 2016, Knopf)
by David Allen Sibley
Sibley Birds is also available as an App
Purchasing Flights
Do not purchase your flights until the trip has been confirmed to go.
Detailed Trip Information
Upon notification that final payment is due (120 days prior to departure for land based tours / 180 days for boat based tours), you will receive a trip package of detailed information for your tour.
Any additional information about the trip, including lodgings, contacts, participants, meeting locations, etc., will sent about 2 weeks prior to the trip departure, or after final payment is received for late registrants.
Travel Insurance
As with all tours, we recommend purchasing Travel Insurance to help cover your investment, for covered reasons. Please see our section on Travel Insurance.
Passport & Visa
US Citizens may require a visa to enter certain foreign countries. See above for any required visa information.
Participants arriving to the USA from a foreign country may need to get a travel visa to enter the United States. Be sure to check the requirements for your country of origin.
Itinerary Changes
The trip itinerary is developed many months ahead of time. Occasionally, despite our best planning, changes may occur during the trip, or we may be forced to alter our plans. Changes may occur because of weather, road conditions, safety concerns or other circumstances. In these situations, it is the leader(s) responsibility to carefully consider and implement appropriate alternatives. Any additional costs incurred because of changes will be the responsibility of each individual participant. Refunds will not be issued as a result of itinerary changes.
Trip Reports/Species Lists:
UT, NV, & ID: 2023 eBird TRIP REPORT
UT, NV, & ID: 2022 eBird TRIP REPORT
UT, NV, & ID: 2021 Trip 1 eBird TRIP REPORT
UT, NV, & ID: 2021 Trip 2 eBird TRIP REPORT
UT, NV & ID: 2019 eBird TRIP REPORT
UT & NV: 2018 eBird TRIP REPORT
UT & NV: 2016 eBird TRIP REPORT (incomplete)
2016 Utah-Nevada Species Recorded 
iNaturalist Guide to Wildlife, Insects, & Plants seen on this tour!
**Note that this trip did not include the Idaho portion until 2019