TEXAS: Whooping Cranes & Wading Birds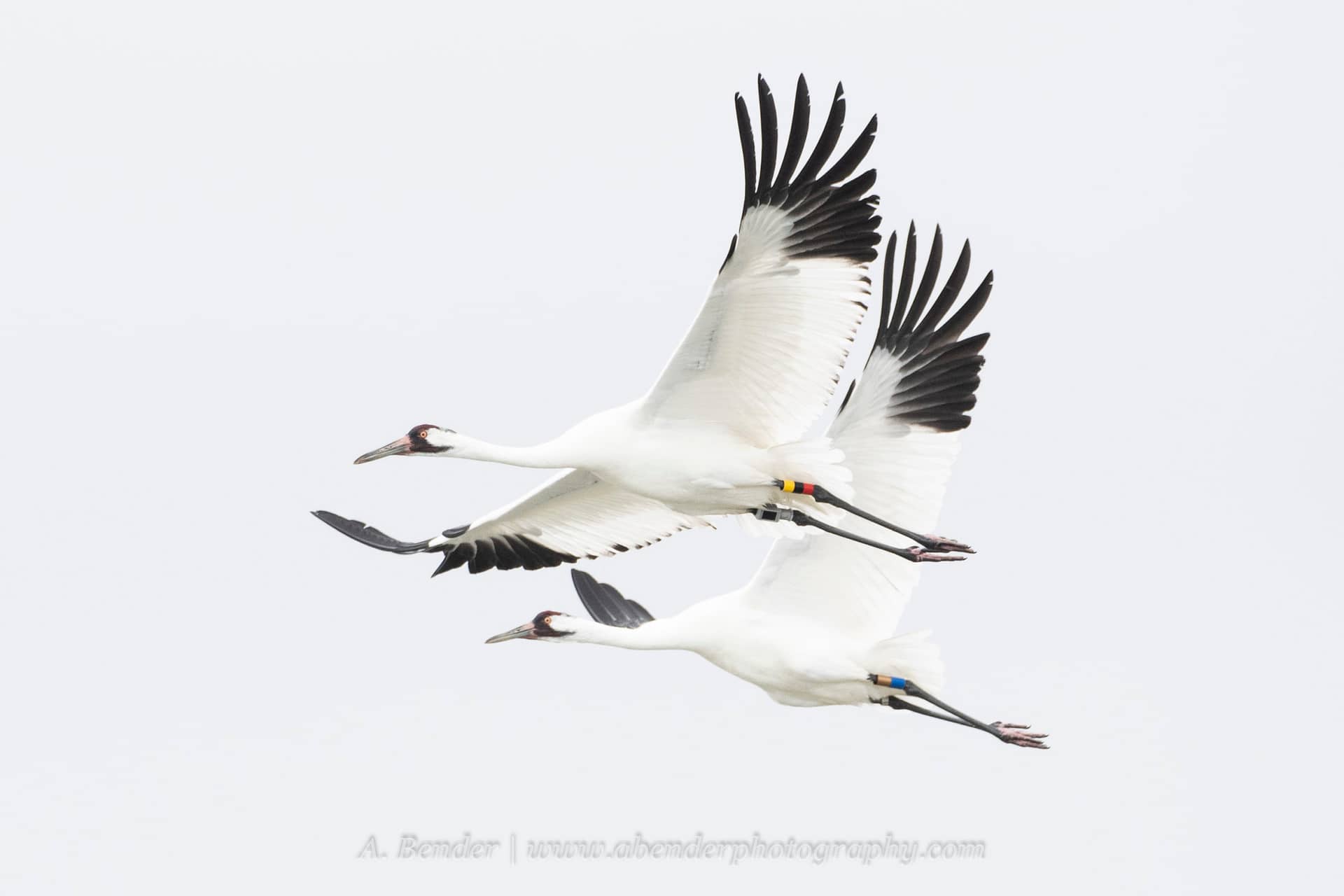 SCHEDULED TOURS
2023 :: December 14 - December 18
2023 :: December 18 - December 22

TOUR COST
From: $2,775 (See details)
Cost is per person, double occupancy from San Antonio, Texas (SAT)
GROUP SIZE
3 Participants
AVAILABILITY
2023-12-14: FULL
2023-12-18: FULL

PRIVATE TOUR OPTION
This tour is available as a private trip for any size group. The tour cost will vary with the number of people and any custom requests.
If you have been on this tour, please be the first to leave a review!
Highlights of TEXAS: Whooping Cranes & Wading Birds
Hands-on photo instruction for bird photography with a Tamron Ambassador
Most companies run this workshop with 5 photographers which is a completely full boat and we are only taking 3 so that photographers have plenty of room!
Photographing the iconic Whooping Cranes from a shallow draft boat and bird blinds allowing close approach and incredible images.
Photograph other spectacular wading birds and waterfowl such as herons, egrets, Roseate Spoonbills, Sandhill cranes, and pelicans.
This tour is a new offering in the Wildside Weekender Series featuring shorter trips and focused subjects.
Description of TEXAS: Whooping Cranes & Wading Birds
Situated on the edge of the San Antonio Bay, just north of Rockport, Texas, sits Aransas National Wildlife Refuge. The Aransas National Wildlife Refuge has the distinct privilege of being the over-wintering destination for the majority of the endangered Whooping crane. Once decimated to only 15 individuals, the Aransas whooping crane population now numbers close to 500. With only about 800 individuals on the planet, between this population, the handful of other wild populations in North America, and those in captivity, these birds are beyond a doubt a rarity.
As the refuge covers 115,000 acres, finding these cranes can be difficult. However, on this photo adventure, I partner with Captain Kevin and Captain Lori who have several decades of combined experience in the refuge. They are familiar with the birds' behavior, territories, and have the knowledge and skill to get us in position for our shots without disturbing the birds. Approaching from the water via boat, we are able to gain access to a larger portion of the refuge and observe the whooping cranes as they forage for their favorite prey: blue crabs.
After spending the mornings on the boat, we will break for lunch before heading to a piece of private property next to the refuge where the owners have a comfortable wildlife blind for us to observe more crane action up close. Perfect for portrait shots and social behavior images.
Beyond the whooping cranes, there will be the opportunities to photograph other birds such as waterfowl, egrets, herons, roseate spoonbills, sandhill cranes, and pelicans.
NOTE: Most Whooping Crane Photography Workshops run this tour with 5 photographers which is the maximum the boat can hold. We are running this workshop with only 3 photographers so that each photographer has plenty of room in the boat and blind.
*Although we will eat our meals as a group, meals costs are not included in this tour.
Length of Tour
5-Days/4-Nights

Brief Itinerary
Day 1 Arrive in San Antonio, TX
Day 2 Drive to Rockport, TX and evening search for whooping cranes and wading birds
Day 3/4 Morning on the water with whooping cranes before an afternoon in a blind
Day 5 Morning in a blind before returning to San Antonio, TX for flights home (flight departure times need to be after 4pm to ensure adequate arrival time from Rockport)
Detailed Itinerary
Day 1 Arrive in San Antonio, TX
We will meet this evening for dinner and a meet and greet. We will discuss what to expect, photography strategies, logistics, wildlife photography ethics and blind photography protocol. 
Day 2 Drive to Rockport, TX and evening search for whooping cranes and wading birds
Leaving San Antonio after breakfast, we drive towards Rockport, taking the back highways and looking for various raptors such as crested caracaras, red tailed hawks, and kestrels. Arriving in Rockport, we check into our accommodations before heading back into the field to search for whooping cranes from land. Other avian species such as sandhill cranes, American white pelicans, great blue herons, snowy egrets, roseate spoonbills, and various raptors are possible subjects as well. 
Day 3/4 Morning on the water with whooping cranes before an afternoon in a blind 
We will head out on the water predawn to be out near the whooping cranes as the sun comes up. On the water with the cranes and other birds, such as American oystercatchers, osprey, terns, and pelicans, for up to six hours. Returning to shore we will get lunch at a local eatery before heading to a special blind located on private property. We have special permission to photograph from this blind at these specific times. The whooping cranes are known to visit the area, along with sandhill cranes, whistling ducks, and whitetail deer. This special viewing blind gives us up close and personal photography opportunities for this rare and endangered species.
Day 5 Morning in a blind before returning to San Antonio, TX for flights home 
Up early, we will spend our last morning back in the blind. Again, there is the opportunity to see whooping cranes, sandhill cranes, whistling ducks, and whitetail deer from this vantage point in the morning light. By 10am we will start driving back to San Antonio in order to get everyone to the airport before evening flights.
Cost
Cost is $2,775 per person, based upon double occupancy, from San Antonio, Texas (Airport code SAT.
This trip ends in same as arrival city (Airport code ).
Cost Includes
Cost includes airport transfers, all ground transportation, accommodations, entrance fees and services of your professional leader(s).
Cost does not Include
All meals, flights to/from destination city, trip insurance, or anything that is not specifically mentioned in the itinerary.
Minimum Number
If fewer than the minimum number of participants registered the trip can still run with a small-group supplement fee per person determined by the number of participants.
Single Supplement
If a single hotel room is preferred, or we are unable to find a suitable roommate for you, a single supplement fee of $300 will be assessed.
NOTE: For boat-based tours, see pricing options for single cabins. Single cabin cost includes the single hotel cost above.
Minimum Number
If fewer than the minimum number of required participants are registered, we may still be able to run the trip by adding a small-group supplement fee, per person, determined by the number of participants registered.
Deposit Requirements
A $750 deposit per person is required to hold each space on this tour. Deposit may be made online by clicking the "Book Your Trip Now" button and using any credit card. If you prefer, you may call us at 888-875-9453 to pay by phone. You may also mail us a check, however, remember that all space is held on a first come-first served basis as deposits are received.
How to Book
In order to hold your space, click the "Book Your Trip Now" button above and complete the deposit process, including payment of the deposit through our Paypal portal using ANY CREDIT CARD. Upon completion of deposit, please visit our secure, online CLIENT INFORMATION FORM to complete your registration.
Final Payment
For all land-based tours: full payment by check is due 120 days prior to the departure date.
For all boat-based adventure cruises of 7-days or longer: full payment by check is required 180 days prior to departure.
NOTE: If you prefer to use credit card for final payment, a 3% fee may be added to cover the credit card merchant fees we incur.
This trip includes standard hotel rooms in San Antonio and Rockport, Texas.
Activity Level Rating: 1 (Note: 1 is easy and 5 is difficult)
Easy – shooting from a small boat, a bird blind and level beaches
Since this tour focuses on the whooping cranes, telephoto lenses are going to be key to achieving the best images that require little cropping. Feel free to bring wider lenses but understand the majority of images created on the boat are at 500-600mm and in the blind 200mm-600mm. Here are my suggestions:
Your longest telephoto for wildlife and birds – I use the Tamron 150-600mm G2 and highly recommend it if you are looking for a lens in this range. Anything 500mm or longer is going to be great for photographing the whooping cranes and birds from the boat.
A shorter telephoto such as a 70-300mm or 100-400mm for wider environmental shots and intimate portraits when we are in the blind – I typically carry the Tamron 18-400mm or Tamron 100-400mm for covering this range.
Tripod/monopod for extra support of long lenses both on the boat and in the blind.
Microfiber towels/lens cloths for cleaning lenses – we are shooting in a humid environment with the potential for a bit of water spray so keeping your glass clean will be very important throughout the day.
Gear and trip insurance – because you never know what might happen. Working out in the elements, I always highly suggest having gear insurance as, should the worst come to pass, you want to know that at least you can replace what's been damaged when you return home.
*Although we will eat our meals as a group, meals costs are not included in this tour.
Purchasing Flights
Do not purchase your flights until the trip has been confirmed to go.
Detailed Trip Information
Upon notification that final payment is due (120 days prior to departure for land based tours / 180 days for boat based tours), you will receive a trip package of detailed information for your tour.
Any additional information about the trip, including lodgings, contacts, participants, meeting locations, etc., will sent about 2 weeks prior to the trip departure, or after final payment is received for late registrants.
Travel Insurance
As with all tours, we recommend purchasing Travel Insurance to help cover your investment, for covered reasons. Please see our section on Travel Insurance.
Passport & Visa
US Citizens may require a visa to enter certain foreign countries. See above for any required visa information.
Participants arriving to the USA from a foreign country may need to get a travel visa to enter the United States. Be sure to check the requirements for your country of origin.
Itinerary Changes
The trip itinerary is developed many months ahead of time. Occasionally, despite our best planning, changes may occur during the trip, or we may be forced to alter our plans. Changes may occur because of weather, road conditions, safety concerns or other circumstances. In these situations, it is the leader(s) responsibility to carefully consider and implement appropriate alternatives. Any additional costs incurred because of changes will be the responsibility of each individual participant. Refunds will not be issued as a result of itinerary changes.