UGANDA: 20-day Ultimate Uganda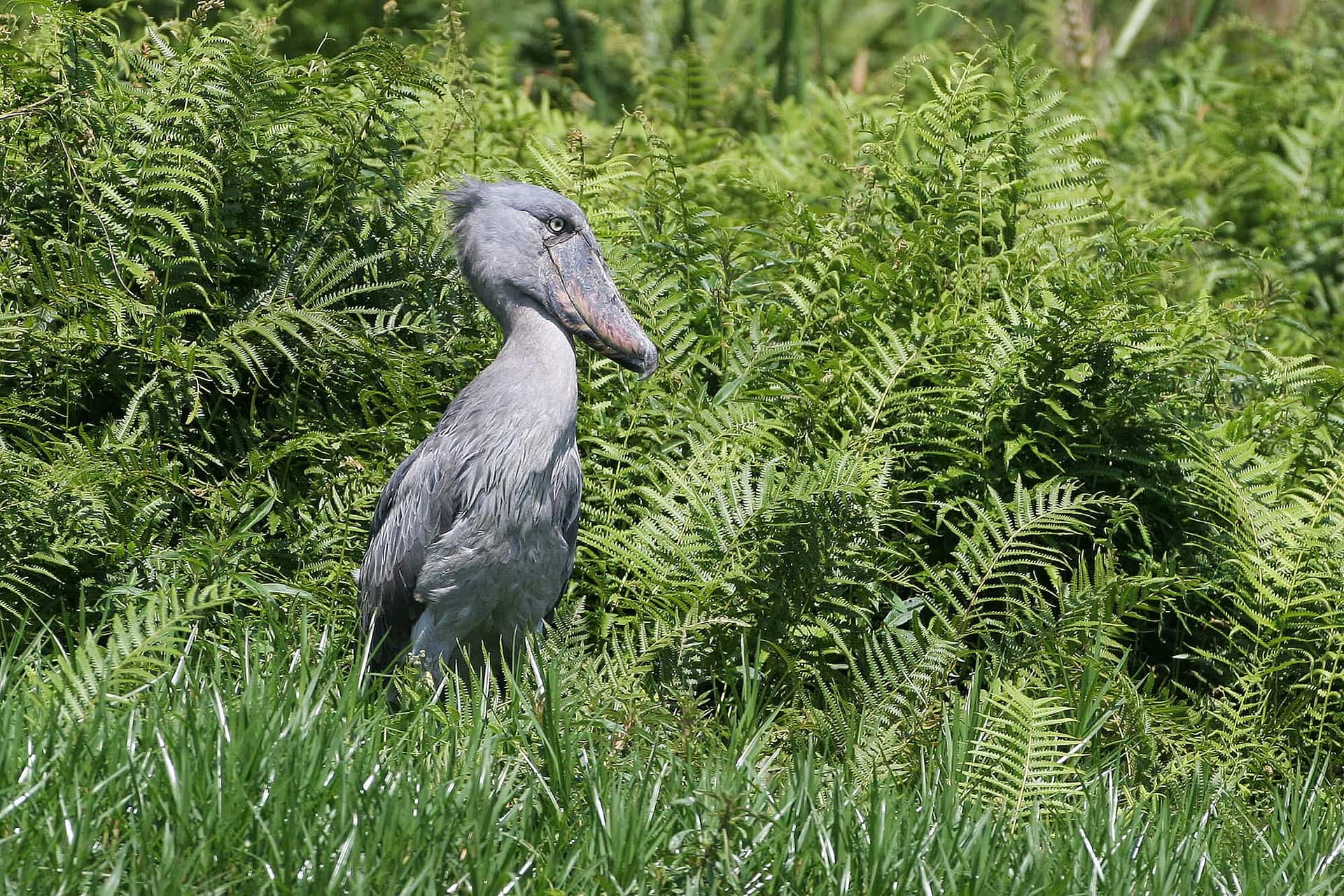 TOUR FOCUS

BIRDS & WILDLIFE
SCHEDULED TOURS
2024 :: June 19 - July 8

TOUR COST
From: $10,600 (See details)
Cost is per person, double occupancy from Entebbe, Uganda (EBB)
GROUP SIZE
6-10 Participants
AVAILABILITY
2024 – June dates and cost TBA
PRIVATE TOUR OPTION
This tour is available as a private trip for any size group. The tour cost will vary with the number of people and any custom requests.
If you have been on this tour, please be the first to leave a review!
Highlights of UGANDA: 20-day Ultimate Uganda
Experience an unforgettable encounter with Mountain Gorillas
Follow Chimpanzees through the forest
Watch the iconic and bizarre Shoebill stalking the swamp
Seek many of the Albertine Rift Endemics
Cruise the Kazinga Channel for hippos, crocs and waders
Relax on a boat ride along the Nile to Murchison's Falls
Description of UGANDA: 20-day Ultimate Uganda
From the source of the White Nile on Lake Victoria to the snow-capped Ruwenzori Range, the montane forests of the Virunga volcanoes, and extensive savannas of Queen Elizabeth National Park, Uganda is an equatorial country of astonishing contrasts. No other area in Africa can match its amazing diversity of habitats, and this richness is reflected in its incredible bird list of over 1000 species. Amongst these are many highly sought-after birds, such as the unique Shoebill, and the numerous spectacular endemics of the Albertine Rift Valley, many hard to find elsewhere, such as Nuemann's warbler, Regal sunbird, Shelley's crimsonwing and Grauer's broadbill.
On this exciting 20-day wildlife safari we expect to see more than 450 species of birds, including members of the typical 'African' families – hornbills, weavers, wood-hoopoes, barbets, cuckoos, sunbirds, and monotypic families such as secretary bird and hamerkop. We seek some of the Albertine Rift endemics such as handsome francolin, strange weaver, and four species with Rwenzori in front of their names – turaco, batis, nightjar and apalis.
There is also a chance of viewing over 50 species of mammals, including elephants, zebras, lions and possibly leopard! The big highlight of the tour will be the opportunity to spend an hour each with both mountain gorillas and chimpanzees – certainly an experience of a lifetime! We visit such incredible areas as Queen Elizabeth National Park covered in herds of antelope, Bwindi Impenetrable Forest which harbours some of the last remaining mountain gorillas, and take a boat ride along the headwaters of the River Nile to the base of the stunning Murchison Falls.
This East African extravaganza provides the ultimate opportunity to experience and photograph some of the most amazing animals on earth. Come join us and experience what Sir Winston Churchill described as "The pearl of Africa."
Length of Tour
20-days/19-nights

Brief Itinerary
Day 1 Arrival Entebbe [EBB]
Day 2 Mabamba Wetlands and Ziwa Rhino Sanctuary
Day 3 Ziwa Rhino Sanctuary; transfer to Murchison Falls National Park
Day 4 Murchison Falls NP
Day 5 AM Murchison Falls; PM transfer to Masindi
Day 6. Birding Royal Mile at Budongo Forest
Day 7 Transfer to Kibale Forest
Day 8 Chimpanzee tracking and birding at Kibale Forest
Day 9 AM Kibale Forest; PM transfer to Fort Portal
Day 10 Birding Semliki Forest
Day 11 Transfer to Queen Elizabeth National Park
Day 12 Queen Elizabeth NP
Day 13 Transfer to Bwindi Impenetrable Forest
Day 14 Birding Buhoma
Day 15 Gorilla tracking
Day 16 Transfer to Ruhiija
Day 17 Birding the Albertine Rift Endemics
Day 18 Transfer to Lake Mburo National Park
Day 19 Lake Mburo NP
Day 20 Travel to Kampala. Evening departure from Entebbe [EBB]
Detailed Itinerary
Day 1:  Arrival in Entebbe
Upon arrival in Entebbe, we will be met by our local guide and transferred to our hotel. Depending on the time of arrival, we may start our safari with bird watching around the shores of Lake Victoria in Entebbe and the Botanical Gardens.
Day 2:  Mabamba Wetlands; transfer to Ziwa Rhino Sanctuary 
This morning we set off early for the Mabamba wetland, an important Bird Area and a Wetland of International Importance on the shores of Lake Victoria. The wetland is a labyrinth of channels and lagoons located about 50 km from Kampala. The road to Mabamba winds its way through areas of secondary forest and agricultural landscapes attracting farmland and forest edge species such as; Red-headed Lovebird, African Crowned-Hornbills, Grey Parrots, and a range of sunbirds including the Green-headed, Red-chested, Collared, Marico and Scarlet-chested sunbirds. The road ultimately ends at a papyrus reedbed adjoining Lake Victoria, where we will explore by canoe a maze of channels and mudflats for a reliable resident, the majestic Shoebill. Although sightings can never be guaranteed, we should have a very good chance of seeing this magnificent bird. Mabamba also offers a large selection of other bird species which might include; Rufous-belled Heron, African Pygmy Goose, Blue Swallow, White-faced Whistling Duck, Common Moorhen, the rare Lesser Jacana, Carruthers' Cisticola, African Fish Eagle, Winding Cisticola, Fan-tailed Widowbird, and Blue-breasted Bee-eater. The rare and elusive Sitatunga Antelope also occurs here but it is very shy and rarely seen. We also expect to encounter Spot-necked Otter in one of the channels that we shall paddle through.
After the swamp we will drive the northern part of the country ultimately ending at the Amuka Lodge a few miles from the Ziwa Rhino Sanctuary.
Day 3:  Rhino tracking; transfer to Murchison Falls National Park 
We start our day tracking White Rhinoceros, an exciting activity where we get to see one of the " Big Five". Rhinos were hunted to extinction in Uganda in the 1980s, however conservation efforts have been successful and Ziwa Rhino Sanctuary is the only place in Uganda where we can see them. Two dozen individuals are now within the park and our early trek may get us to see at least 2 families.
We will then continue our journey to Murchison Falls National Park with a stopover to view the top of Murchison Falls.
Day 4:  Murchison Falls National Park
Murchison Falls National Park was derived from the incredible Murchison Falls, where the River Nile is forced through a 6-meter gap, forming the most powerful water surge on the planet. The park is home to over 450 species of birds and an impressive list of mammals. Special birds to look for in Murchison Falls National Park include; Shoebill, Secretary Bird, Abyssinian Roller, Abyssinian Ground Hornbill, Giant Kingfisher, Red-throated Bee-eater , Blue-breasted Bee-eater, Goliath Heron, Saddle-billed Stork, Sacred Ibis, Fulvous Whistling-Duck, Senegal and Water Thick-knee, Black-headed and Long-toed Lapwing, Little Bittern, Osprey, Red-necked Falcon, Vinaceous Dove and Grosbeak Weaver. Other specials include; Buff-bellied Warbler, Yellow-fronted Tinkerbird, Bar-breasted Firefinch, Red-winged Grey Warbler, Spotted Morning-Thrush, Marabou Stork, Silverbird, Beautiful Sunbird, Black-headed Gonolek, Speckle-fronted and Golden-backed Weavers, White-rumped Seedeater, Pel's Fishing Owl (rare), White-crested Turaco, Bruce's Green Pigeon, Chestnut-crowned Sparrow Weaver, Northern Carmine Bee-eater, Nightjars (Pennant-winged and Standard-winged), White-rumped Canary and many others.
There are chances of seeing animals such as Giraffe, Elephants, Uganda Kob, Oribi, Elephant, Lion, Spotted Hyena, Uganda Grass Hare, Lewel Hartebeest, Warthogs, Leopards and Buffalo.
A boat cruise to view the bottoms of the impressive falls allow us to watch and photograph the birds such as Rock Pratincole and the large animals which throng the banks of the river and we may have  another chance of finding the world's most peculiar bird, the Shoebill.
Day 5:  Murchison Falls National Park. Afternoon transfer to Masindi
We have a last chance to explore Murchison Falls National Park on this mornings game drive. After leaving the park we drive thought the Butiaba escarpment where there are chances of seeing birds such as the Cut-throat Finches, Namaqua Dove and other birds as we enjoy the scenery of Lake Albert and the escarpment.
Day 6:  Royal Mile at Budongo Forest
A short bird watching drive from our hotel at dawn will take us to one of Uganda's premier birdwatching spots, the Royal Mile. This is Uganda's historically known leisure spot for the traditional King, hence the name Royal Mile. Here the forest has been cut back a few meters along the sides of the main trail, which makes it a particularly good viewing area in this excellent forest.
Uganda special bird species here include White-thighed and Black-and-white-casqued Hornbills, Yellow-spotted and Yellow billed Barbets, Western Black-headed Oriole, along with Red-tailed and Blue Monkeys. Overhead, Sabine's and sometimes Cassin's Spinetails soar over the clearings. As we walk quietly along the trail, Red-tailed Ant-Thrushes skulk in the shadows, as do Red-tailed Bristlebill, Scaly-breasted, Pale-breasted and Brown Illadopsis. Greenbuls are always a challenge and include; Cameroon Sombre, Slender-billed, Honeyguide and Spotted, whilst other regular species are Speckled Tinkerbird, Yellow-crested Woodpecker, Green Crombec, Rufous-crowned Eremomela, Yellow-browed Camaroptera, Buff-throated Apalis, and both White-breasted and Grey-headed Nigrita. Amongst lower levels of vegetation we look for Chocolate-backed and African Dwarf Kingfishers, White-spotted Flufftail and the elusive Nahan's Francolin, believed to be one of the most handsome of all Ugandan birds. Other possibilities here are; Great Sparrowhawk, Cassin's Hawk-eagle, Crested Guineafowl, Tambourine Dove, Grey Parrot, African Emerald and Dusky Long-tailed Cuckoos, Yellowbill, White-throated Bee-eater, Yellow-throated Tinker bird, Yellow-spotted Barbet, Yellow-crested Woodpecker, Dusky Tit, Western Nicator, Blue-shouldered Robin-Chat, Forest Robin, Black-throated and Black-capped Apalis, Yellow-browed Camaroptera, Brown-crowned Eremomela, Lemon-bellied Crombec, Sabine's and Cassin's Spine tails, Wilcock's Honeyguide, Yellow and Grey Longbills, Jameson's Wattle-eye, Blue-throated Brown and Little Green Sunbirds, Rufous Flycatcher Thrush, Yellow-mantled Weaver, Red-headed Malimbe, Uganda Woodland Warbler and Ituri Batis. 
Day 7:  Transfer to Kibale Forest 
This day is a long drive that will take most of the day with occasional stops for birds.
Day 8:  Kibale Forest Chimpanzee tracking and birding  
Kibale Forest boasts a great bird list of 325 species among which 6 are endemic to the Albertine rift region. Kibale Forest National Park is also a home to a diverse array of primates, from the nocturnal Demidoff's Galago to our closest living relative, the Chimpanzee. Other primates include; Black and White Colobus, Red tailed Monkey, Sykes Blue Monkey, Red and Guereza Colobus, Olive Baboon, Grey-cheeked Mangabey, L'Hoest's, Blue and Vervet Monkeys. Bush Pig and Buffalo, Bushbuck, Blue, Harvey's and Peter's Duikers are the other shy inhabitants of the forest interior.
Chimp trekking is a wonderful experience. We track a troop and hope to watch these great primates as they go about their routine is a wonderful encounter, as they feed, defend territories and play about, swinging from tree to tree.
Kibale Forest has the highest number of recorded sightings of Green-breasted Pitta, which is another sought after bird in Uganda. Other birds include: African Pitta, Grey-winged Robin-Chat, Red-winged Francolin, Joyful Greenbul, White-naped Pigeon, Abyssinian Ground-Thrush, Red-chested Flufftail, White-bellied Crested Flycatcher, Uganda Woodland Warbler, White-collared Oliveback, Leaf-love, African Broadbill, Willcock's Honeyguide, White-winged Warbler, White-spotted Flufftail, Scaly-throated Honeyguide, Black-throated Apalis, Forest Robin, Dusky-blue Flycatcher, African Shrike-flycatcher, Brown and Scaly-breasted Illadopsis, Fire-crested Alethe.  Black-bellied Seedcracker inhabit the forest edge, while the canopy holds Red-headed Malimbe, Grey-throated, Yellow-spotted and Yellow-billed Barbets, White-naped and Afep Pigeons, Red-chested Owlet and White-headed Wood-hoopoe, Crested Guineafowl, Narina Trogon, African Emerald Cuckoo, Grey Parrot, Sabine's Spinetail, Black-billed Turaco, White-spotted Flufftail, Chestnut Wattle-eye, Red-tailed Ant-Thrush, Blue-shouldered Robin-Chat and more.
Day 9:  Kibale Forest; transfer to Fort Portal
We spend the morning birding in and around Kibale before transferring to Fort Portal.
Day 10:  Semliki Forest  
Semliki Forest is a moist semi-deciduous forest, mostly ironwood-dominant (Cyanometra alexandri) with patches of swamp forest, and aquatic habitat represented by forest streams and oxbow lakes with adjacent swamps. It lies along the Uganda-Democratic Republic of Congo (DRC) border within the western arm of the Rift valley thus attracting Congo-Biome species. The park covers the eastern extension of the vast Ituri Forest. It forms part of the forest continuum during the climatic upheavals of the Pleistocene, and is one of the richest areas for both flora and fauna in Africa most especially birds.
Semliki harbours a large number of predominantly Central African species which cannot be found anywhere else in East Africa and these include some of the continent's most spectacular and sought-after birds such as the; Long-tailed Hawk, Congo Serpent Eagle, Lyre-tailed Honeyguide, Black-wattled Hornbill, and Nkulengu Rail, to mention a few. 
Other birds recorded here include  Swamp Palm Bulbul, Spotted Greenbul, White-starred Robin, Lowland Akalat, Fire-crested Alethe, Snowy-headed Robin-Chat, Blue-shouldered Robin-Chat, Red-eyed Puffback, White-tailed Robin-Chat, Northern Bearded Scrub-Robin, Capped Wheatear, Common Stonechat, Abyssinian Ground-Thrush, Grey Ground-Thrush, Little Grey Greenbul, Toro Olive Greenbul, Mountain Greenbul, Yellow-throated Nicator, Western Nicator, Purple-throated Cuckoo-shrike, Petit's Cuckoo-shrike, Black Saw-wing, White-throated Blue Swallow, Eurasian Oystercatcher, Long-tailed Hawk, Red-thighed Sparrowhawk, Chestnut-flanked Goshawk, Grant's Bluebill, Afep Pigeon, Bates's and Swamp Nightjar, Cassin and Sabine's Spinetail, White-bellied and Shinning-blue Kingfisher, Gabon Woodpecker, and an assortment of Barbets – Hairy breasted, Yellow-billed, Double-toothed, Black-billed and White-headed.
Day 11:  Transfer to Queen Elizabeth National Park
Spanning the equator is the vast Queen Elizabeth National Park boasting of impressive crater lake, expansive grasslands, papyrus swamps and tropical forests, huge herds of Elephant and Buffalo, Lions, Leopards, and a diverse array of birds. It contains Uganda's best game populations as well as some of Uganda's best bird watching sites, an incredible bird list of 610 bird species and an overwhelming record of 296 species in a single day, makes this birding site the best not only in Uganda but in Africa!
Day 12:  Queen Elizabeth National Park
Queen Elizabeth National Park is a hoist of a multiple of ecosystems with; forests, savanna and aquatic habitats all hosting different species of birds and animals. A game drive in the park will likely produce Crested Francolin, Red-necked Spurfowl, Long crested Eagle, White-browed Coucal, Black-headed Gonolek, African Pygmy and Woodland Kingfisher, Violet-backed Starling, Sooty Chat, Flappet, Red-naped and Rufous-naped Larks, Augur Buzzard, Mackinnon's Fiscal, Black-headed Waxbill and many others.
An exciting boat cruise on the Kazinga Channel will yield more species of birds. This is a narrow neck of water that connects Lakes George and Edward, with excellent photographic opportunities for waterside birds and abundant Hippopotamus. The birds include: African Skimmer, Striated Heron, African Spoonbill, Pink-backed Pelican, Water Thick-knee, Three-banded Plover, Marsh, Green, Wood and Common Sandpipers, Marabou Stork, Pied Kingfisher, Grey-headed Gull, Plain Martin, Lesser Swamp-Warbler and Yellow-billed Oxpecker.
During the boat cruise, we also have good chances of seeing mammals such as the African Elephant, Spotted Hyena, Leopard, Lion, Ugandan Kob, Side-striped Jackal, Bush and Waterbuck, Warthogs, and Giant Forest Hogs as they cool off at the channel.
Day 13:  Queen Elizabeth National Park; transfer to Bwindi Impenetrable Forest
This morning we drive through the Ishasha sector of Queen Elizabeth National Park and we have chances of an encounter with the tree-climbing lions famous for this area of the park ultimately leading us to Bwindi Impenetrable Forest late in the evening.
Bwindi Impenetrable Conservation Area lies in the rugged Kigezi highlands of South Western Uganda, protecting a continuum of forest that ranges from montane to low land areas. It is this altitudinal variation, combined with its location within the Albertine Rift that results in Bwindi Impenetrable being the richest forest in East Africa in terms of its trees, butterflies and birds. Bwindi is a home to over 400 Mountain Gorillas more than half of the world's population.
Bwindi is a bird watchers' paradise that includes 90% (23) of all the Albertine Rift endemics, as well as African Green Broadbill, Chapin's Flycatcher and Shelley's Crimson-wing that have limited distributions elsewhere in their range.
Day 14: Bwindi Impenetrable Forest – Buhoma
Birds that can be seen along Buhoma's main trail include; Black-faced Rufous Warbler, Grauer's Warbler, Banded Prinia, Black-throated Apalis, Mountain Masked Apalis, Red-throated Alethe, Yellow-eyed Black Flycatcher, Ashy Flycatcher, Dusky-blue Flycatcher, Chapin's Flycatcher, Chin-spot Batis, Rwenzori Batis, Black-and-white Shrike Flycatcher, White-bellied Crested Flycatcher, Pale-breasted and Mountain Illadopsis, African Hill Babbler, Dusky Tit, Blue-throated Brown Sunbird, Blue-headed Sunbird, Northern Double-collared Sunbird, Blue-headed Sunbird, Mackinnon's Fiscal, Sooty Boubou, Pink-footed Puffback, Doherty's Bush Shrike, White-napped Raven, Montane Oriole, African Golden Oriole, Stuhlmann's Starling, Narrow-tailed Starling, Waller's Starling, Strange Weaver, Brown-capped Weaver, Black-billed Weaver, Dusky Crimsonwing, Yellow-bellied Waxbill, Magpie Mannikin, Yellow-crowned Canary, Thick-billed Seed-eater, Streaky Seedeater, African Green Broadbill, Shelly's Crimsonwing, Oriole Finch, Mountain Buzzard, Ayre's Hawk Eagle, Handsome Francolin, Black-billed Turacco, Barred Long-tailed Cuckoo, African Wood Owl, Rwenzori Nightjar, Scarce Swift, Bar-tailed Trogon, Cinnamon-chested Bee-eater, Black Bee-eater, Western Bronze-napped Pigeon, Red-chested Owlet, Tullberg's Woodpecker, Elliot's Woodpecker, African Broadbill, Western Green Tinkerbird, Lagden's Bush Shrike, Petit's Cuckoo Shrike, Grey Cuckoo-shrike, Archer's Robin Chat, Toro Olive Greenbul, Ansorge's Greenbul, Equatorial Akalat, White-bellied Robin Chat, Olive Thrush, White-tailed Ant-Thrush, Grauer's Rush Warbler, Short-tailed (Neumann's) Warbler and Red-faced Woodland Warbler.
Day 15:  Bwindi Impenetrable Forest Gorilla tracking
Mountain Gorilla tracking is a captivating pursuit; it involves walking through the dense wilderness in search of these great apes. Each encounter is exhilarating as we enjoy close view of adults feeding, grooming and resting as youngsters frolic and swing from vines in a delightfully playful display, a one-time experience that is surely a major highlight of the trip.
Day 16:  Bwindi Impenetrable Forest – Ruhiija 
Ruhiija is another of the highlights of our bird watching safari to with excellent birding in spectacular surroundings. Ruhiija is located at a higher elevation compared to Buhoma thus offering another chance of seeing some of the Albertine Rift endemics. The birds are many and somehow easier to see with many species associating in mixed feeding flocks that are active throughout the day. An early start offers the best chance of finding the striking Handsome Francolin, African Green Broadbill, Cinnamon-chested Bee-eater, Western Green Tinkerbird, Mountain and Yellow-streaked Greenbul, Regal Sunbird, Black-headed Waxbill, Grauer's Warbler, Dusky Crimsonwing, White-starred Robin, Rwenzori Nightjar, Mountain-masked and Chestnut-throated Apalis, Rwenzori Batis and White-tailed Crested Flycatcher.
Day 17:  Bwindi Impenetrable Forest – Mubwindi Swamp
The 4km trail to Mubwindi Swamp is the best place for some of the most difficult to find of all rift endemics including Grauer's (African Green) Broadbill, the beautiful Regal Sunbird and Archer's Robin-Chat. Mubwindi Swamp is also home to Dwarf Honeyguide, Stripe-breasted Tit, Ruwenzori Apalis, African Hill Babbler (sometimes treated as a separate species from Ruwenzori Hill Babbler), the rare and localized Grauer's Scrub-Warbler and Carruther's Cisticola. Some of the many species we have a chance of seeing here include; Black Goshawk, Augur Buzzard, Crowned Hawk-Eagle, Handsome Francolin, Olive (Rameron) Pigeon, Bronze-winged Pigeon, Black-billed, Ruwenzori, and Ross's Turacco, African, Barred Long-tailed, and African Emerald Cuckoos, Red-chested Owlet, Narina and Bar-tailed Trogons, Black and Cinnamon-chested Bee-eaters, Blue-throated Roller, White-headed Woodhoopoe, Gray-throated, Double-toothed, and Yellow-spotted Barbets, Western and Yellow-rumped Tinkerbird, Thick-billed and Dwarf Honeyguides, Rufous-necked Wryneck, Tullberg's, Speckle-breasted, Elliot's, and Olive Woodpeckers, African Broadbill, Rock Martin, Black Saw-wing, Gray and Petit's Cuckoo-Shrike, Ansorge's, Kakamega, Olive-chested, and Cabanis' Greenbul, White-tailed Ant-Thrush, Kivu Ground-Thrush, Olive and Mountain Thrushes, Red-throated Alethe, Chubb's Cisticola, Banded Prinia, Ruwenzori, Black-throated, and Black-faced Apalis, Olive-green Camaroptera, Grauer's and Cameroon Scrub-Warblers, Cinnamon and Black-faced Bracken-Warblers, Mountain Yellow Warbler, White-browed Crombec, Short-tailed Warbler, Red-faced Woodland-Warbler, White-eyed Slaty- Flycatcher, Yellow-eyed Black-Flycatcher, Sooty Flycatcher, Chapin's Flycatcher, White-starred Robin, White-bellied and Archer's Robin-Chats, Ruwenzori Batis, White-tailed, Slaty, and African Blue-Flycatchers, Puvel's, Pale-breasted, Mountain, and Gray-chested Illadopses, Ruwenzori Hill Babbler, Gray-headed, Western Violet-backed, Green, Green-headed, Blue-headed, Green-throated, Stuhlmann's, Northern Double-collared, and Regal Sunbirds, Mackinnon's Shrike, Ludher's, Gray-green, Many-colored, and Lagden's Bush-shrikes, Velvet-mantled Drongo, Slender-billed, Waller's, Narrow-tailed, Stuhlmann's, and Sharpe's Starlings, Black-billed, Strange, and Brown-capped Weavers, Jameson's and Woodhouse's Ant-peckers, and Red-faced and Dusky Crimsonwings. 
Day 18:  Bwindi Impenetrable Forest; transfer to Lake Mburo National Park
Following some morning birding in Bwindi we transfer to Lake Mburo National Park.
Day 19:  Lake Mburo National Park
The 260 sq.km Lake Mburo National Park has a markedly distinct fauna from the other reserves. It is the only national park that contains an entire lake. Situated in rolling hills and open grassy valleys, the park also consists of four other smaller lakes. The park is covered in an extensive open and wooded acacia savannah. It is the best place to see the gigantic Eland antelope as well as Zebra, Topi, Impala, Buffalo, Hippopotamus, Nile Crocodile and Monitor Lizard.
Common conspicuous birds that may be encountered include Red faced Barbet, Tabora and Trilling Cisticolas, Brown-eared, Nubian, Bearded and Grey Wood peckers, Red-necked Spurfowl, Crested Francolin, Emerald-spotted Wood Dove, Brown Parrot, Bare-faced Go-away-bird, Blue-naped Mousebird, Lilac-breasted Roller, Green Wood-hoopoe, Common Scimitarbill, African Grey Hornbill, Spot-flanked Barbet, Yellow-breasted Apalis, Northern Black Tit, Chin-spot Batis, Greater and Lesser Blue-eared Starling, Marico Sunbird, Coqui Francolin,  Black-bellied Bustard, Temminck's Courser, African Wattled Plover, Rufous-naped and Flappet Larks, Rufous-chested Swallow, Yellow-throated Longclaw and Southern Red Bishop as well as the migratory Brown-chested Plover. Some of the nocturnal species include; African Scops Owl, Verreaux's Eagle-Owl and Fiery-necked, Pennant-winged, Swamp, and Black-shouldered Nightjars. 
A boat-ride on Lake Mburo can also be a rewarding one with sights of birds like the shy African Finfoot, White-backed Night Heron, Shining Blue and Giant Kingfishers and other water birds.
Day 20:  Transfer to Entebbe
We start our long drive to Kampala with a stopover at the Equator and thereafter proceed with our journey to Entebbe. Evening departure flight.
Cost
$10,600 per person, based upon double occupancy, from Entebbe, Uganda (Airport code EBB).
This trip ends in same as arrival city (Airport code ).
Single Supplement and other Cost Additions
If a single room is preferred, or we are unable to find a suitable roommate for you, a single supplement fee of $950 will be assessed.

Cost Includes
All ground transport, game drives, park entrance fees, as well as Gorilla ($700) and Chimpanzee ($150) permits; professional driver guide; meals from dinner on day 1 through dinner on day 20; 19 nights accommodation; mineral water on game drives.
Note: There may be an additional surcharge should the cost of park fees or primate permits increase.
Cost Excludes
Airfares to Entebbe [EBB], Uganda. Visa fees (currently $50 for single entry to Uganda, or $100 for East African Visa (Uganda, Rwanda & Kenya); travel insurance; beverages; any items of personal nature (laundry, telephone calls and so forth); any services not mentioned or indicated as optional; gratuities to drivers / guides / porters / waiters.
Minimum Number
If fewer than the minimum number of participants are registered the trip can still run with a small-group supplement fee per person determined by the number of participants.
Deposit Requirements
A $1,000 deposit per person is required to hold each space on this tour. Deposit may be made online by clicking the "Book Your Trip Now" button and using any credit card. If you prefer, you may call us at 888-875-9453 to pay by phone. You may also mail us a check, however, remember that all space is held on a first come-first served basis as deposits are received.
How to Book
In order to hold your space, click the "Book Your Trip Now" button above and complete the deposit process, including payment of the deposit through our Paypal portal using ANY CREDIT CARD. Upon completion of deposit, please visit our secure, online CLIENT INFORMATION FORM to complete your registration.
Final Payment
For all land-based tours: full payment by check is due 120 days prior to the departure date.
For all boat-based adventure cruises of 7-days or longer: full payment by check is required 180 days prior to departure.
NOTE: If you prefer to use credit card for final payment, a 3% fee may be added to cover the credit card merchant fees we incur.
All the accommodations on this tour have clean comfortable rooms with en suite showers/baths and toilets.
Activity Level Rating: 3 (Note: 1 is easy and 5 is difficult)
A moderate amount of fitness is required for most of this trip. We will be walking on average between 1-4 miles most days. The terrain will vary from level on even surfaces to rougher inclines. Three walks in particular are strenuous – the treks for Gorilla and Chimpanzee, both of which may be on steep slippery slopes through the brush and vegetation. Porters and helpers are highly recommended to make your trek as comfortable as possible (it is well worth it). The other is 2.5 mile one-way steep trail down to the Mubwindi Swamp for Grauer's Broadbill, which you will have to return up! This is all part of the incredible Uganda birding experience.
                                    Recommended Field Guide:
Birds of East Africa 2nd edition (Princeton Field Guides, 2020) by Terry Stevenson and John Fanshawe
The Kingdon Field Guide to African Mammals 2nd edition by Jonathan Kingdon (Princeton University Press, 2015)
Non-smoking Tour
This trip is for non-smokers only. Smoking is not permitted at any time during our tour.
Visa (s)
A visa is necessary to enter Uganda. You can apply for an eVisa online prior to your trip. The cost is $50 for single entry, or if you plan on going to either Kenya or Rwanda you would be better off getting an East African tourist eVisa for $100.
Malaria
There is a risk of malaria through the country. Check with your doctor for the recommended prophylaxis.
International Flights
You will need to book your own flights to arrive in Entebbe [EBB], Uganda on Day 1.  Your return flight on Day 20 will need to depart Entebbe [EBB] late in the evening since we will not be returning to Entebbe until late afternoon.
Transportation
We will using an 4×4 land cruiser safari vehicle, or a coaster should the group size warrant.
Climate / Weather
Uganda enjoys pleasant tropical weather which is perfect all year round with temperatures between 60-85F for most of the year. Since Uganda straddles the Equator, its climate is mitigated by an altitude of 3000-6000 feet. The climate is influenced by its topography with high mountains, hills, an elevated plateau, and plenty of lakes. While June and July are part of the dry season it can still rain!
Insurance
Trip, medical and evacuation insurance is highly recommended for all safaris.
Purchasing Flights
Do not purchase your flights until the trip has been confirmed to go.
Detailed Trip Information
Upon notification that final payment is due (120 days prior to departure for land based tours / 180 days for boat based tours), you will receive a trip package of detailed information for your tour.
Any additional information about the trip, including lodgings, contacts, participants, meeting locations, etc., will sent about 2 weeks prior to the trip departure, or after final payment is received for late registrants.
Travel Insurance
As with all tours, we recommend purchasing Travel Insurance to help cover your investment, for covered reasons. Please see our section on Travel Insurance.
Passport & Visa
US Citizens may require a visa to enter certain foreign countries. See above for any required visa information.
Participants arriving to the USA from a foreign country may need to get a travel visa to enter the United States. Be sure to check the requirements for your country of origin.
Itinerary Changes
The trip itinerary is developed many months ahead of time. Occasionally, despite our best planning, changes may occur during the trip, or we may be forced to alter our plans. Changes may occur because of weather, road conditions, safety concerns or other circumstances. In these situations, it is the leader(s) responsibility to carefully consider and implement appropriate alternatives. Any additional costs incurred because of changes will be the responsibility of each individual participant. Refunds will not be issued as a result of itinerary changes.