UGANDA: 7-day Primate & Shoebill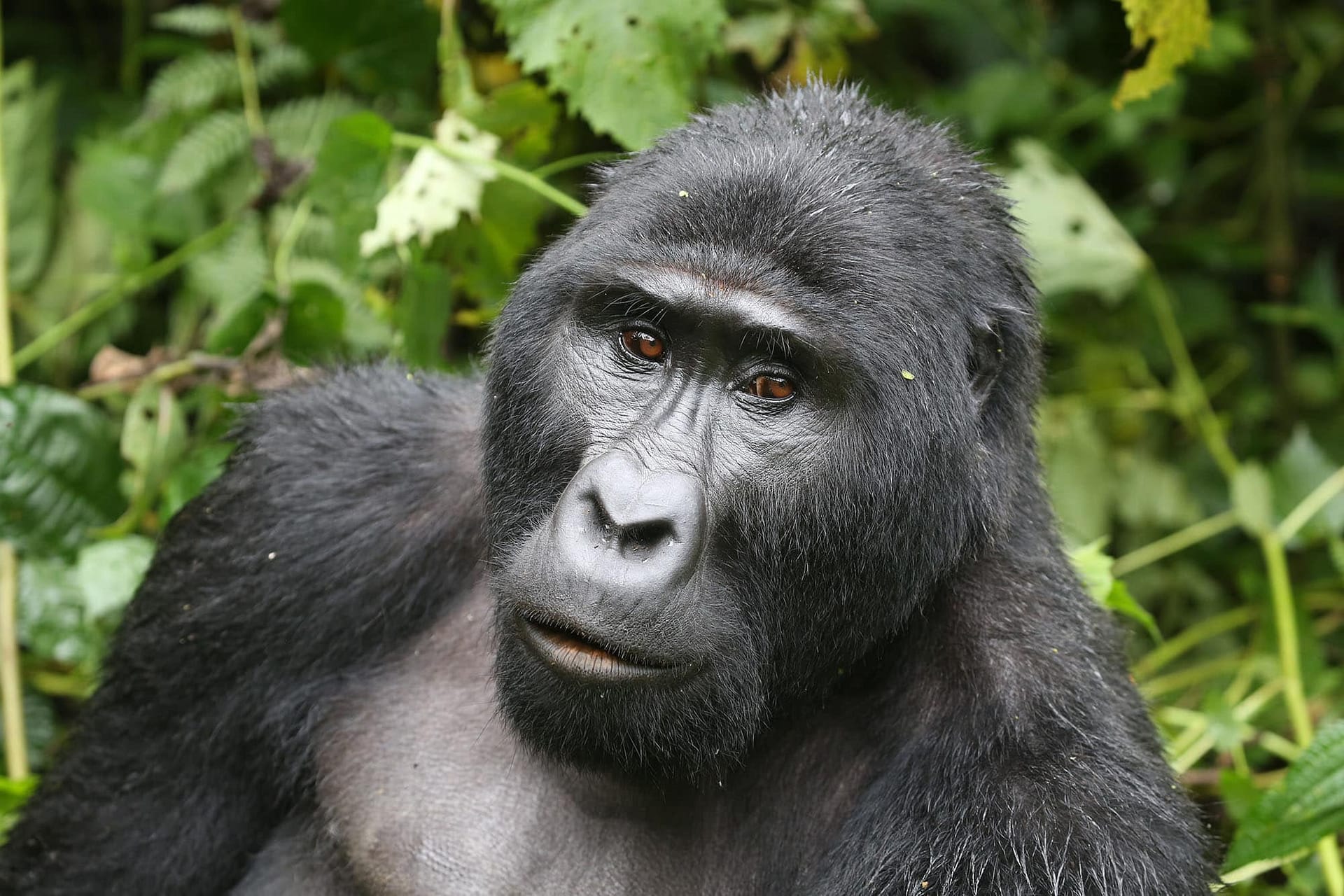 TOUR FOCUS

BIRDS & WILDLIFE
TOUR COST
From: $5,300 (See details)
Cost is per person, double occupancy from Entebbe, Uganda (EBB)
GROUP SIZE
4-6 Participants
PRIVATE TOUR OPTION
This tour is available as a private trip for any size group. The tour cost will vary with the number of people and any custom requests.
If you have been on this tour, please be the first to leave a review!
Highlights of UGANDA: 7-day Primate & Shoebill
Unforgettable close-up encounters with Mountain Gorilla's
Witness the interactions of Chimpanzees as they roam the forest
Take a boat ride to see the spectacular Shoebill in the papyrus swamp
Description of UGANDA: 7-day Primate & Shoebill
Shoebill, Mountain Gorillas and Chimpanzees
From the source of the White Nile on Lake Victoria to the snow-capped Ruwenzori Range, the montane forests of the Virunga volcanoes, harboring some of the last remaining Mountain Gorillas, to the extensive savannas around the awe-inspiring Lake Mburo National Park, Uganda is an equatorial country of astonishing contrasts. No other area in Africa can match its amazing diversity of habitats, and this richness is reflected in its incredible bird list of over 1000 species. Amongst these are many highly sought-after birds, such as the unique Shoebill and the numerous spectacular endemics of the Albertine Rift Valley, (currently hard to find anywhere else.)
A significant number of the world's population of Mountain Gorillas roam through dense forests of Bwindi Impenetrable National Park, in groups of three to 20 animals. Trackers will guide us up rugged terrain, with some steep sections and occasional stream crossings, to where we can quietly watch a gorilla family feed, groom, play and rest. Though we spend only an hour together, it is truly an unforgettable experience to watch these magnificent gorillas interact with each other with such human-like qualities.
Kibale National Park is famed for its high diversity and concentration of primates – 13 are possible, including large numbers of endangered Chimpanzees. The noisiest of African primates, the forest echoes with their screams, hoots and their drum beats on tree buttresses. We'll likely hear Chimpanzees before seeing them. If we're lucky, we may catch them mounting an organized hunt to satisfy their omnivorous appetites.
The trip is very diverse although it is short. The tour begins and ends in Entebbe on the shores of Lake Victoria. After arrival at Entebbe, the following day we set out straight away to find the most iconic bird of the tour – Shoebill! We'll spend a morning in the Mabamba Wetlands before heading west to beautiful Lake Mburo National Park and Bwindi impenetrable National Park.
This once-in-a-lifetime East African extravaganza provides the ultimate opportunity to experience and photograph some of the most amazing animals on earth.
This trip can be combined with a safari in Kenya (July-Sept) or Tanzania (Jan-Mar) to witness the Great Wildebeest Migration. I hope you can join us!
Length of Tour
7-days/6-nights or 10-days/9-nights

Brief Itinerary
Day 1 – Arrive in Entebbe [EBB]
Day 2 – AM- Shoebill at Mabamba Wetlands. PM- Transfer to Lake Mburo NP
Day 3 – AM- Lake Mburo NP. PM- Transfer to Bwindi Impenetrable NP
Day 4 – Gorilla Trek at Bwindi Impenetrable NP
Day 5 – Transfer to Kibale NP
Day 6 – Chimpanzee Trek at Kibale NP
Day 7 – Transfer to Entebbe [EBB] for late afternoon departure
Detailed Itinerary
Day 1 – Arrive in Nairobi on an evening flight. Transfer to hotel
Day 2 – Shoebill at Mabamba Wetlands. Transfer to Lake Mburo National Park
Early breakfast, then out to nearby Mabamba Wetlands on the shores of Lake Victoria. This is one of the few remaining swamps in the country protected by the local communities – an extensive papyrus swamp with its labyrinth of channels and lagoons, classified as an Important Bird Area, and home to several pairs of Shoebills, Uganda's most famous avian resident. This charismatic monotypic species is certainly amongst the most sought-after birds in Africa, and we'll make special efforts today to find it by paddling through the channels by boat.
There will of course be a good selection of classic East African water birds, including Pink-backed Pelican, Long-tailed Cormorant, Goliath Heron, African Open-billed, Saddle-billed, and Marabou Storks, Hammerkop, White-faced Whistling-Duck, Yellow-billed Duck, African Fish-Eagle, African Marsh-Harrier, African Water Rail, Purple Swamphen, Allen's Gallinule, African Jacana, Long-toed and Spur-winged Plovers. Apart from the numerous water birds, we are likely to see a nice variety of open country and water edge species, perhaps including Speckled Pigeon, African Green Pigeon, Eastern Plantain-eater, Malachite, Giant, and Pied Kingfishers, Blue-headed Coucal, Blue-breasted Bee-eater, Crowned Hornbill, Angola and Rufous-chested Swallows, Winding Cisticola, Greater and Lesser Swamp-Warblers, Papyrus Yellow Warblers, Swamp Flycatcher, Scarlet-chested Sunbird, Papyrus Gonolek, Slender-billed, Northern Brown-throated, and Golden-backed Weavers, and Papyrus Canary.
In the afternoon we'll travel to our first national park, Lake Mburo. This park has varied habitats from open Acacia woodlands, to a number of papyrus-lined lakes and swamps.
We'll have the afternoon and the following morning to cover several different habitats. Some of the many species we'll search for en route to the park, in the woodland in the immediate vicinity of Rwonyo (at lake Mburo) and within the park include Black-headed, Squacco, and Rufous-bellied Herons, Hadada Ibis, Yellow-billed (Black) Kite, Spur-winged Goose, Comb Duck, Black-chested Snake-Eagle, Lizard Buzzard, Palm-nut and White-backed Vultures, Wahlberg's and Verreaux's Eagles, Crested Francolin, Crowned Crane, African Finfoot, Black-bellied Bustard, Temminck's and Bronze-winged Coursers, Senegal, Crowned, Wattled, and Brown-chested Lapwings, Emerald-spotted and Blue-spotted Wood Doves, Brown Parrot, Red-eyed Dove, Great Blue Turaco, Bare-faced Go-away Bird, White-browed Coucal, Speckled and Blue-naped Mousebirds, Mottled Spinetail, Little, White-rumped and African Palm Swifts, Woodland Kingfisher, Little Bee-eater, Lilac-breasted and Broad-billed Rollers, Green Wood-Hoopoe, Common Scimitarbill, African Grey, Crowned, Black-and-white Casqued and African Pied Hornbills, Spot-flanked Barbet, Nubian Woodpecker, Angola Swallow, African Pied Wagtail, African andLong-billed Pipits, Red-shouldered Cuckoo-shrike, Dark-capped Bulbul, African Thrush, Trilling Cisticola, Yellow-breasted Apalis, Tawny-flanked Prinia, Grey-backed Camaroptera, Grey-capped Warbler, Red-faced Crombec, Northern (white-winged) Black Tit, Chin-spot Batis, Mariqua, Olive-bellied, and Red-chested Sunbirds, Pied Crow, Greater Blue-eared, Splendid, Rüppell's Long-tailed Starlings, Black-headed, Northern Brown-throated, Yellow-backed, Vieillot's Black, and Slender-billed Weavers, Northern Grey-headed Sparrow, Bronze Mannikin, and Yellow-fronted Canary. If we are lucky, we will even see the nomadic Weyn's Weaver.
Days 3 & 4 – Birds and Gorillas of Bwindi Impenetrable NP
On this day, we set off early, with packed lunch, to the park headquarters for a briefing prior to Gorilla tracking. This is the most exciting lifetime experience of all time. The gorillas are gentle animals and it is an unforgettable experience to photograph them as they interact. It is a wonderful experience to stare in to the eyes of these gentle giants; watch them in awe as they play and go about their daily activities. It is indeed a "once in a lifetime" experience that you must never miss. Each encounter is different and has its own rewards; you are likely to enjoy the close view of adults feeding, grooming and resting as the youngsters frolic and swing from vines in a delightfully playful display. We will also look for other primates like the L' Hoest Monkey, Black and White Colobus; Red tailed, and Blue monkeys. Mammals include the Rwenzori Duiker, Yellow-backed Duiker, Caruthers Squirrel, Bohm's and Alexander Squirrels, and many other species.
Days 4 – 6 – Transfer to Kibale National Park for Chimpanzees and birding
Kibale National Park is extensive protecting a large block of rainforest that offers both excellent birding, and our main opportunity to see Chimpanzee in the wild. The park probably has the greatest variety and concentration of primates found anywhere in East Africa, and is famous for its Chimpanzees. Superb birds and primates, combined with easy access and excellent infrastructure, makes a visit to Kibale more than worthwhile. Some of the many species we will look for around Kibale include African Crowned-Eagle, White-spotted Flufftail, Afep Pigeon, Red-winged Francolin, African Emerald, Dusky Long-tailed and Red-chested Cuckoos, Yellowbill (or Blue Malkoha), Black-billed Turaco, Narina Trogon, Blue-breasted Kingfisher, Black and White-throated Bee-eaters, White-headed Wood Hoopoe, Speckled, Yellow-rumped, and Yellow-throated Tinkerbirds, Streaky-throated (split from Hairy-breasted), Yellow-billed and Yellow-spotted Barbets, African (Green-breasted) Pitta, Grey-winged and Snowy-headed Robin-chats, African Broadbill, Willcock's & Thick-billed Honeyguides, Cassin's Honeybird, White-headed Saw-wing, Mountain Wagtail, Velvet-mantled Drongo, Petit's Cuckoo-Shrike, Joyful & Honeyguide Greenbuls, Brown and Scaly-breasted Illadopses, Banded and White-chinned Prinias, Masked and Buff-throated Apalises, Grey-throated and Black-and-white Flycatchers, Red-bellied Paradise Flycatcher, Pink-footed Puff-back, Chestnut-winged and Purple-headed Starlings, Superb, Green-headed & Green-throated Sunbirds, Dark-backed and Vieillot's Black Weavers, Red-headed Malimbe, Gray-headed Negrofinch, and Black-crowned Waxbill.
Day 7 – Birding to Entebbe for departure
This will be mainly a transfer day with a birding stop or two en route to Entebbe, for our late afternoon departure.
Note that the itinerary can be expanded to 10-days/9 nights to include Murchison Falls National Park.
Cost
$5,300 per person, based upon double occupancy, from Entebbe, Uganda (Airport code EBB).
This trip ends in same as arrival city (Airport code ).
Single Supplement and other Cost Additions
If a single room is preferred, or we are unable to find a suitable roommate for you, a single supplement fee of $550 will be assessed.

Cost Includes
All ground transport, game drives, park entrance fees, as well as Gorilla ($700) and Chimpanzee ($150) permits; professional driver guide; meals from lunch on day 1 through lunch on day 7; 6 nights accommodation; mineral water on game drives.
Note: There may be an additional surcharge should the cost of park fees or primate permits increase.
Cost Excludes
Airfares to Entebbe [EBB], Uganda. and Kenya-Rwanda-Kenya flight (approx. $330); Visa fees (currently $50 for single entry to Uganda, or $100 for East African Visa (Uganda, Rwanda & Kenya); beverages; any items of personal nature (laundry, telephone calls and so forth); any services not mentioned or indicated as optional; gratuities to drivers / guides / porters / waiters.
Minimum Number
If fewer than the minimum number of participants are registered the trip can still run with a small-group supplement fee per person determined by the number of participants.
Deposit Requirements
A $1,000 deposit per person is required to hold each space on this tour. Deposit may be made online by clicking the "Book Your Trip Now" button and using any credit card. If you prefer, you may call us at 888-875-9453 to pay by phone. You may also mail us a check, however, remember that all space is held on a first come-first served basis as deposits are received.
How to Book
In order to hold your space, click the "Book Your Trip Now" button above and complete the deposit process, including payment of the deposit through our Paypal portal using ANY CREDIT CARD. Upon completion of deposit, please visit our secure, online CLIENT INFORMATION FORM to complete your registration.
Final Payment
For all land-based tours: full payment by check is due 120 days prior to the departure date.
For all boat-based adventure cruises of 7-days or longer: full payment by check is required 180 days prior to departure.
NOTE: If you prefer to use credit card for final payment, a 3% fee may be added to cover the credit card merchant fees we incur.
All the accommodations on this tour have clean comfortable rooms with en suite showers/baths and toilets.
Activity Level Rating:  (Note: 1 is easy and 5 is difficult)
Recommended Field Guide:
Birds of East Africa (Princeton Field Guides, 2002) by Terry Stevenson and John Fanshawe
The Kingdon Field Guide to African Mammals 2nd edition by Jonathan Kingdon (Princeton University Press, 2015)
This trip is for non-smokers only. Smoking is not permitted at any time during our safari.
Trip Insurance
Trip Insurance is required for all safaris
Visa
You will need to get a Visa to enter Kenya and Rwanda. The current cost is $50 and $30 and this can be applied for / purchased upon arrival at the airport in Nairobi, Kenya and Kigali, Rwanda
Malaria
There is a risk of malaria through the country. Check with your doctor for the recommended prophylaxis.
What to expect
This is a safari and as such we will concentrate on all the wildlife, as one would expect, the birds and mammals giving everyone time to view, experience and photograph them. Easy wildlife viewing from the confines of our open top safari vehicle in some outstanding parks; though we expect to see many bird species we will spend considerable time with the incredible mammals that make this part of the world unique and hope to come across about 50 species including the "Big 5" – elephant, buffalo, rhino, lion and leopard.
We will certainly be hiking for the primates, more like bush-wacking, for our Gorilla trek. This can be strenuous as we are in the mountains at elevation and on uneven vegetated terrain! There will be little walking on the Kenya part of this tour as will will be within the parks; midday breaks, when in the parks; a mostly pleasant and dry climate, breathtaking scenery and many excellent photographic opportunities.
We will be using the typical safari 'combo' vehicles such as a 4X4 Safari Mini Bus or Land Cruise. There is a pop-up roof that enables one to stand up to view and photograph wildlife. We will have a maximum of six participants per vehicle as this will guarantee everyone a window seat.
Purchasing Flights
Do not purchase your flights until the trip has been confirmed to go.
Detailed Trip Information
Upon notification that final payment is due (120 days prior to departure for land based tours / 180 days for boat based tours), you will receive a trip package of detailed information for your tour.
Any additional information about the trip, including lodgings, contacts, participants, meeting locations, etc., will sent about 2 weeks prior to the trip departure, or after final payment is received for late registrants.
Travel Insurance
As with all tours, we recommend purchasing Travel Insurance to help cover your investment, for covered reasons. Please see our section on Travel Insurance.
Passport & Visa
US Citizens may require a visa to enter certain foreign countries. See above for any required visa information.
Participants arriving to the USA from a foreign country may need to get a travel visa to enter the United States. Be sure to check the requirements for your country of origin.
Itinerary Changes
The trip itinerary is developed many months ahead of time. Occasionally, despite our best planning, changes may occur during the trip, or we may be forced to alter our plans. Changes may occur because of weather, road conditions, safety concerns or other circumstances. In these situations, it is the leader(s) responsibility to carefully consider and implement appropriate alternatives. Any additional costs incurred because of changes will be the responsibility of each individual participant. Refunds will not be issued as a result of itinerary changes.