PENNSYLVANIA Waterfall Photography Workshop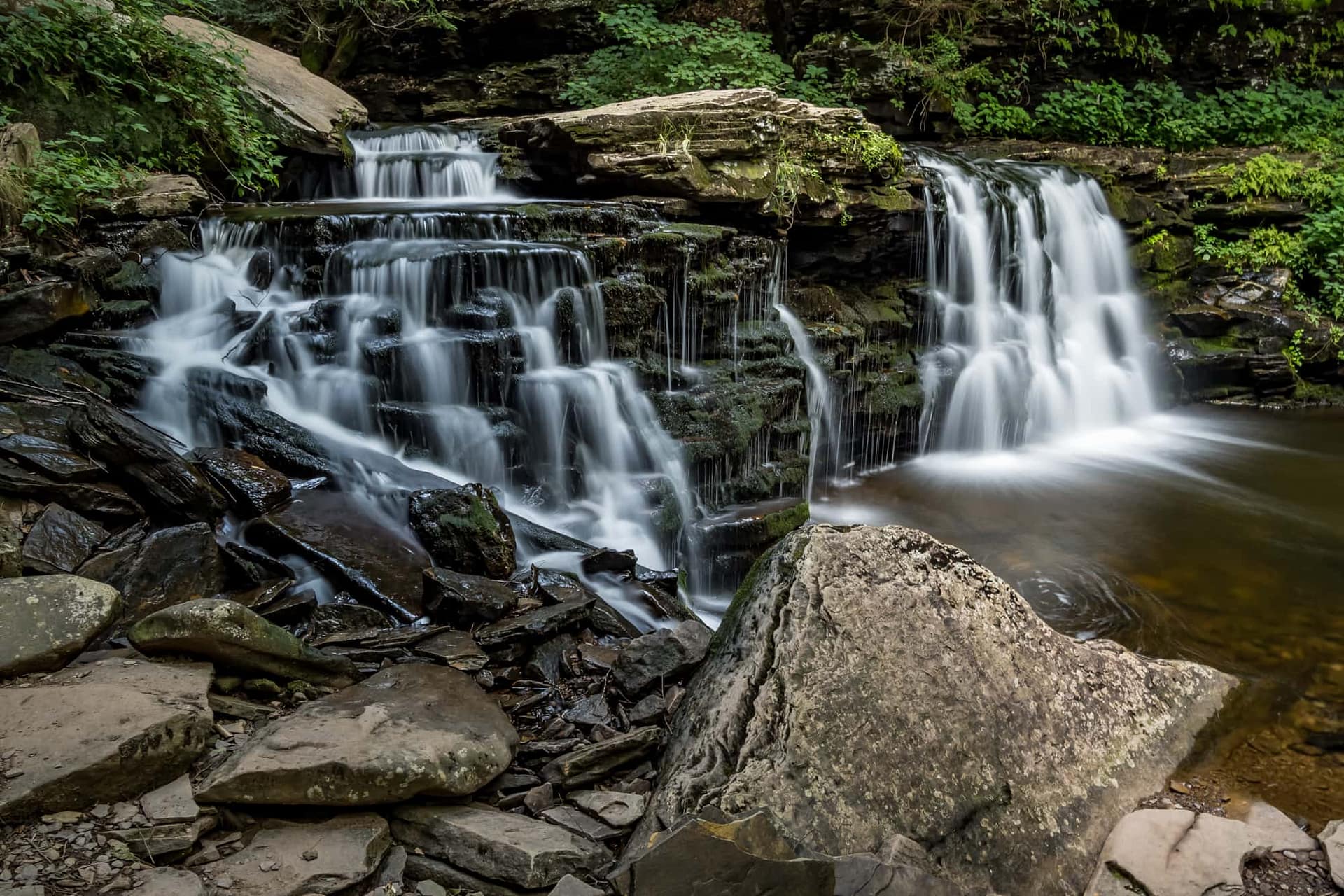 TOUR COST
From: $1,500 (See details)
Cost is per person, double occupancy from Wilkes-Barre, PA (N/A)
GROUP SIZE
2 - 5 Participants
PRIVATE TOUR OPTION
This tour is available as a private trip for any size group. The tour cost will vary with the number of people and any custom requests.
If you have been on this tour, please be the first to leave a review!
Highlights of PENNSYLVANIA Waterfall Photography Workshop
Very Small group
Lots of one-on-one, hands-on instruction
Beautiful scenery
Possible birds and wildlife to photograph, too
No added charge for single room
Hotel rooms with kitchenettes for personal food prep
Description of PENNSYLVANIA Waterfall Photography Workshop
Pennsylvania's Rickett's Glen State Park has 24 waterfalls within the park and a host more in the surrounding area. Each season in Pennsylvania has its own opportunities and challenges whether they be snow and ice, spring wildflowers or autumn color. We will incorporate the spirit of the seasons into our learning process and images.
Capturing waterfalls, a continuously flowing subject, requires a delicate balance of the available light through proper use of aperture and shutter-speed. This workshop will show you how and when to use different shutter-speeds to convey your mood. The use of different lenses, aperture settings and other professional techniques will be discussed to help you create images to place on your wall, not in the waste basket.
WILDSIDE NATURE TOURS IS AN AUTHORIZED PERMITTEE OF RICKETTS GLEN STATE PARK
Length of Tour
4-Days/3-Nights

Times shown are approximate and will vary with the time of year… spring or fall and daylight savings.
DAY 1 – Arrival and Orientation
3pm: Hotel Check-in
5pm: Meet for dinner
6pm: Orientation to the area and instructional presentation
Day 2 – Our first Falls
6am: meet and get breakfast to go
6:30am: Visit first waterfall location (to be determined by weather conditions)
12pm: Lunch break – local delis available
1pm: Visit second waterfall location (to be determined by weather conditions)
5:30pm: Dinner and discussion
Day 3 – New Falls
6am: meet and get breakfast to go
6:30am: Visit first waterfall location (to be determined by weather conditions)
12pm: Lunch break – local delis available
1pm: Visit second waterfall location (to be determined by weather conditions)
5:30pm:Dinner and discussion
Sunday – Our Final Morning
6am: meet for breakfast to go
6:30am: Drive to waterfalls (location to be determined by weather conditions)
11am: Check out of hotel
12pm: Final brunch/lunch at local restaurant.
Cost
Cost is $1,500 per person, based upon double occupancy, from Wilkes-Barre, PA (Airport code N/A.
This trip ends in Wilkes-Barre, PA (Airport code N/A).
Included in Cost
Single room accommodation (3 nights), photo instruction, permits and entrance fees.
Not Included
Meal costs, alcohol, laundry or anything of a purely personal nature or not specifically mentioned as included.
Single Supplement
If a single hotel room is preferred, or we are unable to find a suitable roommate for you, a single supplement fee of $0 will be assessed.
NOTE: For boat-based tours, see pricing options for single cabins. Single cabin cost includes the single hotel cost above.
Minimum Number
If fewer than the minimum number of required participants are registered, we may still be able to run the trip by adding a small-group supplement fee, per person, determined by the number of participants registered.
Deposit Requirements
A $500 deposit per person is required to hold each space on this tour. Deposit may be made online by clicking the "Book Your Trip Now" button and using any credit card. If you prefer, you may call us at 888-875-9453 to pay by phone. You may also mail us a check, however, remember that all space is held on a first come-first served basis as deposits are received.
How to Book
In order to hold your space, click the "Book Your Trip Now" button above and complete the deposit process, including payment of the deposit through our Paypal portal using ANY CREDIT CARD. Upon completion of deposit, please visit our secure, online CLIENT INFORMATION FORM to complete your registration.
Final Payment
For all land-based tours: full payment by check is due 120 days prior to the departure date.
For all boat-based adventure cruises of 7-days or longer: full payment by check is required 180 days prior to departure.
NOTE: If you prefer to use credit card for final payment, a 3% fee may be added to cover the credit card merchant fees we incur.
Activity Level Rating: 2 (Note: 1 is easy and 5 is difficult)
Short walks along rocky trails, sometimes slippery from rain or waterfall spray.
Skill Level
This workshop is open to all levels, although beginner to intermediate will most certainly benefit the most, we will help everyone take their photography to the next level.
Photography Gear Recommendations
The best camera is the one you have with you! That said, we will help you get great photos no matter what camera you use.
This Photo Workshop is geared toward those using DSLR or Mirrorless cameras with interchangeable lenses, here is what we recommend that you bring:
Bring at least 2 camera bodies – to reduce changing lenses and just in case of accidental damage to one
Recommended Lenses for Birds & Wildlife
100-400mm (or equivalent)
24-105mm (or equivalent)
16-35mm (or equivalent – Optional but fun!)
Recommended Lenses for Macro (Bugs, Frogs, etc.)
100mm Macro is fine for general purpose macro photography
150mm Macro is best for small, quick moving subjects like frogs
Filters
Polarizing filter for removing reflections from rocks and moss
Filter Holder for 4×6″ (or similar)slip-in  filters
2- or 3-stop Neutral Density Filter
8- or 10-stop Neutral Density Filter
2-stop Hard and/or Soft Graduated Neutral Density Filter
Other Accessories
Tripod for long exposures, big lenses and steady video
Remote release to prevent camera shake
Rain cover for camera
Weather resistant Camera Bag (Backpack style is best)
Batteries and chargers
Lots of memory cards!
Laptop with Lightroom or similar software
Thumb drive to share images
COVID-19 SAFTEY
Social distancing must be practiced
Leader and participant temperatures will be taken each morning (touchless thermometer)
Masks must be worn when in close quarters (such as sharing a vehicle)
We will have take-out meals or in-room dining as each room has a kitchenette
If eating as a group, we will social distance
Purchasing Flights
Do not purchase your flights until the trip has been confirmed to go.
Detailed Trip Information
Upon notification that final payment is due (120 days prior to departure for land based tours / 180 days for boat based tours), you will receive a trip package of detailed information for your tour.
Any additional information about the trip, including lodgings, contacts, participants, meeting locations, etc., will sent about 2 weeks prior to the trip departure, or after final payment is received for late registrants.
Travel Insurance
As with all tours, we recommend purchasing Travel Insurance to help cover your investment, for covered reasons. Please see our section on Travel Insurance.
Passport & Visa
US Citizens may require a visa to enter certain foreign countries. See above for any required visa information.
Participants arriving to the USA from a foreign country may need to get a travel visa to enter the United States. Be sure to check the requirements for your country of origin.
Itinerary Changes
The trip itinerary is developed many months ahead of time. Occasionally, despite our best planning, changes may occur during the trip, or we may be forced to alter our plans. Changes may occur because of weather, road conditions, safety concerns or other circumstances. In these situations, it is the leader(s) responsibility to carefully consider and implement appropriate alternatives. Any additional costs incurred because of changes will be the responsibility of each individual participant. Refunds will not be issued as a result of itinerary changes.