CALIFORNIA: A Taste of Anza Borrego Desert State Park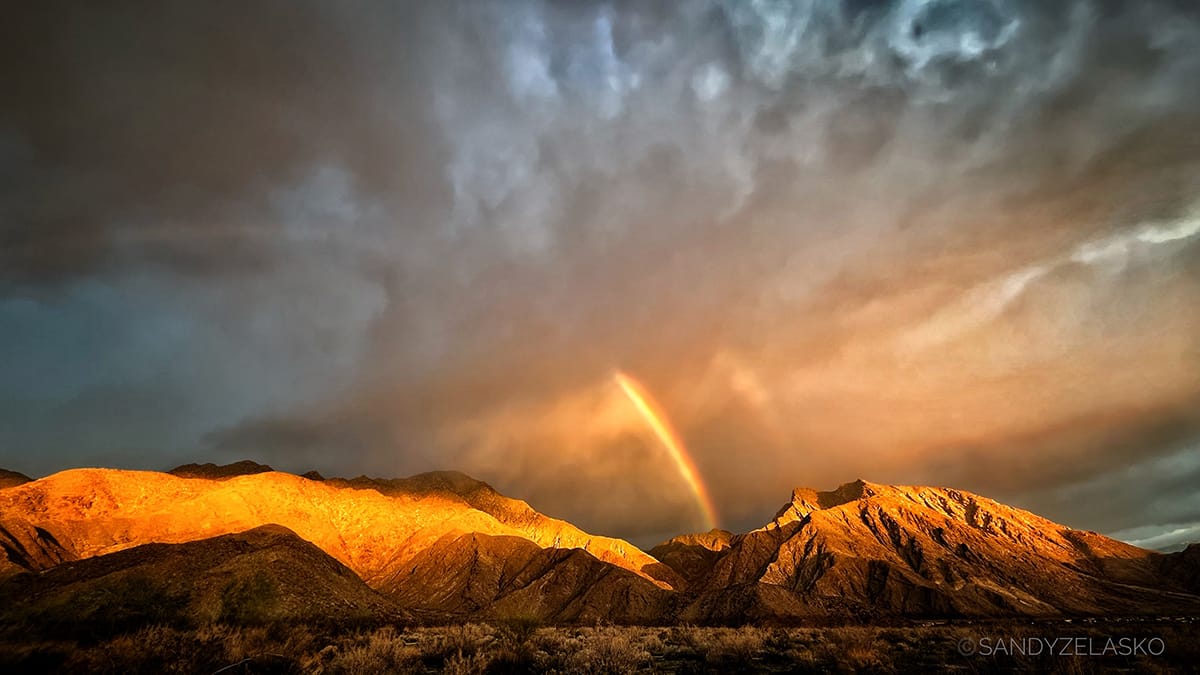 SCHEDULED TOURS
2024 :: February 26 - March 1
2025 :: March 3 - March 7

TOUR COST
From: $2,950 (See details)
Cost is per person, double occupancy from San Diego, CA (SAN)
GROUP SIZE
4-6 Participants
AVAILABILITY
FEBRUARY 2024 – 6 SPACES AVAILABLE
MARCH 2025 – 6 SPACES AVAILABLE
PRIVATE TOUR OPTION
This tour is available as a private trip for any size group. The tour cost will vary with the number of people and any custom requests.
If you have been on this tour, please be the first to leave a review!
Highlights of CALIFORNIA: A Taste of Anza Borrego Desert State Park
Iconic desert landscapes of badlands and bajadas
Colorful wildflower desert blooms and flora when conditions are favorable
Peninsular desert bighorn sheep, resident & migrant birds of the Colorado Desert
Eclectic, historic and cultural opportunities for the textual photographer
Ideal time and temperatures to photograph in Southern California deserts
Hands-on instruction from professional wildlife photographer Sandy Zelasko
Description of CALIFORNIA: A Taste of Anza Borrego Desert State Park
Anza Borrego Desert State Park (ABDSP), located within the Colorado Desert of southern California, is the largest state park in California and second largest in the contiguous United States. Located about a two-hour drive northeast of San Diego, it is a diverse and fascinating landscape with over 600,000 acres to explore, many unique microclimates and environs. The unique geology is perfect for the nature photographer.
The park contains bajadas, or desert washes, whose best kept secret are the numerous wildflowers found amongst rock formations and colorful badlands. Seasonal displays invite great opportunities for the macro photographer.
Paleontological remains are widespread and numerous Native American sites are dispersed throughout the park. Photograph along a portion of the historic 1775-1776 Juan Bautista de Anza National Historic Trail and visit a reconstruction of the 1852 Vallecito State Station Stage Station on the Great Southern Overland Stagecoach route.
Our hike in Palm Canyon will place us in the area of the, borrego, the Spanish word for bighorn sheep. This population of Peninsular bighorn can frequently be found dispersed around the popular hiking trail and sometimes viewed hydrating at the pup fish pond.
We won't miss Ricardo Breceda's sheet metal sculptures located throughout Galleta Meadows and a few more exciting and colorful photo opportunities. Join us and get a taste of what this state park has to offer!
Length of Tour
5-days/4-nights

Brief Itinerary
Day 1 – Arrive Borrego Springs, CA / Meet & Greet
Day 2 – Morning Palm Canyon hike / Evening desert shoot
Day 3 – Morning iconic Font's Point landscapes / Evening desert shoot
Day 4 – Morning wildflower display, sculptures / Evening Hawkwatch
Day 5 – Morning Visitor Center desert delights / Travel home
Detailed Itinerary
Day 1 – Arrive and check in our Borrego Springs hotel.
We will meet this evening for dinner and a meet and greet. Here we will also discuss the coming week, participant goals, photography strategies, logistics, and expectations.
Possible evening shoot at a desert location if time permits.
Day 2 – Depart hotel early AM for our 3-mile, in & out, hike at Palm Canyon to 1st oasis and photograph intimate landscapes, desert flora and Palm Canyon Creek. If we are lucky, Peninsular desert bighorn sheep will be out and about climbing the canyon walls and nibbling on desert plants. We will take our time. Participants can go at their own pace and as far as they are able. 700 feet elevation gain at the 1st oasis.
Our evening location will be at another popular desert location and we will end the day with dinner.
Day 3 – Depart hotel early AM for our trip to iconic Font's Point where we will photograph the popular Borrego Badlands at sunrise. Mid-morning finds us at the Old Hoberg Hotel to photograph its crumbling structure and intimate details.
After lunch break we will take a drive to the southernmost end of the park stopping along the way to find long-eared owls at Tamarisk Grove, at the significant Box Canyon, historic Vallecito Stage Station and for sunset at the Carrizo Badlands Overlook if weather permits. We end our day with another great dinner!
Day 4 – Today we seek out the best desert wildflower displays. Depending on the timing of rain, it could be an explosive year. Optional (if flowers are not present) we will travel to Little Blair Valley and the Moteros Trail for sunrise at an ancient Native American village.
While out we will stop at many of the Borrego Sky Sculptures before we break for lunch.
The evening plan is to be entertained by the world-famous Hawk Guy, Hal Cohen, for a lesson on Swainson Hawk migration. "Hawk Watch" is in its 20th year and takes place while we are in town. Check out Audubon's recommendation (#6) in this article, https://www.audubon.org/magazine/fall-2016/eight-best-hawkwatch-sites-us-photographers. Participants may have the opportunity to photograph the hawks depending on their flight locations and availability of food (caterpillars, flying ants, etc).
Day 5 – This morning kicks off at the Anza Borrego Desert State Park Visitor Center to photograph desert flora, fauna and spectacular landscapes of the San Ysidro mountains and the town's iconic, Indianhead.
After lunch we can meet for a "Show & Tell" session and Participant presentations. The workshop ends at 11:00 AM, the hotel's check out time.
Cost
Cost is $2,950 per person, based upon double occupancy, from San Diego, CA (Airport code SAN.
This trip ends in same as arrival city (Airport code ).
The tour cost includes transportation to and from the San Diego International Airport, lodging, guide services, park entrance fees, required permits, vehicle rentals, and tour excursions.
The tour cost doesn't include your meals, tips, laundry, and other personal purchases.
Single Supplement
If a single hotel room is preferred, or we are unable to find a suitable roommate for you, a single supplement fee of $480 will be assessed.
NOTE: For boat-based tours, see pricing options for single cabins. Single cabin cost includes the single hotel cost above.
Minimum Number
If fewer than the minimum number of required participants are registered, we may still be able to run the trip by adding a small-group supplement fee, per person, determined by the number of participants registered.
Deposit Requirements
A $750 deposit per person is required to hold each space on this tour. Deposit may be made online by clicking the "Book Your Trip Now" button and using any credit card. If you prefer, you may call us at 888-875-9453 to pay by phone. You may also mail us a check, however, remember that all space is held on a first come-first served basis as deposits are received.
How to Book
In order to hold your space, click the "Book Your Trip Now" button above and complete the deposit process, including payment of the deposit through our Paypal portal using ANY CREDIT CARD. Upon completion of deposit, please visit our secure, online CLIENT INFORMATION FORM to complete your registration.
Final Payment
For all land-based tours: full payment by check is due 120 days prior to the departure date.
For all boat-based adventure cruises of 7-days or longer: full payment by check is required 180 days prior to departure.
NOTE: If you prefer to use credit card for final payment, a 3% fee may be added to cover the credit card merchant fees we incur.
This trip includes standard hotels.
Activity Level Rating: 3 (Note: 1 is easy and 5 is difficult)
The first day is a 3-mile hike into Palm Canyon with a 700′ elevation gain. There is a 1 mile hike to Morteros Trail which is less strenuous with a more even terrain.
Tripods for our sunrise and sunset shoots. Camera and camera manual, wide lenses to medium telephoto (for bighorn sheep), macro for flowers. Graduated neutral density filter. Laptop for post-processing to share on the last day. Thumb drive to transfer participant images to my computer. Binoculars are not necessary. I will have a pair to share if the bighorn are too distant. Clothing for comfortable desert conditions but have layers available including a light rain coat and/or wind jacket.
Purchasing Flights
Do not purchase your flights until the trip has been confirmed to go.
Detailed Trip Information
Upon notification that final payment is due (120 days prior to departure for land based tours / 180 days for boat based tours), you will receive a trip package of detailed information for your tour.
Any additional information about the trip, including lodgings, contacts, participants, meeting locations, etc., will sent about 2 weeks prior to the trip departure, or after final payment is received for late registrants.
Travel Insurance
As with all tours, we recommend purchasing Travel Insurance to help cover your investment, for covered reasons. Please see our section on Travel Insurance.
Passport & Visa
US Citizens may require a visa to enter certain foreign countries. See above for any required visa information.
Participants arriving to the USA from a foreign country may need to get a travel visa to enter the United States. Be sure to check the requirements for your country of origin.
Itinerary Changes
The trip itinerary is developed many months ahead of time. Occasionally, despite our best planning, changes may occur during the trip, or we may be forced to alter our plans. Changes may occur because of weather, road conditions, safety concerns or other circumstances. In these situations, it is the leader(s) responsibility to carefully consider and implement appropriate alternatives. Any additional costs incurred because of changes will be the responsibility of each individual participant. Refunds will not be issued as a result of itinerary changes.