with Kevin Loughlin & guest co-leader TBD
GALAPAGOS 2025-06: Wildlife & Photography Adventures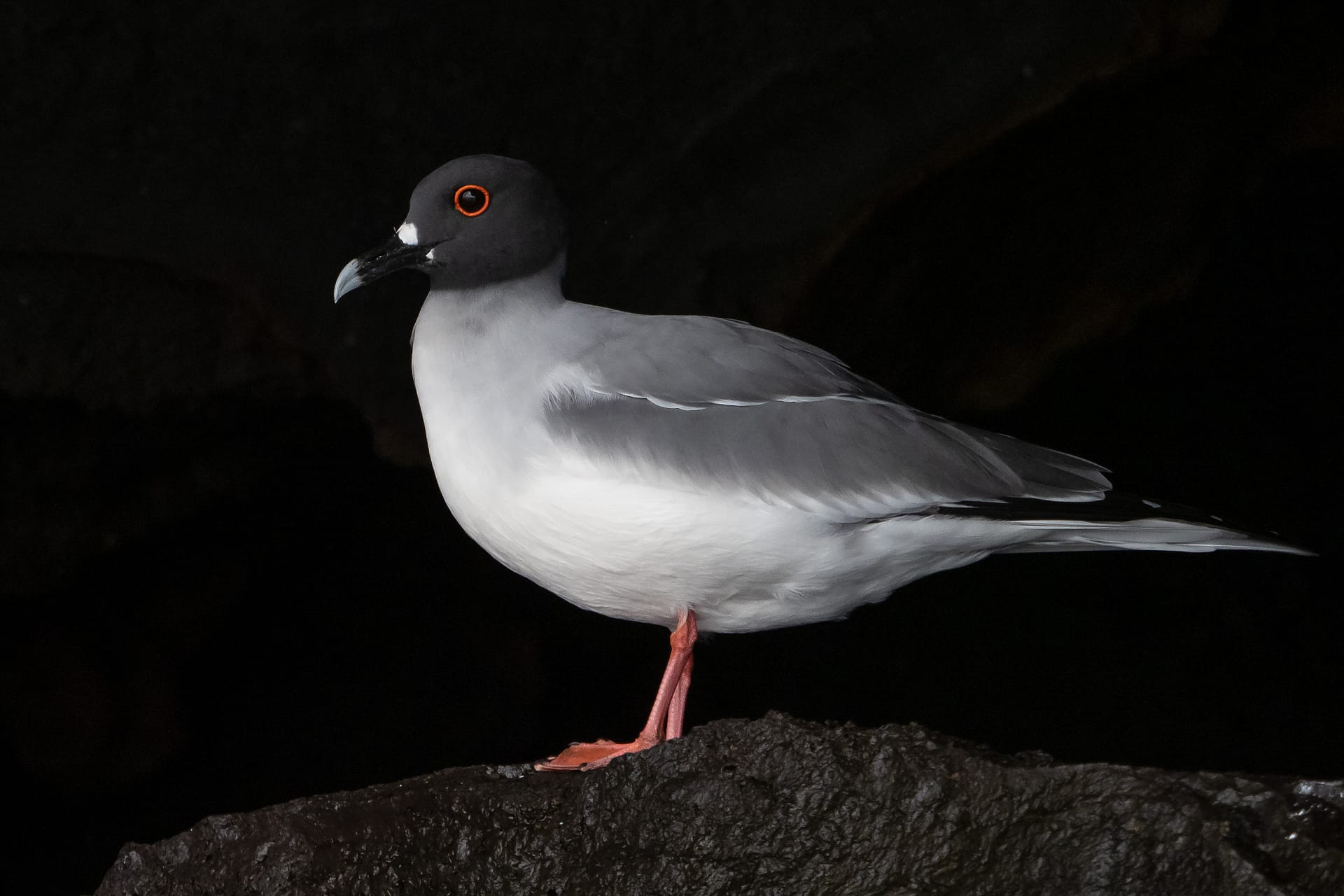 TOUR FOCUS

/ BIRDS & PHOTO
SCHEDULED TOURS
2025 :: June 21 - July 2

TOUR COST
From: $10,500 (See details)
Cost is per person, double occupancy from Quito, Ecuador (UIO)
GROUP SIZE
8 - 14 Participants
AVAILABILITY
14 Spaces Available

This tour is available as a private trip for any size group. The tour cost will vary with the number of people and any custom requests.
Highlights of GALAPAGOS 2025-06: Wildlife & Photography Adventures
Enjoy our spacious, first class yacht, the Solaris.
All cabins above deck with ocean view and NO bunk beds!
Limited single cabins available, too!
You'll get personal attention from two tour leaders PLUS our local Galapagos naturalist
Kevin has been to the Galapagos 40+ times and knows the best yachts and itineraries
Wildside spends more time on the islands than any other company
Our groups typically arrive 90 minutes before any other boat and stay long after they leave
We visit the islands at the best times of day for wildlife activity and good light for photography
Description of GALAPAGOS 2025-06: Wildlife & Photography Adventures
Everyone should visit the Galapagos Islands… the experience is magical! During our adventure we will seek out the endemic species of birds and other animals of the Galapagos. Some of the bird species include Darwin's finches, Galapagos Penguin, Galapagos Hawk, Galapagos Dove, Swallow-tailed Gull and Waved Albatross—doing their wonderful courtship dance! Other creatures we will see include Land Iguanas, Marine Iguanas, Lava Lizards and two endemic species of butterflies.
Galapagos Photography
Photography opportunities abound as each day will include land excursions on different islands. Most days will also include snorkeling opportunities to enjoy swimming with sea lions, sea turtles and hundreds of species of fish… so bring an underwater camera, too. We will also fit within our schedule mini photography workshops to help you get the best images of each location we visit while learning more and improving the quality of your photography.
Galapagos Bird & Wildlife Observation
Seeing birds and wildlife in the Galapagos can be easy… however, the slower we go the more we will see. Bird and nature enthusiasts will enjoy quiet observation as we enjoy our incredible surroundings. While taking our time, we will seek birds as well as Galapagos wildlife like butterflies, reptiles and mammals.
NEW BOOK AVAILABLE!
Please help your local book stores by ordering through BookShop.org [ORDER NOW!]
A richly illustrated nature tour of Galápagos–now expanded, thoroughly updated, and with more than 650 color photographs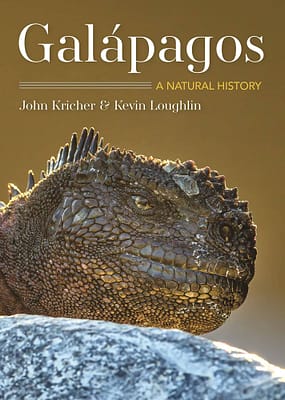 Galápagos is a comprehensive, up-to-date, and profusely illustrated natural history of this spectacular archipelago. Offering much more information than identification guides, the book provides detailed accounts and more than 650 color photographs of the islands' habitats, marine life, reptiles, birds, mammals, and plants, making the book a virtual nature tour of Galápagos.
Galápagos experts John Kricher and Kevin Loughlin have thoroughly revised the original text, bringing all the taxonomy up to date and adding a wealth of new information. Individual chapters cover geology, ecology, human history, Darwin's finches and how Darwin came to his theory of natural selection from his visit to the islands, Galápagos tortoises, marine and land iguanas, mammals, seabirds, landbirds, marine life, and conservation challenges and initiatives. The concluding chapter covers each of the individual islands, including landing sites, unique plant and animal species, and points of interest, and serves as a wonderful guide for visitors as they move from island to island or plan a trip to Galápagos.
With its combination of rich text and splendid photos, Galápagos is essential reading for the ecotraveler and nature enthusiast alike.
Length of Tour
12-days/11-nights
Basic Galapagos Itinerary
Day 1 – Arrive in Quito
Day 2 – Hummingbirds (and other species) of the Andes.
Day 3 – Fly to Galapagos – Baltra / Santa Cruz
Day 4 – North Seymour & Mosquera
Day 5 – Genovesa
Day 6 – South Plaza / Santa Fé
Day 7 – San Cristóbal
Day 8 – Española
Day 9 – Floreana
Day 10 – Isla Santiago / Bartolomé
Day 11 – Black Turtle Cove / Baltra / Quito
Day 12 – Return to USA
Detailed Galapagos Itinerary
Day 1 – Arrive Quito
Arrive in Quito at any time. Our representative will greet you at the airport and transfer you to our hotel.
Day 2 – Papallacta Pass and Guango Lodge hummingbirds
Today we will drive east through Papallacta Pass at nearly 13,000ft where we have seen Andean Condors on occasion. Continuing east we will arrive at Guango Lodge to enjoy Hummingbirds in their gardens and at their feeders. Incredible photo opportunities abound as we try to capture images of these wonderful creatures. We will have lunch at the lodge and enjoy a walk along the river before we return to Quito for dinner.
Day 3 – Baltra / Santa Cruz
Early flight to Baltra, in the Galapagos Islands. Upon arrival meet our naturalist guide who will assist with the transfer to our yacht, the Solaris.
The national park charges a visitor fee of $100 USD, payable on arrival, which funds Park maintenance and supervision in the Galapagos, as well as ecological study, conservation and infrastructure development in Ecuador's other National Parks. Entry fees and the funds they generate for the National Park System are among measures taken by the Ecuadorian government to protect its natural heritage.
Our first excursion, after lunch, will be to the highlands of Santa Cruz to enjoy the amazing Giant Tortoises in the wild. Here we will also explore the beautiful Scalesia Daisy Tree Forest to seek many of the endemic finches.
Day 4 – North Seymour & Mosquera
North Seymour Island, flat and rocky, is littered with Blue-footed Booby nests, and these birds can often be seen doing their comical courtship dance! In the surrounding saltbush we can find nesting Great and Magnificent Frigatebirds, males often with their bright red throat pouches inflated.
After a bird ID class and/or photo workshop on board the yacht, we will explore Mosquera, a tiny spit of land perfect for practicing what we learned as boobies and frigates fly by while shorebirds, sally lightfoot crabs and sea lions line the beach and rocks.
Day 5 – Genovesa
Land at Genovesa Island, an old imploded volcano, to observe the massive colonies of Frigate Birds, Boobies and other seabirds as well as striking volcanic cliffs rising from the ocean.
Well to the north of the main Galapagos Island group, Genovesa is the shape of a horseshoe given it's volcanic history. The island has a volcanic caldera whose wall has collapsed, forming the Great Darwin Bay, surrounded by cliffs. Lake Arcturus, filled with salt water, lies in the centre, and sediment within this crater lake is less than 6,000 years old. Our first excursion in Darwin Bay provides us some fantastic snorkeling opportunities within the a partially eroded crater.
In the afternoon there will be an excursion to "El Barranco," otherwise known as Prince Phillip's Steps, on the southern tip of the island. This is an extraordinary path that leads through a seabird colony full of life, up to cliffs that are 75ft high. At the top, the trail continues inland, passing more seabird colonies in a thin palo santo forest. Storm-petrels nest here and can sometimes be seen avoiding their chief predator, Short-eared Owls.
This island is also known as Bird Island, because of the large and varied bird colonies which nest here, and the whole ecology is made of birds and marine iguanas, no mammal. There are an abundance of frigatebirds and it is the best place to see Red-footed Boobies in the Galapagos.
DAY 6 – South Plaza / Santa Fé
One of the smallest islands in the Galapagos, South Plaza has one of the largest populations of Land Iguanas. A large colony of noisy sea lions has its prime habitat on these smooth rocks. Walk along a path through a cactus forest and view a combination of dry and coastal vegetation. The small cactus forest is populated by land iguanas, which can be seen sunning themselves or feeding on opuntia pads and fruits. Swallow-tailed gulls, which nest on the rugged southern cliffs, are usually seen, along with Red-billed Tropicbirds and Galapagos Shearwaters. During the garua season you can see the sesuvium turn bright colors of red, orange and yellow, like an Autumn day in New England.
In the afternoon, we'll explore Santa Fé, a fairly small and dry island. Also called Barrington, Santa Fé Island is well-known as a great place for watching (and swimming with) sea lions. Santa Fé was formed from an uplift (rather than a volcano) giving the island a relatively flat surface rather than the typical conical shape of the other islands. Introduced goats were eradicated in 1971, and Santa Fe is now home to a number of endemic species, which have bounced back from the outside threat, including: Galapagos Hawk, Galapagos Snake, Galapagos Rice Rat, Galapagos Mockingbird and a variety of finches.
Hiking towards the cliffs along the island's northern shore you can view the forest of giant Prickly Pear Cactus. A member of the cactus family their name comes from the pear shaped fruit the plant produces. Santa Fe is home to an endemic Land Iguana. Once back at the beach there is normally plenty of free time to snorkel back in the lagoon. Playful sea lions pups and bright-colored fish make for fascinating company.
Day 7 – San Cristóbal
We will pass by Leon Dormido (Kicker Rock), which is a magnificent rock in the middle of the sea, set in a shape resembling a sleeping lion (or for the not-so-creative, a shoe. Hence the english name Kicker Rock). The rock rises nearly 500ft above the ocean surface and is divided into two parts by a narrow channel navigable by small vessels. We also visit Cerro Brujo, where there is a chance to go hiking, swimming and snorkeling. The sandy beach is home to Sally Lightfoot Crabs, Brown Pelicans, Blue-footed Boobies and many sea lions.
The town of Puerto Baquerizo Moreno on San Cristobal is the capital and administrative centre of the Galapagos Islands. From here, in the afternoon, we will visit a newer site near Cerro Colorado where we can find the San Cristobal variety of saddlebacked Giant Tortoises.
Day 8 – Española
At Gardner Bay on Española Island (also called Hood Island) we'll walk along one of the most beautiful beaches in the archipelago. Sea lions and bird life will keep us very occupied, but there will also be the opportunity to go snorkeling.
Punta Suarez on the western side of Española is spectacular: gargantuan waves break on jagged cliffs and large bird colonies thickly populate the interior of the island; there is a distinct feel of desolate wilderness here. The Waved Albatross is seen here from April to December during its mating/nesting season. This bird leaves land between January and March each year to make its annual odyssey far out to sea. Amazingly, Española is the nesting site to virtually the entire world population of this species, with more than 12,000 pairs residing here. Large numbers of Nazca and Blue-footed Boobies are also found here, Red-billed Tropic Birds dash madly through the air, and both Marine Iguanas and sea lions are common. A huge blowhole, where the surf is forced through a natural rock formation spouting seawater 50 or more feet into the air, adds to the island's impression of untamed beauty.
Day 9 – Floreana
Make our way to Punta Cormorant on the northern part of Floreana. The landing is on a beach of greenish sand, colored by olivine crystals, volcanic-derived silicates of magnesium and iron. The trail leads to a lake normally inhabited by flamingos and other shore birds and continues to a beach of fine white sand particles known as "Flour Beach", an important nesting site for turtles. Around the point, Devil's Crown derives its name from the broken remains of a partially submerged volcanic cone. This is a perfect spot to go snorkeling from the boat, as the waters are home to a multitude of colorful fish and sea lions. Please make sure you are a comfortable swimmer, however, as despite the protection from the open sea provided by the "crown," the water here can be rough and the currents strong.
Later in the afternoon we stop at Post Office Bay. A barrel was placed here in the late 18th century by English whaling vessels to be used as a post office. Passing ships would stop to leave mail for loved ones, collecting at the same time any mail destined for ports on their itineraries. Today the box is used mainly by tourists, who may drop off and pick up unstamped letters to be carried to far destinations. The remains of a Norwegian canning factory are the only evidence of the Island's history prior to its designation as a protected area.
The history of Floreana Island (also called Charles) has gradually evolved to reach near mythic proportions. The story begins when a baroness and her two lovers, a German doctor and his mistress, and a German couple and their young son all came to settle on this land. Their dalliances and disasters, shrouded in mystery, were chronicled in John Treherne's book The Galapagos Affair. Descendants of the German family, the Wittmers, still live on the island in the small community of Puerto Velasco Ibarra. Mrs. Margaret Wittmer has also written a booked entitled "Floreana."
Day 10 – Isla Santiago / Bartolomé
Sullivan Bay on Santiago Island offers striking lava formations. Very few plants have managed to survive on this island due to the harsh environment and relatively new lava floe, about 110 years old.
Bartolomé Island has two main areas of interest. A hike to the summit of the island provides a clear perspective of the islands' not-too-distant volcanic origins, and the panoramic view is one of the best among the islands. From here are visible the double-sided beach of Bartolomé directly below, the volcanic tower rising out of the water next to it, and Santiago in the distance. After the summit hike, stop at the beach to relax in semi-tropical tranquility. There is great snorkeling among the submerged volcanic rock and around the base of the tower. A short hike to the beach on the opposite side is worth the minimal effort. It is not unusual to see sharks in these shallow waters.
Day 11 – Black Turtle Cove / Baltra / Quito
Early morning we'll visit Black Turtle Cove, a nursery area for not only Green Turtles but many sharks and rays as well. We will motor through the mangroves enjoying views of many birds as well. After our visit we will disembark at Baltra and transfer to the airport for our flight back to Quito.
In Quito we will have our final evening meal together .
Day 12 – Return Home
Departures throughout the day…
Cost
Cost is $10,500 per person, based upon double occupancy, from Quito, Ecuador (Airport code UIO.
This trip ends in Quito, Ecuador (Airport code UIO).
Single Cabins, Shared Cabins & Suites
Our yacht for this tour, the Solaris, has three single cabins available as well as two suites with queen-sized bed and four shared cabins with two beds.
PRICED PER PERSON DOUBLE OCCUPANCY
– 4 Twin share standard cabins – 2 beds in each: $10,500 per person

– 2 Suites: $11,250 per person (double occupancy) – 1 'matrimonial bed' in each suite, plus a sofa/sitting area
SINGLE CABINS PRICED PER PERSON SINGLE OCCUPANCY
– 2 Single cabins: $11,250 each – includes single hotel room as well
Additional Costs
– $100 Galapagos Islands National Park Fee (subject to change)
– $300 (Recommended Gratuities) $200 for Boat Crew & $100 for local naturalist
– $75 Wet suit rental (mask & snorkel are free)
Minimum Number
If fewer than the minimum number of required participants are registered, we may still be able to run the trip by adding a small-group supplement fee, per person, determined by the number of participants registered.
Tour Costs Include
Local Galapagos/Quito flights, Tourist Card fee ($20), all airport transfers, all accommodations (hotel and yacht), all meals from breakfast on Day 2 through dinner on Day 10, all permits, all land transportation.
Tour Costs Do Not Include
International flights, passport and/or visa fees, additional hotel nights, additional snacks or bottled drinks, alcohol, laundry, phone calls or anything of a personal nature or not specifically mentioned as included.
Deposit Requirements
A $1,500 deposit per person is required to hold each space on this tour. Deposit may be made online by clicking the "Book Your Trip Now" button and using any credit card. If you prefer, you may call us at 888-875-9453 to pay by phone. You may also mail us a check, however, remember that all space is held on a first come-first served basis as deposits are received.
How to Book
In order to hold your space, click the "Book Your Trip Now" button above and complete the deposit process, including payment of the deposit through our Paypal portal using ANY CREDIT CARD. Upon completion of deposit, please visit our secure, online CLIENT INFORMATION FORM to complete your registration.
Final Payment
For all land-based tours: full payment by check is due 120 days prior to the departure date.
For all boat-based adventure cruises of 7-days or longer: full payment by check is required 180 days prior to departure.
NOTE: If you prefer to use credit card for final payment, a 3% fee may be added to cover the credit card merchant fees we incur.
Garden Hotel San Jose de Puembo
In Quito we will enjoy the wonderful Garden Hotel San Jose de Puembo, located only 15 minutes from the new airport near Quito. Spacious rooms and an excellent restaurant sit in a small town surrounded by rolling hills. Birds, llamas and beautiful flowers can be found in the hotel's gardens. While here, enjoy the relaxing hot tub.
Category – First Class motor yacht
Length – 118 ft
Beam – 29 ft
Capacity – 16 passengers
Accommodations – All cabins are all above deck with doors that open outside to the deck. Each has private bath, hot showers and air conditioning. A top sun deck and large bow and stern area offer great pelagic viewing. Comfortable bar and lounge areas with TV and projector for presentations round out our boat.
Crew – Captain, 5 sailors, 2 chefs and 2 mechanics plus our National Park naturalist/guide.
Electricity – Two 110v/220v generators, standard USA three-prong receptacles throughout the yacht.
Activity Level Rating: 3 (Note: 1 is easy and 5 is difficult)
• Some trails on the Galapagos will be very rocky.
• We will need to board and disembark from zodiacs to the yacht as well as to shore.
Gear for Birding and Wildlife Viewing in the Galapagos
• Be sure to bring good, waterproof binoculars. Yes, much of the wildlife is close, but some is not, especially when viewing sea birds from the yacht.
• Spotting scopes are not typically needed as there will only be a couple locations where migrating shorebirds may be too distant for binoculars. None of the Galapagos endemics will require a scope. We will have a scope for use on our pre-Galapagos Hummingbird Day.
Photography Gear for the Galapagos Islands and Hummingbird Day
The best camera is the one you have with you! That said, we will help you get great photos no mater what camera you use.
For those with DSLR or Mirrorless cameras with interchangeable lenses, here is what we recommend that you bring two bodies to reduce changing lenses and just in case of accidental damage to one.
Recommended Lenses
• 24-105mm (or equivalent)
• 100-400mm (or equivalent)
In addition you may also want to have an ultra-wide lens equivalent to about 16-35mm.
Other Accessories
• Tripod for longer exposures and steady video
• Rain cover for camera
• Weather resistant Camera Bag (Backpack style is best)
• Polarizing Filters
• Batteries and chargers
• Lots of memory cards!
• Laptop or other downloading device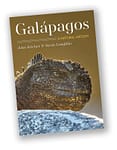 GALAPAGOS: A NATURAL HISTORY
by John Kricher and Kevin Loughlin
This is one of the best books to get to know the islands well before your visit.

WILDLIFE OF THE GALAPAGOS
by Julian Fitter, Daniel Fitter, David Hosking
Kevin's favorite guide to the flora and fauna of the islands.
Purchasing Flights
Do not purchase your flights until the trip has been confirmed to go.
Detailed Trip Information
Upon notification that final payment is due (120 days prior to departure for land based tours / 180 days for boat based tours), you will receive a trip package of detailed information for your tour.
Any additional information about the trip, including lodgings, contacts, participants, meeting locations, etc., will sent about 2 weeks prior to the trip departure, or after final payment is received for late registrants.
Travel Insurance
As with all tours, we recommend purchasing Travel Insurance to help cover your investment, for covered reasons. Please see our section on Travel Insurance.
Passport & Visa
US Citizens may require a visa to enter certain foreign countries. See above for any required visa information.
Participants arriving to the USA from a foreign country may need to get a travel visa to enter the United States. Be sure to check the requirements for your country of origin.
Itinerary Changes
The trip itinerary is developed many months ahead of time. Occasionally, despite our best planning, changes may occur during the trip, or we may be forced to alter our plans. Changes may occur because of weather, road conditions, safety concerns or other circumstances. In these situations, it is the leader(s) responsibility to carefully consider and implement appropriate alternatives. Any additional costs incurred because of changes will be the responsibility of each individual participant. Refunds will not be issued as a result of itinerary changes.