NAMIBIA: Desert and Etosha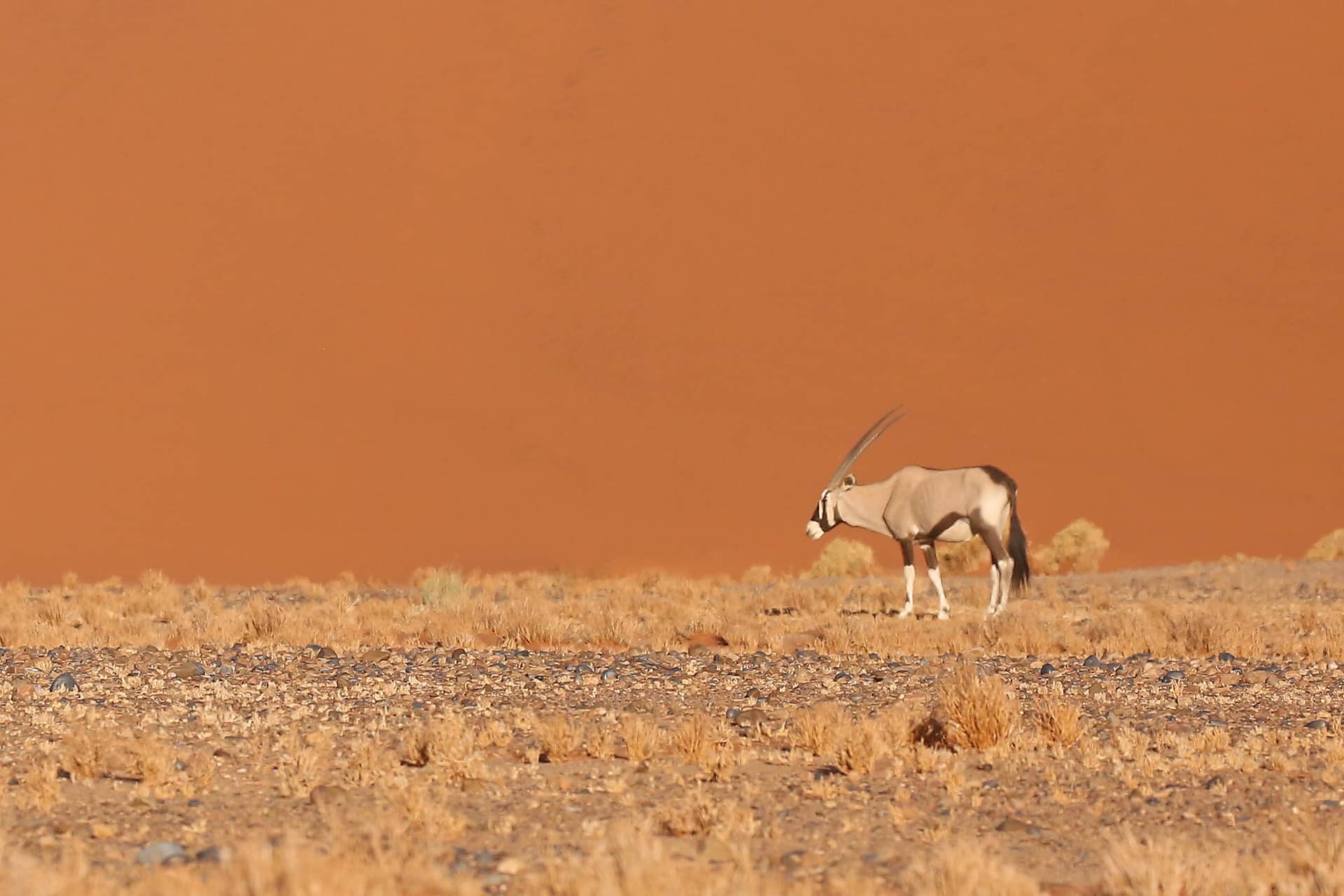 TOUR FOCUS

BIRDS & WILDLIFE
SCHEDULED TOURS
2025 :: January 8 - January 26

TOUR COST
From: $9,600 (See details)
Cost is per person, double occupancy from Windhoek, Namibia (WDK)
GROUP SIZE
4-6 Participants
AVAILABILITY
Jan 2025 – cost tbd  (3 spaces remain)
PRIVATE TOUR OPTION
This tour is available as a private trip for any size group. The tour cost will vary with the number of people and any custom requests.
If you have been on this tour, please be the first to leave a review!
Highlights of NAMIBIA: Desert and Etosha
Desert-adapted wildlife
Endemic Dune Lark
Stunning sand dunes at Sossusvlei
Mega-fauna of Etosha National Park
Description of NAMIBIA: Desert and Etosha
Namibia is a country of amazing contrasts. Situated in Southwest Africa, Namibia encompasses the oldest desert on the planet, gleaming white salt pans, uninhabited beaches of the Skeleton Coast, and the vast wilderness of the Koaveld. These unique landscapes are home to unique, desert-adapted wildlife found nowhere else on earth.
This Namibia birding and wildlife safari explores key areas of this arid wonderland to find endemics and specialty species among some of the most dramatic, breath-taking landscapes on the African continent.
Namibia's focus on conservation and eco-tourism provide many areas for unrivaled wildlife watching. More than 600 species of birds have been recorded in Namibia, spread across a variety of habitats. The arid interior is home to range-restricted species, including Dune Lark (endemic), Ludwig's Bustard, and Burchell's Courser. Coastal wetlands like Walvis Bay are of international importance and host many migratory birds such as Greater and Lesser Flamingos, and Chestnut-banded Plover. Gray's Lark and Tractrac Chat are found among gravel plains adjacent to the coast. The Namib escarpment is where we find Herero Chat, Rockrunner, Benguela Long-billed Lark, Violet Wood-hoopoe, Damara and Monteiro's Hornbill and the enigmatic White-tailed Shrike.
The dramatic dunes of Sossusvlei, surrounded by ancient volcanic mountains and sweeping plains, reflects spectacular scenery and hosts a rich diversity of mammals, birds, and reptiles. At Etosha National Park, we'll spend ample time enjoying the wildlife that concentrate around watering holes.
Throughout our safari, we'll encounter an exciting array of animals adapted to thrive in harsh, arid environments, such as elephants, Black Rhino, Gemsbok, Springbok, and endemic Hartmann's Mountain Zebra, Damara Dik-Dik and Black-faced Impala. Carnivores include Bat-eared Foxes, Cape Fox, Brown Hyaena, Black-backed Jackal, Cheetahs, and elusive 'desert' Lions.
Magnificent scenery, dramatic desert landscapes, and remarkable biodiversity make Namibia a top destination for birding and wildlife safaris.
Length of Tour
19-days/18-nights

Brief Itinerary:
Day 1 – Arrive Windhoek  o/n  Galton House, Windhoek
Day 2 – Spreetshoogte o/n Namibgrens Guest Farm
Day 3 – Spreetshoogte to Sossusvlei o/n Kulala Desert Lodge
Day 4 – Sossusvlei o/n Kulala Desert Lodge
Day 5 – Sossusvlei to Swakopmund o/n Cornerstone Guesthouse, Swakopmund
Day 6 – Walvis Bay & vicinity o/n Cornerstone Guesthouse, Swakopmund
Day 7 – Swakopmund & vicinity o/n Cornerstone Guesthouse
Day 8 – Swakopmund to Doro! Nawas, Damaraland o/n Doro Nawas Camp
Day 9 – Doro! Nawas Conservancy, Damaraland  o/n Doro Nawas Camp
Day 10 – Damaraland to Western Etosha o/n Hobatere Lodge
Day 11 – Hobatere, Western Etosha o/n Hobatere Lodge
Day 12 – Western Etosha to Central Etosha o/n Okaukeujo Rest Camp
Day 13 – Central Etosha o/n Okaukeujo Rest Camp
Day 14 – Central Etosha, Okaukuejo to Halali o/n Halali Bush Chalet
Day 15 – Eastern Etosha o/n Mushara Lodge
Day 16 – Eastern Etosha, Namuntoni o/n Mushara Lodge
Day 17 – to Erongo Mts o/n Erongo Wild
Day 18 – to Windhoek o/n Galton House, Windhoek
Day 19 – Departure from Windhoek
Itinerary:
Day 1: Arrive Windhoek, pm Avis Dam
Day 2: to Spreetshoogte
Day 3 & 4: to Sossusvleiand vicinity

Early morning departure from Windhoek travelling through the spectacular Khomas Hochland Mountains with many birding stops en route. Early on we could see Orange River Francolin, Short-toed Rock-Thrush, Bradfield's Lark, Chat Flycatcher, Mountain Wheatear, Rufous-eared Warbler, Black-chested Snake-Eagle to mention a few. Before dropping down into the Namib Desert, we will stop on the spectacular Spreetshoogte Pass absorbing the vastness of the landscape in front of us.  From here we descend in altitude into the Namib with a very different bird community. We could see our first Rüppells Korhaan, Stark's Lark, Greater Kestrel, Red-necked Falcon and Ostriches. We will arrive at Kulala Desert Lodge early evening where we will stay for two nights.
The following morning an early start will be made to find Dune Lark. This bird favours the grassed lower slopes of immense red sand dunes that dominate the area, and is best searched for early in the morning. There is also favourable birding habitat amongst Camel-thorn Acacia along ancient dry river beds for Dusky Sunbird, Acacia Pied Barbet and open gravel plains for the tricky-to-find Burchell's Courser. A non-birding highlight will certainly be the gigantic dunes, 'Dune 45' and 'Big Daddy, as well as a list to Dead Vlei.
Day 5: Sossusvlei to Swakopmund
Day 6 & 7: Walvis Bay and Swakopmund area

Early morning departure for the coast and the coastal town of Walvis Bay – it is a fairly long drive but so much to see along the way. A stop will be made early on in the Naukluft Mountains for the highly localized Cinnamon-breasted Warbler at the northern extremity of its range. We then traverse the moonscape Kuiseb River canyon before the flat open plains of the Namib-Naukluft Park gives way to the high dunes along the coast. Time permitting could do walk around town for marine cormorants like Cape and Bank and foraging Orange River White-Eyes in the gardens. Three nights in Swakopmund.
Following days explore birding localities in-and-around Walvis Bay and Swakopmund. The latter, a pretty town with an interesting mix of German style buildings, continental cafes and interesting shops. Early morning visit to the gravel plains north of town could produce Gray's Lark, Tractrac Chat and Red-capped Larks. The Walvis Bay Salt Works and lagoon is home to some of the largest concentrations of flamingos, shorebirds and localized endemics like Damara Tern and Chestnut-banded Plover. One morning a boat trip within Walvis Bay and the other morning exploring the Living Desert for reptiles – an outstanding experience.
Day 8: Walvis Bay to Doro! Nawas Conservancy, Damaraland
Day 9: Doro! Nawas Conservancy, Damaraland

A very early start will be made again to maximize the most of this day. We will initially travel north along the coast, then inshore past the spectacular inselberg of the mighty Brandberg, Namibia's highest mountain at 8,440 feet. In this area a search will be made Herero Chat and there will be many other roadside birding stops for species like Ludwig's Bustard. We will arrive late afternoon at the spectacular Doro Nawas Camp where we will overnight for two nights. This camp is well situated in an ancient floodplain with the beautiful red Etjo sandstone and Ekendeka Mountains in the distance.
The following day we will explore this diverse rugged landscape exploring associated thicket along ephemeral river systems, gravel plains, dry river beds and rocky outcrops. A highlight could be finding the unique desert-adapted black rhino, or elephant as several family groups roam the area, but other mammals could include oryx (gemsbok), springbok, suricate and even possibly cheetah. On the gravel plains we could find Ruppell's Korhaan, Lark-like Bunting and Namaqua Sandgrouse whilst the rocky outcrops often have Benguela Long-billed Lark. Exploring the riverine systems of the Huab and Aba Huab we could find Damara Hornbill, Bare-cheeked Babbler, Carp's Tit, Little Banded Goshawk (Shikra), Madagascar Bee-eater (summer), Red-crested Korhaan, African Cuckoo (summer), Grey-backed Cameroptera, Pearl-spotted Owlet and Spotted Eagle-Owl.
Other exciting activities in this area is to visit Twyfelfontein – a marvelous San rock art site showcasing  a plethora of rock engravings and paintings depicting wildlife and abstract patterns and also a recently proclaimed world heritage site. The birding here is equally good with the likes of Rosy-faced Lovebirds, White-throated Canary, Dusky Sunbird and Verreaux's Eagle with colourful Namib rock agamas basking on the sandstone rocks.
Day 10: Doro! Nawas Conservancy to Western Etosha
Day 11: Hobatere area, Western Etosha

Today we depart for another premier Namibian birding destination – Hobatere. This is a very scenic drive and on the way to Khorixas we will pass through a picturesque landscape filled with ancient welwitchia plants. Stops will be made en-route for Herero Chat and even possibly the Khorixas Sewage Works. We hope to arrive at Hobatere Lodge in the early afternoon to settle in and get ready for a night drive on the reserve for nocturnal bird and mammal species. Hobatere is situated in the Khoadi Hoas Conservancy west of Etosha National Park, offering great birding in dramatic landscapes.
Birding in the scenic Hobatere area is very productive for species such as White-tailed Shrike, Damara Hornbill, Bare-cheeked Babbler, Rockrunner, Hartlaub's Spurfowl, African Scops-Owl, Chestnut Weaver, Great Sparrow, Red-billed Spurfowl, Bateleur, Verreaux's Eagle-Owl, Lark-like Bunting, Carp's Tit, Meve's Starling and Violet Wood-hoopoe. The day will be spent targeting various areas for these species on walks and open-vehicle drives.
Day 12: Western Etosha to Central Etosha National Park
Day 13 & 14: Okaukeujo & Halali, Etosha National Park
From Hobatere we head into Etosha National Park and work our way towards the central parts of the park and onto the Okaukeujo area for two nights at Okaukeujo Rest Camp and 1 night a little further east at Halali. This opens up habitats yet unexplored –woodland interspersed with open plains and a vast clay white pan that covers almost 5000 square kilometres. Apart from the opportunity in spotting predators and plains game, the Park's birdlife is staggering. Birds we could find are endless including Secretarybird, Kori Bustard, Northern Black Korhaan, Burchell's Courser, Sociable Weaver, Pygmy Falcon, Red-necked Falcon, Stark's Lark, Double-banded Courser and Pink-billed Lark.
Day 15: Central Etosha National Park to Eastern Etosha National Park
Day 16: Namutoni, Etosha National Park
The habitats and resultant bird diversity is very different in the eastern parts of Etosha (Namutoni area) with species such as Black-faced Babbler, Burnt-necked Eremomela, Southern Black Tit, Fawn-coloured Lark, Barred Wren-Warbler and an isolated population of Blue Crane on offer. Birding drives will take in all the key areas here such as the vast Andoni Plains and Fischer's Pan as well as the varied Park waterholes in the vicinity. Two nights at Mushara Lodge
Day 17: Etosha to the Erongo Mountains
Today we travel south to Omaruru at the dramatic Erongo Mountains which rise like mighty whalebacks over the otherwise flat landscape. One night at Erongo Wild which is a classic style tented camp hidden in the boulders. This area has many Namibian endemics and will give us a final chance for any species we may have missed such as Rosy-faced Lovebird, Monteiro's Hornbill, Hartlaub's Francolin, Rockrunner, White-tailed Shrike and Rüppell's Parrot. Overhead may spot Verreaux's Eagle and Augur Buzzard whilst at night we may see Freckled Nightjar.  In the area mammals are not that numerous but we could see rock hyrax, dassie rat, the recently described black mongoose, chacma baboon, greater kudu and possibly porcupine and caracal in the evening. This venue definitely is a relaxing end to any Namibia birding itinerary.
Day 18: Erongo Mountains; Return to Windhoek
Day 19: Departure from Windhoek
Please note that this itinerary is a guideline, and while we hope to do everything on this birding safari, activities are subject to change, due to circumstances beyond our control. Accommodations are based upon availability and may change.
Cost
$9,600 per person, based upon double occupancy, from Windhoek, Namibia (Airport code WDK).
This trip ends in same as arrival city (Airport code ).
Single Supplement and other Cost Additions
If a single room is preferred, or we are unable to find a suitable roommate for you, a single supplement fee of $800 will be assessed.

Cost may vary, subject to the fluctuation of the Rand at the time of payment.
The Cost Includes
All ground transport, game drives and park entrance fees; professional driver guide; meals (from dinner on Day 1 to breakfast on Day 19) and accommodation from Windhoek.
Cost Excludes
Airfares to Namibia;  any Covid related tests and costs; beverages; any items of personal nature (laundry, telephone calls and so forth); any services not mentioned or indicated as optional; gratuities to drivers / guides / porters / waiters.
Minimum Number
If fewer than the minimum number of participants are registered the trip can still run with a small-group supplement fee per person determined by the number of participants.
Deposit Requirements
A $1,000 deposit per person is required to hold each space on this tour. Deposit may be made online by clicking the "Book Your Trip Now" button and using any credit card. If you prefer, you may call us at 888-875-9453 to pay by phone. You may also mail us a check, however, remember that all space is held on a first come-first served basis as deposits are received.
How to Book
In order to hold your space, click the "Book Your Trip Now" button above and complete the deposit process, including payment of the deposit through our Paypal portal using ANY CREDIT CARD. Upon completion of deposit, please visit our secure, online CLIENT INFORMATION FORM to complete your registration.
Final Payment
For all land-based tours: full payment by check is due 120 days prior to the departure date.
For all boat-based adventure cruises of 7-days or longer: full payment by check is required 180 days prior to departure.
NOTE: If you prefer to use credit card for final payment, a 3% fee may be added to cover the credit card merchant fees we incur.
This trip includes standard hotels, tented camps and lodges.
Activity Level Rating: 3 (Note: 1 is easy and 5 is difficult)
Moderate walking usually over level but uneven terrain, between 1-4 miles a day. The most strenuous being climbing dunes in Sossusvlei, where a good level of fitness will be required
Recommended Field Guide
Birds of Southern Africa  4th Edition (Princeton Field Guides, 2011)
by Ian Sinclair, Phil Hockey, Warwick Tarboton and Peter Ryan
Non-smoking Tour
This trip is for non-smokers only. Smoking is not permitted at any time during our tour.
Visa
No Visa is required for US citizens.
Covid-19 Protocols
Please read our latest information and requirements in regards to Covid.
Currently you are required to show proof of a negative PCR test 72 hours prior to travel, and are required to do the same prior to returning to the US. We will arrange to have this done at a convenient place before the end of the trip.
Climate
Spring-beginning of summer in the south! November-Dec is a highly variable month. Average low 68, high 86, though expect it to be hot with low humidity, and hotter in the desert.  Sometimes the hot, dry  weather will continue, at other times the sky will fill with clouds and threaten to rain – but if you are lucky to witness the first rains of the seasons, you'll never forget the drama!
Malaria
Malaria is present throughout the northern part of the country. Approximately north of a line from Windhoek to Swakopmund. Check with your doctor for the recommended prophylaxis.
Transportation
We will be 9 seater vans as well as open-sided 4×4 safari vehicles.
Purchasing Flights
Do not purchase your flights until the trip has been confirmed to go.
Detailed Trip Information
Upon notification that final payment is due (120 days prior to departure for land based tours / 180 days for boat based tours), you will receive a trip package of detailed information for your tour.
Any additional information about the trip, including lodgings, contacts, participants, meeting locations, etc., will sent about 2 weeks prior to the trip departure, or after final payment is received for late registrants.
Travel Insurance
As with all tours, we recommend purchasing Travel Insurance to help cover your investment, for covered reasons. Please see our section on Travel Insurance.
Passport & Visa
US Citizens may require a visa to enter certain foreign countries. See above for any required visa information.
Participants arriving to the USA from a foreign country may need to get a travel visa to enter the United States. Be sure to check the requirements for your country of origin.
Itinerary Changes
The trip itinerary is developed many months ahead of time. Occasionally, despite our best planning, changes may occur during the trip, or we may be forced to alter our plans. Changes may occur because of weather, road conditions, safety concerns or other circumstances. In these situations, it is the leader(s) responsibility to carefully consider and implement appropriate alternatives. Any additional costs incurred because of changes will be the responsibility of each individual participant. Refunds will not be issued as a result of itinerary changes.