PANAMA: Birds & Frogs Photography Workshop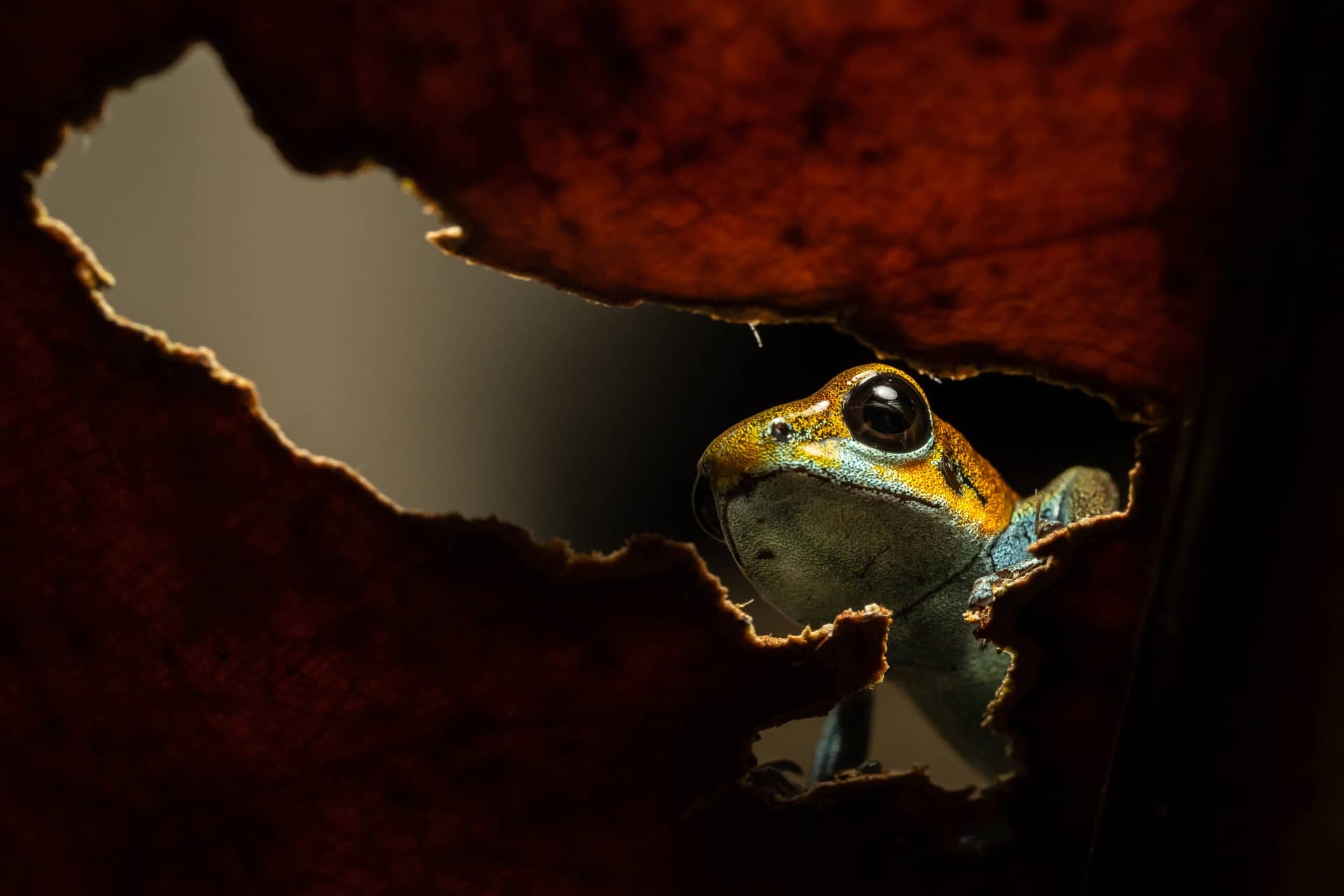 SCHEDULED TOURS
2024 :: November 15 - November 23

TOUR COST
From: $5,450 (See details)
Cost is per person, double occupancy from Panama City, Panama (PTY)
GROUP SIZE
4 - 8 Participants
AVAILABILITY
2023: 8 spaces available

PRIVATE TOUR OPTION
This tour is available as a private trip for any size group. The tour cost will vary with the number of people and any custom requests.
If you have been on this tour, please be the first to leave a review!
Highlights of PANAMA: Birds & Frogs Photography Workshop
More than 30 color varieties of one species of poison dart frog!
Hands on photography instruction for both macro and bird photography
A relaxing destination on an island just off the northwestern coast of Panama
Two species of sloth may be seen right around the lodge
Incredible accommodations and beautiful forests
Night macro walks in the tropical jungle
Description of PANAMA: Birds & Frogs Photography Workshop
This wonderful photography workshop in Panama will include in-depth, hands-on photo instruction as we photograph reptiles and amphibians, monkeys, sloths, butterflies and, of course, birds. We will spend time photographing with special set-ups for hummingbirds in the gardens and around feeders. Landscape photography will also be explored as will photoshop skills and image workflow.
The stars of our workshop, however, will certainly be the Poison Dart Frogs. We can photograph as many as six different species and, in the case of Oophaga pumilio, we could photograph as many as a dozen color morphs. Oophaga pumilio comes in a wide array of red, green, blue, orange and gold morphs… some with small spots, some with big spot and some with no spots at all!
The 'ultra-luxury' Tranquilo Bay Resort is one of Central America's hottest new rainforest destinations, a paradise that's home to 400 bird species and a plethora of colorful Poison Dart Frog species! This trip will be based at the lodge for the full trip, with day-trips to other great photo locations.
While at the lodge we will have many options to explore by motor boat, kayak and on foot as we discover wildlife galore. Kinkajous, Crab-eating Raccoons, American Crocodiles, Iguanas and other species of lizards and many, many birds will fill each day with photographic opportunities!
Length of Tour
9-Days/8-Nights

Brief Itinerary
Day 1 – Arrival in Panama City
Day 2 – Fly to Bocas del Toro
Days 3 through 7 – Tranquilo Bay Eco-Resort
Day 8 – Return to Panama City
Day 9 – Return Home
Detailed Itinerary
Day 1 – Arrive in Panama City
Upon arrival in Panama City we will stay the night in our local hotel.
Day 2 – Fly to Bocas del Toro
Todays flight will be very early in the morning–about 5:00am. Upon arrival in Bocas we will board our boat and motor to our lodge on a remote island in time for a late breakfast before we begin our adventure!
Days 3 through 7 – At Tranquilo Bay Eco-Resort
We will have many photo opportunities as we explore the lodge property and surrounding islands within the bay. Each island offers its own unique wildlife balance.
POISON DART FROGS
Different islands offer a plethora of colorful Poison Dart Frog species, offering amazing close-up photography opportunities!
One island is home to many Green and Black Poison Dart Frogs (Dendrobates auratus) while others have the various color morphs of the Oophaga Pumilio Dart Frog. We will find many others and have multiple opportunities for amazing macro photography of these curious little creatures.
BIRDS
Each day will offer many great bird photography opportunities, including hummingbirds, tanagers and parrots.
OTHER WILDLIFE
Squirrel Monkeys, White-faced Monkeys, Howler Monkeys, Timandua, Kinkajou, and Sloths can be found in the forest canopy while Crocodiles, and Dolphins are found in the bay. Every level of the forest from the water's edge has a new wonder to be discovered!
CANOPY TOWER
The lodge's canopy tower rises high above the forest canopy for not only a great view of the bay, but also close-up views of canopy dwelling birds and wildlife as well as eye-level flight shots!
KAYAKING
Kayaks offer some of the best opportunities for exploring the wildlife of the mangroves: birds, mammals and reptiles! We will have a couple opportunities to paddle the calm waters in search of fantastic images!
SNORKELING
Snorkeling in the mangroves will offer great close-ups of fish and corals in ultra-clear Caribbean. The mangroves are used as a nursery for many species and larger fish come to feed upon the weaker young. Mammals often come to the water's edge, ignoring our presence.
ISLAND HOPPING
We will visit islands within the bay that are home to monkeys, frogs and more birds!
Day 8 – Return to Panama City
Mid-afternoon we will travel by boat, then plane, back to Panama City for our final dinner in Panama.
Day 9 – Return home
Flights home anytime today.
Cost
Cost is $5,450 per person, based upon double occupancy, from Panama City, Panama (Airport code PTY.
This trip ends in Panama City, Panama (Airport code PTY).
Single Supplement
If a single hotel room is preferred, or we are unable to find a suitable roommate for you, a single supplement fee of $800 will be assessed.
NOTE: For boat-based tours, see pricing options for single cabins. Single cabin cost includes the single hotel cost above.
Minimum Number
If fewer than the minimum number of required participants are registered, we may still be able to run the trip by adding a small-group supplement fee, per person, determined by the number of participants registered.
Deposit Requirements
A $1,000 deposit per person is required to hold each space on this tour. Deposit may be made online by clicking the "Book Your Trip Now" button and using any credit card. If you prefer, you may call us at 888-875-9453 to pay by phone. You may also mail us a check, however, remember that all space is held on a first come-first served basis as deposits are received.
How to Book
In order to hold your space, click the "Book Your Trip Now" button above and complete the deposit process, including payment of the deposit through our Paypal portal using ANY CREDIT CARD. Upon completion of deposit, please visit our secure, online CLIENT INFORMATION FORM to complete your registration.
Final Payment
For all land-based tours: full payment by check is due 120 days prior to the departure date.
For all boat-based adventure cruises of 7-days or longer: full payment by check is required 180 days prior to departure.
NOTE: If you prefer to use credit card for final payment, a 3% fee may be added to cover the credit card merchant fees we incur.
FROM THE TRANQUILO BAY WEBSITE
Our secluded facility was designed to remove you from pressures of the real world and to comfortably immerse you in one of the most biologically diverse places on the planet.
Tranquilo Bay is adjacent to Bastimentos National Marine Park. We have over a kilometer of Caribbean coastline covered in coral gardens teaming with tropical fish. Our facilities encompass over 200 acres and three ecosystems, with over a mile of hiking trails full of wildlife. At least 75% of the acreage has been left to evolve in its natural state. Extreme biodiversity of flora and fauna, tropical rainforest, primary growth mangrove forest, incredible coral reef, and the Caribbean Sea are here for your onsite exploration.
Activity Level Rating: 2 (Note: 1 is easy and 5 is difficult)
This is a very easy trip, although there are a lot of steps at the lodge!
Gear for Birding & Wildlife Viewing
• Good quality binoculars
• Spotting scopes are not typically needed as we will be photographing much of the time, unless you plan to do some digiscoping.
Photography Gear Recommendations
The best camera is the one you have with you! That said, we will help you get great photos no matter what camera you use.
This Photo Workshop is geared toward those using DSLR or Mirrorless cameras with interchangeable lenses, here is what we recommend that you bring:
• Bring at least 2 camera bodies – to reduce changing lenses and just in case of accidental damage to one
Recommended Lenses for Birds & Wildside
• 100-400mm (or equivalent) for birds in flight
• 500mm lens or longer for birds and wildlife
Recommended Lenses for Landscape Opportunities
• 24-105mm (or equivalent) for landscape and general purpose
• In addition you may also want to have an ultra-wide lens equivalent to about 16-35mm which may be used for fun landscapes and night sky photography.
Recommended Lenses for Macro (Bugs, Frogs, etc.)
• 100mm Macro is fine for general purpose macro photography
• 150mm Macro is best for small, quick moving subjects like frogs
Filters (Mainly for Landscape Photography)
• Polarizing Filter for removing reflections (screw in for wide-angle lenses)
• Filter Holder for 4×6″ (or similar) filters
• 2-stop Neutral Density Filter
• 8-stop (or more) Neutral Density Filter
• 2-stop Hard and/or Soft Graduated Neutral Density Filter
Other Accessories
• Tripod for long exposures, big lenses and steady video
• Flash for low light, fill light and stop action
• Better Beamer or MagMod flash extender
• Rain cover for camera
• Weather resistant Camera Bag (Backpack style is best)
• Batteries and chargers
• Lots of memory cards!
• Laptop or other downloading device
Purchasing Flights
Do not purchase your flights until the trip has been confirmed to go.
Detailed Trip Information
Upon notification that final payment is due (120 days prior to departure for land based tours / 180 days for boat based tours), you will receive a trip package of detailed information for your tour.
Any additional information about the trip, including lodgings, contacts, participants, meeting locations, etc., will sent about 2 weeks prior to the trip departure, or after final payment is received for late registrants.
Travel Insurance
As with all tours, we recommend purchasing Travel Insurance to help cover your investment, for covered reasons. Please see our section on Travel Insurance.
Passport & Visa
US Citizens may require a visa to enter certain foreign countries. See above for any required visa information.
Participants arriving to the USA from a foreign country may need to get a travel visa to enter the United States. Be sure to check the requirements for your country of origin.
Itinerary Changes
The trip itinerary is developed many months ahead of time. Occasionally, despite our best planning, changes may occur during the trip, or we may be forced to alter our plans. Changes may occur because of weather, road conditions, safety concerns or other circumstances. In these situations, it is the leader(s) responsibility to carefully consider and implement appropriate alternatives. Any additional costs incurred because of changes will be the responsibility of each individual participant. Refunds will not be issued as a result of itinerary changes.