Greg Miller Big Year Series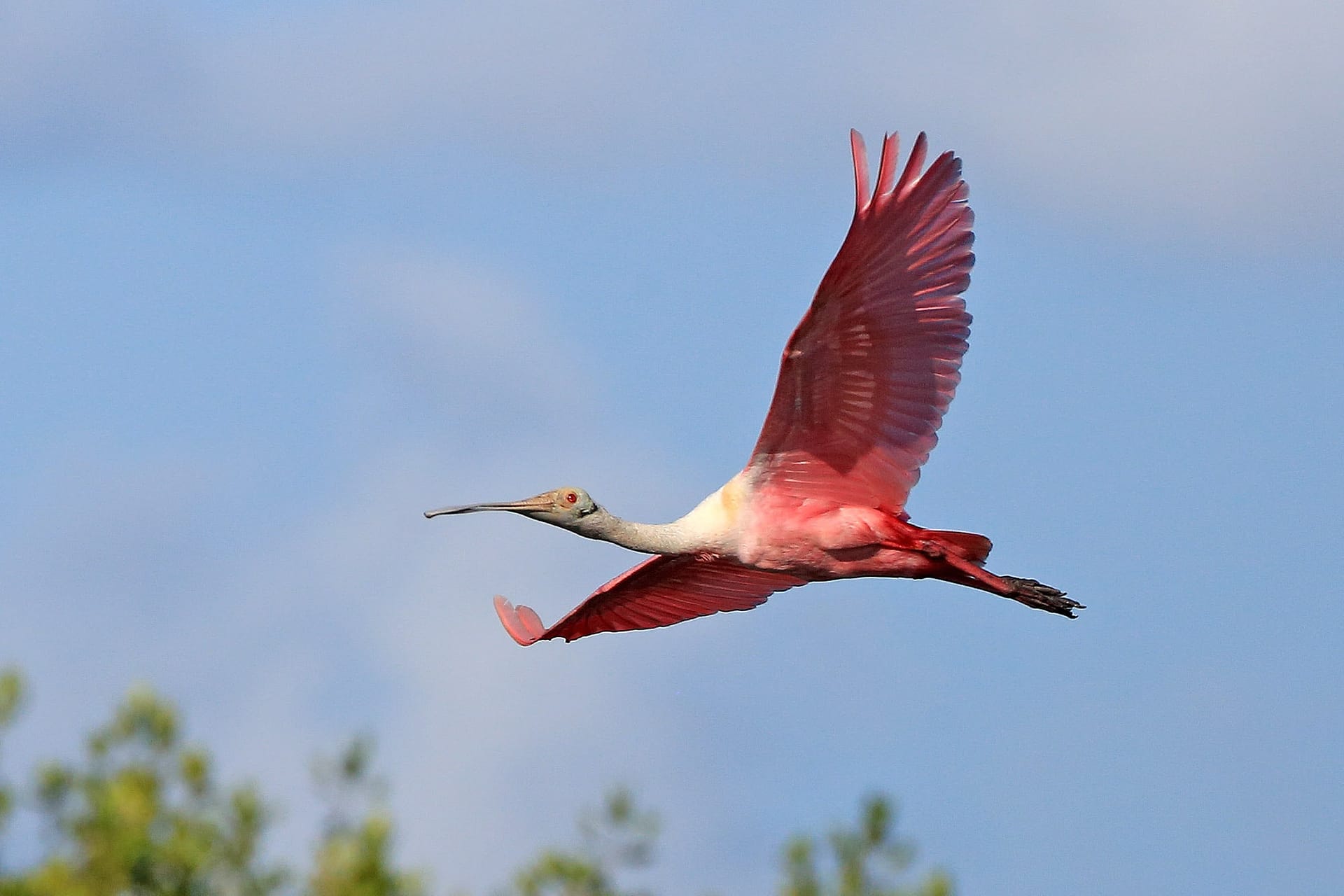 TOUR FOCUS

BIRDS & WILDLIFE
SCHEDULED TOURS
2024 :: April 27 - May 6
2025 :: April 26 - May 5

TOUR COST
From: $4,500 (See details)
Cost is per person, double occupancy from Miami, FL (MIA)
GROUP SIZE
5-7 Participants
AVAILABILITY
2024 – 5 spaces remain 
2025 – taking registrations, dates to be confirmed
PRIVATE TOUR OPTION
This tour is available as a private trip for any size group. The tour cost will vary with the number of people and any custom requests.
Highlights of FLORIDA & DRY TORTUGAS
South Florida sub-tropical specialties & Miami "exotics"
Mangrove Cuckoo, Black-whiskered Vireo, & Snail Kite
Red-cockaded Woodpecker & Bachman's Sparrow
3-day boat trip to the Dry Tortugas for seabirds & spring migrants
Description of FLORIDA & DRY TORTUGAS
South Florida, a sub-tropical paradise, is home to a number of species found nowhere else in North America including Mangrove Cuckoo, Black-whiskered Vireo, Short-tailed Hawk, Shiny Cowbird, Smooth-billed Ani, Snail Kite, and Florida Scrub-Jay. During six days of land-birding we'll search for all of the specialties as well as introduced "exotics" around Miami including Spot-breasted Oriole, Red-whiskered Bulbul, both Hill Myna and Common Myna, Yellow-chevroned Parakeet, White-winged Parakeets, and many other introduced parrots.
We'll explore a variety of habitats – dry and wet prairies; everglades wetlands; the pine flatwoods and scrub-oak habitat of south-central Florida; and mangroves and West Indian Hardwood hammocks. We'll delight in Burrowing Owls, Limpkin, Roseate Spoonbill, Wood Stork, Purple Gallinule, Red-cockaded Woodpecker, Bachman's Sparrow, and other Florida specialties. With luck, we may track down a Caribbean stray such as Western Spindalis, Cuban Pewee, LaSagra's Flycatcher, Zenaida Dove, Bahama Mockingbird, or Key West Quail-Dove!
This tour includes a 3-day boat trip to Dry Tortugas National Park and historic Fort Jefferson at the height of spring migration. These small islands are located 70 miles west of Key West. We'll journey by boat to 7 tropical islands where nesting seabird colonies are home to thousands of Sooty Terns, Brown Noddies, Masked Boobies, and Magnificent Frigatebirds – quite the spectacle to see and hear! Brown Booby and Roseate Tern are occasionally spotted in the vicinity, and we'll look for a rare Black Noddy amid the hundreds of Brown Noddies. Highlights of the trip include the potential for a large fall-out of nmigrant songbirds using these islands as a stopover point on their long, cross-Gulf journey to the mainland. Plus there's always the chance for a Caribbean vagrant such as the Yellow-faced Grassquit seen in 2002, Red-legged Honeycreeper in 2003, and Bahama Mockingbird in 2019. Close-up views of warblers, tanagers, vireos, nightjars, shorebirds and other passerines make for an exciting three days of birding. Snorkeling and sightseeing of historic Fort Jefferson add to the many activities that make up a Dry Tortugas experience.
As with all our boat-based tours, we require that you purchase trip insurance.
Wildside Nature Tours is an authorized permittee of the Dry Tortugas National Park.

Read about US Endemics of the Lower 48
Watch our Florida Birding Webinars!
Wetland Wonders of Wakodahatchee,
Dry Tortugas: Seabirds & Spring Migration
Tour Focus: Birds, Butterflies, Reptiles, Culture, Scenery, Photography
Length of Tour
10-days/9-nights

Brief Itinerary
Day 1 : Arrival in Miami
Day 2 : East Coast Wetlands
Day 3 : South-central Pinelands
Day 4 : South-eastern hotspots
Day 5 : Everglades & vicinity
Day 6 : The Keys
Day 7 : The Dry Tortugas
Day 8 : The Dry Tortugas
Day 9 : The Dry Tortugas
Day 10 : Miami & vicinity. Early afternoon departure from Miami
Note: The order of the itinerary may be switched depending upon when our trip to the Dry Tortugas is scheduled.
Itinerary
Day 1 ~ Arrive in Miami
Upon your arrival at Miami International Airport, you take the airport shuttle to the hotel, checking in any time after 2pm.
Day 2 ~ West Palm Wetlands

We begin in the south eastern part of the state looking for any Caribbean stray that may have turned up along with a species that has declined dramatically this decade, the Smooth-billed Ani. We'll get close up views of Burrowing Owl as they keep watch besides their burrows and visit a wetland where a rapidly expanding population of Grey-headed Swamphens exists.
We'll finish the day at a couple of wonderful man made water treatment facilities, Wakodahatchee Wetland and Green Cay. While walking the 1/2mile and 1 mile boardwalks respectively, we will encounter Mottled Ducks, Coots, Green Herons and an astonishing number of Least Bitterns, all feeding young. Least Terns are pairing up, Purple Martins are nesting, Limpkins walk the dikes and Purple Gallinules can be seen balancing precariously on the stems of fireflag.
Day 3 & 4 ~ Pinelands & Coastal Hardwood Hammocks

We head north into the dry prairie, oak-scrub and pinelands of south central Florida, where we'll look for Sandhill Crane and Crested Caracara. In the Slash and Long-leaf Pines our target species are Red-cockaded Woodpecker and Bachman's Sparrow but we will also see the southern race of Eastern Towhee, Pine Warbler, Eastern Bluebird, Great-crested Flycatcher as well as the stunning Zebra Swallowtail butterfly. At Jonathan Dickinson SP we look for Florida Scrub-Jay, which are found in small family groups amongst the scrub oak and likely encounter the graceful Swallow-tailed Kite.
There are numerous patches of hardwood hammocks that yield migrants and often a Caribbean stray that can be visited as we work our way back south.
Day 5 ~ Everglades and vicinity

Should any rare species be reported within the area, we'll make an effort to locate it, otherwise we visit the Everglades National Park where we'll explore a variety of habitats, including the 'River of Grass' where the endangered 'Cape Sable' Seaside Sparrow breeds. We'll scan the sawgrass for Snail Kite's as they hunt for apple snail; Bald Eagles are likely; a lingering Greater Flamingo would be a bonus and a plethora of shorebirds, waders, terns and pelicans can be seen, including American White Pelican, Wood Stork, Roseate Spoonbill, Caspian and Gull-billed Tern. The endangered American Crocodile can often be found by the marina; Alligators are common inland and butterflies are plentiful, including Zebra Longwing, Gulf Fritillary, White Peacock and Ruddy Daggerwings.
Day 6 ~ The Keys

As we work our way down the Keys we'll come across Gray Kingbirds and search the West Indian hardwoods and mangroves for Black-whiskered Vireo, Mangrove Cuckoo, Mangrove Yellow Warbler and White-crowned Pigeon amongst the numerous White-eyed Vireos. Various mudflats and beaches will hold Black-bellied Plover, Short-billed Dowitcher, Willet, Wilson's Plover, Reddish Egret, 'Great White' Heron, while Osprey, Double-crested Cormorant, Laughing Gulls will be common over the turquoise shallow waters as we cross the many channels between Keys. On our way to Key West we keep an eye out for a late lingering Short-tailed Hawk, look for Shiny Cowbird, and any reported rarity. We board our boat by 7pm for the journey to the Dry Tortugas.
Day 7 ~ The Gulf Stream; The Dry Tortugas

Daybreak will find us out in the Gulf Stream (weather permitting), where pelagic birding should reward us with Bridled Tern, Audubon Shearwater, northbound Pomarine Jaegers and there is always the chance of a White-tailed Tropicbird (don't count on it!) Roseate Terns often are seen on the buoys, as are Brown Boobies. Nearing the Dry Tortugas, Sooty Terns, Brown Noddies and Magnificent Frigatebirds will become a common sight. This is the only place in North America where these 3 species nest along with Masked Boobies. Once we reach the 15-acre Garden Key, the second largest of the 7 islands that make up the Dry Tortugas, most of our birding will be done within the remains of the impressive 19-century brick Fort Jefferson. Here amongst the sea grapes, cottonwoods and Geiger trees we should encounter a wide variety of migrants, including Eastern Kingbirds, Ruby-throated Hummingbirds, Gray-cheeked Thrush, Yellow-billed Cuckoos, Red-eyed Vireo, and numerous warblers including Blackpoll, Cape May, Black-throated Green, Palm and Magnolia. For those who are patient enough to sit by the water fountain, the only source of freshwater on the island, the rewards should be great, as all passerines will eventually make their way down for a drink or to bathe.
Day 8 ~ The Dry Tortugas

Garden Key will be explored for additional passerines that may have dropped in. The campground often holds Ovenbird, Wood Thrush, Common Nighthawk and Black-and-White Warbler. The Caribbean race of Short-eared Owl known as the "Arawak Owl" can sometimes be found hidden amongst the buttonwoods.   Common Yellowthroats, Bobolinks, Painted and Indigo Buntings can often be found in sections of taller grasses. Merlins and Peregrine often patrol the parade grounds looking for any unsuspecting migrants. During our stay we will visit Hospital Key to see the Masked Boobies as they return to this small sand key from fishing forays; take a skiff ride to see Magnificent Frigatebirds nesting up close; view nesting Sooty Terns and Brown Noddies from the spit adjoining Garden and Bush Key; check the coaling docks for Black Noddy and go for a moat walk at Fort Jefferson, after dark, to view some of the marine life that can been seen in these tropical waters.
Day 9 ~ The Dry Tortugas; Return to Key West; The Keys
After breakfast, we'll make a short visit to Garden Key to check for any overnight migrants before heading back to Key West. Along the way we should encounter Brown Boobies perched on buoys along the park perimeter boundary; Bottle-nosed Dolphins; Loggerhead Turtles and Gannets, Royal, Sandwich and Roseate Terns, as we get closer to our destination. We expect to return to Key West approximately 3-4pm and then head back up the Keys, stopping at dusk for Antillean Nighthawk if we don't see it on the Tortugas.
Day 10 ~ Miami

We begin our final morning by visiting a nesting colony of the Caribbean race of Cave Swallows, before spending the remainder of our time in the Miami area looking for all the exotics that make this part of North America unique. Red-whiskered Bulbul, Spot-breasted Oriole, Yellow-chevroned & White-winged Parakeet, Hill & Common Myna will all be encountered. The tour concludes at Miami airport at 12 noon. You may depart anytime after 1.30pm
Cost
Cost is $4,500 per person, based upon double occupancy, from Miami, FL (Airport code MIA).
This trip ends in same as arrival city (Airport code ).
Cost Includes
Cost includes airport transfers, all ground transportation and accommodations (6 nights on land/ 3 nights on the boat, "Makai"), entrance fees, permits and professional services of your leader. All meals aboard the "Makai" while in the Dry Tortugas.
Cost Does Not Include
You are responsible for: purchasing all meals on the land portion of trip (a continental breakfast is included with our hotel stay); making your flight arrangements to/from destination city; trip insurance; gratuities to the "Makai" crew; and anything that is not specifically mentioned in the itinerary
Minimum Number
If fewer than the minimum number of participants are registered the trip can still run with a small-group supplement fee per person determined by the number of participants.
Single Supplement
If a single room is preferred, or we are unable to find a suitable roommate for you, a single supplement fee of $450 will be assessed.
Deposit Requirements
A $500 deposit per person is required to hold each space on this tour. Deposit may be made online by clicking the "Book Your Trip Now" button and using any credit card. If you prefer, you may call us at 888-875-9453 to pay by phone. You may also mail us a check, however, remember that all space is held on a first come-first served basis as deposits are received.
Minimum Number
If fewer than the minimum number of required participants are registered, we may still be able to run the trip by adding a small-group supplement fee, per person, determined by the number of participants registered.
How to Book
In order to hold your space, click the "Book Your Trip Now" button above and complete the deposit process, including payment of the deposit through our Paypal portal using ANY CREDIT CARD. Upon completion of deposit, please visit our secure, online CLIENT INFORMATION FORM to complete your registration.
Final Payment
For all land-based tours: full payment by check is due 120 days prior to the departure date.
For all boat-based adventure cruises of 7-days or longer: full payment by check is required 180 days prior to departure.
NOTE: If you prefer to use credit card for final payment, a 3% fee may be added to cover the credit card merchant fees we incur.
Land Accommodations
6 nights. Good standard motels on the mainland portion of the trip with en-suite facilities.
Boat Accommodations
3 nights aboard the "Makai" for the Dry Tortugas portion of the trip, the accommodations are bunk beds in four shared compartments between 11 people.
Note: No single rooms are available on the boat.
Our Boat "Makai"
– Our U.S. Coast Guard Inspected motor vessel, m/v Makai, is 80 feet long with a twenty foot beam.
– Experienced and well-seasoned crew of 3 to 4, (2 licensed Captains)
– She sleeps 11 guests in four separate air conditioned staterooms, all with bunk beds. Shared accommodations; no single rooms.
– There are two heads (toilet, washbasin, shower).
– Cuisine is prepared from the finest quality produce, meats and of course the freshest seafood you can get!
– Sundecks Fore and Aft
– Shaded back deck
– Ice maker
– Fresh water maker storing 250 gallons
– Dual Engines and generators
– Satellite phone for emergencies
– TV DVD/VCR and Stereo
– 1100 Gallon fuel capacity
– Emergency oxygen and first aid equipment
– USCG Certified each year (stability rating is "excellent")
Activity Level Rating: 3 (Note: 1 is easy and 5 is difficult)
For the land portion walking is mostly on level ground, with occasions where we walk on sandy beach, rough paths or through tall grasses / vegetated areas. For the most part this is relatively easy.
You will need a certain degree of mobility and flexibility for the Dry Tortugas portion, for the boat. Participants will need to climb ladders to the second level, walk (while holding on) and keep your balance on a rocking boat, and get in and out of a zodiac boat (tender/skiff).
Recommended Field Guides
National Geographic Birds of North America (7th Edition, 2017)
by Jon Dunn and Jonathan Alderfer
– Covers the most likely of possible Caribbean strays
Sibley Guide available as an eBook
Non-smoking Tour
This trip is for non-smokers only. Smoking is not permitted at any time during our tour.
Purchasing Flights
Do not purchase your flights until the trip has been confirmed to go.
Detailed Trip Information
Upon notification that final payment is due (120 days prior to departure for land based tours / 180 days for boat based tours), you will receive a trip package of detailed information for your tour.
Any additional information about the trip, including lodgings, contacts, participants, meeting locations, etc., will sent about 2 weeks prior to the trip departure, or after final payment is received for late registrants.
Travel Insurance
As with all tours, we recommend purchasing Travel Insurance to help cover your investment, for covered reasons. Please see our section on Travel Insurance.
Passport & Visa
US Citizens may require a visa to enter certain foreign countries. See above for any required visa information.
Participants arriving to the USA from a foreign country may need to get a travel visa to enter the United States. Be sure to check the requirements for your country of origin.
Itinerary Changes
The trip itinerary is developed many months ahead of time. Occasionally, despite our best planning, changes may occur during the trip, or we may be forced to alter our plans. Changes may occur because of weather, road conditions, safety concerns or other circumstances. In these situations, it is the leader(s) responsibility to carefully consider and implement appropriate alternatives. Any additional costs incurred because of changes will be the responsibility of each individual participant. Refunds will not be issued as a result of itinerary changes.