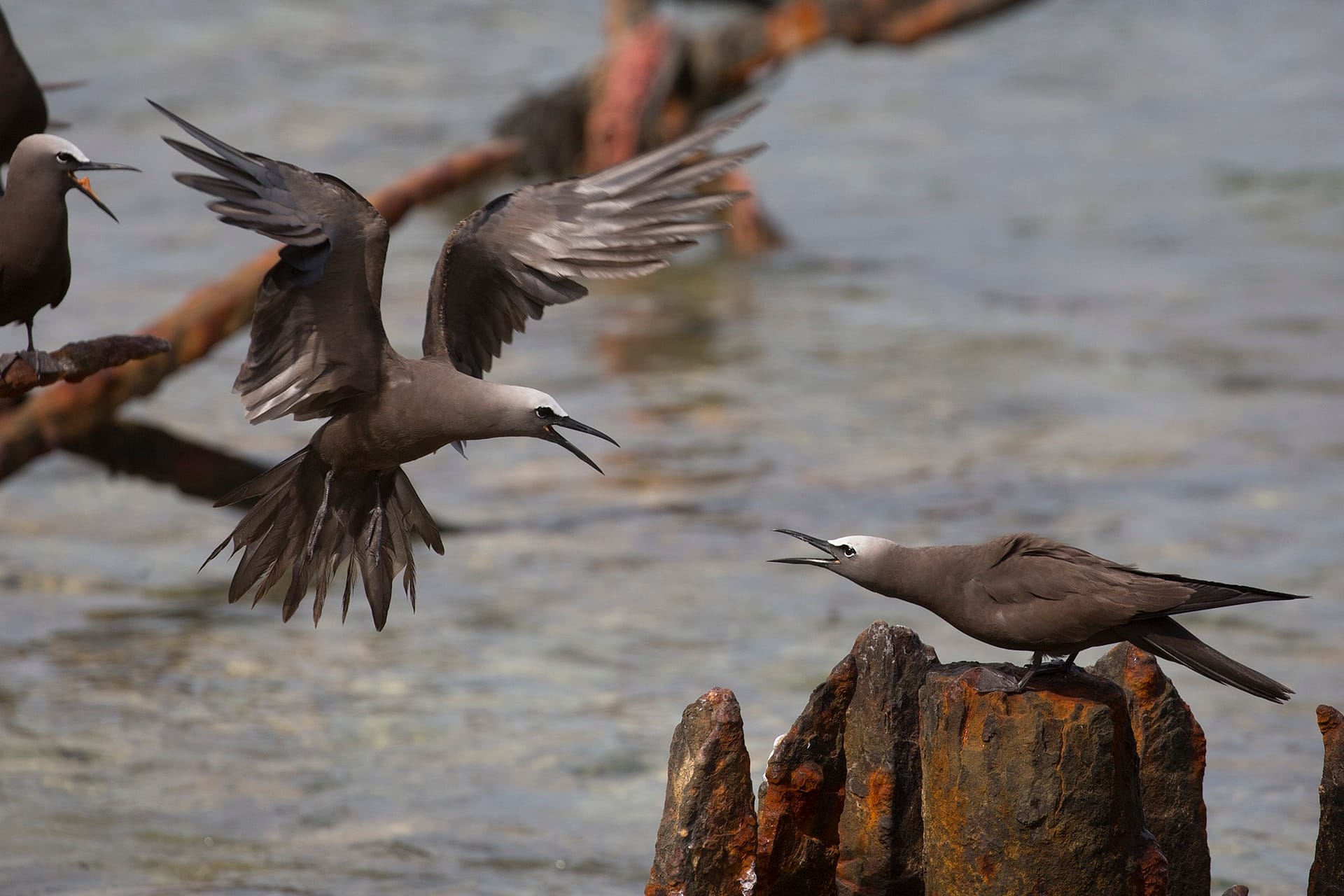 DRY TORTUGAS – Seabird Specialties
NEWS & UPDATES
Stay up-to-date with new tours, special offers and exciting news. We'll also share some hints and tips for travel, photography and birding. We will NEVER share nor sell your information!
The Dry Tortugas is a premier North American birding destination to witness the spectacle of tropical seabirds. During our 3 day spring tour to these beautiful islands, we enjoy a variety of specialties including five species that nest only in this location within the United States.
BRIDLED TERN  Onychoprion anaethetus
often found feeding along sargassum mats
birds at sea may land on flotsam and jetsam
only place they nest in the US is on Bush Key, in early summer
first began nesting in Dry Tortugas after 2005 hurricane season
AUDUBON'S SHEARWATER  Puffinus therminieri
small, about 12″, tropical shearwater
often seen in flocks in the warmer waters of the Gulf Stream
best looked for foraging around sargassum
nests in burrows on small islands in the Caribbean
ROSEATE TERN  Sterna dougallii
often seen resting on markers and buoys
at rest, tails of adults extend well beyond the wing tip
plunge dives from a greater height than other terns
a few pairs nest on Bush Key in early summer
BROWN BOOBY  Sula leucogaster
usually seen in small groups on markers on the way to the Dry Tortugas
look for the clean demarcation between breast and underparts
plunge dives from 20-50′, feeding mainly on flying fish and squid
breeds in the Caribbean
MASKED BOOBY  Sula dactylatra
only place in the US that it nests is on Hospital Key
first nested in 1984, now about 20 pairs breed
largest and least common of the tropical boobies
upon greeting each other females squawk, and males whistle
BROWN NODDY  Anous stolidus
only nest colony in continuous US is on Bush Key
about 2500 pairs nest, creating loose twig platforms low in bushes
largest and most abundant of the noddies
seen close perched on the North Coaling Dock
BLACK NODDY  Anous minutus
only place in the contiguous US to see it
usually one immature present each spring, first seen in 1960
best seen on Bush Key or North Coaling Dock
rare in North Atlantic, with only a few pairs breeding in West Indies
SOOTY TERN  Onychoprion fuscatus
most numerous bird in the Dry Tortugas, 80,000 nest annually on Bush Key
only nesting colony in the United States
highly pelagic and don't land on water
once fledged they spend 5 years on the wing before returning to breed
Join us for a Dry Tortugas Seabirds and Spring Migration tour!