MEXICO: Veracruz "River of Raptors"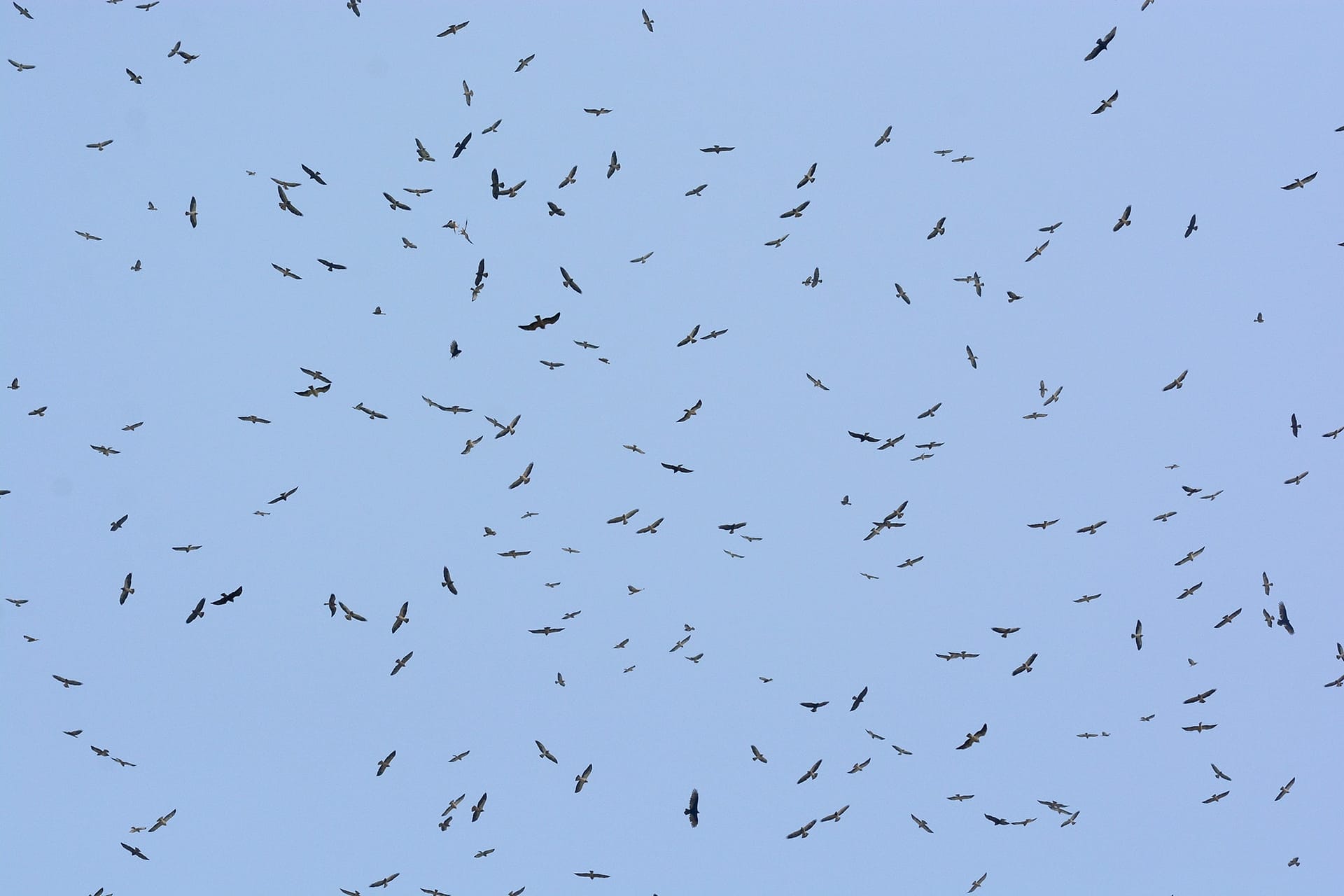 TOUR FOCUS

BIRDS & WILDLIFE
SCHEDULED TOURS
2023 :: October 1 - October 10

TOUR COST
From: $3,500 (See details)
Cost is per person, double occupancy from Veracruz City, Veracruz, Mexico (VER)
GROUP SIZE
5-12 Participants
AVAILABILITY
2022: 8 spaces available
PRIVATE TOUR OPTION
This tour is available as a private trip for any size group. The tour cost will vary with the number of people and any custom requests.
Highlights of MEXICO: Veracruz "River of Raptors"
Witness the World's Largest Raptor Migration
Mesmerizing spectacle of 100,000 raptors per hour streaming past the hawkwatch!
Mexican Sheartail, Veracruz Wren, Blue Mockingbird, and other Mexican endemics
Beautiful birding in coastal plains, coffee plantation, and cloud forest
Enjoy the traditions of the Totonacas at Quiahuiztlan, and the Ruins at Cempoala
Local experts, delicious cuisine, and a wonderful time
Description of MEXICO: Veracruz "River of Raptors"
This special tour to the Veracruz region of Mexico features the "River of Raptors," one of the great natural phenomenons on earth. We will participate in the world's most spectacular hawkwatch, where single day counts have exceeded over 700,000 raptors, and the one-day record is 1.5 million!
Fall season Pronatura hawk-counters have recorded an average of five million birds of prey per year. Besides enjoying this staggering spectacle of raptors, we will visit a variety of habitats and quaint villages, where local avifauna, raptors and North American migrants are enjoyed. This area ranks among the better places in the Americas to observe eastern and western passerine migrants and wintering birds side-by-side in the same locality. We can expect over 200-250 species, including over 25 species of raptors, a possible 15 species of hummingbirds and numerous endemics.
We will also get a chance to enjoy some of the local culture, when we visit the small town of La Antigua where Cortez established the first Spanish colony in 1520; the 13th century Totonacan ruins at Cempoala, built by a native people who were conquered by the Aztecs and later joined Cortez during the conquest of Mexico's Tenotichtlan, as well as a visit to the Museo de Antropologia in Xalapa, famous for its collection of colossal heads of Olmecs dating back to 900BC, as well as Quiahuiztlan, a totonac burial site situated on a spectacular monolith overlooking the Gulf of Mexico.
In the coastal lowlands we will visit La Mancha Biological Station, a research site with mangroves, a beautiful beach and a coastal lagoon. Possible local birds include Laughing Falcon, Zone-tailed and Black Hawks, with a chance for Boat-billed Heron. Las Barrancas is a vast grassland savannah that holds Double-striped Thick-knee, Aplomado Falcon, Common Tody-Flycatcher and Plain-breasted Ground-Dove and in areas of wet meadows Pinnated Bittern and Lesser Yellow-headed Vulture. We make a special trip to visit the shade coffee plantation at El (Rancho) Mirador. This exceptional place hosts Keel-billed Toucan, Bat Falcon and Lesson's Motmot and  Ivory-billed Woodcreeper, amongst many other birds. For butterfly enthusiasts this is an outstanding location.
Based out of Xalapa, a quaint colonial capitol in the mountains west of Cardel, we will visit the cloud forest at Macuiltepetl Ecological Park. This wonderful park that holds two endemics, Blue Mockingbird and Blue-capped Motmot, and White-naped Brush-Finch, as well as several species of hummingbirds including Azure-crowned and Berylline, and, Wedge-tailed Sabrewing. We enjoy a visit to the Francisco Javier Clavijero Botanical Garden, where White-fronted Parrot and Chestnut-capped Brush-Finch are possible, and with good weather this is another excellent spot for butterflies. A stop at private ranch may yield an abundance of hummingbirds including Rivoli's, Amethyst-throated Mountain-gem, Violet Sabrewing and White-bellied Emerald.  Several areas of high-elevation pine forest/oak habitat, such as at Las Minas and La Joya, provide opportunities to observe the endemic Red Warbler, Bee Hummingbird, Striped Sparrow, as well as Rufous-capped Brush Finch, Russet Nightingale-Thrush and Gray Silky-Flycatcher. In past visits, large feeding flocks of mixed passerines, including Slate-throated Redstarts, Golden-browned, Crescent-chested, Olive, Hermit and Townsend's Warblers and many other special birds provided very exciting birding opportunities.
"The spectacle of thousands of raptors streaming and kettling overhead can hardly be described in words. Every birder should experience Veracruz at least once in their lifetime." – Deborah B., Philadelphia, PA
Length of Tour
10-days/9-nights

Brief Itinerary
Day 1: Arrive in Veracruz City; Transfer to Cardel
Day 2 & 3: Cardel, Quiahuiztlan, La Antigua and Rio Escondido
Day 4, 5 & 6: Transfer to Xalapa; El Mirador, Parque Macquiltepetl and Las Minas
Day 7 & 8: Transfer to Cardel; La Joya, La Mancha; Playa Chalchiuecan
Day 9: Las Barrancas; Alvarado wetlands; transfer to Veracruz City
Day 10: Early morning departure from Veracruz City
Itinerary
Day 1: Arrival at Veracruz Airport. Transfer to Cardel
Upon your afternoon/evening arrival in Veracruz City [VER] you will transfer to Cardel.  3 nights in Cardel.
Day 2 & 3: Cardel, Quiahuiztlan, La Antigua and Rio Escondido
Our mornings will include visits to La Catalana, a dry thorn and scrub habitat inhabited by Rufous-naped Wren and Ferruginous Pygmy Owl, and Playa Juan Angel where Aplomado Falcons can be seeing hunting along the coastal dunes; Fork-tailed Flycatchers are in the open fields; Collared Plovers are found along the beach and Collared Forest-Falcons are often heard calling from deep in the forest. We also get a good look at the spectacular passerine migration along the coast, especially the swallows, Scissor-tailed Flycatchers and Dickcissels.
Quiahuiztlan is a totonac burial site situated on a spectacular monolith overlooking the Gulf of Mexico, where we may observe amazing views of early morning raptor migration directly overhead. Late mornings and early afternoons are usually reserved for catching the raptor migration back in Cardel from the rooftop of our hotel.
Our afternoon excursions will include a visit to the historical town of La Antigua. Here Cortez established the first Spanish colony in Mexico around 1520 and we visit the strangler fig and fern covered remains of his home. We also take a boat ride down the river to the mouth of the gulf where we hope to see four kingfisher species as well as an assortment of waders, gulls and terns. Rio Escondido is an area of open grassland with scattered trees and shrubs. This diversity of habitat provides us with an interesting mix of birds including White-tailed Hawks, Blue-black Grassquits, Canivet's Emerald and Gray-crowned Yellowthroats.
Day 4, 5 & 6: Transfer to Xalapa; El Mirador, Parque Macquiltepetl and Las Minas
We transfer to Xalapa, at 4250 feet in elevation, for 3 nights. The 80-acre Macquiltepetl Park is an extinct volcano in the very center of Xalapa, forming a large hill at the highest level of the city. Here in the cloud forest we can expect Rusty Sparrow, Blue Mockingbird, Blue-capped Motmot (a new Mexican endemic species), Cordilleran Flycatcher, Green Jay, Band-backed Wren, Squirrel Cuckoo and White-naped Brush-finch as well as a wide variety of migrants from eastern and western North America.
We will also visit the Museo de Antropologia well known for its collection of Olmec colossal heads, and we enjoy a visit to the Francisco Javier Clavijero Botanical Garden, where White-fronted Parrot and Chestnut-capped Brush-Finch are possible, and with good weather this is another excellent spot for butterflies.
At high elevation (7000 feet) we visit the pine-oak forest of Las Minas, the latter a dramatic canyon set among the high plateau of central Mexico. Here the pines hold the striking Red Warbler, Golden-browed and Crescent-chested Warbler, Grey Silky-Flycatchers, Mountain Trogon and the endemic Striped Sparrow. A special highlight will be a visit to the wonderful El Mirador coffee plantation with a stunning array of species including Lesson's Motmot (a recent split from Blue-crowned) found here and to the south, Bat Falcon, Keel-billed Toucan, Yellow-olive Flycatcher, Wedge-tailed Sabrewing, Common Brush Tanager, White-winged Tanager and Ivory-billed Woodcreeper as well as colorful butterflies such as Godman's Mapwings, morphos and Malachites.
Day 7 & 8: Transfer to Cardel; La Joya, La Mancha; Playa Chalchiuecan, Cempoala
Descending back into the coastal plain for 3 nights, our first stop is at La Joya, a small patch of pines and dense underbrush similar to Las Minas, where Collared Towhee, Rufous-capped Brushfinch, Russet Nightingale Thrush, Hepatic Tanager, Black-headed Siskin, Bee Hummingbird and the altitudinal migrant, Tufted Flycatcher are possible. We keep in touch with the hawk counters and hope to be in the right place at the right time to catch the "River of Raptors", which often is at Chichicaxtle, Pronatura's inland site during the mid-to-late afternoon hours.
Mornings will be spent birding the wetlands at La Fortuna with an assortment of waterfowl including Black-bellied Whistling Duck; La Mancha, an area of lowland forest along coastal dunes where Gray-necked Wood-Rail, Black-headed Trogon, Aztec Parakeet, Laughing Falcon, Common Black Hawk and Short-tailed Hawks are often seen; and Playa Chalchiuecan where we will walk a good stretch of dirt road that leads to the beach. Along the low thorn and scrub habitat on both sides of the road, a number of hummingbirds can be found including Buff-bellied, Cavinet's Emerald and the endemic Mexican Sheartail. It is also a great place to hear and hopefully seen the elusive Collared Forest-Falcon. For a change of pace we will visit the ruins at Cempoala, where we learn the traditions of the Totonacas and of their encounters with the Spaniards.
Day 9: Las Barrancas; Alvarado wetlands; transfer to Veracruz City
The extensive Alvarado lagoon and wetlands is located on the expansive coastal plain south of Veracruz. Here amongst the wet savannah of Las Barrancas, Pinnated Bittern, Double-striped Thick-knee, Lesser Yellow-headed Vulture and Mangrove Swallow can be found. We'll also look for Common Tody Flycatcher nesting in a small patch of shrubs and hope to see Great Black-Hawk and Aplomado Falcons. The wetlands hold Snail Kite and Limpkin, and Black-collared Hawk are occasionally seen.
We finish our tour with a pleasant evening reminiscing about the trip in the beautiful and bustling Veracruz town square over a drink!
Day 10: Early morning departure from Veracruz City
Transfer to the airport for morning return flight.
Please note:  This itinerary is given as a guide only. Actual content may vary according to the judgement and discretion of your leader(s), and elements beyond our control, weather, migration flights, road conditions, etc.
Cost
Cost is $3,500 per person, based upon double occupancy, from Veracruz City, Veracruz, Mexico (Airport code VER).
This trip ends in same as arrival city (Airport code VER).
Cost Includes
Included in the cost are airport transfers, all accommodations, meals, transportation, boat rides, entrance fees and services of your professional leader(s).
Cost does not Include
Not included in the cost are flights to/from destination city [VER], trip insurance, any Covid related costs, alcoholic drinks, items of a personal nature or anything that is not specifically mentioned in the itinerary.
Minimum Number
If fewer than the minimum number of participants are registered the trip can still run with a small-group supplement fee per person determined by the number of participants.
Single Supplement
If a single room is preferred, or we are unable to find a suitable roommate for you, a single supplement fee of $350 will be assessed.
Deposit Requirements
A $500 deposit per person is required to hold each space on this tour. Deposit may be made online by clicking the "Book Your Trip Now" button and using any credit card. If you prefer, you may call us at 888-875-9453 to pay by phone. You may also mail us a check, however, remember that all space is held on a first come-first served basis as deposits are received.
Minimum Number
If fewer than the minimum number of required participants are registered, we may still be able to run the trip by adding a small-group supplement fee, per person, determined by the number of participants registered.
How to Book
In order to hold your space, click the "Book Your Trip Now" button above and complete the deposit process, including payment of the deposit through our Paypal portal using ANY CREDIT CARD. Upon completion of deposit, please visit our secure, online CLIENT INFORMATION FORM to complete your registration.
Final Payment
For all land-based tours: full payment by check is due 120 days prior to the departure date.
For all boat-based adventure cruises of 7-days or longer: full payment by check is required 180 days prior to departure.
NOTE: If you prefer to use credit card for final payment, a 3% fee may be added to cover the credit card merchant fees we incur.
We have booked comfortable standard hotels with en-suite bathrooms and air-conditioning with the exception of the Posada in Xalapa (cooler due to the higher elevation), which has ceiling fans. This is a very quaint 2-story hotel with a lovely small courtyard.
The Bienvenido in Cardel falls below this standard. The rooftop at the Bienvenido is also the hawk watch site and the reason that we stay there.
Our final night will be in Veracruz, near to the airport.
Activity Level Rating: 3 (Note: 1 is easy and 5 is difficult)
Walking / Terrain / Fitness:
Walking will be at a slow pace, and no more than 2-5 miles a day. Please be aware that there will be walking/hiking over uneven terrain, occasionally slippery rocks, and pathways through woods in tropical heat or wet conditions in particular at Xalapa.
You must be in good health and physically able to keep up with the group in the ordinary course of these field activities. There is a steady climb in the park at Xalapa along a smooth paved path, which culminates in a dirt path down into the caldera. The rest of the tour is likely to be on flatter ground.
Recommended Field Guides
A Guide to the Birds of Mexico and Northern Central America
(Oxford University Press, 1995)
by Steve N.G. Howell and Sophie Webb
Raptors of Mexico and Central America (Princeton University Press, 2017)
by William S. Clark & N. John Schmitt
Non-smoking Tour
This trip is for non-smokers only. Smoking is not permitted at any time during our tour.
Transportation
We will using a 12 or 15-passenger van, driven by the leader (s). If the group size is smaller, a mini-van may be used.
River of Raptors Data
Keep up with the daily and seasonal River of Raptors count data at the 2 sites in Veracruz.
– Cardel
– Chichicaxtle
Climate / Weather
The weather along the coastal birding sites can be quite hot and humid with temperatures reaching the low 90's. In the highlands outside of Xalapa daytime temperatures could dip down to the cool 40-50's. Since our stay in Veracruz occurs at the end of the rainy season, we should not encounter too much rain and when it does rain it often lasts for only a portion of the day. Of course one can expect at least some rain in the cloud forest!
Purchasing Flights
Do not purchase your flights until the trip has been confirmed to go.
Detailed Trip Information
Upon notification that final payment is due (120 days prior to departure for land based tours / 180 days for boat based tours), you will receive a trip package of detailed information for your tour.
Any additional information about the trip, including lodgings, contacts, participants, meeting locations, etc., will sent about 2 weeks prior to the trip departure, or after final payment is received for late registrants.
Travel Insurance
As with all tours, we recommend purchasing Travel Insurance to help cover your investment, for covered reasons. Please see our section on Travel Insurance.
Passport & Visa
US Citizens may require a visa to enter certain foreign countries. See above for any required visa information.
Participants arriving to the USA from a foreign country may need to get a travel visa to enter the United States. Be sure to check the requirements for your country of origin.
Itinerary Changes
The trip itinerary is developed many months ahead of time. Occasionally, despite our best planning, changes may occur during the trip, or we may be forced to alter our plans. Changes may occur because of weather, road conditions, safety concerns or other circumstances. In these situations, it is the leader(s) responsibility to carefully consider and implement appropriate alternatives. Any additional costs incurred because of changes will be the responsibility of each individual participant. Refunds will not be issued as a result of itinerary changes.