YELLOWSTONE: Winter Wildlife Photography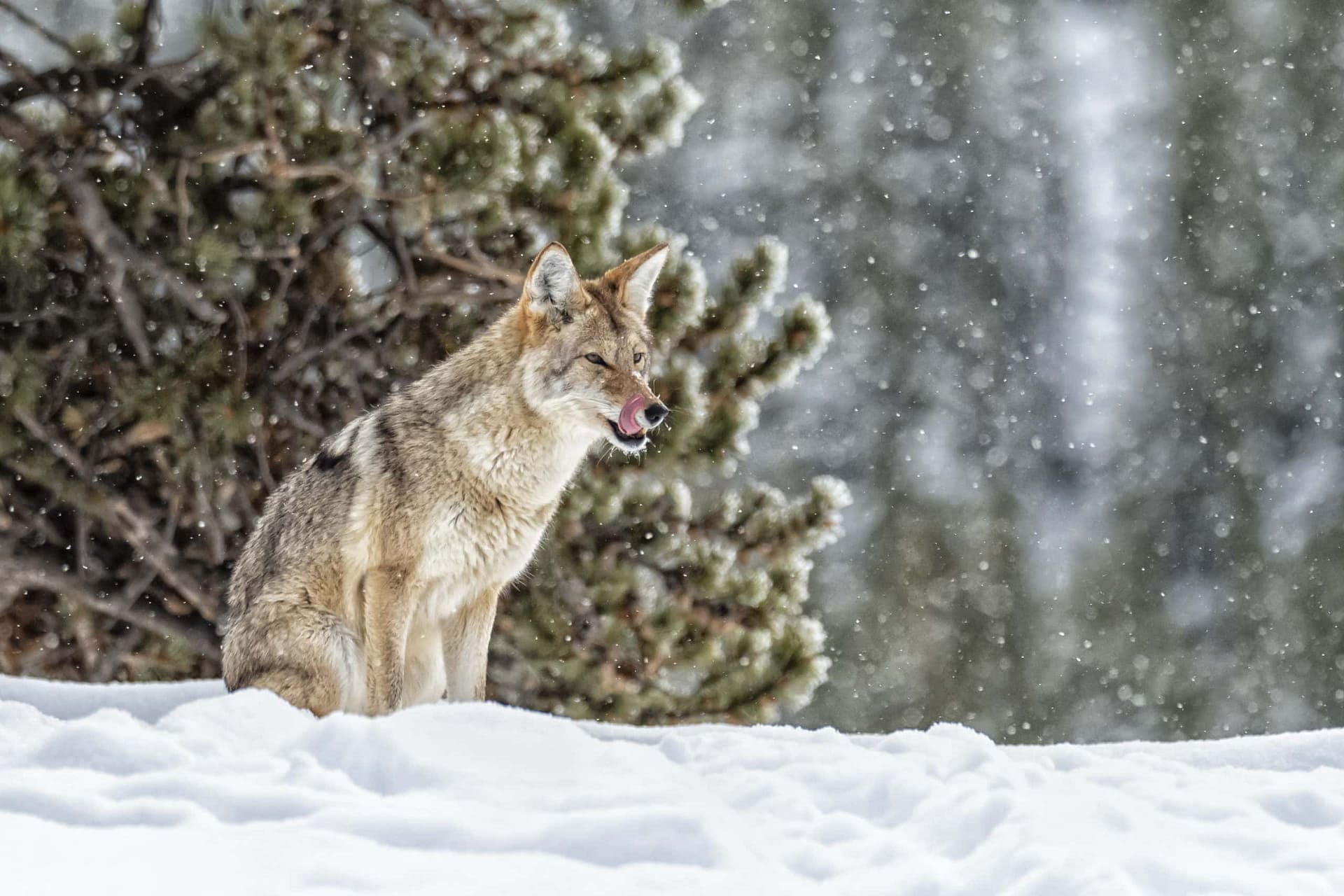 SCHEDULED TOURS
2024 :: January 19 - January 26

TOUR COST
From: $6,350 (See details)
Cost is per person, double occupancy from Bozeman, Montana (BZN)
GROUP SIZE
4 - 6 Participants
AVAILABILITY
2024-01-19: 1 Space Available
PRIVATE TOUR OPTION
This tour is available as a private trip for any size group. The tour cost will vary with the number of people and any custom requests.
If you have been on this tour, please be the first to leave a review!
Highlights of YELLOWSTONE: Winter Wildlife Photography
Hands-on, expert wildlife and landscape photography instruction
Expert Adobe Lightroom instruction
Wonderful winter wonderland for photography
Description of YELLOWSTONE: Winter Wildlife Photography
Winter in Yellowstone is the ultimate wildlife photography destination on the North American continent. This snow capped Serengeti is unrivaled by any other place in the hemisphere.
Bison stand crusted in hoarfrost, wolves trot across the empty expanses of white, bobcats prowl the banks of rivers, elk concentrate in impossible numbers at times, coyotes and red fox leap through the air plunging face first into the snow after deeply hidden rodents, and bald eagles flock to the edge of the rivers in droves to take advantage easy picking along the banks of the geothermal heated waters flowing out of Yellowstone.
This is wildlife photography at its very best.
WILDSIDE NATURE TOURS IS AN AUTHORIZED PERMITTEE OF YELLOWSTONE NATIONAL PARK
Length of Tour
8-Days/7-Nights

Brief Itinerary
Day 1 – Arrival in Bozeman / Transfer to West Yellowstone.
Days 2 and 3 – West Yellowstone / Madison River.
Day 4 – Drive to Gardiner.
Days 5 and 6 – Lamar Valley Area.
Day 7 – Lamar Valley Area and final image sharing.
Day 8 – Return Home.
Detailed Itinerary
Day 1 – Arrival in Bozeman and transfer to West Yellowstone
Arrive in Bozeman between 12-4pm if possible. We will provide shuttle service for everyone from the airport to our first night accommodation in West Yellowstone. From here we will check into our hotel rooms and then regroup for a meet and greet / dinner at a local restaurant. Over dinner we will discuss the logistics of the coming days.
Days 2 and 3 –  West Yellowstone / Madison River
We will spend the next two days working the interior of Yellowstone in private snow coaches with plenty of room to pile our gear, stretch out, and be comfortable. These two days will start with a pick-up out front of our hotel at 6:45 am. Each day will be spent entirely in the National Park, for which we will provide box lunches. This portion of the workshop gives us our best opportunity for bison covered in hoarfrost and some truly unique wildlife opportunities such as bobcats and red fox in the snow.
Day 4 – Drive to Gardiner
We will transfer up to Gardiner Montana this day where we will check into the Best Western. This evening Kevin and Don will organize an in depth critique of participants photographs up to this point in the workshop. This mid-trip review will prove to be extremely useful for both participants and your workshop leaders. This not only gives us the opportunity to gage where everyone stands photographically, and therefore allows us to custom tailor the rest of the trip to each participant's individual needs, but it also allows you the participant the opportunity to get real feedback that you can then build upon over the coming days.
Days 5 and 6 – Lamar Valley Area
The following days will be spent working the Northern Range of Yellowstone National Park. This will provide us with access to the absolute best place on Earth for photographing wolves. Wolves however are just one of the many different opportunities that we will have along the Northern Range. Every species of mammal in Yellowstone National Park, except for the bears, will be concentrated throughout this stretch of the park come this time of year.
Day 7 – Lamar Valley and final evening image sharing
This will be the last morning of photography. We will head out into the park before dawn just as we have the previous days. In the evening, we will once again conduct an in depth critique of everyone's works from the second half of the workshop. We will provide pizza as well as beer and wine for the session.
Day 8 – Return Home
We will provide shuttle service for everyone back to designated airport from where we all depart our separate ways.
Cost
Cost is $6,350 per person, based upon double occupancy, from Bozeman, Montana (Airport code BZN.
This trip ends in Bozeman, Montana (Airport code BZN).
Single Supplement
If a single hotel room is preferred, or we are unable to find a suitable roommate for you, a single supplement fee of $750 will be assessed.
NOTE: For boat-based tours, see pricing options for single cabins. Single cabin cost includes the single hotel cost above.
Minimum Number
If fewer than the minimum number of required participants are registered, we may still be able to run the trip by adding a small-group supplement fee, per person, determined by the number of participants registered.
Deposit Requirements
A $1,250 deposit per person is required to hold each space on this tour. Deposit may be made online by clicking the "Book Your Trip Now" button and using any credit card. If you prefer, you may call us at 888-875-9453 to pay by phone. You may also mail us a check, however, remember that all space is held on a first come-first served basis as deposits are received.
How to Book
In order to hold your space, click the "Book Your Trip Now" button above and complete the deposit process, including payment of the deposit through our Paypal portal using ANY CREDIT CARD. Upon completion of deposit, please visit our secure, online CLIENT INFORMATION FORM to complete your registration.
Final Payment
For all land-based tours: full payment by check is due 120 days prior to the departure date.
For all boat-based adventure cruises of 7-days or longer: full payment by check is required 180 days prior to departure.
NOTE: If you prefer to use credit card for final payment, a 3% fee may be added to cover the credit card merchant fees we incur.
This trip includes standard hotels.
Activity Level Rating: 2 (Note: 1 is easy and 5 is difficult)
It will be cold… but otherwise this trip is quite easy. Little walking is needed as we will always be near a warm vehicle.
Gear for Birding & Wildlife Viewing
• Good quality binoculars
• Spotting scopes are not typically needed as we will be photographing much of the time, unless you plan to do some digiscoping.
Photography Gear Recommendations
The best camera is the one you have with you! That said, we will help you get great photos no matter what camera you use.
This Photo Workshop is geared toward those using DSLR or Mirrorless cameras with interchangeable lenses, here is what we recommend that you bring:
• Bring at least 2 camera bodies – to reduce changing lenses and just in case of accidental damage to one
Recommended Lenses for Birds & Wildside
• 100-400mm (or equivalent) for birds in flight
• 500mm lens or longer for birds and wildlife
Recommended Lenses for Landscape Opportunities
• 24-105mm (or equivalent) for landscape and general purpose
• In addition you may also want to have an ultra-wide lens equivalent to about 16-35mm which may be used for fun landscapes and night sky photography.
Recommended Lenses for Macro (Bugs, Frogs, etc.)
• 100mm Macro is fine for general purpose macro photography
• 150mm Macro is best for small, quick moving subjects like frogs
Filters (Mainly for Landscape Photography)
• Polarizing Filter for removing reflections (screw in for wide-angle lenses)
• Filter Holder for 4×6″ (or similar) filters
• 2-stop Neutral Density Filter
• 8-stop (or more) Neutral Density Filter
• 2-stop Hard and/or Soft Graduated Neutral Density Filter
Other Accessories
• Tripod for long exposures, big lenses and steady video
• Flash for low light, fill light and stop action
• Better Beamer or MagMod flash extender
• Rain cover for camera
• Weather resistant Camera Bag (Backpack style is best)
• Batteries and chargers
• Lots of memory cards!
• Laptop or other downloading device
What You Can Expect
• Personalized 1 on 1 in the field instruction by two professional wildlife photographers
• Daily opportunities for personal Lightroom and Photoshop instruction
• Periodic image reviews through the duration of the workshop in order to assess your progress and specific needs
• A head first dive into hardcore wildlife photography and what it takes to get the job done
• The opportunity to work in a 1:3 ratio of instructor to participants. Most other workshops offer a far larger ratio
• And let's not forget, one heck of a great time!
Purchasing Flights
Do not purchase your flights until the trip has been confirmed to go.
Detailed Trip Information
Upon notification that final payment is due (120 days prior to departure for land based tours / 180 days for boat based tours), you will receive a trip package of detailed information for your tour.
Any additional information about the trip, including lodgings, contacts, participants, meeting locations, etc., will sent about 2 weeks prior to the trip departure, or after final payment is received for late registrants.
Travel Insurance
As with all tours, we recommend purchasing Travel Insurance to help cover your investment, for covered reasons. Please see our section on Travel Insurance.
Passport & Visa
US Citizens may require a visa to enter certain foreign countries. See above for any required visa information.
Participants arriving to the USA from a foreign country may need to get a travel visa to enter the United States. Be sure to check the requirements for your country of origin.
Itinerary Changes
The trip itinerary is developed many months ahead of time. Occasionally, despite our best planning, changes may occur during the trip, or we may be forced to alter our plans. Changes may occur because of weather, road conditions, safety concerns or other circumstances. In these situations, it is the leader(s) responsibility to carefully consider and implement appropriate alternatives. Any additional costs incurred because of changes will be the responsibility of each individual participant. Refunds will not be issued as a result of itinerary changes.