KENYA: 20-day Birding & Wildlife Safari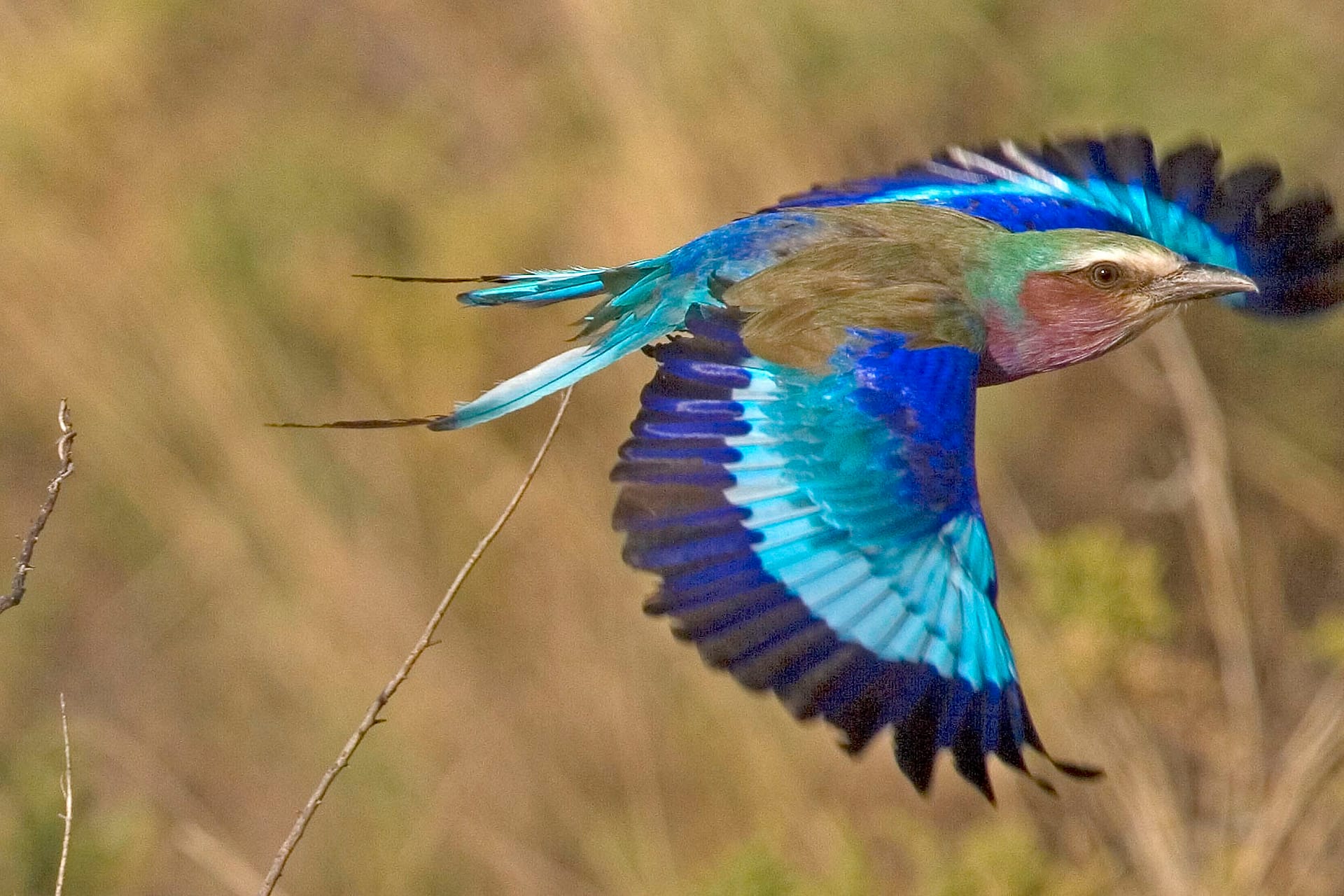 TOUR FOCUS

BIRDS & WILDLIFE
SCHEDULED TOURS
2024 :: August 27 - September 15

TOUR COST
From: $11,400 (See details)
Cost is per person, double occupancy from Nairobi, Kenya (NBO)
GROUP SIZE
4-6 Participants
AVAILABILITY
2024 – cost tbd
PRIVATE TOUR OPTION
This tour is available as a private trip for any size group. The tour cost will vary with the number of people and any custom requests.
If you have been on this tour, please be the first to leave a review!
Highlights of KENYA: 20-day Birding & Wildlife Safari
Small group experience
Extraordinary combination of birds and mammals
Great Wildebeest Migration in the Masai Mara
Custom and private safaris are available at anytime
Description of KENYA: 20-day Birding & Wildlife Safari
Kenya is world-renowned as a wildlife destination par excellence with a breathtaking range of often easily approachable mammals and birds in landscapes of immense beauty. Our tour takes in two of Kenya's finest game reserves, Samburu and the Maasai Mara, visits the alkaline and freshwater lakes of the Rift Valley and the central highlands. Everywhere pulsates with life, from the acacia-dotted savannahs of arid Samburu, arguably Kenya's finest mammal reserve, to the endless undulating grasslands of the legendary Maasai Mara, perhaps the best place on earth to see large mammals in abundance.
Our trip is timed to witness the northbound Wildebeest migration. At Nakuru National Park over a million noisy Lesser Flamingos ring the soda lake. Both these wildlife spectacles will surely be major highlights. A boat ride along the shore of Lake Baringo will take us close to African Spoonbills, Goliath Herons, Jacanas, diminutive Malachite Kingfishers and majestic Fish Eagles, common inhabitants of the lakeshore as are hippos and Nile Crocodiles. Throughout our tour we will encounter many of Africa's colorful birds including gem-like sunbirds, beautiful bee-eaters and impossibly bright starlings. There are also a tremendous variety of raptors ranging from the tiny Pygmy Falcon, a bird no bigger than a starling, to the weird and wonderful Secretary Bird.
Kakamega is Kenya's last remaining rainforest where the fauna of the Congo basin reaches its most easterly point. Specialities here include Blue-headed Bee-eater and the globally threatened Turner's Eremomola, Chapin's Flycatcher and African Grey Parrot. Weavers, bush-shrikes, robin-chats, sunbirds, malimbes, wattle-eyes and the gorgeous Red-headed Bluebill can be seen along the forest edge, and some of the forest's iconic birds, African Crowned Eagle, Black-and-white Casqued Hornbills, Ross's and Great Blue Turaco are sure to delight.
This is a wonderful trip for photography. The combination of unusual scenery, beautiful and often very approachable wildlife, and rural Kenyan 'scenes' means that there is plenty to shoot on this ultimate Wildlife Safari.
As with all safaris, the itinerary can be altered and customized to suit your needs and goals, whether it would be more birding or mammals or length of trip.
This trip can be combined with an extension to the Kenyan Coast, or, to see the Gorillas in Uganda or Rwanda.
View our webinars on  The Great Wildebeest Migration,  Birding Kenya's Rift Valley,  Samburu Safari,  Unique and Amazing Adaptations of Birds on Safari, –
Read more about  Savanna Scavengers

Length of Tour
20-days/19-nights

Brief Itinerary
Day 1 – Arrive in Nairobi.
Day 2 – Mt. Kenya foothills
Days 3 – 6 – Samburu NR
Days 7 & 8 – Naro Moru & Aberdare Mts
Days 9 & 10 – Lake Nakuru NP
Days 11 & 12 – Lake Baringo
Days 13 – 15 – Kakamega Forest
Day 16- Lake Victoria
Days 17 through 19 – Maasai Mara
Day 20 – Return to Nairobi
Detailed Itinerary
Day 1 – Arrival in Nairobi
Morning flight from Europe to Nairobi – evening arrival
Day 2 – Mt. Kenya Forest
Depart Nairobi for visit to the foothills of Mt. Kenya arriving at Mountain Lodge for lunch. The rest of the day will be spent birding and game watching on the lodge grounds.
Days 3 – 6 – Samburu National Reserve
Drive to Samburu/Buffalo Game Reserves during an extraordinary three full days. Predominately areas of acacia bush land, interspersed with grassland and riverine thickets, these reserves offer a magnificent collection of flora and fauna including Lion, Leopard, Grevy's Zebra, Gerenuk, Beisa Oryx, Reticulated Giraffe and herds of Elephant. Among the 300 bird species recorded here are Golden-breasted Starling, Green Wood-hoopoe, Abyssinian Scimitarbill, Pink-breasted Lark, Vulturine Guineafowl, Lilac-breasted Roller and the largest African Eagle, Martial's!
Days 7 & 8 – Naro Moru & Aberdare Mountains
In the central highlands for montane species such as Hartlaub's Turaco, Grey Apalis, White-eared Barbet, Crowned Hornbill , Montane Oriole, Montane White-eye and Tacazze Sunbird. At higher elevation in the Aberdare's we'll find endemic Jackson's Francolin and Aberdare Cisticola, while in adjacent grasslands  we seek Mackinder's Eagle Owl and the endemic Sharpe's Longclaw
Days 9 & 10 – Lake Nakuru National Park
Lake Nakuru is the most famous of the Rift Valley's soda lakes. Attractive Yellow-barked Acacias and magnificent escarpments surround the lake that holds spectacular concentrations of Lesser Flamingoes.  Among the wealth of the African mammals, we will enjoy Black and White Rhinos, Impalas, African Cape Buffalo, Silver-backed Jackals, Spotted Hyena, and if lucky, tree-climbing Lions or even a Leopard!
Days 11 & 12 – Lake Baringo
Lake Baringo and the spectacular Kerio Valley offer excellent birding. A boat ride on the freshwater lake will have us close to schools of Hippos and basking Crocodiles, and alongside many waterbirds including Goliath Heron, African Jacana and White-faced Whistling Ducks. An assortment of weavers patrol the reed beds, while Madagascar Bee-eaters and Malachite Kingfishers can be seen perched on the reeds. We will enjoy watching the local fishermen in their traditional ambach canoes fishing, as African Fish Eagles call from the tops of shoreline trees. Nearby basalt cliffs can be teeming with birds on an early morning walk through the acacia woodland with the possibility of Hemprich's Hornbill, Bristle-crowned Starling, White-faced Scops Owl and Heuglin's Courser.
Days 13 – 15 – Kakamega Forest
At Kakamega Forest we will be looking for some the 30-plus specialties that are localized within this remnant rainforest patch of the Congo basin. Just to mention a few, we will hope to see the Blue-headed Bee-eater, Western Black-headed Oriole, Jameson's Wattle-eye, Turner's Eremomela,  Grey Parrot, Great Blue Turaco, Red-headed Malimbe, Vieillot's Black and Dark-backed Weavers among others. Greenbuls are an ID challenge, and include Cameroon Sombre, Little Grey, Ansorge's, Shelley's, Toro Olive, Honeyguide and Joyful Greenbuls, and Red-tailed Bristlebill. Kakamega also offers a chance to see a great variety of butterflies as well as Red-tailed Monkey and Black-and white Colobus.
Day 16 – Lake Victoria
We head south towards the Masai Mara via the papyrus swamps of Kisumu along Lake Victoria. Species we might encounter include Eastern Grey Plantain-eater, Red-chested Sunbird, Black-headed Gonolek, Blue-headed Coucal, Carruther's Cisticola, Black-billed Barbet and Northern Brown-throated Weaver.
Days 17 – 19 – Maasai Mara National Reserve
Three full days in the Maasai Mara to track the annual Wildebeest migration and hopeful see herds crossing the Mara River, where Nile Crocodiles lie in wait! Joining the million Wildebeest will be Zebra and Thomson Gazelle, providing an abundance of prey for predators such as Spotted Hyenas and prides of Lions, and the vultures that soaring overhead.  The Mara is one of the best places in Africa to see cats, and we will seek Cheetah, Leopard and Serval.  Along the rivers schools of Hippopotamus can be found basking in shallow pools and on river banks. Other mammals include the delightful Bat-eared Fox, Topi, Banded Mongoose and the comical Warthog.  Birdlife is abundant, with many birds of prey including Grey Kestrel, Black-chested Snake-Eagle and Bateleur. Notable species will be Kori and White-bellied Bustards, the amazing Secretary Bird, Usambiro and Spot-flanked Barbets, Yellow-throated Longclaw, Bare-faced Go-away-bird, Temminck's Courser, Saddle-billed Stork and Nubian Woodpecker.
Day 20 – Transfer to Nairobi
Depart for Nairobi with lunch boxes to allow enroute birding and as we near Nairobi, pass by the Limuru ponds for a waders and waterfowl. Evening departure from Nairobi.
Cost
$11,400 per person, based upon double occupancy, from Nairobi, Kenya (Airport code NBO).
This trip ends in same as arrival city (Airport code ).
Single Supplement and other Cost Additions
If a single room is preferred, or we are unable to find a suitable roommate for you, a single supplement fee of $1,625 will be assessed.

The Cost Includes
All ground transport, game drives and park entrance fees; professional driver guide; meals and accommodation; boat ride at Lake Baringo; Flying Doctors Temporary Medical Travel Insurance; mineral water on game drives.
Note: There may be an additional surcharge should Park and or Conservation fees increase, which often happens with very little notice.
Cost Excludes
Airfares to Kenya; Visa fees (currently $50); any Covid related tests and costs; beverages; any items of personal nature (laundry, telephone calls and so forth); any services not mentioned or indicated as optional; gratuities to drivers / guides / porters / waiters.
Minimum Number
If fewer than the minimum number of participants are registered the trip can still run with a small-group supplement fee per person determined by the number of participants.
Deposit Requirements
A $1,000 deposit per person is required to hold each space on this tour. Deposit may be made online by clicking the "Book Your Trip Now" button and using any credit card. If you prefer, you may call us at 888-875-9453 to pay by phone. You may also mail us a check, however, remember that all space is held on a first come-first served basis as deposits are received.
How to Book
In order to hold your space, click the "Book Your Trip Now" button above and complete the deposit process, including payment of the deposit through our Paypal portal using ANY CREDIT CARD. Upon completion of deposit, please visit our secure, online CLIENT INFORMATION FORM to complete your registration.
Final Payment
For all land-based tours: full payment by check is due 120 days prior to the departure date.
For all boat-based adventure cruises of 7-days or longer: full payment by check is required 180 days prior to departure.
NOTE: If you prefer to use credit card for final payment, a 3% fee may be added to cover the credit card merchant fees we incur.
All the accommodations on this tour have clean comfortable rooms with en suite showers/baths and toilets and an the whole are very good (Mara West and Serena's), with excellent service. We will be in a tented camp at Sweetwaters and Mara West.
Lodges and camps are based on availabilty and convenience to our wildlife locations.
Activity Level Rating: 1 (Note: 1 is easy and 5 is difficult)
Recommended Field Guide:
Birds of East Africa 2nd edition (Princeton Field Guides, 2020) by Terry Stevenson and John Fanshawe
This trip is for non-smokers only. Smoking is not permitted at any time during our safari.
Trip Insurance
Trip Insurance is highly recommended for all safaris.
You will need to get a Visa to enter Kenya. The current cost is $50 and this can be obtained online prior to arrival at the airport in Nairobi, Kenya
Covid-19 Protocols
Please read our latest information and requirements in regards to Covid.
Currently you are required to show proof of a negative PCR test 72 hours prior to travel, and are required to do the same prior to returning to the US. We will arrange to have this done at a convenient place before the end of the trip.
Malaria
There is a risk of malaria through the country. Check with your doctor for the recommended prophylaxis.
What to expect
This is a safari and as such we will concentrate on all the wildlife, as one would expect, the birds and mammals giving everyone time to view, experience and photograph them.   Easy wildlife viewing from the confines of our open top safari vehicle in some outstanding parks; though we expect to see about 450 bird species we will spend considerable time with the incredible mammals that make this part of the world unique and hope to come across about 50 species including the "Big 5" – elephant, buffalo, rhino, lion and leopard.
One or two hikes, though there will be little walking on this tour in the parks; midday breaks, when in the parks; a mostly pleasant and dry climate, breathtaking scenery and many excellent photographic opportunities. At Mt. Lodge, Baringo, Naro Moru and Mara West birding will be mainly on foot.
We will be using the typical safari 'combo' vehicles such as a 4X4 Safari Mini Bus or Land Cruise. There is a pop-up roof that enables one to stand up to view and photograph wildlife. We will have a maximum of six participants per vehicle as this will guarantee everyone a window seat.
Purchasing Flights
Do not purchase your flights until the trip has been confirmed to go.
Detailed Trip Information
Upon notification that final payment is due (120 days prior to departure for land based tours / 180 days for boat based tours), you will receive a trip package of detailed information for your tour.
Any additional information about the trip, including lodgings, contacts, participants, meeting locations, etc., will sent about 2 weeks prior to the trip departure, or after final payment is received for late registrants.
Travel Insurance
As with all tours, we recommend purchasing Travel Insurance to help cover your investment, for covered reasons. Please see our section on Travel Insurance.
Passport & Visa
US Citizens may require a visa to enter certain foreign countries. See above for any required visa information.
Participants arriving to the USA from a foreign country may need to get a travel visa to enter the United States. Be sure to check the requirements for your country of origin.
Itinerary Changes
The trip itinerary is developed many months ahead of time. Occasionally, despite our best planning, changes may occur during the trip, or we may be forced to alter our plans. Changes may occur because of weather, road conditions, safety concerns or other circumstances. In these situations, it is the leader(s) responsibility to carefully consider and implement appropriate alternatives. Any additional costs incurred because of changes will be the responsibility of each individual participant. Refunds will not be issued as a result of itinerary changes.