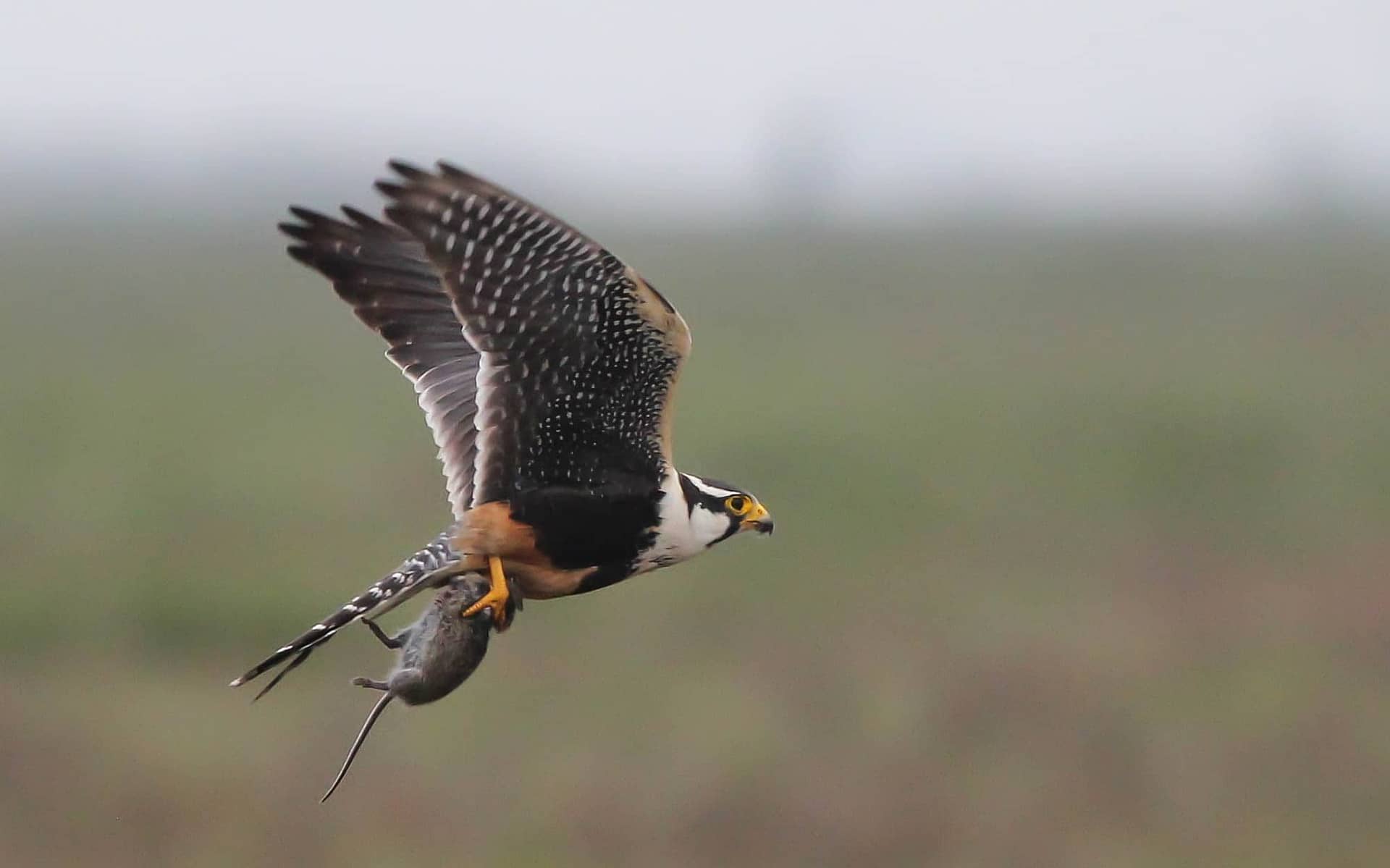 SPECIES SPOTLIGHT: Aplomado Falcons
NEWS & UPDATES
Stay up-to-date with new tours, special offers and exciting news. We'll also share some hints and tips for travel, photography and birding. We will NEVER share nor sell your information!
The Rio Grande Valley has a big list of subtropical specialties, and one of the heaviest-hitters among them is the sleek Aplomado Falcon. This rare falcon is really like nothing else. It combines some of the most badass attributes of various other falcons – the power and speed of a Peregrine, the fierce attitude of a Merlin, and the colorful plumage a kestrel. If you're wondering about their unusual name, "aplomado" means lead-colored, which describes the bird's uppersides. I often tell people these are the 'steampunk' falcon because of their unique color palate and attitude. Of course the facial pattern also recalls the stereotypic 'Egyptian falcon' look. Overall the Aplomado Falcon is just a really cool bird, and always a highlight of my trips to the valley.
The 'Aplo' is only reliably found in the coastal grasslands and savannah of south Texas. Historically this species ranged throughout grasslands and scrubby deserts of southern Texas, and from west Texas through southern New Mexico to southeastern Arizona. The already fragile population suffered from all of the classic raptor conservation issues: loss of habitat, persecution, DDT, lead poisoning, and electrocution. Major campaigns to eradicate prairie dogs also took a toll on the falcons. In 1950 they were officially extirpated in the United States.
The Peregrine Fund famously led an intensive reintroduction program with the hopes of boosting the US population to at least 60 pairs, using their proven methods of rearing chicks in captivity then releasing the young falcons into 'hacking towers' where the birds could slowly adapt to the outside world while receiving protection and supplemental food. Some issues with predation from Great Horned Owls was largely curtailed, and this project was a huge success in combination with intensive habitat improvements. The population reached the 60-pair threshold by the early 2000s, and releasing new falcons stopped in Texas by 2005. Since that time, the coastal counties of southern Texas have maintained a steady population with a peak year of fledgling success in 2018. Some Aplomados have strayed to New Mexico (exploring their former range?), but the population in South Texas represents a birder's best bet at tracking down this really cool bird. I hope to see Arizona and New Mexico adopt widespread habitat improvements, and to one day see this species restored to its entire former range.
Our annual spring and fall tours to the Valley have had 100% success in finding this falcon! During our spring trip, in April each year, Aplomados are nesting and their territories are purposely distant from roads to give them some privacy – typically offering only scope views. Patience may be rewarded…. during one tour we spent over an hour staking out a nest site along Old Port Isabel with no sightings. About to give up, I suddenly spotted one heading toward us and it made an incredible pass right past our group! The smaller male of the pair, but no doubt off to terrorize some meadowlarks or other small songbirds! In other situations we've enjoyed point-blank views as the falcons munch away on their prey while perched on fenceposts and powerlines right near the road. You never really know what to expect from them, but they have a way of making a great entrance.
Join us on a birding tour in South Texas, explore the lower Rio Grand Valley in the spring or fall, and see Aplomado Falcons for yourself!