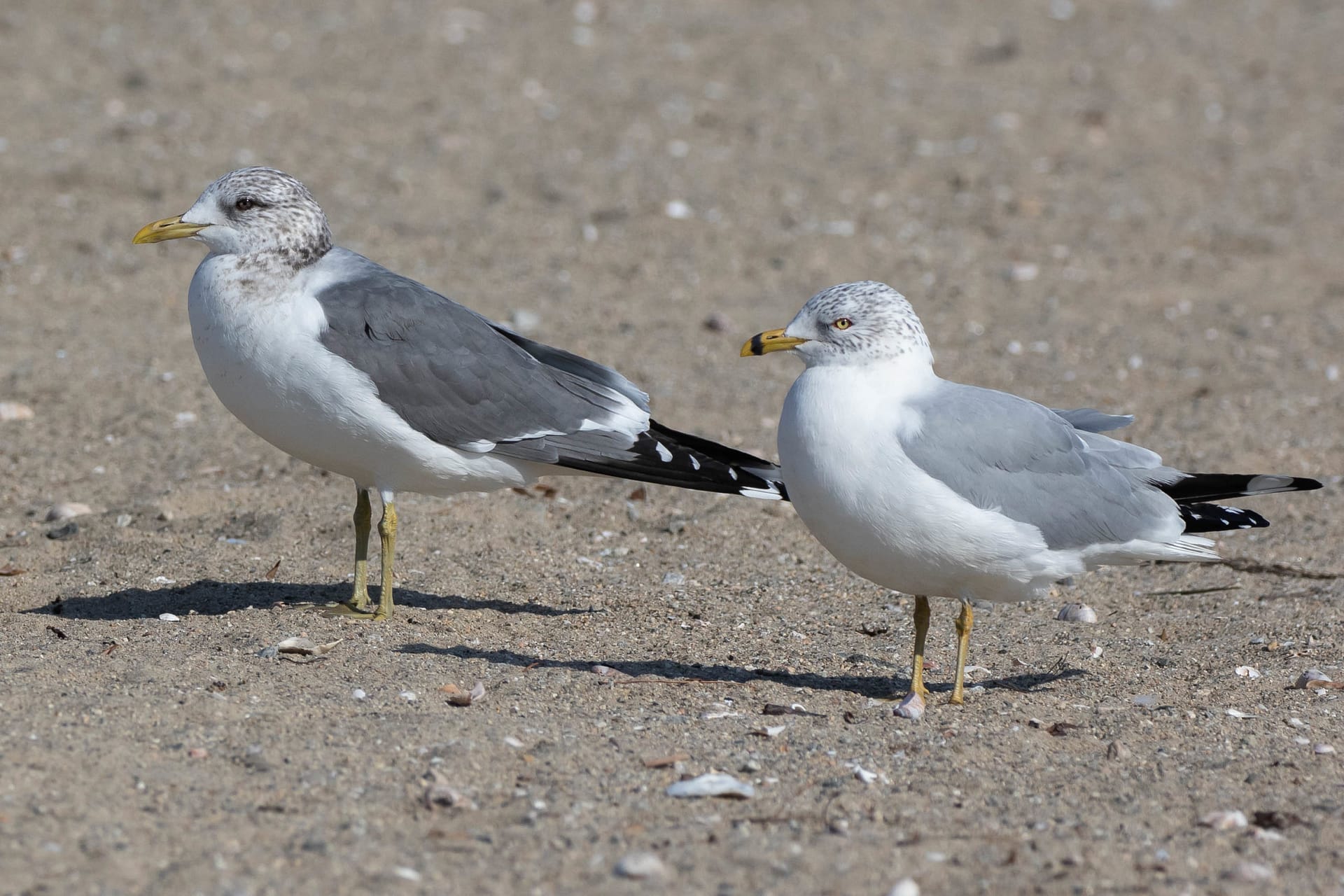 "Kamchatka" Common Gull in Connecticut!
NEWS & UPDATES
Stay up-to-date with new tours, special offers and exciting news. We'll also share some hints and tips for travel, photography and birding. We will NEVER share nor sell your information!
Patrick Dugan discovered a stunning adult "Kamchatka" Common Gull on February 10th along the Stamford, Connecticut coastline. Lauren and I were driving from NH to PA on the 12th to visit my family, so it was a very quick detour off 95 to see this rarity which was a lifer for Lauren and lifer subspecies for me! When we arrived at Cummings Park in Stamford, we initially found the gull resting among a few Ring-billed Gulls on the beach but then it moved between the beach and the parking lot with lots of Ring-billed Gulls who were chasing around food being thrown out by birders and non-birders. The gull was also seen swimming close to shore along the beach occasionally. Sometimes it would act aggressively toward nearby Ring-billeds by chasing them with an open bill and spread wings while calling loudly.
Common Gulls are vagrants to North America, and the large and dark-mantled "Kamchatka" Common Gull is particularly rare. David Sibley did an excellent job describing Short-billed Gull and the various subspecies of Common Gull in this blog post from July 2021.
Most ABA records of "Kamchatka" Common Gull are from Alaska, which makes sense being the closest region to their native range in eastern Russia. Interestingly there are zero records from the West Coast south of Alaska, and yet there have been a handful of sightings along the Northeastern coastline over the last few decades. This Connecticut bird is almost certainly the same individual seen at nearby Cove Island and at other locations along the Connecticut coastline in winter/spring 2019 and 2021 and is also very likely the same individual from winter 2015. Due to how rare this bird is, it may also represent sightings from coastal RI, MA, and eastern PA over the last few years. On the other hand, this subspecies' range is similar to Slaty-backed Gull which is certainly a regular and increasing vagrant to Eastern North America and so perhaps "Kamchatka" Common Gull vagrants are increasing as well. The similarity of immature Common Gulls to immature Ring-billed Gulls could explain why, so far, no immature "Kamchatka's" have been discovered in the East.
Here are some notes I wrote about the bird's appearance: Slightly larger and taller than Ring-billed Gulls, and with longer wing proportions. Navy-blue mantle coloration very similar to Lesser Black-backed Gull. Greenish-yellow bill without markings, and bright red lining inside mouth and at gape. Dull greenish legs. Head and body mostly clean white except for very heavy gray-brown speckling throughout the head and nape. Large white 'mirrors' near tip of P10 and P9. P8-5 black except for tiny white tips. Thick white trailing edge to secondaries. Tail slightly more wedge-shaped than Ring-billed Gulls.